Professional tennis athlete Jelena Ostapenko was born to her parents, Jevgengis and Jelena, on June 8, 1997, in Riga, Latvia. Although she has a sibling, Ostapenko is her parents' only child.
Born into a family of trained athletes, Jelena started learning tennis when she was 5. Her mom introduced the game to her, and she grew up idolizing the American tennis star Serena Williams.
Consequently, with her parents' support and Jelena's dedication, she has become one of the world's most promising young tennis talents.
Jelena Ostapenko won the junior Wimbledon championship in 2014 and was ranked the No. 2 junior player in the world.
In 2017, she became the first Latvian player to win the Grand Slam, winning the French Open singles titles. Following this, she also became the first unseeded player to win the competition since 1933.
Besides, she has garnered seven singles and eight doubles titles on the ITF Women's circuit.
She reached her career-high ranking of world No. 5 in singles in March 2018. She currently ranks at No. 21 in the WTA world rankings.
Jelena Ostapenko Parents: Jelena And Jevgenjis
The international tennis player Jelena Ostapenko is Jelena Jakovlena's and Jevgenjis Ostapenko's only daughter. Besides Jelena, her father had a son named Maksim from his previous marriage.
Jelena's mother is a Latvian-Russian, while her father is a Ukrainian.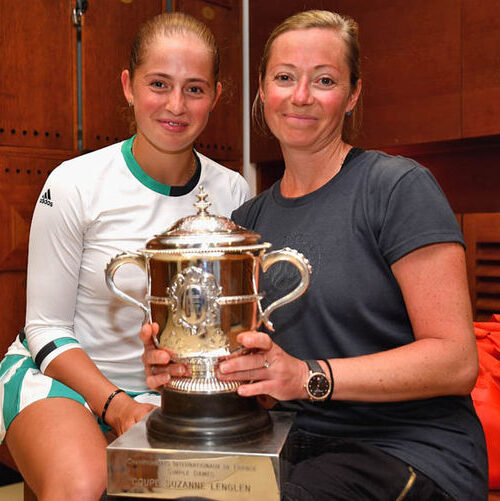 During his youth, Jevgenjis Ostapenko was a professional soccer player and played club soccer for Metalurh Zaporizhzhia, a club near his hometown.
Similarly, her mom, Jelena, is a former tennis player turned coach.
Born to parents with athletic backgrounds, Jelena was introduced to the world of sports at a young age. At the age of 5, she started training under the guidance of her mother.
In addition, she sent her daughter to dance classes, which Jelena said later helped her improve her footwork while playing tennis.
Later, when their daughter turned professional around 2012, Jelena and Jevgenjis served as her coach and fitness trainer, respectively. The pair assisted their daughter in every possible way to make her career a success, and as a result, Jelena is doing very well.
Sadly, her father passed away on January 3, 2020. Jelena announced his death through social media handles and later withdrew her name from the 2020 ASB Classic Open.
Is Jelena In A Relationship?
Jelena Ostapenko recently posted a picture of her with a man on her Instagram handle after returning to Latvia following the end of her 2023 French Open campaign. Captioning the photo, she had written, "Sweet home."
While many wrote sweet comments blessing the couple, some were disheartened.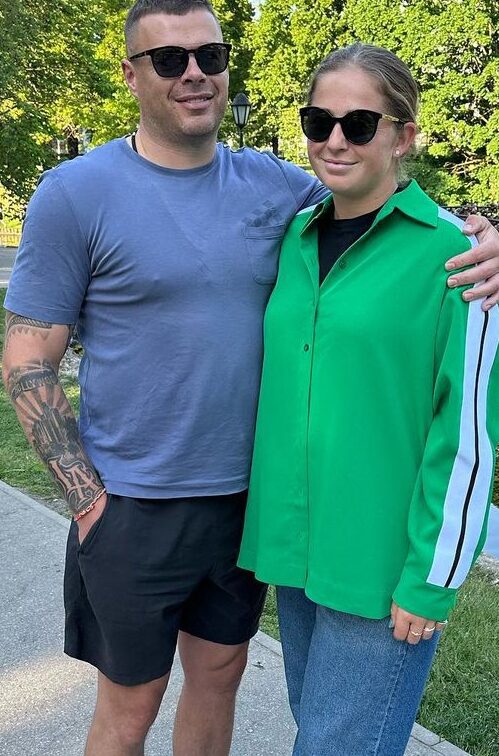 The man in the picture, who goes by the username @kriossss on Instagram, also commented a heart emoji on her post. This guy is none other than her long-time boyfriend, Arturs Karasausks.
The pair made their relationship official back in 2017 and have been together since. Ostapenko's boyfriend, Arturs, is a professional soccer player who plays for Ypsonas Krasava.
Born to a soccer player father, Jurijs, and mother, Nikola, on January 29, 1992, Arturs started playing soccer at a very young age.
Moreover, at the age of 17, he made his professional debut with the JFK Olimps/RFS in January 2009.
Later, he played with several other teams, including FC Wil and FK Liepaja.
Besides, he has played for the Latvian national team at different levels: U-17, U19, U-21 and senior team.