Alex Morgan sister Jeni, and Jeri Morgan, are not athletes but have earned success as business analysts. Jeni and Jeri are six and four years older than Alex.
In an interview, Alex admitted being obsessed with studying her two sisters. The youngest of the family, Alex, would compete with her two older sisters in everything.
Despite not coming from a soccer background, Alex has been able to crave her name in gold letters in the sport loved by millions worldwide. With her US soccer teammate and captain, Megan Rapinoe, Alex has two World Cups.
Now Alex and Megan look to win their third World Cup title this year. With the games kicking off in July, Morgan has already said she believes England to be the biggest threat to their trophy hunt.
Alex Morgan Sisters: Jeni And Jeri Morgan
The US soccer player, Alex Morgan, grew up alongside two older sisters, Jeni and Jeri Morgan.
In an interview, Alex said the three girls grew up in a healthy competitive environment. They would turn everything into a competition, whether it was even anything as small as running down the road.
Jeni Morgan Is A Graduate Of California State University
Jeni Morgan, full name Jennifer Morgan Romero is the oldest of three siblings. She is six years older than Alex.
After completing high school at St Lucy Priory High School in 2001, Jeni enrolled at California State University.
She graduated with a degree in arts, sociology and was part of the Gamma Phi Beta sorority. After graduation, Jeni worked as a management assistant at Enterprise Rent-A-Car for a year before becoming a sales representative.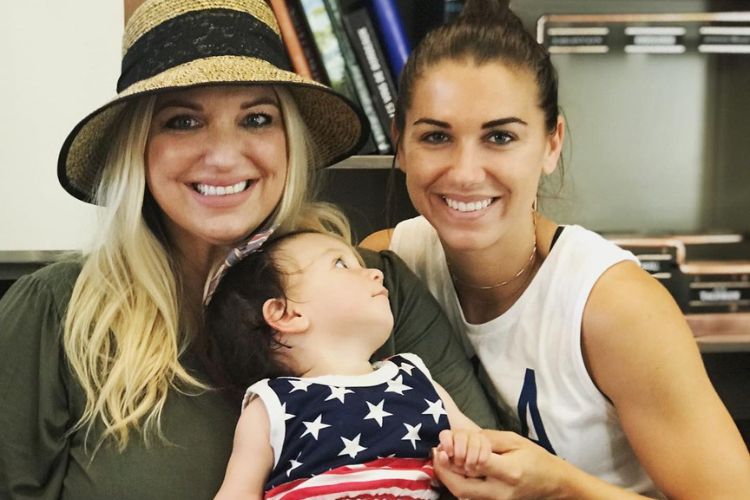 She worked as a sales representative for five years before joining Rise Medical in 2021 as a business development manager. Her association with Rise Medical lasted only a year, quitting her position last year.
Currently, the older sister of Alex Morgan works for three companies in vital positions. She is an Independent Consultant for Rodan and Fields Dermatologists, a Corporate Account Manager for Avis Budget Group, and Co-Managing Partner at BURN189 by Pro Fitness Concepts LLC.
Jeni Morgan Is Mother To Two Kids
Jeni Morgan became Jeni Morgan Romero on November 14, 2019. She married her longtime boyfriend, Ryan T. Romero, and before their wedding, became parents to a baby girl named Liv.
Liv Morgan was born on October 20, 2018, and has been pictured with her parents attending several of her aunt's games.
In 2020, the Romero family added another member to their family. On November 23, 2020, Jeni gave birth to the couple's second child, a baby boy, Beckam Boyd Romero.
It is to be seen whether Liv and Beckam follow their aunt's path and become professional athletes. It is also to be seen whether Beckam can hold up the legacy of the name he shares with a soccer superstar.
Both the kids have separate Instagram handles with the usernames @liv_morgan_romero and beckam_boyd_romero.
Jeri Morgan Is A CFA License Holder
Jeri Morgan is the middle child of the Morgan family. She is four years older than Alex and is CFA licensed accountant.
Jeri is a University of Arizona graduate and earned a business administration degree. She completed her MBA from IE Business School in 2019 and was issued her CFA license last year in February.
The 37-year-old previously worked at Barclays Investment Bank and served as an account manager from 2015-2017. She joined the investment bank in 2011 and worked in FX trading.
Currently, Jeri Morgan works as a senior manager at Silicon Valley Bank and resides in Denver, Colorado. She previously worked for ACON Investments as an Investor Relations Director and lived in Spain for a year.
Alex Morgan Parents: Michael And Pamela Morgan
Alex Morgan's parents, Michael and Pamela Morgan, raised three kids in San Dimas, California.
In an interview, Morgan said her parents were supportive and positive about her career and encouraged her to follow her dream.
Alex, in 2016, in The Players' Tribune, wrote a letter to her younger self. The soccer star talked about her childhood and the role of her parents. Her father, Michael Morgan, doesn't come from a sports background. He previously ran a construction company.
She wrote despite her father having to work from early morning to late night, he would still manage time to take her and her teammate to soccer practice.
She also called her mom a "Wonder Woman" in the letter she wrote to the seven-year-old Alex. At the time, Pamela, while working, was also planning to earn her MBA degree.
There's no doubt Alex has made her family extremely proud of her on-field success, but they are also proud of the person she turned out to be, an inspiration to millions of girls worldwide.