Megan Rapinoe, either by her playing skills on the field or her activism off the pitch, is well known to most people around the world. She is an American professional football player.
In fact, she is a winger and captain of OL Reign FC in the National Women's Soccer League and co-captain of the American national women's team.
Obviously, you will want to know all the personal and professional facts about the Olympics gold winner and two times FIFA Women's World Cup winner.
After all, the 35-year-old is undoubtedly a topic of curiosity for all people; most of them would be her fans and some haters too. So with this intention, let's unravel all the stories of such inspiring personnel.
Quick Facts
| | |
| --- | --- |
| Full Name | Megan Anna Rapinoe |
| Birth Date | July 5, 1985 |
| Birth Place | Redding, Shasta County, California, US |
| Nickname | Pinoe, Rapinho, Rapinohdinho |
| Religion | Christianity |
| Nationality | American |
| Ethnicity | White |
| Education | University of Portland |
| Zodiac | Cancer |
| Father's Name | Jim Rapinoe |
| Mother's Name | Denise Rapinoe |
| Siblings | 5 |
| Sisters | Twin sister Rachel Rapinoe and two others |
| Age | 37 Years Old |
| Height | 5 feet 6 inches (168 cm) |
| Weight | 60 kg (132 lbs) |
| Build | Athletic |
| Eye color | Brown |
| Hair Color | Blonde |
| Profession | Soccer Player |
| Playing Position | Winger/Midfielder |
| Active years (Senior Career) | 2009-present |
| Team | OL Reign, US National Women's Soccer team |
| Sexual Orientation | Lesbian |
| Marital Status | Unmarried (Engaged) |
| Girlfriend's Name | Sue Bird (2017-present) |
| Net Worth | $3 million |
| Jersey Number | 15 |
| Social Media | Facebook, Twitter, Instagram |
| Merch | Book, Funko Pop, Posters, Rookie Card |
| Last Update | November, 2022 |
Megan spent her childhood and grew up with her five siblings in Redding, California. She was raised by her father, Jim Rapinoe, and her mother, Denise Rapinoe.
At the same time, her mother had to raise a son and a daughter from her previous marriage. First, her older brother Brian was born. Then, she, along with her twin sister Rachel, was born five years later.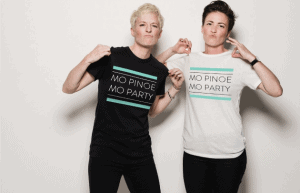 By the time she was three years old, she had started playing soccer, following in her brother's footsteps, who was her idol. However, due to his indulgence in drug abuse, he couldn't continue his career.
Consequently, to avoid the trap of abuse, Megan and her sister Rachel focused extensively on their soccer career.
Early Career
During her young times, Megan mostly played for the teams coached by her father. Moreover, she performed for the under-14 Northern California state Olympic Development Program team in 1999 and the same program's regional team in 2002.
Surprisingly, she played for the Elk Grove Pride club's soccer team instead of her high school team. She played in the Women's Premier Soccer League and her sister, Rachel, and Stephanie Cox, her future national teammate.
Next, Rapinoe, with her sister, enrolled at the University of Portland in Portland. In the meantime, she played in the 2004 FIFA U-19 Women's World Championship 2004 and helped her team end the campaign with the third position.
She had an important role in the Pilots' undefeated season in the 2005 NCAA Division I Women's Soccer Championship.
Remarkably, in 2005, she was listed on NCAA Women's Soccer Championship All-Tournament Team, All-West Coast Conference First Team, and the All-West Coast Conference Freshman Team.
Moreover, she was a starter in all 25 games where she played as a midfielder and scored 15 goals and 13 assists to register 43 points.
Despite suffering season-ending injuries both in 2006 and 2007, she was able to register 25 goals and 15 assists altogether in those seasons.
Eventually, after recovering, she returned and started all 22 games for the Pilots, bagging five goals and 13 assists. After that, however, she chose to enter the Women's Professional Soccer Draft, although having a college eligibility season left.
Club Career
Women's Professional Soccer
The Chicago Red Stars hired Rapinoe for the first season of Women's Professional Soccer in 2009. She started in 17 out of 18 games in 2009, netting two goals and providing three assists.
Further, in the 2010 season, she scored only a single goal in 19 out of 20 games. Later, she signed for Philadelphia Independence in December, where she played only four games.
Eventually, she was traded to MagicJack, with which she scored two goals causing her team to finish third in the league. She had to be a free agent for the 2012 season.
Sydney FC and Seattle Sounders Women
Megan signed for the Australian W-League team Sydney FC in October 2011 with a two-year contract as a guest player and helped the team finish third in the 2011-12 season.
Later, she joined Seattle Sounders Women during the 2012's summer providing two assists in two appearances.
Olympique Lyonnais
Then, she signed for the French team Olympique Lyonnais in January 2013. To point out, with this team, she netted two goals in six appearances in the league season.
Moreover, she scored two and assisted one goal in her UEFA Women's Champions League debut season, with Lyon defeated in the final.
Later, in the 2013-14 season, she scored three goals in 8 appearances in the league and four appearances in the Champions League. However, she left Lyon for Seattle Reign in January 2014 before the season ended.
Seattle Reign FC
Then, Megan joined Seattle Reign FC, where she had a vital role in ending the team's goal drought by scoring five goals, the leading scorer on the team, in 12 out of 22 games of the 2013 NWSL season.
Again, in the 2014 season, she provided four goals and one assist to help the team win the league's regular-season title, the NWSL Shield. The Reign FC honored her as a Reign FC Legend in September 2019.
International Career
Youth Team
Megan played for the US under-16 national soccer team in 2002. Later, she played for the US under-19 team during 2003-2005, where she scored nine goals in 21 appearances.
Notably, she scored three goals, the team's highest, during the 2004 FIFA U-19 Women's World Championship.
Senior Team
Rapinoe debuted for the senior national team in a friendly match against Ireland on July 23, 2006. After that, however, it was against Taiwan in a friendly match on October 1, 2006, and she scored for the first time.
She was included in the US team for the 2011 FIFA Women's World Cup. During the campaign, she recorded one goal and three assists playing all six games achieving the silver medal with the 1-3 penalty defeat to Japan in the final.
Later, in the 2012 Olympics Games in London, she played a leading role in earning her team the goal medal with a 2-1 victory against Japan in the final.
Meanwhile, in the campaign, she registered three goals and four assists, including the first and so far the only Olimpico, which means netting directly from a corner kick.
Further, she received the "Player of the Tournament" title at the 2013 Algrave Cup, although she played only 2 out of 4 games for the team.
With no surprise, she was included in the team that won the 2015 FIFA Women's World Cup in Canada. Individually, she scored two goals in the group stages of the tournament.
Likewise, she was the Golden ball-winning player in the 2019 FIFA Women's World Cup-winning journey of the US national team, her third appearance in the tournament. She netted Golden Boot winning six goals, including one in a 2-1 win against Netherland in the final.
Megan Rapinoe | Career Stats
| | | | | | | | | |
| --- | --- | --- | --- | --- | --- | --- | --- | --- |
| Event | STRT | FC | FA | G | SH | YC | RC | ST |
| 2021 NWSL | 4 | 0 | 0 | 1 | 2 | 0 | 0 | 2 |
Learn more about her career stats on fbref.com.
The two times FIFA World Cup winner and Olympic gold medalist have earned many individual awards and titles with different teams.
To summarize her career at the individual level, she has been awarded Ballon d'Or Feminin 2019, The FIFA Best Women's Player 2019, Golden Boot and Golden Ball in 2019 FIFA Women's World Cup, NWSL Player of the Week six times, and Algarve Cup MVP in 2013.
She has also been included in the 2019 FIFPro World XI, 2019 IFFHS Women's World Team, and 2018 NWSL Best XI.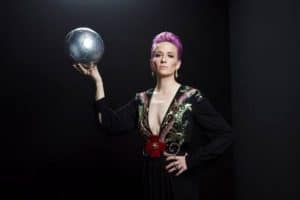 Her hometown of Redding gave her honor with a parade and named September 10 "Megan Rapinoe Day."
Also, she was honored with the Harry Glickman Professional Female Athlete of the Year at Oregon Sports Award in February 2012.
Besides, she was inducted into the Shasta County Sports Hall of Fame in 2014 and into the National Gay and Lesbian Sports Hall of Fame in 2015. Also, she received the Best in Sports Shorty Award in 2020.
Megan Rapinoe | Net Worth, Salary, and Earnings
As of September 2022, Megan is estimated to have gathered a net worth of $3 million during her career as a professional soccer player.
It is speculated that she used to earn $168,000 during her days as a Seattle Reign FC player.
Only a few players are above her in the list of highest-paid American players. She is reported to have earned a salary of $245,869 for the 2019 World Cup-winning campaign.
Moreover, she has also signed endorsement deals with big companies like Nike and Samsung.
She has appeared in several advertisements for those companies and other brands like clothing company Wildfang, medical device company DJO Global, and energy brand Vitamin Water.
Likewise, she also earns sponsorships from BodyArmor, Hulu, VISA, etc. Furthermore, the footballer owns a company with her twin sister, Rachel, named Rapinoe.
Megan Rapinoe | Activism and Philanthropy
Notably, Megan has been involved in the women's team's equal pay complaint to the Equal Employment Opportunity Commission since 2016.
Along with 27 of her national teammates, she filed a lawsuit against the US Soccer Federation in March 2019, blaming it for gender discrimination.
Also, she is famous for many philanthropic works for the Gay, Lesbian & Straight Education Network and other soccer-related charities. Also, she serves as an advocate for several other LGBT organizations.
"Being a gay American, I know what it means to look at the flag and not have it protect all of your liberties."
Besides that, she supports the Women's Sports Foundation and also received an award at the WSF Annual Salute.
Furthermore, through her actions and bravery, she has set a legacy for many young girls who aspire to be professional athletes. She is a firm advocate for equal pay, the LGBTQ community, and anti-racism.
Megan Rapinoe | Relationship, Wedding, and Girlfriend
By her first year in college, she was well aware of her lesbian sexual orientation. Markedly, she publicized her relationship with Australian soccer player Sarah Walsh in 2009 through the July 2012 edition of Out magazine.
The relationship was reported to have ended in 2013. Later, she confirmed that she had been dating basketball player Sue Bird since 2016.
Moreover, the two recently got engaged in October 2020. Rapinoe posted a photo of the two in a swimming pool where Megan is on her knees and putting the ring on Sue's hand.
In another photo, Rapinoe is flaunting the ring that Sue gave her. As of now, there is no news about the wedding, but it might be close.
Megan Rapinoe | Social Media Presence
Being an activist and influencer, she is highly active on most social media platforms like Facebook, Twitter, and Instagram.
She shares news about her personal and professional life through her various social media platforms. You can also see snippets of her training and workouts.
Besides that, you can gawk at her stunning outfits, best goals, career highlights, and new haircuts too.
Furthermore, the activist has also used her platform to raise awareness against systemic racism in America. Likewise, she is an active supporter of the Black Lives Matter movement.
The status of her social media accounts is provided below:
Facebook: 728k Followers
Twitter: 929.6k Followers
Instagram: 2.2M Followers
Megan Rapinoe | FAQs
Has Megan Rapinoe sustained an injury?
No, the player seems perfectly fine. However, she tested positive for Covid recently in January of 2021.
Nonetheless, she recovered well and is back on the field.
What is the name of Megan Rapinoe's documentary film?
The documentary film is called LFG. It also stars Megan's teammates Jessica McDonald, Becky Sauerbrunn, Kelley O'Hara, Christen Press, and Sam Mewis.
Furthermore, former footballer Julie Foudy also stars in the film. It details the journey of the US Women's National Team, who sued the United States Soccer Federation for unequal pay.