Jessica Ennis was born to her parents, Vinnie and Alison, on January 28, 1986, in Sheffield, South Yorkshire.
Her parents are her biggest supporter and always encouraged her to pursue her dream.
However, her parents are separated but have been providing help to their daughter when needed.
Dame Jessica Ennis-Hill, DBE OLY, is a retired British track and field athlete specializing in the heptathlon and 100-meter hurdles.
Starting at an early age, she won the Sheffield Federation for School Sports Whitham Award at the age of 14.
She participated in junior competitions in the high jump and pentathlon at the English Schools AAA Junior Girls in 1999.
As a junior athlete, she won two silver medals at the 2004 Commonwealth Youth Games in the 100 m hurdles and the high jump.
The three-time gold medalist in the World Championships achieved the highest world ranking of No. 1 in 2009, 2010 and 2012.
Moreover, she has also won gold in the Olympic Games (2012), World Indoor Championships (2010), and European Championships (2010).
Jessica retired in 2016 and occasionally commentates for the BBC and runs a fitness app, Jennis, specializing in women's health.
Parents Vinnie Ennis And Alison Powell
The retired track and field athlete was born as the eldest child of an English mother, Alison, and a Jamaican father, Vinnie. She grew up with a sister, Carmel, who is three years younger.
Her father, Vinnie, also used to sprint during his school in Jamaica. He moved to Britain at the age of 12.
Vinnie worked as a freelance painter and decorating artist. On the other hand, Jessica's mother, Alison, was a farmer's daughter and used to love the high jump.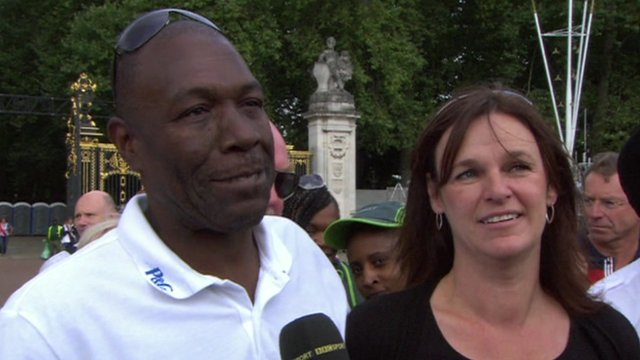 Powell has always been active in volunteering and social work. She is now a manager for Turning Point, a charity that supports adults with a range of issues, from dependency on drugs to learning disabilities.
However, she took a little break while helping Jessica and her husband parenting their first child.
Jessica's parents have always been supportive parents, but strict at times. She remembers her mother saying: "Don't be a sheep!" when she wanted to hang out with her friends.
Moreover, when Jessica was 9 or 10, her mother took her and her younger sister, Carmel, to a summer sports camp at Don Valley Stadium.
Later, when she started to show promising skills and simultaneously, their family's life revolved around Jessica's athletics.
Married Life And Kids
The retired Olympian, Jessica, tied the knot to her childhood friend, Andy Hill, on May 18, 2013. The two first met each other during their time at King Ecbert School and have known each other since.
Jessica and Andy, a construction site manager, started dating in 2004 and got engaged in 2010.
Moreover, the pair welcomed their first child, a son named Reggie Ennis-Hill, on July 17, 2014.
Similarly, their second child, a daughter named Olivia Ennis-Hill, was born on September 23, 2017.