The American sportscaster for ESPN, Joe Buck, was born to parents Jack Buck and Carole Buck. Also, he is a brother to his five sisters.
Joe's later father had an irreplaceable career as a sportscaster, who achieved numerous recognition, including the St.Louis Cardinals Hall of Fame Museum.
Having originated from such a talented and reputed family, Joe also chose to walk in his father's shoes.
In the meantime, Jack transferred his experiences and learnings to his son, which aided him in becoming one of the most renowned sportscaster.
Reflecting on Joe Buck's announcer journey, he initiated his broadcasting career in 1989 while he was still an undergraduate at the time.
Later, in 1994, he had a breakthrough in his career when he began working for Fox Sports.
While Joe was at Fox Sports, he did commentary for Major League Baseball, National Football League, and USGA Tournaments.
Between 2009-2010, Joe worked for HBO Sports by hosting a talk show related to sports for the network named Joe Buck Live.
After working for 27 years, Joe left the Fox Network in 2021.
In 2022, Joe joined ESPN and has been serving as the lead play-by-play announcer for Monday Night Football.
Moreover, the sportscaster has earned a massive amount via his profession and has an estimated total fortune of $35 million.
Joe Buck Parents, Jack & Carole Buck
Jack Buck was born on August 21, 1924, in Holyoke, Massachusetts, in the United States of America.
He was the third of seven children of his father, Earle Buck, and his mother, Kathleen Buck.
While growing up, Jack had to face a financial struggle. As a result, he even gave up his high school to do a full-time job.
Military Service To The University
Jack joined the United States Army in June 1943 and completed his military service in 1946.
Soon after that, he joined Ohio State University and graduated from there.
His Career As The Sportscaster
Jack wanted to be a sportscaster since his childhood. While in Ohio, he sharpened his broadcasting skills by doing commentary for the Ohio Basketball Games.
Then, in 1954, Jack got to broadcast Cardinal Games for the KMOX radio, and the rest is history.
After creating a considerable history, Jack left the world on June 18, 2002.
Joe Buck's Mother, Carole Buck & His Sisters
Unfortunately, her mother's information is scarce on the internet, and she reportedly lives her retired life.
According to the sources, she is active in doing charity work.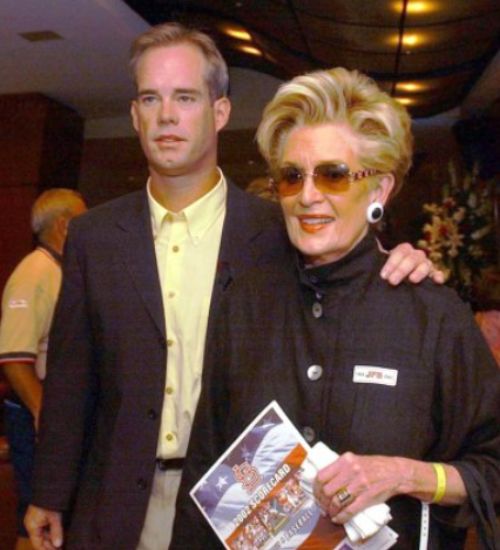 Similarly, Joe has five sisters: Julie, Christine, Betsy, Bonnie, and Beverly.
Moreover, he has two brothers named Dan and Jack Buck Jr.
They all have kept their lives private, so little is known about them.
Insight Into Joe Buck's Married Life
Joe is married to his wife, Michelle Beisner, since April 2, 2014.
Michelle is a former actress and a dancer. Also, she was a cheerleader for the National Football League.
Currently, she serves as the ESPN's reporter.
Joe and Michelle have twin sons, Wyatt Buck and Blake Buck, born in April 2018.
His Previous Wife
Joe was married to his estranged wife, Ann Archambault, from 1993 to 2011.
They share two daughters named Natalie and Trudy. Both daughters have a healthy relationship with their father, Joe.
Also, Trudy and Natalie share a close bond with their step-mother, Michelle. Occasionally, they share pictures on their social media.
Frequently Asked Questions (FAQs)
1. Who Are The Parents Of Joe Buck?
Joe Buck was born to parents Jack & Carole Buck on April 25, 1969.