Joe Buck is among today's most recognized names and personalities of American sports broadcasting.
The announcer who won the Emmy Award has had quite a career. Joe is the lead play-by-play announcer for FOX Sports NFL, MLB, and USGA coverage. It includes sports such as golf, American soccer, and baseball.
Joseph Francis Buck is now a famous sportscaster. He has won several Sports Emmy Awards for his work for Fox Sports. Besides giving coverage to the major league, Baseball, he is also the lead announcer for National Football League.
Buck is best at what he does and has already been awarded the National Sportscaster of the Year three times since 1996. He also gives the announcements of the World Series.
Here, we are going to talk more about Buck's life and other miscellaneous details. Many of you may have heard his name, but today you will also be acquainted with his personal life, family, praiseworthy career, net worth, and much more, so stick with us until the end.
Quick Facts about Joe Buck
| | |
| --- | --- |
| Celebrated Name | Joe Buck |
| Real Name/ Full Name | Joseph Francis Buck |
| Siblings | Two brothers and five sisters |
| Gender | Male |
| Age | 53 Years Old |
| Birth Date | 25 April 1969 |
| Birth Place | St. Petersburg, Florida, United States |
| Nationality | American |
| Height | 1.85m |
| Weight | 68 kg |
| Sexual Orientation | Straight |
| Marital Status | Married |
| Wife | Michelle Beisner-Buck(m.2014), Ann Buck(m. 1993-2011) |
| Children | Two |
| Profession | Sportscaster |
| Horoscope | Taurus |
| Eye Colour | Green |
| Hair Colour | Light brown |
| Net Worth | $ 15 million |
| Social Media | Instagram |
| Merch | Book (Lucky Bastard) |
| Last Update | July, 2022 |
Joe Buck | Early Life & Education
The sportscaster was born in St. Petersburg, Florida, in 1969 but grew up in Clayton-Richmond Heights, Missouri area. He attended St. Louis Country Day School and later joined Bloomington University in Indiana.
Joe Buck's dad is the late legendary announcer, Jack Buck. Due to his remarkable career, Jack got into the Sports Broadcasting Hall of Fame in 2011. Growing up, he wanted to be just like his dad.
They'd travel all over the country, and he'd watch his father announce games all the time. His first unofficial broadcast opportunity was in 1987 when his father let him take over his seat at the Cardinals and the Mets in Shea Stadium.
His mother is Carole Buck. He has five sisters, Beverly Buck, Christine Buck, Julie Buck, Betsy Buck, Bonnie Buck, and two brothers, Dan Buck and Jack Buck Jr.
He earned a B.A. in 1991. In English and a telecommunication minor. He made his broadcast career debut in 1989. He began broadcasting when at university, he was still an undergraduate.
Joe Buck | Age, Height, Body Measurements
The American sportscaster weighs 81 kg and is 6 ft 1 in tall. However, there is little to no info on his physical attributes.
Most of the sporting world adores him, but even a gem like Joe will not go unhated in this world. Nevertheless, due to his dashing personality, Joe manages to captivate anyone who crosses paths with him.
Joe Buck | Career
Joe did his first broadcast when, on his 18th birthday, his dad left the booth and told him to take over; he did the play-by-play for one inning of a Cardinals-Mets game.
With that, he started his broadcasting career initially through the play-by-play commentary for Louisville Redbirds, a minor-league Cardinals team.
Eventually, the Floridian received an opportunity yet again for Cardinals games on KMOX television and radio in 1991. Sportscasting was written in Buck's stars, and things just took an upward trend from then on.
Buck was hired by Fox in 1994 and became the youngest man ever to announce on network television, which was a daily schedule of National Football League games at just 25 years of age.
Fox Sports produced NFL and was televised on Fox Broadcasting Company (Fox).
In 1996, he became the lead play-by-play voice for Major League Baseball for Fox, teaming up with Tim McCarver.
Before joining Fox, he was known in Louisville Redbirds as play-by-play in the minor league and wrote for ESPN while covering Triple-A All-Star Game.
At Peak
He didn't quit calling for Cardinals games even after joining Fox Sports. He started working at KMOX with his father and worked with FSN Midwest afterward.
In 2008 he left the FSN Midwest Telecasts for Cardinals. This was the first time since 1960 a member of the Buck family had not been a part of the broadcasting team.
Joseph became a play-by-play man with Tim Green as his color analyst on the network's #4 NFL broadcast team. Having worked for many years as an analyst, he became Fox's main play-by-play man in 2002.
He currently serves as a color analyst with Troy Aikman and as a sideline reporter with Erin Andrews.
Joe hosted the NFL show Fox's pregame, Fox NFL Sunday, and doubleheader show postgame on August 14, 2006.
He has joined up with Greg Norman and anchored Fox's latest set of from the United States Golf Association, most notably the United States. The tournament opened in April 2014.
Here's a video of Joe Buck remembering his father on The Howard Stern Show:
Joe also hosted a series of HBOs, Joe Buck Live, which only after three episodes got canceled; comic Artie Lange infamously stole the 2009 premiere. In 2009, two more episodes aired.
Buck told a St. Louis radio station in March 2010 that HBO might plan to cancel Joe Buck Live, adding that he "won't miss" the program and that it required "far more effort and difficulty than I had ever expected."
Subsequently, HBO reported to Broadcasting & Cable about the cancelation of the program.
Joe Buck | Relationship & Children
The Sst. Petersburg native has married twice and is currently in a relationship with NFL Network and now ESPN reporter and former Broncos cheerleader Michelle Beisner.
The pair married on April 12, 2014, and in no time were got blessed with twin sons Wyatt Joseph and Blake Andrew. The couple still lives together in Florida, and there's no sign of separation between them.
How did it start?
Joe Buck and his wife Michelle Beisner-Buck were introduced by a mutual friend Rich Eisen for the first time. While the two knew each other through reporting and broadcasting, their paths have never crossed.
As Buck confronted Eisen, he made the first move and asked for her number. Beisner wasn't impressed at first. She lived with her boyfriend and had always thought Buck was a proud and arrogant guy.
Given her initial disappointment with him, she soon realized that his TV image was very different from who he actually was after Rich introduced them.
Michelle broke up with her then-boyfriend shortly afterward and began going out with Joe. After less than a year of dating, the couple had engaged in August 2013.
The lovebirds tied the knot at a beach in Cabo San Lucas, Mexico, a year later. Michelle moved from Los Angeles to live in St Louis, Missouri, with her husband in their two-story home.
Previously, Joe was in a relationship with a woman named Ann for almost 18 years before separating in 2011. Ann has moved on ever since and is now married to Scott Kitchel.
She was born in Denver, Colorado, on October 15, 1976.

She attended Green Mountain High School and later entered the University of Metropolitan State.

Michelle graduated from college with a Bachelor of Communication degree in 2005.
Beisner worked as a cheerleader in The Denver Broncos Cheerleaders from 1997 to 2003. She has been the team's captain for six years.

She is a professional dancer and actor.
Buck and Beisner have two children together. The twins, Wyatt Joseph and Blake Andrew were born April 26, 2018, one day after their father's 49th birthday.
Although the twins are the first kids from Michelle, they are the third and fourth kids to Buck. From his previous marriage to Ann, the star has two older daughters. Joe Buck's daughters Natalie and Trudy, have an excellent relationship with their father and stepmother and their children.
Trudy Buck is studying film at USC and a classmate of Olivia Jade. Before Olivia broke the news of the college controversy, the two were roommates. On the other hand, Natalie studied Telecom Engineering at the University of Indiana.
Do People Hate Joe?
More often than not, TV stars feel hate from viewers for various reasons. Joe buck hasn't avoided this criticism and disappointed sports fans. In 2011, on their list of 'The worst announcers in NFL history,' a website listed him at number four.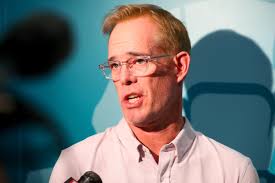 The Reason Behind the Criticism
Do all the facts raise why Joe Buck is hated so much by football and sports fans? Firstly Fans think he's biased when it comes to other athletes and teams.
As we know, sports announcers should be impartial while they're commentating, which ensures that all parties receive equal treatment.
Fans accuse Joe of showing favoritism to individual players and teams on many occasions; however, the loathing is so much that Green Bay Packers fans launched a petition in 2017 seeking to get Buck and his friend Troy Aikman barred from announcing/commenting on the game.
Fans believed their team had always been under pessimistic scrutiny during commentary. More than 29,000 people signed the petition calling Buck boring.
But many complain that while Buck has an incredible voice, he relies too much on it. Unlike other commentators, he does not use intonations or display any emotions during plays at vital moments, where appropriate.
Joe Buck: Vocal Chord Ailment
Shortly after broadcasting Super Bowl XLV for Fox in 2011, Buck said he'd developed a virus on his left vocal fold nerves. According to Buck, despite the ailment, it "came out of the blue" and hindered his ability to raise his voice.
Even after encountering such hindrances, during the 2011 season, he began broadcasting baseball for Fox and later returned that fall as the lead NFL announcer on the network.
In 2016, Buck finally said the problem was not caused by a virus but rather by vocal cord paralysis possibly induced by anesthesia during multiple hair transplantation procedures.
Joseph Buck | Net Worth
Apart from athletes, some of the highest-paid individuals in sports today are sportscasters and coaches.
Tony Romo is likely to become the highest-paid sportscaster by 2020, with an ESPN contract estimated to pay him $10 million to $14 million annually.
As for Joe, the net worth he figures is around $15 million. He gets paid about $300,000 to call NFL games. The broadcaster also works with Holiday Inn, Budweiser, and National Car Rental as a brand endorser.
Joe Buck's salary is about $6 million for a given year.
Joe Buck | Social Media Presence
Joe, as a vivacious personality, is also very busy on Instagram. We will dig in more to find his other social media accounts as well.
Instagram : 24,100 followers
Common Queries about Joe Buck
How much does Joe Buck earn annually?
Joe Buck earns $5 million – $6 million annually.
What is Joe Buck – Kris Bryant issue?
Joe Buck asked Kris Bryant about his future with the Cubs as Bryant was on the road to becoming a free agent. Bryant handled the situation maturely, mentioning that he wears the Cubs jersey proudly even though there's uncertainty around.
However, Kris's father Mike seemed offended by Buck's question. He expressed his disappointment towards Bucks.
Did Joe Buck retire?
No. Joe Buck has not retired yet.