If you love Arm Wrestling, you might have heard of the legendary John Brzenk. He is widely regarded as one of the greatest Arm Wrestlers to have ever lived.
Not to mention, he has been an inspiration for various other arm-wrestlers. The arm wrestler has a commendable grip strength that has proved to be lethal for his opponents.
Further, from the States, John has competed in numerous leagues across the country. Some of his most famous appearances are during the Arm Wars and Arm-wrestling league.
Additionally, he is a former Arm Wars Light-Heavyweight Champion (left-right) and UAL Right-Handed Champion (Heavyweight Division). Moreover, the Guinness Book of World Records named him the "Greatest Armwrestler of All Time."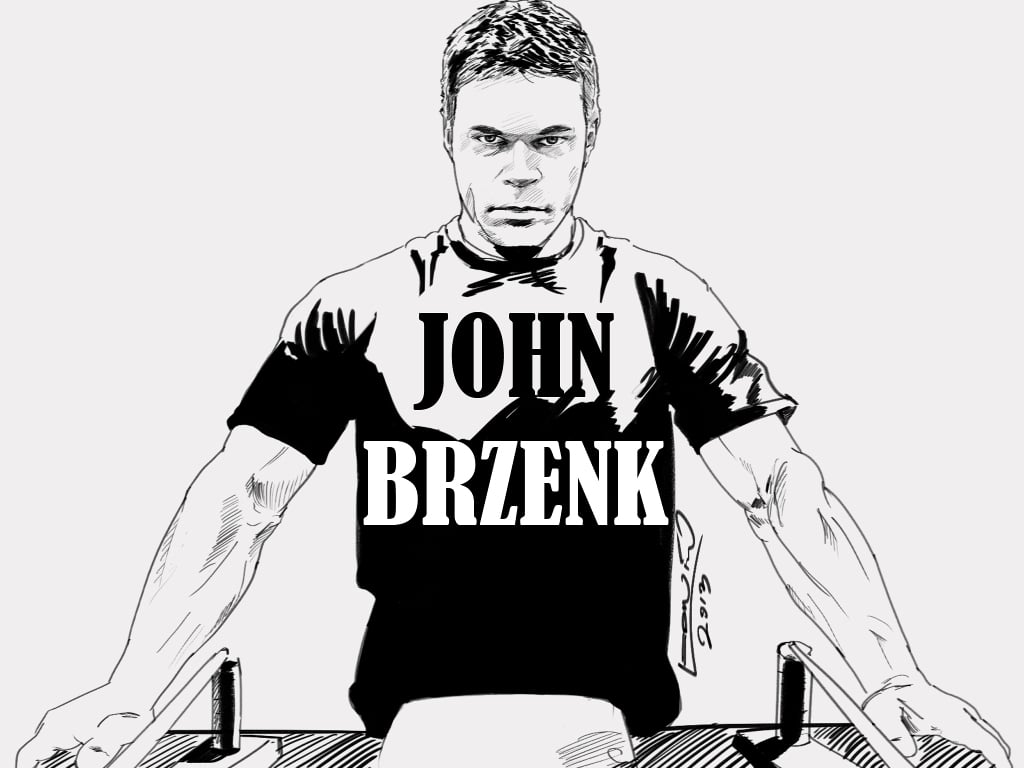 In this article, you will find more information about the player. So, let's dig deeper into John's early life, career, height, and other information.
Also, here are some quick facts about John before we move any further into the details.
Quick Facts
Name
John Brzenk
Nickname
Giant Crusher, The Perfect Storm
Birthdate
July 15, 1964
Age
58 years old
Birthplace
McHenry, Illinois, United States
Ethnicity
White
Nationality
American
Zodiac sign
Cancer
Parents
Brzenk Sr (dad)
Body type
Athletic
Height
1.85 m/6 feet
Weight
102 kg/225 lb
Hand Size
20 cm approximately
Eye color
Light Grey
Hair color
Light Brown
Skin
Fair
Profession
Arm wrestler
Ranking
#2 (Heavyweight division)
Career span
35 years
Undefeated Streak
25 years
First world title
ABC's 1982 Wide World of Sports
Streak break
Against Alexey Voyevoda (2004, Warsaw)
Movie cameo
Over the Top
Professional status
Retired
Rivalries
Travis Bagent
Denis Cyplenkov
Devon Larratt
Tartas Ivakin
Technique
Top Roll
Hook
Bicep Size
44 cm
Forearm Size
15.5 inches (39.5 cm)
Relationship status
Married
Wife
Renne Brzenk
Children
Kelli and Megan
Social Media
Instagram
Twitter
Net Worth
$5 million
Merch
Pulling John
Last Update
November, 2022
John Brzenk
|
Early Life, Family, and Childhood
John, the Giant Crusher, was born on July 15, 1964, in McHenry, Illinois, United States. Just like John, his dad was also an arm wrestler.
The former athlete states that he has gained his forearm size through genetics from his father, Brzenk Sr. So, it is fair to say that John got into sports because of his father's influence.
Sadly, nothing much is known about his mother and other family members because of his lifestyle. Consequently, there also isn't sufficient information regarding his early life and education.
However, it is known that John Brzenk started to arm wrestlers in grade 8. Additionally, he arm-wrestled with his friends for more than five years.
Besides, he had a broken arm when he arm-wrestled his father's friend as an eighth-grader. Nonetheless, it did not stop him from competing, as he participated in his first tournament at the age of 16.
In addition, he earned the nickname the "Giant crusher" for his exceptional ability to overpower an opponent twice his size. Furthermore, the arm wrestler also has a little brother named Bill Brzenk.
John Brzenk
| Arm Wrestling
Career
It was unusual to see a boy of a small frame defeat someone bigger than himself. However, the audience did not know that John would secure his name in the history books.
Further, after competing in smaller events, John Brzenk won ABC's 1982 Wide World of Sports, his first world title. Additionally, he was just 18 years of age at the time.
His 16 inches right forearm and 13.5 inches left forearm were legendary in arm-wrestling.
Moreover, the heaviest opponent he had to face weighed around 660 lbs. But there were no opponents his arms couldn't pin, so he won this particular match as well.
Moreover, John has only lost a single super-match in his entire career. Only a few people have managed to defeat the giant.
In addition, some of the most noticeable defeats were against the likes of Alexey Voyevoda and Devon Larratt.
Furthermore, aside from arm wrestling, John Brzenk now works as a mechanic at Delta Air Lines. John states that the job does not require brute strength, so he gets plenty of rest.
You might also like to read about Liz Carmouche: Military Life, Wife, Career & Net worth >>
The Iron Fist
John Brzenk was also known as the man with the iron fist after his impressive wins against formidable opponents. Additionally, his progress did not stop as he won the Middleweight World Championship in 1995.
Besides, because of his legendary reputation, John earned a cameo in Sylvester Stallone's movie Over the Top. However, he was not credited for his appearance in the film.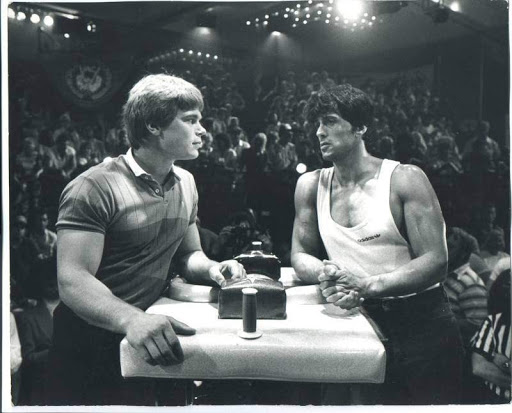 Further, John Brzenk was already a household name by the early 2000s. On the other hand, the giant athlete was also contemplating retirement because of his old age.
His endurance and strength in the arms were getting weak each year. Thus, numerous competitors from across the world began to catch up to him.
The "Pulling John"
John's legacy and achievements were immortalized by a documentary made in 2009. The documentary titled "Pulling John" was directed by Sevan Matossian and Vassiliki Khonsar.
In addition, the respective documentary gave an in-depth look at the Zloty Tur Cup in 2009, which took place in Warsaw.
Moreover, the documentary was not only about brute strength; it was also about mental battles.
Further, it gave viewers insight into what happens in John Brzenk's mind and showcased John's personality and characteristics perfectly.
Despite dominating arm-wrestling sports for 25 years, John was a humble person. It was common for arm wrestlers to be arrogant and cocky as they had pride over their brute strength.
However, John Brzenk did not resonate with any of it. He was a mild-mannered athlete with a humble personality. Additionally, it was one of many reasons why fans across the world loved and adored him.
A legacy left behind.
John's legacy was written in history books despite his loss against Alexey Voyevoda. The World champion lost to the Russian arm wrestlers in the 2004 event in Warsaw.
Furthermore, Brzenk's first loss was against Alexey, which ended his 25-year winning streak. But John avenged his defeat in a rematch the following year.
Some of his prominent career losses were against Alexey Voyevoda and Devon Larratt. On the contrary, some of his best matches were against Larratt, Voyevoda, Michael Todd, etc.
Nonetheless, the legendary John Brzenk continued arm wrestling even at the age of 55. Additionally, John won the middleweight titles in 2017, 2016, and 2015 as per sportsindiashow.com.
Moreover, he became Wal's 196-225lb Champion (Right Hand) in 2015. However, John was unable to defend the respective title in 2016 because of his injuries.
Not to mention, John Brzenk's career record shows that he had won over 500 titles by the time he retired.
Retirement and other works
John Brzenk is currently unofficially retired because of his old age and the injury he suffered.
Furthermore, he was announced as one of the co-hosts for the "Pound for Pound Arm wrestling" YouTube podcast. He was also joined by the founder Ryan Bowen himself.
Moreover, John was involved in predictions and reviews during the podcast.
In addition, he gave general information about the sports and himself to his audience and the fans. Recently in February 2022, the athlete made a comeback where he beat Khadizmura Zoloev and reclaimed the world's top ranking in the 225-pound division.
John Brzenk
|
Marriage, Children, and Grandchildren
John is known to love his private lifestyle. Thus, he has kept his personal and family life away from the spotlight.
Nonetheless, it is known that the fantastic athlete is married to Renne Brzenk. Added to that, the couple parent two daughters named Kelli and Megan.
Further, he is already a proud grandfather to a granddaughter and a grandson. John's eldest daughter Megan shared wedding vows with Stephen and gave birth to her son Lincon.
Moreover, his younger daughter Kelli also got married to Jade Gray. The couple now has a daughter.
John Brzenk
|
Body Stats
The giant athlete is a legend in the world of arm wrestling. He currently stands at a stunning height of 6 feet and 2 inches. In addition, he weighs around 103 Kg.
Besides, despite his old age, John Maintains his physical fitness through an intense workout routine, exercises, and a strict diet.
Thus, he was feared by numerous competitors. Also, it was one of the reasons behind his tremendous strength and durability.
John Brzenk | Becoming Superstar
John Brzenk was a global superstar when he was in his prime. At the time, arm wrestling sports did not have any audience in the U.S.A.
However, after the movie "Over the Top," starring Sylvester Stallone, the sport gained worldwide recognition.
Also, it attracted support from the governments of India and Russia. Besides, most of John's competitions took place in different parts of the Soviet countries.
Further, he became a significant icon in Russia and even had actions figured dedicated to him.
You might also like to read about Matt Serra's Bio: Gym, Wife, Net Worth & Family >>
John Brzenk
| Training and Strength Facts
In 2006, John stated that he could bench press 315 lb for five reps with a flat bench.

John advised that his secret to exceptional strength was pullups.

In his prime, John was close to closing the Captain of Crush Grippers #3 gripper. He currently trains with a gripper between 200 to 240 reps.

He trains his bicep with 50 lbs. of dumbbells and does wrist curls with the same dumbbells.
"What's the Right Strategy for Arm Wrestling? Is It Just All Biceps, or What?"
According to the arm wrestling champion, grip handle and pulldown cable machine are most productive for results.
In addition, he shares his technique for arm wrestling. John quotes,
"Put your dominant foot forward to lean on; try to bend your opponent's wrist away from yours. Then, as you push down, pull his hand toward you as if you were curling weight."
John Brzenk
| Career Records
and Highlights
John is one of the most successful arm wrestlers of all time. Further, his career span lasted 35 years. He won numerous achievements and set records during his career.
Some of the significant titles include:
AAA Stand-Up National Titles.

AWI World Titles.

Carling O'Keefe International Titles.

Forsa Tropical International Titles.

GNC Pro Performance Title.

GOLDEN BEAR Titles.

Harley Pull Titles.

Mike Gould Classic Titles.

Mohegan Sun PAC World Titles.

1986 – Winner of Truckers Division in Heavyweight class

Reno Reunion Titles.

Sands International Wrist Wrestling/Arm-wrestling Titles.

Sherkston Beaches International Titles.

SuperStar Showdown Titles.

Ultimate Arm-wrestling (Las Vegas, UAL) Titles.

USAA National Pro-Am Titles.

USAF Unified National Title.

WAF World Championship Titles.

World Wristwrestling Championship (Petaluma) Titles:

Zloty Tur/Nemiroff World Cup Titles.
You might also like Roman Reigns Bio: WWE, Net Worth, NFL & Wife >>
John Brzenk

|

Net Worth and Earnings

John earned a fortune during his career as a professional arm wrestler. Moreover, his primary source of incoming was through arm-wrestling hosted in different parts of the world.
Brzenk's current estimate net worth stands at $5 million.
Additionally, during his career, John competed for the highest fee of $80,000 at times.
Social Media Presence
The arm-wrestling legend has a vast fan following on social media platforms such as Instagram. On the respective platform, he has over 23k followers under the username @Jrbrenk.
However, unlike his Instagram presence, John does not have a massive fan following on Twitter. It might be because he prefers other alternatives such as Instagram.
John Brzenk | FAQs
Was John arrested for doping?
No, he has never been involved in drug abuse or doping throughout his career.
Has John Brzenk had surgery?
Yes, the athlete had arthroscopic surgery in 2011.