Born into a family deeply rooted in racing, John Hunter Nemechek parents, Joe and Andrea Nemechek, are the source of the rising star's strength.
In NASCAR, success often depends on the continuous support and inspiration drivers receive from their families.
Let's explore how Joe and Andrea have played an integral role in shaping John Hunter Nemechek's career and remain his greatest sources of inspiration.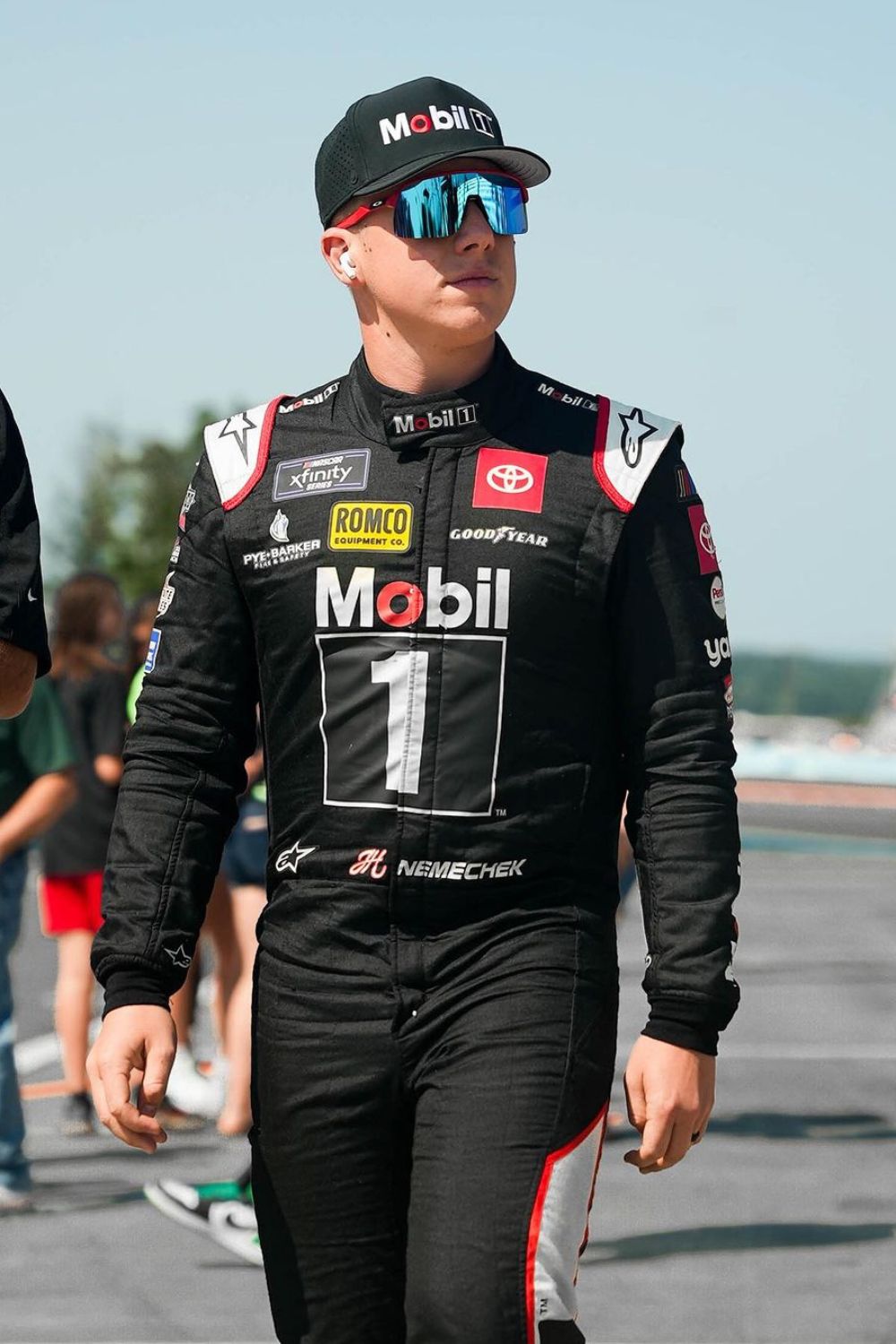 John Hunter Nemechek is an American professional stock car racing driver. He was born on June 11, 1997, in Mooresville, North Carolina.
Nemechek is known for his winning streaks at the NASCAR Xfinity Series and the NASCAR Craftsman Truck Series.
A full-time competitor in the NASCAR Xfinity Series, Nemechek drives the No. 20 Toyota Supra for Joe Gibbs Racing.
Similarly, he competes part-time in the NASCAR Craftsman Truck Series, driving the No. 17 Toyota Tundra for Tricon Garage.
The 26 year-old began racing at age five, competing in go-karts and quarter midget cars competitions.
Nemechek not only moved up to the stock car competition in 2010 but also won the Allison Legacy Series championship in 2012.
John Hunter Nemechek Parents
Joe and Andrea, John Hunter Nemechek parents, played an integral role in helping the youngster reach the heights of the racing sport.
Their shared dedication to seeing their son succeed has driven John Hunter's determination and motivation to excel.
Joe Nemechek And

A Racing Legacy

The Nemechek family is synonymous with NASCAR, and Joe Nemechek, John Hunter's father, has had an illustrious career in the sport.

Joe was popularly known as "Front Row Joe" because of the numerous times he finished pole throughout his career.

He made his debut in NASCAR's top-tier Cup Series in 1993 and became a respected and competitive driver over the years.

Joe has inscribed his name in NASCAR history with four Cup Series and fourteen Xfinity Series wins. He has made the second most national series starts in NASCAR history.
Although Joe raced full-time for most of John's childhood, he was invested in his son's life and career.
John would race his father in go-karts and even drive them around the shop beginning as early as age three.
Similarly, he spent most of his early years playing in the garage and traveling to watch his father race. Joe's experience and knowledge have been invaluable to John.
John's journey from go-karts to stock cars was guided by the mentorship of his father, making Joe Nemechek a pivotal figure in his racing development.
Andrea Nemechek: The Glue Of The Family
While Joe's accomplishments on the track are remarkable, it's essential not to overlook the role played by John Hunter's mother, Andrea Nemechek, in the family's racing legacy.
Andrea, a mother of three, is a native of North California. She moved to Florida following her graduation from the University of Southern California.
She met her future husband, Joe, in 1988 at a family gathering, and they began dating shortly afterward.
The love birds eventually got married in 1992. Andrea has since spent years at the track watching Joe race.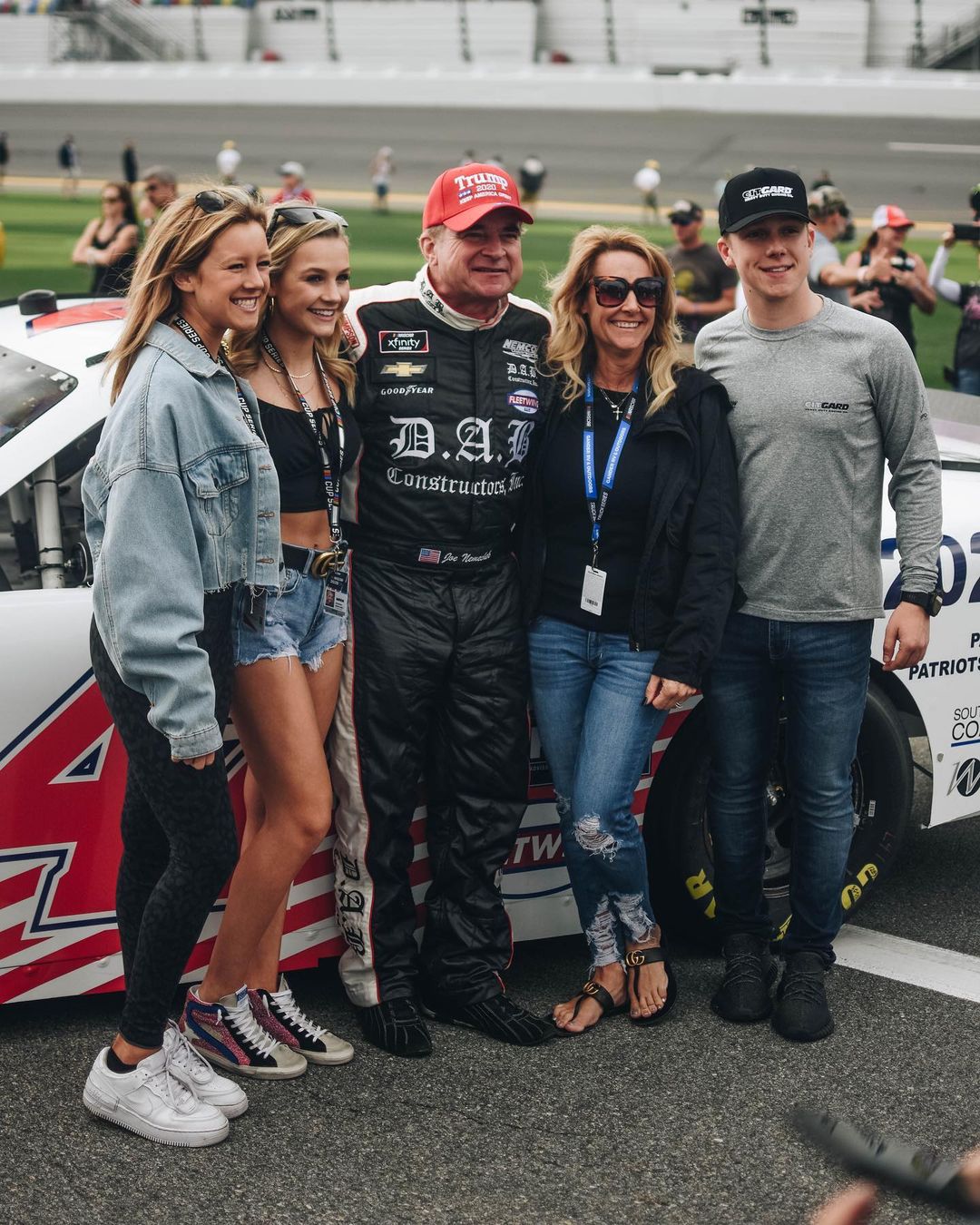 Interestingly, she had never gone to see races before her marriage. It soon changed to days of traveling with her husband from one race track to another.
However, she stayed home more often as the kids grew older and needed more attention. Joe and Andrea also share two daughters, Blair and Kennedy.
Andrea is the unsung hero who has kept the Nemechek family together and provided the emotional support that every aspiring racer needs.
Her unconditional love, encouragement, and unwavering belief in her son's abilities have been instrumental in John Hunter's success as a driver.