Julian Champagnie's twin brother, Justin Champagnie, is a professional basketball player who plays for the Boston Celtics of the National Basketball Association.
Justin Champagnie was born in 2001, 11 minutes before his twin brother Julian.
He declared for the 2021 NBA Draft after finishing his second year of college but went undrafted. Then, on August 7, 2021, he signed a two-way contract with the Toronto Raptors.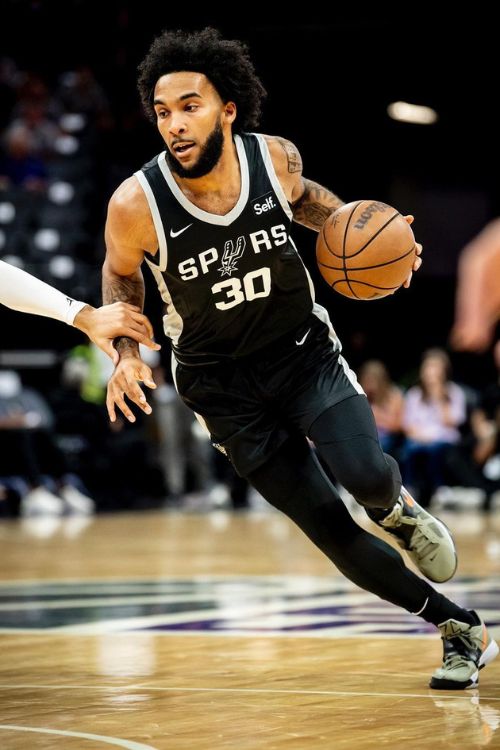 Julian Kymani Champagnie is an American basketball player competing for the San Antonio Spurs in the NBA.
Julian attended Bishop Loughlin Memorial High School, where he had the opportunity to play basketball alongside his twin brother.
Before his professional career, Champagnie played college basketball for the St. John's Red Storm.
After not being selected in the 2022 NBA draft, Julian Kymani Champagnie signed a two-way contract with the Philadelphia 76ers on June 24, 2022.
He split his time between the 76ers and their NBA G League affiliate, the Delaware Blue Coats.
Julian Champagnie Brother
Justin Champagnie, the brother of Julian Champagne, is a talented basketball player currently playing for the Boston Celtics in the National Basketball Association (NBA).
He played college basketball for the Pittsburgh Panthers and immediately made an impact during his freshman year.
His impressive performances led to several awards, including the CBS Sports/USBWA National Freshman of the Week and the ACC Freshman of the Week.
Although he went undrafted in the 2021 NBA draft, Champagnie signed a two-way contract with the Toronto Raptors.
He split his time with their G League affiliate, Raptors 905, before making his professional debut on November 1, 2021, for the Toronto Raptors.
On April 7, 2023, Justin signed with the Boston Celtics and is now a part of their team.
Justin Has Kept His Instagram Private
Julian, a young and aspiring basketball player, has made a thoughtful decision to keep his Instagram handle private.
It seems that he values his personal life and wants to keep it only to his true followers and fans, who have shown genuine interest and support in his journey toward success.
The Twin Brothers Went Their Own Separate Ways
Justin and Julian, who had just finished their junior year at Bishop Loughlin High School, decided to take a prep year.
However, during their senior season, their plans took an unexpected turn. They visited Pittsburgh in February, where Justin fell in love with the school and its basketball program, and he was eager to commit on the spot.
Their mother advised him to wait, but Julian remained undecided and considered pursuing a post-graduate year.
This led the brothers to have a serious conversation about potentially taking different paths and exploring new opportunities on their own. It was a pivotal moment in their lives.
Justin used to depend on Julian for simple tasks such as setting the alarm and managing his schedule.
However, ever since he found his own way in his career, Justin has been able to act independently without relying on his brother.
Justin And Jullian's Family
The Champagnie brothers were born on June 29, 2001, in Staten Island, New York.
Their parents, Ranford Champagnie and Christina Champagnie, played significant roles in their upbringing.
Notably, Ranford was a member of the 1996 national championship team and was actively involved in soccer during his time at St. John's University in the mid-1990s.
He is the former head coach of Baruch College's soccer team from 2003 to 2017, bringing his expertise and passion for the sport to the Bearcats.
Before his coaching role, he worked as an access supervisor at Verizon, showcasing his diverse professional background.