Julie Brady is recognized as the sister of football superstar Tom Brady and the wife of ex-baseball player Kevin Youkilis. Nonetheless, Julie has her own identity, too.
It is believed that Julie worked as a teacher in past. Surrounded by utterly famous sports stars, Julie has always been in the limelight in one way or the other.
Interestingly, Julie Brady and Tom Brady were born on the same day as but three years apart. They are often confused as twins for the same reason.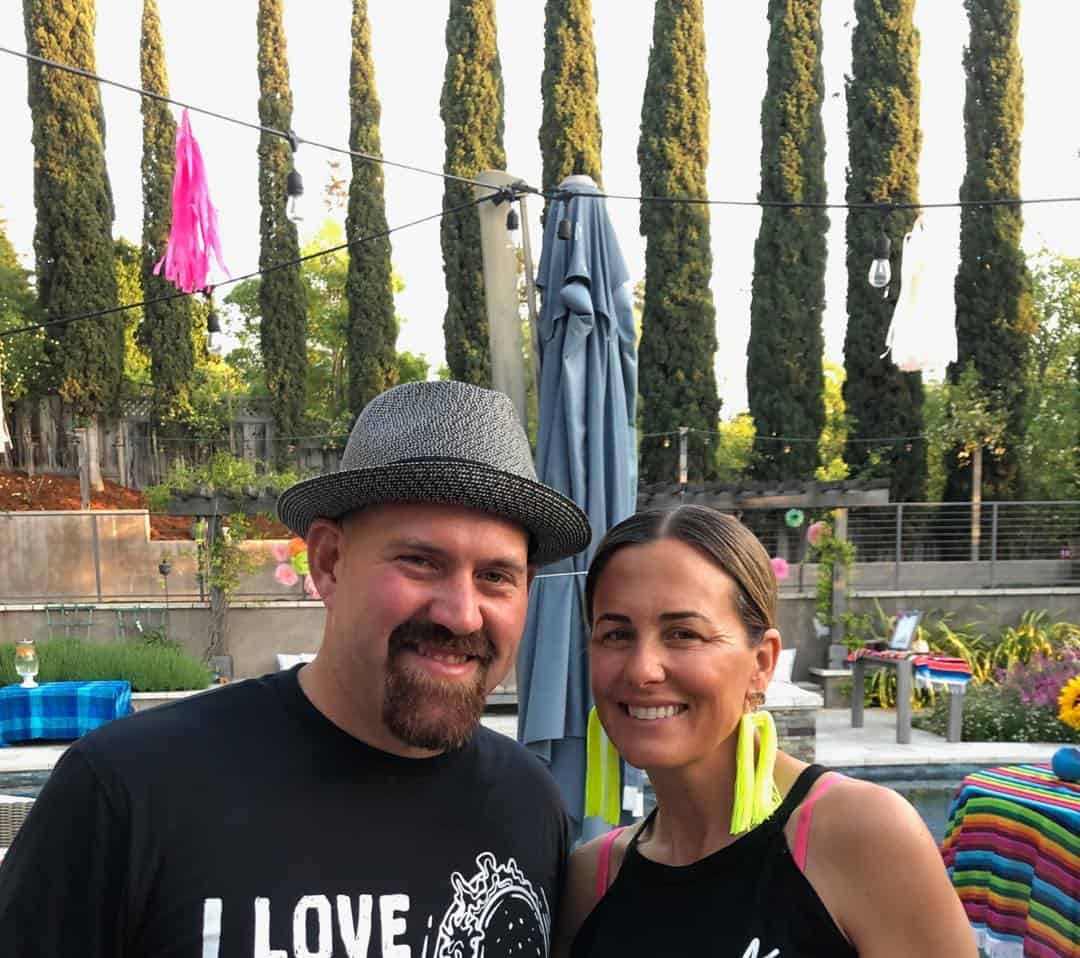 Read more about Julie Brady's birthday, husband, children, and net worth.
Julie Brady: Quick Facts
Full Name
Julie Brady
Birth Date
August 03, 1974
Birth Place
California, U.S.A
Religion
Catholic by birth
Nationality
American
Ethnicity
Not Known
Education
St. Mary's College, California
Horoscope
Leo
Father's Name
Tom Brady, Sr.
Mother's Name
Galynn Patricia Brady
Siblings
Tom Brady
Maureen Brady
Nancy Brady
Age
47 Years Old
Height
Not Available
Weight
Not Available
Shoe Size
Not Available
Hair Color
Blonde and Black (partially)
Eye Color
Light Brown
Body Measurement
Not available
Marital Status
Married
Spouse
Kevin Youkilis
Children
Three (A daughter and two sons)
Children's Name
Jordan Brady
Zachary Youkilis
Jeremy Youkilis
Profession
Former Teacher
Net Worth
1 Million USD
Social Media
Not Active
Merch
Book
Last Update
July, 2022
Julie Brady | Birthday, Parents, and Siblings
Julie Brady was born on August 3, 1974, in California to Galynn Patricia Brady and Tom Brady Sr. She has reached 47 years old of age as of 2022.
She went to St. Mary's College, California, where she played soccer. Brady plays soccer even now in Bay area but in a recreational manner.
Julie grew up along with her three siblings; Maureen Brady, Nancy Brady, and the most famous of them all, her brother Tom Brady.
Julie Brady's zodiac sign is Leo. Astrologers claim that the people born under the sign of Leo are natural-born leaders.
People with the sign Leo are believed to be dramatic, artistic, self-assured, very difficult to oppose, leading, and able to accomplish anything they want to in any area of life they commit to.
They are self-confident and attractive, and their healthy sense of humor makes building relationships with other people even more effortless.
Don't forget to check out: <<Brynn Cameron: Brother, Matt Leinart, Husband, Kids & Salary>>
Parents
Julie Brady's parents have been celebrating their marital life for over 45 years. And it has been reported that their union is still going strong.
Julie's father, Tom Brady Sr., is of Irish descent and was born on May 6, 1944, in San Francisco, California.
Tom Brady Sr. used to be an insurance counselor for years, and his son Brady Jr. credits his competitiveness on the field to his father.
Brady Sr. also has a keen interest in sports and likes to play golf and baseball.
Julie Brady's mother, Galynn, married Brady Sr. on April 19, 1969, and the couple has been in each other's company ever since.
Also, check out <<134 Inspiring Tom Brady Quotes >>
Although their son Brady Jr. has a big name in sports and has a net worth estimated to be over $180.0 million.
In addition, the couple still lives in the same home in San Mateo, California, where they raised their children for more than 40 years.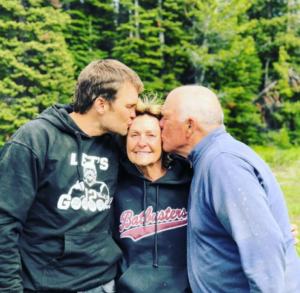 It looks like the saying the home is where the heart lives fit right to Brady's house.
Julie Brady's mom Galynn is of Polish, Norwegian, and Swedish descent. Galynn has even been featured in a commercial with Brady Jr.
The mother-son duo is shown making pancakes in the 2014 ad, which must have been quite a challenging walk for Galynn as she has been a homemaker all her life.
Julie Brady: Brother Tom Brady
Julie Brady and her brother Tom Brady share a beautiful relationship of loving siblings.
Although Tom and Brady were not born together, Julie Brady is sometimes called Tom Brady's "twin sister."
That's because they have their birthdays on the same day, on August 3. However, Tom Brady was born in 1977, making Julie Tom's elder sister by a good three years.
In honor of their joint birthday, Tom in 2017 shared a photo on Instagram captioned,"
"When you share the same birthday…and also great fashion style! Happy birthday sweet Julie! I love you! Thank you for being the best second oldest sister in the world!" Tom. Julie Brady is Tom's elder sister and is younger than the oldest sister, Maureen Brady."
Also, in the recent post of August 4, 2020, Tom shares beautiful words wishing his beloved sister a happy birthday. The texts in the post quoted,
"I want to wish a happy birthday to my sister, Julie!! You've always had a smile on your face, which has always kept one on mine. I feel so lucky to have you as my big sis!!".
Julie Brady's brother, Tom, was always way too protective towards his sister.
He was one of the worried family members who supported his sister even after her previous married life failed miserably within a few years.
Tom kept suggesting the relationship dynamics that Julie shared with Kevin.
In fact, in an interview that featured Julie and Youkilis and their infant son, a year after their marriage, revealed that her kid brother Brady Jr. had told her to "take it slow" when he found out that she had started dating Youkilis.
As for Tom Brady, he is happily married to model Gisele Bundchen. Julie has three nieces and nephews: Vivian, Benjamin, and John.
Greatest Quarterback
Tom Brady is widely considered as one of the greatest quarterbacks of all time. He is better known as the New England Patriots quarterback.
Moreover, Brady was an equally brilliant football player and baseball player in high school before starting his professional sports career.
Julie Brady | Personal life & Husband
Julie Brady is married twice. Her former relationship could not go that well, but later marriage has gone pretty well. She is a happily married wife and a caring mother to her kids.
First Marriage
Julie Brady was previously married before meeting Kevin Youkilis. However, the marriage could not last more than two years.
Sadly, there is no proven information on Julie's first marriage and separation.
However, a little amount of available information claims that the wedding took place in Mexico in 2008.
No proven evidence is available in the public domain that provides the factual details of her previous husband and their separation that happened in 2011.
There are claims that Julie and her unidentified husband have a ten-year-old daughter named Jordan.
You might also want to read: <<Stephanie McMahon Bio: Age, Height, Family, Career, Achievements, IG Wiki >>
Husband Kevin Youkilis
Julie Brady is married to former baseball player Kevin Youkilis. The couple started dating each other in 2011, and just within a year, the pair got engaged and got married in April 2012.
They got married in a silent wedding ceremony in New York City in the presence of their family and close friends.
Kevin Youkilis used to play as a first baseman and third baseman for teams like the Boston Red Sox, Chicago White Sox, New York Yankees.
After his time in the MLB and plenty of injuries, Kevin used some time playing ball overseas.
Kevin signed with the Tohoku Rakuten Golden Eagles in 2014. Kevin played with them the 2014 season and announced his retirement at the end of the year.
Youkilis then turned into a scout and development consultant for the Chicago Cubs.
Kevin met and tied the knot with the love of his life, Julie Brady, in the middle of his exciting baseball career, amid rumors that Julie was already pregnant.
It's now more than eight years that Julie and Kevin have celebrated their relationship as husbands and wives.
Mr. Youkilis has as well accepted Jordan as his daughter with his other two children, Zachary and Jeremy.
Julie Brady has a family that loves to hang out with each other in their times.
The couple seems to be living their married life happily. The Instagram posts from Julie's husband suggest their happier relationship.
In a recent post shared around valentines, Kevin shared the couple's adorable picture and lovingly quoted,
"The luckiest man alive to have this rock star wife and mom as my Valentine!".
Children
Julie Brady has three children of her own and lives with Youkilis in Los Gatos, California.
Currently, Julie is actively taking care of her family and raising her children to be achievers and responsible adults.
After all, the family has a rich legacy behind them. It would not be a surprise if we could witness some world-class sportspersons emerging from her family in a few years.
Don't forget to check out: <<Jessica Cox, Mike Trout Wife, Age, Baby, Wedding, Instagram >>
Julie Brady | Career & Net Worth
There is no information supporting Julie Brady's education and her highest degree. But, as per sources, Julie Brady was previously a school teacher.
In addition, Julie used to be a special education teacher. Eventually, no fresh updates on her career and job details were found.
Due to the unknown facts, Julie Brady's job details, her earnings are hidden. Likewise, no information can proudly state the facts on the actual earnings of Julie.
Also read <<Ashley Force Hood Age, Net Worth, Family, Husband, Children, Career, Instagram >>
However, some sources claim her net worth to be around $1 Million. On the other hand, her partner, Kevin Youkilis' net worth is reported to be about $24 Million.
Julie Brady | Height and Body Measurements
There is no proven information on Julie Brady's height, weight, and body measurements.
However, analyzing her photo in the public domain shows that she leads a fit and healthy life and must have a good body structure.
Likewise, there is also no information about her color of hair and eyes. However, our mere assumption after analyzing her photos says that she might have brown eyes and brown hair.
Julie Brady | Social Media Presence
Julie is leading a low-key, private life. She must be living a peaceful life out of the social media, chaotic and glamorous life.
However, you can find her husband, Kevin, on both Instagram and Twitter. And also, her brother Tom is on social media platforms like Instagram, Facebook, and Twitter.
Common Queries about Julie Brady
Did Julie Brady convert to Judaism when she married Kevin Youkilis?
Julie Brady is a Catholic by birth. She married Kevin Youkilis, a Jewish man.
In fact, Kevin is so much into Judaism that he is a Bar Mitzvah (Jewish ritual for boys once they attain 13 years) at a Conservative synagogue.
The Youkilis family has the tradition of religious conversion after marriage.
Kevin's mother, Carolyn Weekley, a West Virginia native, converted to Judaism after marriage. However, it is not known whether Brady has yet converted to Judaism or not.
Moreover, it is not revealed whether the interfaith couple has decided to raise their children Jewish, Catholic, or mixed-faith.
When did Kevin Youkilis and Julie Brady first meet?
Kevin Youkilis and Julie Brady first met at a fundraiser organized by Julie's younger sister, Nancy Brady.
Yukilis' friend comedian Mike O'Malley was the emcee of the program, and Youkilis was at the even to support him.
The couple started dating in 2011. Kevin had just separated from his marriage with Sambataro then. Likewise, Julie had a daughter, Jordan, from her previous marriage.
However, there is another story as well about how they first met. They met at the Patriots party after Youkilis' team was knocked out of the 2010 playoffs.
Julie remembers Youkilis getting intimidated to ask the phone number of his fellow athlete's sister. Moreover, she recalls her brother Tom Brady advising her to take things slow with Youkilis.