Kadarius Toney's parents, Dana Toney and Angela Williams have raised a family with military background. Only the Chifes' wide receiver has opted for a path different from his siblings.
The wide receiver of the Kansas City Chiefs, Kadarius Toney, has six older siblings with two being part of the military. Despite Kadarius' on-field success, the family has tried to remain away from the public limelight.
Growing up in a disciplined household, Kadarius was a success story not only on the football field but also in class. The 24-year-old finished high school at 16 and later enrolled at the University of Florida.
A round-one pick of the 2021 NFL Draft, Toney was traded by the Giants last season after week two after having a frustrating time with the injuries. He then joined Kansas City Chiefs, where the youngster with Patrick Mahomes and Travis Kelce lifted the Super Bowl title.
But the injuries might've returned to haunt him as the wide receiver is a doubt for the Chiefs in Week 1. It's been reported that Toney suffered a knee injury on the first day of training camp.
The upcoming season has been touted as the breakout season for Toney. So the apparent knee injury can be a huge blow to the Alabama native.
Kadarius Toney Parents, Dana Toney, And Angela Williams
Kadarius Toney's parents Dana Toney, and Angela Williams, raised seven kids in Mobile, Alabama.
The wide receiver's father, Dana Toney, is a Navy veteran and currently works for the United States Postal Service. In his interview with NY Daily News, Dana said his son has always been a country boy.
He revealed the Chifes' player loved going fishing and crabbing, and on Friday nights, rather than spending time outside loved staying at home listening to music and playing video games with friends.
Despite growing up in the rough area of the town, Dana said his son never drifted towards street life. He went to church with his family, with his grandfather previously being a deacon.
But in 2018, when Kadarius was suspended from Gators' opening game, it was revealed the football player had two gun-related incidents. But when confronted by the locals on campus, they were airsoft (BB) guns and not assault rifles.
The very next day of the incident, Dana Toney made his way to Gainesville to talk to his son and remind him why he was at Gainesville in the first place.
Dana Toney is available on Facebook and has shared only a few posts, which surprisingly don't include his famous son.
Toney's mother, Angela Willams, works at Huntington Ingalls shipbuilding company and has been seen attending several football games of her son.
In 2021, Blount High School invited Dana and Angela as they retired Kadarius' No. 4 jersey. The couple was presented with Toney's framed jersey, with the wide receiver attending the event through a Zoom call.
Kadarius Toney Brothers
Kadarius Toney is the youngest of seven siblings and has two brothers, and they have followed in their father's footsteps.
Dana Toney Jr is a retired veteran, and Dana Toney III has also served in the Army. One of Kadarius Toney's brothers is available on Facebook with the name Dana D Toney.
Dana D Toney graduated from Mattie T Blount High School and served in the Army. And according to his Facebook handle, Dana D Toney was a student at Culinard, The Culinary Institute of Virginia College, and graduated in 2018.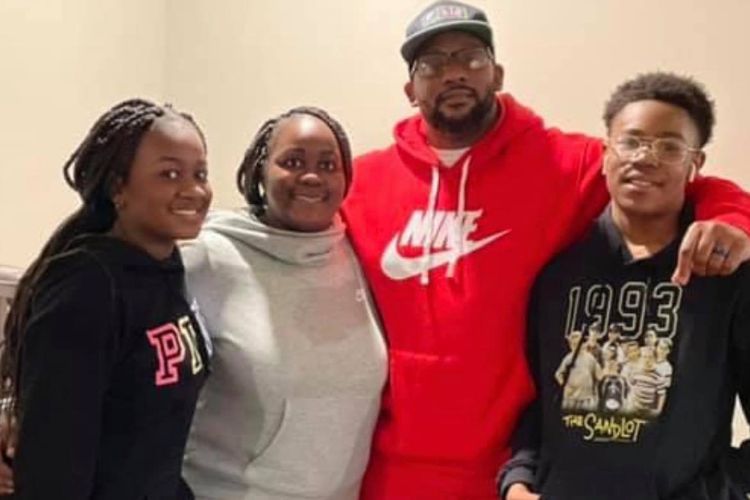 He also studied Supply Chain Management at Bellevue University and is married to Shenice Toney. The couple tied the knot in 2008 and are parents to two kids, a son and a daughter.
Dana and Shenice are likely to have met during their time in Army. Shenice has previously shared an image of them in their official uniforms. Dana has shared limited pictures on his Facebook handle, with most pictures shared being of his wife and kids.