The story of sibling rivalry between Karamoko Dembélé and his brother, Siriki Dembélé often captures the imagination of fans and pundits alike.
Karamoko and Siriki have carved their own paths in the world of soccer, showcasing their talent and determination on the field.
This article explores the age gap and family tree of the Dembélé brothers, shedding light on their remarkable journey.
Karamoko Kader Dembélé is an English professional soccer player who plays for Ligue 1 club Brest, joined in 2022.
Born on February 22, 2003, in London, England, Karamoko was thrust into the spotlight due to his exceptional skills and confidence on the ball.
The winger joined Park Villa Boys' youth academy at the tender age of 5 and joined Celtic in 2013.
Karamoko created a buzz in 2019 when he made his debut for Celtic's first team at just 16 years old.
Moreover, he has won the Scottish Premiership, the Scottish Cup, and the Glasgow Cup with the Scottish giant.
Besides, Karamoko has represented the Scotland U16 and England U15-U18 teams in 2021.
Karamoko Dembélé Brother: Siriki Dembélé
Siriki Dembélé is an Ivorian professional soccer player who plays as a forward for the EFL Championship club Birmingham City.
Born on September 7, 1996, in Ouragahio, Ivory Coast, the elder brother of Karamoko followed a more unconventional path to professional soccer.
While Karamoko was garnering attention as a prodigious talent, Siriki was quietly honing his skills in the lower tiers of English soccer.
He began his career in the youth system of the Scottish club Dundee United in 2009.
Siriki joined Ayr United in 2015 and after just a year, the winger found himself playing at the prestigious Nike Academy.
His tenure with the academy led to his first professional contract with Grimsby Town in 2017.
The soccer journey took him through several lower-league clubs in England, including Peterborough United and AFC Bournemouth.
Siriki even moved to Ligue 1 club Auxerre on loan before joining Birmingham City on 14 July 2023.
The Age Gap And A Shared Dream
Talking about the age gap between Karamoko and Siriki Dembélé, it is approximately seven years.
This age difference has played a significant role in shaping their respective soccer journeys.
While Karamoko was still in his formative years, Siriki was navigating the challenges of breaking into the professional soccer scene.
The age gap, though substantial, has not hindered their mutual support and admiration for each other's accomplishments.
When Siriki was asked about the potential to become a teammate of Karamoko, he was hopeful of playing with his brother.
"Playing alongside my brother, I think that will happen one day. It would be nice, it would be very good," Siriki said.
The Family Tree
The Dembélé brothers come from a family with African cultural roots. Their parents emigrated from Ivory Coast to London before moving to Govan, Scotland in 2004.
Karamoko's parents are proud parents of four kids, one daughter and three sons, including Karamoko.
Moreover, Karamoko's father, Losseni Dembele, is friends with the global soccer stars, Yaya and Kolo Toure's father.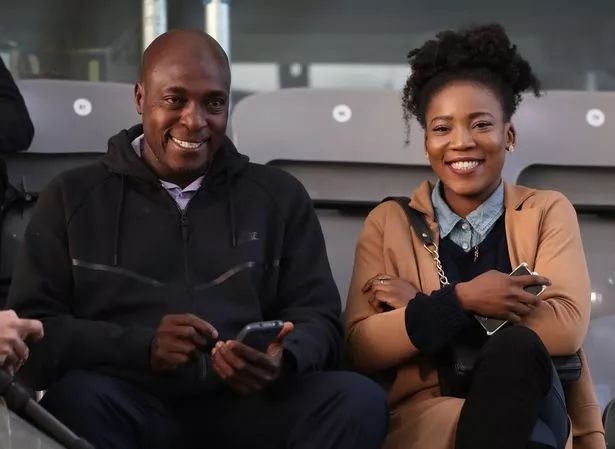 Among the Dembele siblings, Macoula Dembele is the eldest and never misses cheering on her three younger brothers.
She also played soccer during secondary school but later quit soccer to focus on her studies.
Macoula completed her Diploma in Professional Legal Practice from Robert Gordon University in 2020.
Moreover, she was also signed by a top Scottish modeling agency.
Similarly, the youngest brother, Hassan Dembélé, also plays soccer.