Charles Frederick "Karch" Kiraly is noted for his overall volleyball ability and laser-like focus. He plays volleyball with a lot of ferocity.
Kiraly was awarded the title FIVB Best Player in the World in 1986 and 1989 and FIVB Best Player of the 20th century.
His rivalry is fierce but not vicious, and his ability to block out the rest of the world is legendary.
He has an extraordinary capacity to pull off the seemingly impossible match and turn a game around.
Karch was the catalyst for the 1984 and 1988 teams because his unwavering commitment to excellent volleyball inspired the other players to give it their all.
Karch Kiraly: Quick Facts
Name
Karch Kiraly
Fullname
Charles Frederick "Karch" Kiraly
Pronunciation
Ka-rk Keer-ah-lee
Nickname
"Karch"
Birthdate
November 3, 1960
Birthplace
Jackson, Michigan, U.S.
Sexual Orientation
Straight
Age
62 years old
Zodiac sign
Scorpio
Chinese Zodiac
Rat
Nationality
American
Body Type
Athletic
Hair Color
Brown
Skin
Fair
Height
6'2″ (1.88 m)
Weight
205 lb (93 kg)
Profession
Volleyball Player
League
NBA
School
Santa Barbara High School
College
The University of California, Los Angeles (UCLA)
Team
Joined U.S. National team in 1982
Jersey Number
#31 for UCLA
#15 for the USA
Olympics Gold
1984 – Los Angeles (Indoor)
1988 – Seoul (Indoor)
1996 Atlanta (Beach)
World Championships
1986 France (Gold)
Father's Name
Laszio Kiraly
Mother's Name
Antoinette Kiraly
Relationship status
Married
Spouse
Janna Kiraly
Children
Kristian Kiraly
Kory Kiraly
Net Worth
$2 million
Merch
Autobiography, Trading Card
Last Update
March, 2023
Who is Karch Kiraly?
Charles Frederick "Karch" Kiraly is an American volleyball player, coach, and broadcast commentator born on November 3, 1960.
He was a vital United States National Team member that won gold medals in the 1984 and 1988 Olympic Games.
Karch went on to win the gold medal in beach volleyball at the 1996 Olympic Games, the first time the sport had been included in the Olympics.
He is the only volleyball player to have won Olympic indoor and beach volleyball medals. He was a UCLA Bruins volleyball team member who won three national titles under head coach Al Scates.
Moreover, he completed the "triple crown" of coaching an Olympic gold medal-winning team and winning gold medals in indoor and beach volleyball.
Early Life & Childhood
Kiraly was born and raised in Santa Barbara, California. Kiraly entered his first beach volleyball event with his Father when he was 11 years old.
His Father, Laszlo Kiraly, who had been a part of the Hungarian Junior National team before fleeing the country during the 1956 Hungarian national revolt, encouraged him to play volleyball at six.
Kiraly played varsity volleyball for the boys' varsity squad at Santa Barbara High School. His Father was instrumental in establishing the school's boys' volleyball program.
He was invited to join the Junior National Team during high school, where he competed for three years.
Rick Olmstead, Kiraly's high school coach, is credited with instilling in him the value of hard work and perseverance.
Early Career
The Bruins made it to the finals in Kiraly's sophomore season but lost to crosstown rivals USC. In Kiraly's junior season, UCLA recovered the top rank.
During his senior year, Kiraly added another title to his college resume. During his four years as coach, the Bruins went 123–5, including championships in 1979, 1981, and 1982.
In the 1979 and 1982 seasons, they went undefeated. Kiraly was an All-American all four years, and in 1981 and 1982, he was named the NCAA Volleyball Tournament Most Outstanding Player.
Professional Career
Kiraly won silver medals at the NORCECA Championships in 1981 and 1987 and gold medals in 1983 and 1985 as the United States Men's National Team member.
With gold medals at the Olympic Games in 1984 (for which he received the FIVB Sportsmanship Award), the 1985 World Cup (for which he was named MVP), and the 1986 World Championship, he completed the volleyball triple crown.
Kiraly was awarded MVP and won gold medals in the 1988 Olympic Games and the Savin Cup and Pan American Games in 1987as team captain.
Kiraly went on to play professional volleyball in the Italian leagues from 1990 to 1992 after winning two Olympic gold medals.
In 1991, he and his team II Messaggero won the World Club Championship, awarded MVP.
Karch retired to the beach in 1992. With the introduction of the AVP, significant opportunities opened up for a player with exceptional skills, even though he had not expected to be a professional volleyball player.
Karch Kiraly: Broadcaster
Kiraly has worked as a color commentator for the AVP on N.B.C. broadcasts and as an ESPN broadcaster.
He worked as an analyst for N.B.C. Sports during their coverage of the 2008 Summer Olympics beach volleyball sport.
Read next; Jon Rahm Net Worth | Career Earnings & Lifestyle
Karch Kiraly: Coach
Kiraly started coaching his boys, Kristian and Kory, at St. Margaret's Episcopal High School.
Kiraly was hired as an assistant coach by Hugh McCutcheon of the U.S. National Women's Volleyball team, where he led the team to a silver medal at the 2012 London Olympics.
He was selected as head coach of the United States National Women's Volleyball Team in 2012 to play in the 2016 Olympics in Rio de Janeiro, Brazil.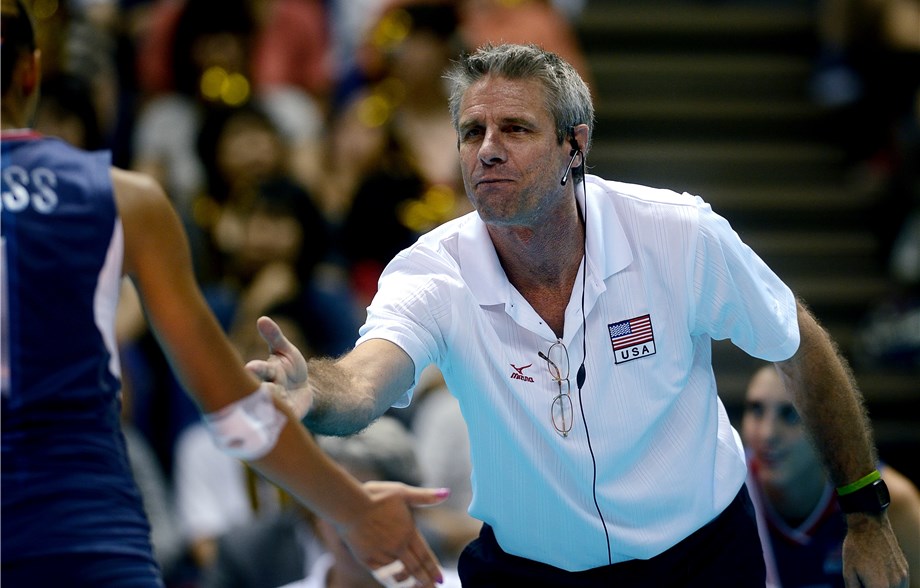 Kiraly led the Women's National Team to the FIVB World Championship in October 2014, when they defeated China in the Gold Medal final.
With this achievement, Kiraly became the fourth individual to win a World Championship gold medal as a player and a coach.
Karch is currently the head coach of the United States women's national volleyball team, where he has led them to their first-ever gold medal at the 2020 Tokyo Olympics.
Cancer Diagnosis
In 2017, Karch Kiraly was diagnosed with colon Cancer, yet he still coached the club.
Kiraly announced that he was diagnosed with colon Cancer in 2017 and had to have part of his colon removed to fight the disease.
Nevertheless, he led the national team to their historic gold medal win at the 2020 Summer Olympics on the same day.
He didn't want to upset his team, so he chose not to tell them until he went into Cancer remission in 2021 to keep the team in good operating condition.
Publications
Karch Kiraly's Championship Volleyball, co-authored with Jon Hastings and published by Simon and Schuster in 1996.
Beach Volleyball, co-authored with Byron Shewman and published by Human Kinetics in 1999, is two of Kiraly's publications.
Since its first publication in 1990, his book Karch Kiraly's Championship Volleyball has been enormously successful.
He is a Volleyball Magazine contributing editor and assisted in the production of Strictly Beach, a DVD on winning sand volleyball ideas and approaches.
Also, read about; Allen Bestwick's Bio: Early Life, Wife, Kids, Career & Net Worth.
Karch Kiraly: Wife & Kids
Janna Kiraly is the wife of Karch Kiraly. The couple has been married for nearly three decades.
They were married in 1986 and have been together ever since. Karch Kiraly has two children with his wife, Janna: Kristian Kiraly and Kory Kiraly.
Kristian and Kory, like their Father, are training to be volleyball players. Karch coached his sons at St. Margaret's Episcopal High School.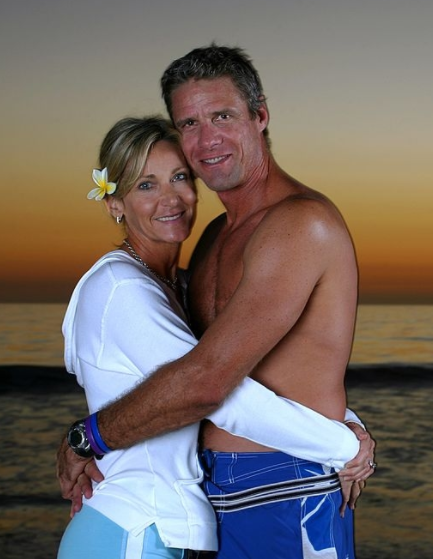 The family now resides in Heber City, Utah, in luxury. However, they live a very private lifestyle and only occasionally appear in public.
Moreover, Misty May-Treanor, beach volleyball player and three-time Olympic gold medalist, was Kiraly's babysitter when she was younger.
Karch Kiraly: Net Worth
Karch Kiraly amassed his $2 million net worth primarily through volleyball partnerships, with some investments for good measure.
He was a marketing juggernaut with many sponsors after representing the national team for over a decade.
He had numerous possibilities to play on a foreign continent during his career.
Two-thirds of the 1984 team had gone into business during this time. His pals were competing professionally in Europe for large sums of money.
Despite this, Kiraly stayed a semi-amateur, earning an unofficial income of $80,000 a year at 26.
But that was a wise decision. Regarding nationals, he was considered a favorite for pole positions.
Victory Money
Karch won the gold medal and $13,200 in the 1990 AVP Pro Beachball tournament out of a total prize fund of $60,000.
Karch Kiraly and Steffen won $150,000 in prize money in 1991. By 1994, they had won top prizes in tournaments with a total prize fund of $250,000.
Karch had amassed a sizable fortune from prize money by the end of the 2007 AVP season.
According to sources, Karch received $3,198,748 in prize money. It is one of the most significant payments ever paid to a volleyball player in the category.
Learn about; Jeff Gordon | NASCAR, Career, Wife, Divorce & Net Worth
Charity Works
When it comes to giving back to the community, Karch Kiraly is a prominent figure. He has participated in several fundraisers and philanthropic services throughout his career.
Karch Kiraly Charitable Foundation was the name of the volleyball champion's non-profit organization.
In 2001, the non-profit organization was established. However, it was dissolved on September 12, 1994, according to Open Corporates.
He participated in volunteer work too. He was an essential part of the Starlings team. The concept was to offer a free indoor club volleyball program to females who couldn't afford it.
Over 150 students have benefited from Karch's collaboration with the organization. Similarly, he has aided numerous ladies in obtaining scholarships and college degrees through volleyball.
Media Appearances
Karch Kiraly has been in several TV shows and other forms of visual media. According to the Baltimore Sun, Kiraly has worked as an ESPN broadcaster for numerous years.
He's also appeared on SportsNation as a guest speaker on several occasions. Karch was recently on the show to discuss the NCAA women's volleyball tournament.
Karch also gave color commentary for AVP broadcasts on N.B.C. in 2005. He paired up with Mike Lambert and other Olympic champions for the show.
Karch also worked for N.B.C. Sports as a sports analyst. During the 2008 Summer Olympics, he was a crucial figure in the coverage of beach volleyball competitions.
Karch began his television career after starring in and producing the film "Spiker." It was a film about American athletes attempting to break into the national volleyball scene.
During the filming of this movie, he also portrayed a background volleyball player.
Karch appeared in an episode of a popular TV show in 1995. In Baywatch, he played "Kurt Stevenson," a beach volleyball player.
His most recent television appearance was in 2013's "Court and Spark." It's a film about a small child who overcomes obstacles to becoming a volleyball player.
Social Media Presence
Kach Kiraly is active on various social media platforms. He consistently posts pictures and updates his life to his fans and followers.
If you want to follow him on social media, then below are the links to them;
FAQs
What impact has Karch Kiraly had on volleyball?
Karch Kiraly is regarded as one of the best volleyball players in history. He is the only player to win gold medals in indoor and beach volleyball.
Kiraly has also won 148 beach volleyball events in his professional career, totaling over $3 million in prize money.
Did Karch Kiraly and Sinjin Smith play together?
Sinjin Smith and Karch Kiraly were childhood pals. At UCLA, they played indoor volleyball together.
At 19, they won the "World Championships" in beach volleyball together. With two gold medals, Karch has been crowned the greatest volleyball player.