When you do something you love, you automatically become the best at it. This fits perfectly with Austrian Alpine Skiier Katharina Lineberger.
Katharina Liensberger is regarded as the mascot of Austria's national team and is one of the most skilled skiers competing on the international stage today.
Likewise, the World Champion has won several international medals, including one gold and two silvers in the Olympics.
She is also the first Austrian woman to win the slalom world title in the 2021 World Championship.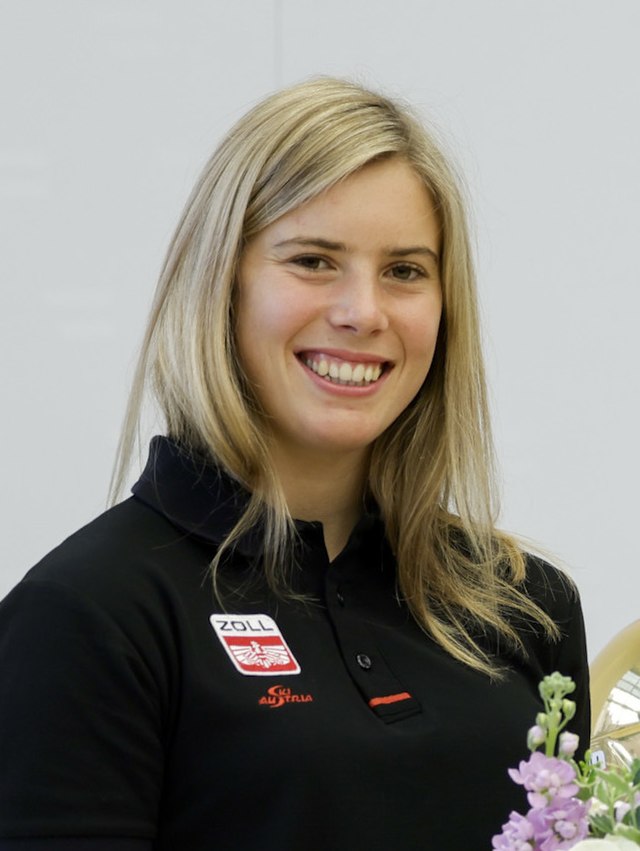 Despite being a novelty person, Katharina knew she loved skiing and had been committed to this winter sport from her childhood. She is often seen smiling when skiing, showing how much she loves skiing.
Her love, passion, hard work, and inherited skills have contributed to her becoming a world champion and famous name in Alpine Skiing.
In this article, we have covered the beautiful journey of Katharina Lineberger to the Olympic gold and beyond. But before that, let's look at her quick facts first.
Quick Facts
Name
Katharina Liensberger
Nick Name
Katharina
Date of Birth
1 April 1997
Age
26 years old
Birth Place
Feldkirch, Vorarlberg, Austria
Residence
Feldkirch, Vorarlberg, Austria
Nationality
Austrian
Ethnicity
Whites
Zodiac Sign
Aries
Height
1.64 m (5 ft 5 in)
Weight
132 lb (60 kg)
Hair Color
Blonde
Eye Color
Dark Brown
Father's Name
Thomas Liensberger
Mother's Name
Herlinde Liensberger
Siblings
Not available
Education
Graduate in Alpine Sking
School

Feldkirch Rebberggasse High School
Mittelschule Schruns School

University
Boarding school for skiers in Stams
Marital Status
Unmarried
Boyfriend
Phil Angl
Children
None
Profession
Alpine skier
Disciplines
Slalom, Giant slalom
Olympics Wins
3 (1 gold, 1 silver and 1 bronze)
Club
Schangnau
Debut Year
2016
Status
Active
Olympic Appearances
Two (2018,2022)
Olympic Wins

Three; One Gold, Two silvers

Notable Achievement

First Austrian woman to win the slalom world title in the 2021 World Championship

Net Worth
$1-$5 million
Social Media

Instagram

,

Facebook

Website
katharina-liensberger.at
Merch of Sking
Sking snow glove
Last Update
June 2023
Early Life and Childhood
Katharina Liensberger was born on 1st April 1997 in Feldkirch, Vorarlberg, Austria. She was born to the parents Thomas Liensberger and Herlinde Liensberger.
The winter sports prodigy learned to ski practically as soon as she learned to walk. At the age of three, the olympian took her first snow runs, and the rest is history.
She loved snow since she was little. Skiing rapidly became a source of enjoyment and pleasure for her.
Furthermore, she adores nature and enjoys taking on new challenges.
Education
Katharina attended Feldkirch Rebberggasse High School and Mittelschule Schruns School. After finishing her formal education, she enrolled in a Boarding school for skiers in Stams in 2011.
The school is famous for aspiring skiers and is also known as a cadre factory for Austrian skiing. The school holds entrance exams for admission, and only the best ones can enroll in the school.
However, Katharina made the cut and studied in the school for five years, finally graduating in 2016. She is now on an alumni list that the school is proud of.
Age, Height, and Body Measurements of Katharina
The Olympian Katharina was born in 1997. As a result, her age is 26 years old.
Katharina stands 5 feet 5 inches tall and weighs roughly 60 kilograms. She has a fit, athletic body and frequently works out to maintain a fit body.
Furthermore, Katharina is of White ethnicity and has beautiful dark brown eyes and blonde hair.
Since Katharina was born in April, her zodiac sign is Aries. Aries are approachable, straightforward, high-spirited, and are full of positive emotions. Thus, Katharina is a true Aries.
You may also like reading about Meghan Duggan Bio: Beijing Olympics, Wife & NJ Devils>>>
Alpine Skiing Career Highlights
The Debut and Olympic Win
Lineberger competed in the European Youth Olympic Winter Festival in 2015. It was her first international tournament. Later, she debuted in the World Cup in January 2016.
She then competed in Junior World Championship in 2017, winning two silvers for Giant Slalom and team event.
In addition, the skier won another silver for Giant Slalom in the 2018 Junior World Championship the following year. The year was special for the skier as she made her first Olympic debut for the 2018 Pyeongchang Olympics.
Katharina was added at the last minute to the Austrian national team, but she ended up winning the silver medal in the team event. She showed fantastic performance in Olympics. She also finished eighth in the slalom.
The Olympic win brought the spotlight to this talented skier who received the attention she deserved. But, the Olympic win was just a teaser for the competency and skill of this skier.
Furthermore, Leinberger showed remarkable consistency and competency, finishing on in every world Cup race podium.
In addition, she won her first podium in 2019 in Slalom. This ended Austria's six-year drought for a women's slalom triumph.
Becoming the World Champion
But that was just the start. Lineberger became the first Austrian woman to win the slalom world title in the 2021 World Championship.
Furthermore, she won gold in the parallel race and bronze in the giant slalom in the event held at Cortina, Italy.
The same year, Leinberger brought two World Cup race podium wins in Slalom. In 2022, Leinberger had a hattrick win in Slalom at World Cup Race Podium.
Furthermore, Katharina showed extraordinary performance in the 2022 Beijing Olympics, winning her first Olympic gold medal.
Also, she broke the chain of two famous skiers winning the Olympic medals every time. She was the new face to win the Olympics, which added more variance in the competition.
Furthermore, she participated in two-three categories; Slalom, Giant Slalom, and team event, where she won gold in team event and silver in slalom. She ranked 15th in giant slalom.
Awards and Achievements
2022 Beijing Olympics (Gold at the team event and Silver at Slalom)

Silver at Team event in 2018 Pyeongchang Olympics

2021 World Championship (Golds at Parallel event, Slalom event, and Bronze at Giant Slalom)

Silver at the team event in 2019 World Championship

Silver at Giant Slalom in 2018 Junior World Championship

2017 Junior World Championship (Silvers at Giant Slalom and Team event)
You may also like reading about Scotty James: Family, Olympics, Girlfriend & Net Worth>>>
Katharina Liensberger | Other Interests
Former Artistic Gymnastics
Liesenberger, although being a natural on snow, also practiced artistic gymnastics from 2003 to 2011.
The young Austrian realized that gymnastics assisted her skiing even though the two disciplines don't appear to be a natural fit.
Also, she claims that gymnastics has helped her learn movement sequences fast, develop a good body feeling, and create a harmonic, exquisite body movement using body tension.
According to her, Gymnastics has also helped her with her body balance and movement dynamics in skiing.
An Extraordinaire Multi-tasker
Liesenberger has retired from gymnastics, although she continues to participate in various hobbies outside of skiing. Hiking, tennis, water skiing, and kite surfing are some of her favorite activities.
Apart from this, she needs variety every day, and she needs to discover tasks she can handle by putting all of her love and confidence into them.
Likewise, Liesenberger can also be seen cycling, rock climbing, and horse riding on her social media accounts. She is a multi-tasker extraordinaire!
Boyfriend of the Olympian
The beautiful Katharina is in a relationship with Phil Angl. She recently shared a photo with his boyfriend going trekking together.
After she officially revealed her relationship, many people showed interest in their relationship. But, she has made her relationship low-key than after.
Judging upon the Instagram of her boyfriend, he is into kite sailing. Very few posts were available in the profile, so, not much information could be gathered.
But, if you want to know about his boyfriend, then make sure to follow him on his Instagram profile.
Katharina Liensberger | Net Worth
According to the sources, the net worth of Katharina Liensberger is estimated to be anywhere between $1 million and $5 million.
With her tournament victories, the Olympian has earned good fortunes of money.
For instance, Austria pays a $19,000 bonus for the gold medal in the Olympics. Though the exact payout amount is not known, it can be estimated that Katharina made thousands of dollars based on her Olympic win.
Her net worth has snowballed over the years, and with her back-to-back wins, it is sure to rise in coming years.
Apart from this, Katharina has also earned handsome money from endorsements and investments.
You may also like reading about Mary Lou Retton Bio: Olympics, Gold Medal, Net Worth & Kids>>>
Social Media
The popularity of Katharina Liensberger can be seen in her social media as well. The olympian has thousands of people following her on her social media handles.
Katharina is also very active in her social media, and she loves connecting to her fans and admirers through these platforms.
Thus, she can be seen posting about her new hobby, new food, and tournaments on her social media.
Particularly, Katharina is more of an Instagram user. She has a verified Instagram profile, and her insta feed is like a storyboard of her life.
She posts about her tournament wins, her playing golfs, working out, visiting new places, cycling, and so on. A lot of things are happening in her insta feed, and it reflects the personality of the skier.
Also, Katharina shares her wisdom of words in her social media, motivating others to achieve their own dream.
Katharina's social media is like a mirror of her reflecting on who she is. Thus, if you want to know her more, then make sure to connect with her through given social media handles.
She also has an official website.
Frequently Asked Questions (FAQs)
How many medals has Katharina Liensberger won?
Till now, Katharina has won ten major medals, including three Olympic medals, four world championship medals, and three Junior World Championship medals.
What happened between Katharina Liensberger and Austrian Federation?
In 2019, Liensberger made a surprising transfer from her ski brand, Rossignol, an Austrian-based brand Kästle, which led to conflicts with the federation.
In addition, she was unable to find a suitable boot supplier since she was not authorized to wear ski boots from a company outside of the federation's supplier pool, which further complicated the matter.
Due to the conflict, Liensberger was even forced to withdraw from the World Cup season-opening in 2019. Later, she re-signed with Rossignol and solved the issues.