Scotty James is an Australian halfpipe snowboarder and four-time Olympian. He was the flag bearer for Australia at the 2018 Winter Olympics, where he secured a bronze medal in the halfpipe.
The three-time World Champion James ranks #3 in the halfpipe category as of 2023.
Aside from being a skateboarding figure, the Warrandyte-raised is also a keen golfer.
Undoubtedly, the snowboarder is the pride of Australia; he won his second Olympic accolade after winning a silver medal in the 2022 Winter Olympics.
In March 2017, he was described as probably "the most popular Australian sports star in America."
James loves snowboarding and does it because he simply enjoys the sport. According to him, he gets to test himself against the best riders in the world while snowboarding.
We have everything you need to know about the Australian snowboarder Scotty James.
In detail, we will discuss the snowboarder's early life, career highlights, social media, and net worth. But before that, let's look at some quick facts about Scotty.
Quick Facts
| | |
| --- | --- |
| Full Name | Scotty James |
| Nick Name | SJ |
| Age | 29 Years Old |
| Birthdate | July 6, 1994 |
| Birthplace | Warrandyte, Victoria, Australia |
| Mother's Name | Celia James |
| Father's Name | Phil James |
| Siblings | Three (Sean James, Tim James, and Rebecca James) |
| Marital Status | Engaged |
| Girlfriend | Chloe Stroll |
| Girlfriend's Profession | Songwriter And Musician |
| Children | None |
| Religion | Christianity |
| Nationality | Australian |
| Ethnicity | White |
| Favorite Food | Egg-And-Bacon, Sushi, Jam Doughnuts |
| Favorite Music | Rock n Roll |
| Favorite Sporting Team | The Bombers |
| Favorite International Competition | Laax Open |
| Sponsors | Red Bull, Oakley, Volcom |
| Height | 6 ft 2 in / 1.88 m / 188 cm |
| Weight | 75 kg / 165 lb |
| Hair Color | Light Brown |
| Eye Color | Blue |
| Shoe Size | Not available |
| Tattoos | None |
| Zodiac Sign | Cancer |
| Chinese Zodiac | Dog |
| Education | Southwood Boys Grammar |
| Events | Half Pipe, Slopestyle, Superpipe |
| Rank | 1st HalfPipe (According To FIS), 4th Overall (FIS World Cup Standings) |
| Coach | Tim James, Abe Teter |
| Profession | Professional Snowboarder |
| Represents | Australia |
| Salary | Under Review |
| Net Worth | Approximately $1.5 Million |
| Social Media | Instagram, YouTube, Twitter, Facebook |
| Website | scottyjames.com.au |
| Merch | Unavailable |
| Last Update | November 2023 |
Family And Early Life
Scotty James was born on July 6, 1994, in Warrandyte, Victoria, Australia, to Celia James and father, Phil James.
He was raised in his birthplace Warrandyte, where he attended Southwood Boys Grammar school. Since his early childhood, he has been very keen on sports.
James is not the only child of his parents. He has three siblings, two brothers: Sean James and Tim James, and a sister named Rebecca James.
Scotty is very close to his family and loves spending quality time with them. His brothers are also snowboarders like him.
Support For Snowboarding From Family
James is indebted to his parents' sacrifice & efforts, who did every possible thing to make his snowboarding dream come true.
Moreover, he has regard for his paternal grandmother Veronica, who never found his dream too big & inspired him.
Whenever Scotty remembers his grandma, he thinks of her hugs; he said she was a great hugger. He loved hearing her stories as she grew up during World War II.
The Australian snowboarder's mother has a significant role in his career-making. As reported, there were tough times when he wanted to quit, but his mom helped him focus on why he was doing it.
Jame's first snowboard was not actually made for snowboarding but a display board.
During his early day, the Olympian and his father had trouble finding a snowboard that fits his size; they bought a display board in Vancouver for $10.
James began competing at six, and after beating older kids, he began traveling for competitions at ten. At the time, Europe and America mainly hosted snowboarding training and competitions.
His mother kept him company while homeschooling him and managing tutors when needed.
Age And Body Measurements
The Olympian, Scotty James, was born in 1994 and is 29 as of 2023.
Scotty was born in the Dog year, according to the Chinese calendar. Talking about his physical appearance, he has a well-maintained body and looks very attractive.
He takes healthy nutrition, does daily exercise, and is involved in skiing & surfing.
The Aussie snowboarder stands 1.88 meters tall and weighs around 165 lbs. Unfortunately, his other body measurements are unknown.
James looks appealing with his light brown hair and blue eyes. His nationality is Australian, and his ethnicity is white.
Scotty James takes pride in representing his country in international tournaments. His love for Green and Gold (the Australian national colors) cannot be undermined.
Scotty's zodiac is Cancer, who has competitive, compassionate, and versatile traits. They are also beautiful and charismatic.
Career Highlights
Scotty made his international debut at the 2008 Europa Cup in Saas-Fee, Switzerland, when he was 14.
When his teammate Nate Johnstone was forced out due to an ankle injury, James went to compete in the World Cup in Stoneham, Canada. There he secured 15th place that would earn him a spot in the 2010 Winter Olympics in Vancouver, replacing Johnstone.
At 15, James was Australia's youngest male Olympian in 50 years and the youngest male competitor at the Vancouver Games.
He fractured his right wrist when training for the halfpipe event in Vancouver. Even after an injury, he competed in the event, finishing 21st.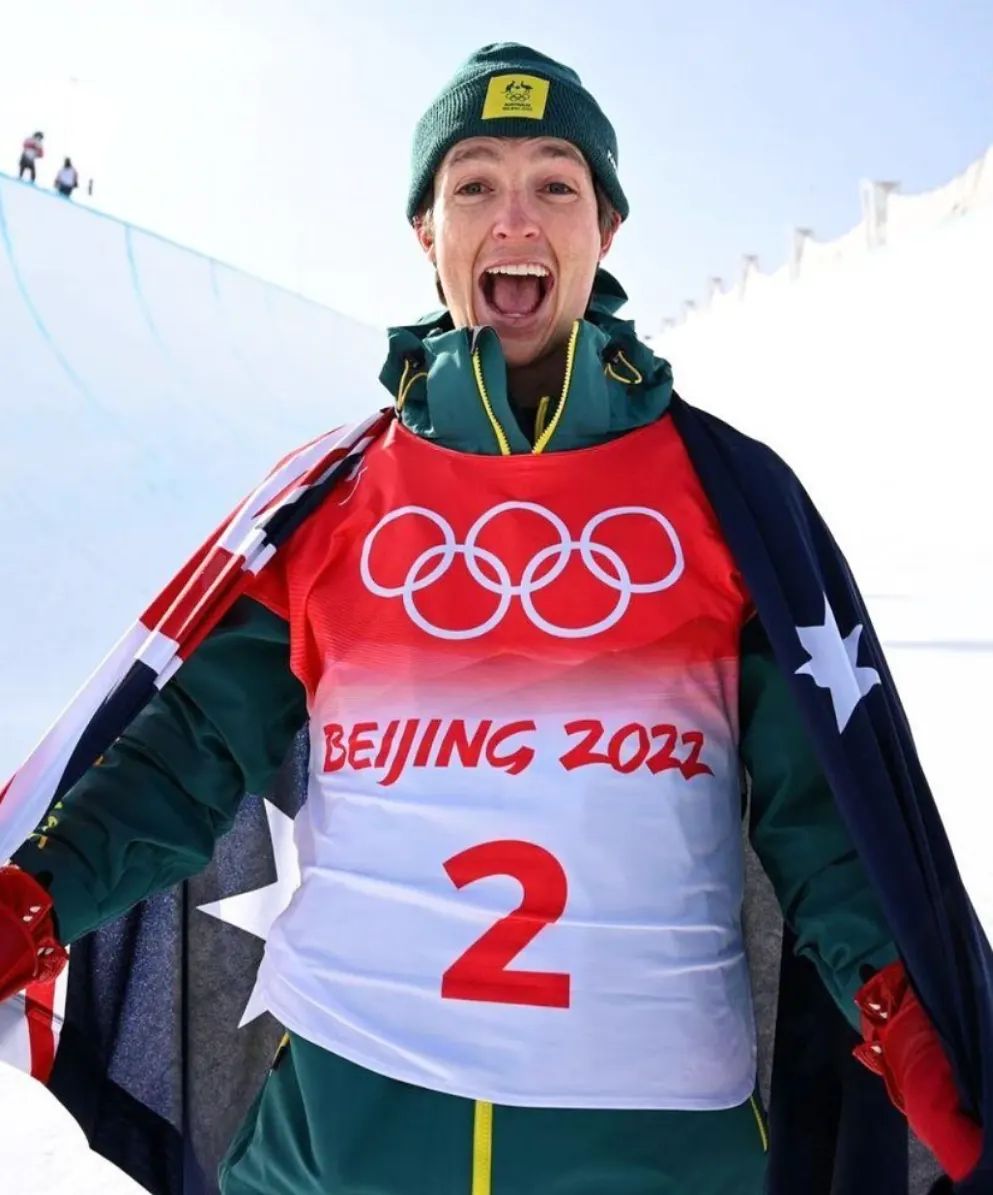 James's results in Halfpipe, Slopestyle and BigAir climbed into the top ten territories at a time.
He has shown himself an up-and-coming halfpipe star over his first two World Cup seasons, which ended on July 1, 2012, with continually improving results.
Rise To Prominence
The Olympian won his first World Cup event medal, a bronze in the halfpipe, while finishing top 10 in the two World Cup events that season.
When he was 19, James was ranked the #1 halfpipe rider in the world. Likewise, in the 2015 FIS Snowboard World Cup in Kreischberg, Austria, Scotty won a gold medal.
Scotty James' most notable achievement is his victory at the 2018 Olympics, where he won a bronze medal. The Aussie snowboarder placed third in the men's halfpipe category at the 2018 Winter Olympics in Pyeongchang.
He was behind gold medalist Shaun White of the United States and silver medalist Ayumu Hirano of Japan.
James secured silver in the men's halfpipe competition in Beijing 2022 Winter Olympics, where Hirano took gold for Japan.
Then, in December 2022, he made a near-perfect core of 99.00 on his second run in the men's final at the U.S. Snowboarding Grand Prix.
It was the second-highest score in International Ski and Snowboard Federation events history.
Awards & Accolades
Scotty James has already reached several heights of success. As a result, he has secured several awards and made his family and country proud.
In 2015 and 2017, he was awarded the Snowsports Athlete of the Year.
Moreover, the same year, Scotty came first in the Dew Tour Breckenridge. The following year, the Australian player won a Gold Medal in X Games Men's SuperPipe.
In 2019, he won first place in the LAAX Men's Halfpipe.
Scotty was awarded the Australian Institute of Sport Male Athlete of the Year from the Australian Institute of Sport Awards, the Award of Excellence from the Victorian Institute of Sport in 2018, and ESPY Award nominated him for Best Male Action Sports Athlete.
Further, in 2020, the Aussie snowboarder again won first place in the LAAX Men's Halfpipe.
On March 3, 2023, Scotty stood fifth at the 2023 Freestyle Ski and Snowboarding World Championships in Bakuriani, Georgia.
Lee Chae-un, then-16 years old, represented the Republic of Korea & dominated the titles in the men's snowboard halfpipe, winning with a score of 93.50.
Who Is Scotty James' Girlfriend?
Scotty James' girlfriend-turned-fiance is Chloe Stroll. She is an aspiring Canadian musician who was born on 10 April 1995.
Chloe is the sister of Lance Stroll, the Aston Martin Formula One driver. Her mother, Lawrence Stroll, is the Executive Chairman of Aston Martin's F1 team.
Scotty and Chloe met each other through Lance Stroll in Park City. Soon, they effortlessly connected and went out to dinners.
The two spent time with each other and got to know each other better for four months before they officially got into a relationship.
Engagement & Relationship Details
James and Chloe never hesitate to show their love for each other on social media platforms.
They occasionally post pictures and express their love and gratitude toward each other. On their second anniversary in April 2021, Chloe posted on Instagram (@chloestroll) with the caption;
"Thanks for putting up with my constant need to celebrate everything and anything, giving me piggyback when my feet hurt, knowing I can be flexible with plans, and for putting it to the test (espys 2019), for telling me.
I look better with no makeup on (at the worst times), for planning dinner dates at the same time as I do, for letting me eat food off your plate when I know you hate it, for always giving me the attention I require, and being the most incredible human. Happy 2 years ❤️."
Moreover, the lovely couple got engaged in November 2021. They announced their engagement by sharing a clip of them flaunting their engagement ring and Scotty saying, "We're getting married…Everyone, this is my fiancée."
As of 2023, the couple resides together in Monaco, as James has to go to halfpipe training grounds in Saas-Fee, Switzerland, and the French Alps.
James and Daniel Ricciardo share a strong friendship. He has a condition that causes his knee to dislocate randomly.
Since October 2022, James has been an influencer for OKX, a cryptocurrency exchange.
Net Worth
Scotty James is an Olympics champion. As a result, his snowboarding career serves him plenty.
Aussie also has a significant social media presence. He does plenty of sponsored posts which helps him earn an extra bit.
The estimated net worth of Scotty James is around $1.5 million as of 2023.
Hence, we can say that the athlete has earned enough to have a luxurious life. He has been sponsored by Red Bull.
Oakley, on Volcom, on board as major sponsors and his impressive Olympic Campaign.
Social Media Presence
The Olympian is on Instagram, Facebook, and Twitter. He has thousands of followers altogether.
Scotty usually shares information related to his personal and professional life on his social media platforms.
If you guys are curious about James and his lifestyle, feel free to follow him on his following accounts:
Instagram (@ScottyJames31): 316K followers
Facebook (@Scotty James): 31K followers
Twitter (@scottyjames31): 14K followers
Scotty's Instagram bio describes himself as a "Professional snowboarder, 2 times Olympic medalist | 3x World Champion | 8x XGames medalist | U.S. Open Champion."
Likewise, the Olympian follows athletes like Zoi Sadowski-Synnott, Oscar Piastri, and Lucy Charles.
He also follows personalities like Michael Douglas, Jon Olsson Delér, and FERG.
Runs A YouTube Channel
Scotty James also has his own YouTube (@Scotty James) channel, which has more than 14.3K subscribers.
Scotty shares behind-the-scenes moments and snowboarding tricks on his YouTube channel. Similarly, she also uploads videos about his daily routines and other vlogs.
The Aussie snowboarder uploaded the 'All day SJ' pilot series. Further, the Olympian also has his website.
Popularity Graph
The five-time Winter X Games, Scotty James, has established himself as one of the inspiring snowboarders for the coming generations.
He holds three gold medals at World Championships, three wins in the FIS Snowboard World Cup, two gold medals at Laax Open, and a three-time winner at the U.S. Snowboarding Grand Prix.
Also, he holds the Snowboarding Grand Prix, one-time Burton U.S. Open, and a two-time gold winner of the Dew Tour.
The popularity graph shows search interest in James in the last twelve months. He was highly searched for information regarding his net worth, sponsors, gear, and how he met his fiance Chloe.
Frequently Asked Questions (FAQS)
Apart from Snowboarding, what does the Olympian Scotty James do?
Apart from snowboarding, the Aussie Olympian enjoys reading aviation books and taking photos. Further, he also spends time playing and watching golf and Formula 1. He also has a YouTube channel.
Did Scotty James always wanted to be a snowboarder?
No, snowboarding was not something Scotty dreamt of as a child. Although keen on sports, he initially planned to become a pilot.
Are Scotty James and Ivy Miller related?
Before meeting Chloe Stroll, Scotty was in a relationship with Ivy Miller. However, the two broke up and chose a different path for themselves.