The American professional athlete Katie Moon is the eldest child of her parents: late father, Mark Nageotte, and mother, Diane Nageotte.
Sadly, Katie's father, Mark, passed away at the age of 45 in 2007 due to a heart attack.
From there, as a single mother, Diane raised her three children: two daughters and a son.
Moon's dad was the one who instilled in her a drive to achieve greatness from an early age and was her biggest fan.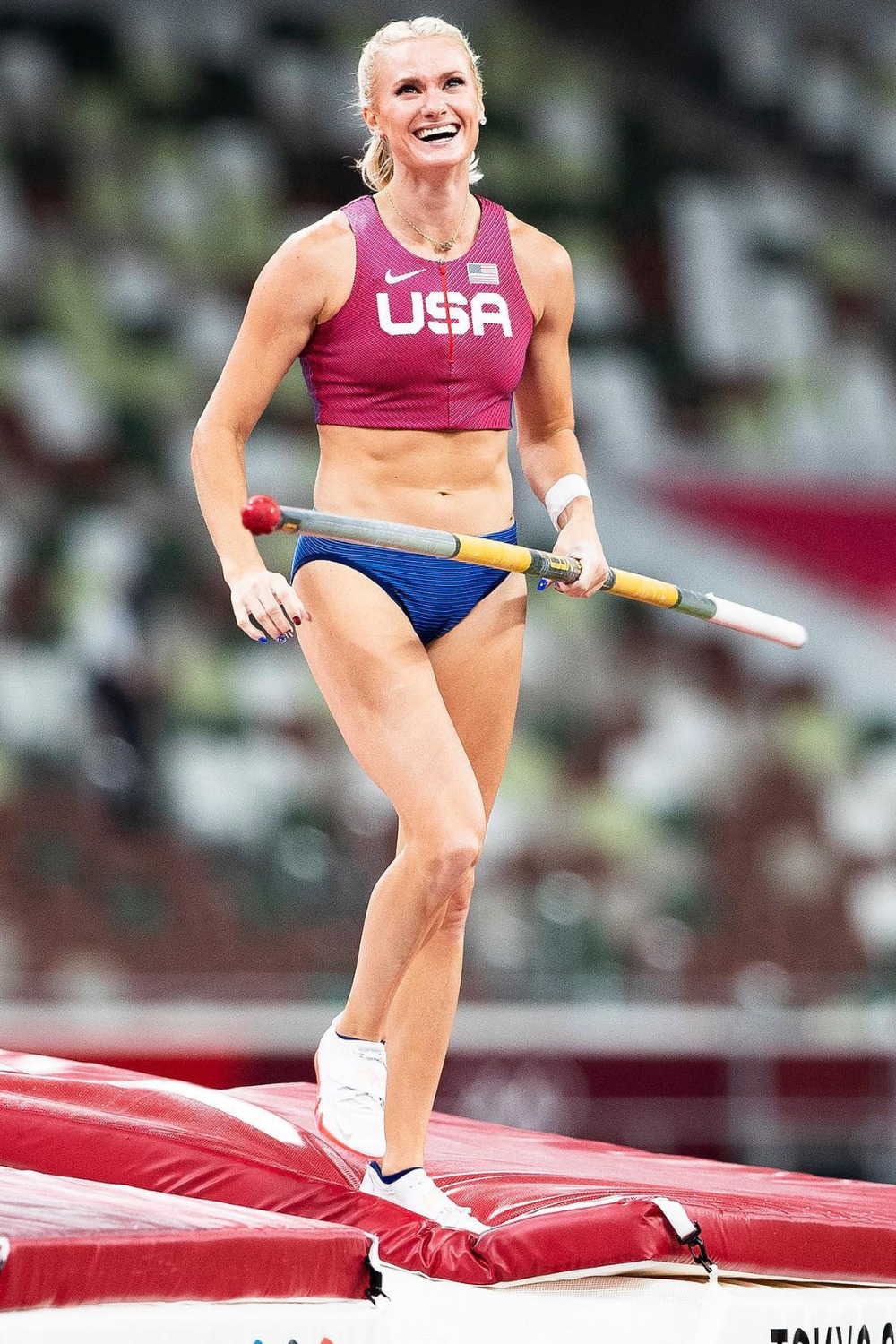 The American pole vaulter Katie Moon began her high school career as a diver at Olmsted Falls.
However, she later discovered pole vaulting as her sport of choice, becoming professional in 2013.
Similarly, Moon was the 2008 Division 1 state runner and the 2009 Division 1 state champion.
The American professional athlete won the 2022 World Athletics Championship and the gold medal at the 2020 Tokyo Olympics.
Moreover, the 2018 North American Central American and Caribbean Championship gold medalist represented the United States in the 18th World Athletics Indoor Championship in 2022 and won silver.
Recently, Katie made headlines after claiming the second World Athletics Championship in 2023. She shared the pole vault gold with the Australian athlete Nina Kennedy.
Katie Moon Parents
Katie Moon was born on 13 June 1991 to parents Mark and Diana Nageotte. She has two younger siblings, Emily and Andy.
Katie's father was born to Mary Jane McCourt and Mark C. Nageotter in Ohio. He had 5 siblings; Sheila, Kathleen, Dan, Bill, and Eileen, and spent most of his life in Ohio.
Mark was an enthusiastic golfer and a member at Elyria Country Club back in the day. Meanwhile, his uncle Joe was also a golfer and a PGA pro.
Moreover, Katie's parents were ardent Brown supporters. They first connected at the Browns game and tied the knot on April 23, 1988. Diane was 27 at the time, and Mark was 25.
Three years later, the couple gave birth to their first child Katie.
Mark would spend long hours driving his firstborn to private sessions, learning everything he could about the pole vault, a sport he had never heard of. He always encouraged his daughter to excel in any sport she chose.
However, Katie was just 15 when Mark sadly passed away from a heart attack on September 23, 2007. After that, her mother, Diane, raised the three kids on her own.
On the other hand, not much is known about her mother's profession as she maintains a low-key lifestyle and remains out of the media attention.
Katie Moon Remembers Her Father
The athlete's strongest supporter was her late father, Mark, her biggest fan and the one who gave her the desire to accomplish greatness from a young age.
Katie remembers those happy times fondly to this day. She taps her spikes before every huge leap in any competition with the word "Dad" inscribed on the inside.
"When I do tap my spikes, I think 'alright, let's go, dad. Let's do it.' He's always in the back of my mind, and I like to think he's chilling off to the side somewhere watching," she said in an interview.
Katie's strongest supporter was her father, who was "very proud" of all the kids and regularly attended their sports activities.
Mark would attempt to attend all of Katie's practices and heed the advice of her instructors. He would then confirm with Katie what he had heard there.
Moreover, Katie never misses wishing her father on his birthday and Father's Day. She always posts pictures on her Instagram handle on his death anniversary.
"15 years without you. I'll always remember you in these two ways-the most supportive, loving girl dad, ➡️ and the absolute life of the party. Miss you always, but a little extra today ❤️." Katie took to Instagram to remember her late father.