Keegan Kolesar parents, KD Williams and Corrinne Kolesar, are his source of inspiration and his first coach. Find all the details here.
Keegan Kolesar, born on April 8, 1997, is a Canadian professional ice hockey player who currently plays as a right winger for the Vegas Golden Knights in the National Hockey League (NHL).
The player started his professional career after being selected by Columbus Blue Jackets in 69th overall in the 2015 NHL Entry Draft.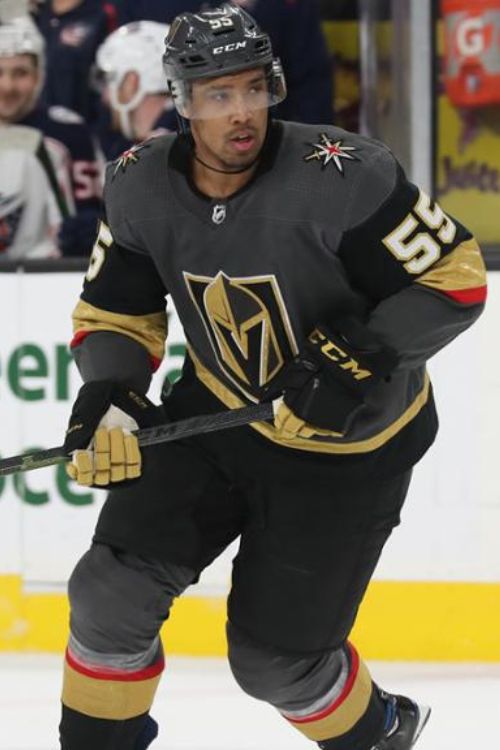 Later on June 24, 2017, he was traded to Vegas Golden Knights as their second-round draft pick in the 2017 NHL Entry Draft.
Keegan Kolesar made his NHL debut against the Columbus Blue Jackets on January 11, 2020.
Keegan Kolesar has played a total of 196 games throughout four seasons. During this time, he has scored 18 goals, provided 37 assists, and accumulated 55 points.
Kolesar accomplished a significant milestone on March 22, 2021, by scoring his first goal during the third period of the game between the Golden Knights and the St. Louis Blues.
Keegan Kolesar Parents: KD Williams And Corrinne Kolesar
Keegan Kolesar was born into a family of athletes, as both of his parents have sports backgrounds.
His father, Kevin Dewayne (KD) Williams, 50, had a successful career as a football linebacker.
Kevin began his football journey at Thomas Jefferson High School before becoming a collegiate athlete at Henderson State University.
In the 1995-96 season, Williams started his professional career with the Winnipeg Blue Bombers, a team in the Canadian Football League (CFL).
He later played for the Saskatchewan Roughriders and Hamilton Tiger-Cats in the CFL.
Additionally, he had the opportunity to compete in the NFL Europe as a member of the Frankfurt Galaxy.
During his time in the NFL, Williams played for the Oakland Raiders and Green Bay Packers.
On the other hand, his mother, Corrinne Kolesar, played softball during her college years.
She was born in Winnipeg, Manitoba, and married Kevin, and they were together for a few years. However, they divorced after Keegan was born.
Keegan Kolesar Was Raised By A Single Mother Until She Re-Married
As a single mother, Corrinne raised Keegan on her own until he reached the age of 6. She then entered her second marriage with Charles, which lasted for nine years.
They got married in 2003 but eventually separated in 2012. Corrinne has two children from her previous marriage with Charles, and she raised them alongside her second husband.
Even after their divorce, Corrinne and Charles continued to take care of their children.
Corrinne is active on social media platforms, where she shares posts about her children and their activities.
Keegan Kolesar Stepfather Charles Peterson
In addition to his father, Keegan Kolesar also had a stepfather named Charles Peterson, who had a career as a baseball player in the minor leagues.
Peterson retired in 2006 and went on to work as a scouting agent for the St. Louis Cardinals in the MLB.
Peterson was not only involved in baseball but also served as a volunteer football coach.
Tragically, Charles Peterson contracted Covid-19 in 2020 and passed away due to complications from the virus.
He was only 46 years old at the time of his death.