Ken Griffey Jr's wife, Melissa Griffey, is believed to have mixed ethnicity. The couple has been together for 30 years and will celebrate their 31st anniversary later this October.
The couple met when Ken was still a rookie in the Seattle team. Melissa had no idea about baseball or how popular her future husband was. They met at a dance club, soon tied the knot, and started a beautiful family.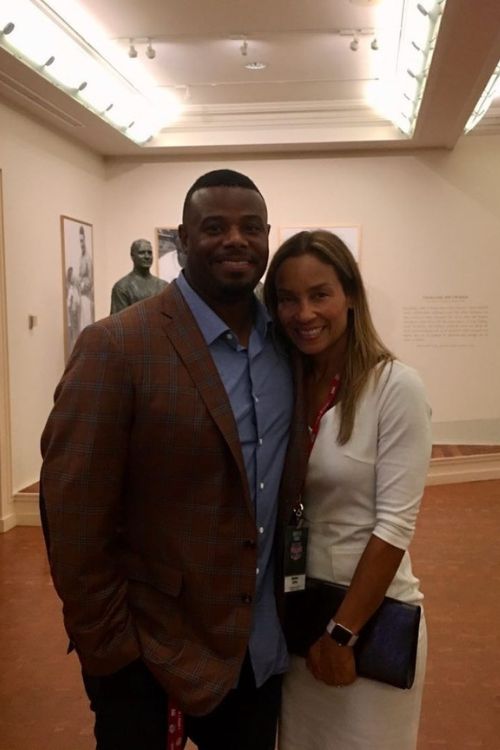 Their three kids pursued athletic careers, with their two oldest kids already picking different career routes from when they first started. Their youngest son is currently playing football at Florida A&M.
Last month, the MLB legend Ken Griffey Jr worked as a photographer in the MLS match between Inter Miami and Nashville.
Since retiring in 2010, Ken has photographed Monday Night Football games, a variety of MLB events, and even IndyCar events for ESPN.
Ken Griffey Jr Wife Ethnicity: Where Is Melissa Griffey From?
Ken Griffey Jr's wife's ethnicity remains a speculation among his fans. However, many believe that Melissa comes from a mixed ethnicity.
Many have guessed Melissa's ethnicity based on the photographs Ken has uploaded of his wife on his Instagram. Melissa is believed to have African-American ancestry, with one of her biological parents being Caucasian.
Melissa Griffey was born on June 25, 1969, and was raised by adoptive parents. This was one of the reasons for Melissa and Ken to adopt their youngest child. Melissa wanted to give to a child what her parents had given her.
Ken and Melissa crossed paths for the first time in the baseballer's rookie season in Seattle. The two met at an alcohol-free dance club and hit it off from there.
In an interview with Sports Illustrated, Melissa shared an incident in which she learned the best way to end an argument with him. While walking in a shopping mall, Melissa shouted, "I am with Ken Griffey Jr!" and soon she learned the consequence of her action.
Every child in the mall came running after them, and Melissa finally understood how famous her beau was. She never repeated her actions.
Ken and Melissa tied the knot on October 23, 1992, and will soon celebrate their 31st wedding anniversary. On his Instagram page, Ken shares Melissa's snap on her birthday and her wedding anniversary.
The couple is co-owner of the MLS franchise, Seattle Sounders, and Melissa was the one to pursue her husband to join the franchise.
In an interview, Ken said he wanted to be part of something not only he but his kids could be proud of.
Ken Griffey Jr Shares Three Kids With Wife Melissa
The happily married baseball couple, Ken Griffey Jr and his wife, Melissa, share three kids who are all athletes.
The couple's oldest son, Ken Griffey III, played as a wide receiver at the University of Arizona. After going undrafted in 2017, Ken Griffey III signed with the Indianapolis Colts but was later waived.
He later signed with the Miami Dolphins, but the same incident happened in Miami. In January 2018, Ken Griffey III signed with the Pittsburgh Steelers but was waived on September 1, 2018.
Though he is available on Instagram, Ken Griffey III has kept his handle private and has remained low-key.
The couple's second child, Taryn Griffey, played basketball at the University of Arizona. However, her basketball career was cut short due to multiple injuries.
After graduating from Arizona in 2018 with a Social Behavior and Human Understanding degree, Taryn worked as a front office assistant at Remedy Intelligent Staffing.
She worked at Moster Vape Labs and Woodstock Medicinal Doctors before joining her current workplace, Stryker, as a Medical Education Associate.
Taryn can be found on Instagram with the username @tarynkgriffey and has made a few posts with her family.
The Couple Adopted Their Third Child
In May 2002, Melissa called her husband, who was at the ballpark, informing him a child had been born in Florida, and she wanted to adopt him.
Ken didn't meet his son until a week later when he flew home on an off day to sign the paperwork. The couple named their child Tevin Kendall Griffey.
The youngest member of the Griffey family, Tevin plays as a defensive back for Florida A&M University. Tevin is available on Instagram with the username @tgriff_07_ and is seen sharing pictures from game day and training camps.