Have you ever done something in your life that you loved so much that it is an integral part of your life? Well, hockey is that "something" for our athlete, Kendall Coyne.
She is a professional hockey player for the United States women's national ice hockey team. Moreover, the athlete is a nine-time gold medalist and a two-time Olympian.
Similarly, she is a four-time silver medalist. Hence, it is safe to say that Coyne is a decorated ice hockey player.
The athlete started her journey in 2007 and is going strong to this date. Furthermore, she also serves as a player development coach for the Chicago Blackhawks of the National Hockey League.
Similarly, the gold medalist player owns the Chicago Red Stars of the National Women's Soccer League. Coyne is a very successful figure in women's sports.
Not to mention, Kendall recently wrote an autobiography, As Fast As Her, that depicts her story, her struggles, and her highs and lows as an athlete. She hopes the book inspires girls worldwide who enter the sports world to break barriers and continue the fight for equality.
The hockey player was part of the 2017 U.S. women's hockey team that planned to boycott the world championships held in Michigan, citing unfair treatment and low wages.
In conclusion, she makes it a point to use her voice and platform to ensure better treatment of up-and-coming young female players. Before details about the hockey player's life and career, here are some quick facts about her.
Quick Facts
| | |
| --- | --- |
| Full Name | Kendall Coyne Schofield |
| Birth Date | May 25, 1992 |
| Birth Place | Palos Heights, Illinois, the United States |
| Nick Name | Not Available |
| Religion | Christian |
| Nationality | American |
| Ethnicity | White |
| Education | Northeastern University |
| Horoscope | Gemini |
| Father's Name | John Coyne |
| Mother's Name | Ahlise Coyne |
| Siblings | Three; Kevin Coyne, Jake Coyne, and Bailey Coyne |
| Age | 31 Years Old |
| Height | 5 ft 2 in (157 cm) |
| Weight | 125 lb (57 kg) |
| Hair Color | Blonde |
| Eye Color | Blue |
| Build | Athletic |
| Profession | Ice Hockey Player and Player Development Coach |
| Current Team | Team United States |
| Position | Forward |
| Active Years | 2007-Present |
| Marital Status | Married |
| Husband | Michael Schofield |
| Kids | None |
| Net Worth | $1 million |
| Social Media | Twitter, Instagram |
| Jersey Number | #26 |
| Last Updated | May, 2023 |
Kendall Coyne | Early Life, Family, and Education
Kendall Coyne was born in Palos Heights, Illinois, United States. Her parents are John Coyne and Ahlise Coyne.
She grew up in a relatively normal household with two brothers and a sister. Additionally, her older brother, Kevin Coyne, inspired her skating career.
After seeing her brother skate, she insisted to her parents that she also wanted to ice skate. As a result, Coyne's parents put her in ice skating despite Kendall being the only girl playing the sport.
The gold medalist's brother, Kevin, played Division III ice hockey. On the other hand, her younger brother, Jake Coyne, is in the United States Army, while her younger sister, Bailey Coyne, is an ice hockey player like her.
Likewise, she plays forward for the Lindenwood Women's Ice Hockey team. Additionally, Kendall had supportive parents who encouraged her to pursue her dreams.
Besides hockey, the Olympian played baseball, softball, basketball, and track. She was best at the sports she played as Coyne focused on progressing daily.
Early Career
With a lot of hard work and dedication, the hockey player started receiving the recognition she deserved. Although she was the only girl on ice most of the time, she never let the fact bother her.
Even when Schofield's friends found it weird seeing her play "boys' sport," she didn't care about their opinions. Instead, she put her entire energy into becoming the best ice hockey player.
Hence, Kendall mostly played and competed against boys. She outworked many of them to secure her place in the AAA boys' travel hockey team.
Furthermore, the USA Hockey team called her to join the national team when she was only 15. As an under-18 athlete, she helped her country win two gold medals and one silver medal at the World Championships.
Learn about three-time Olympian Daisuke Takahashi – Ice Dance, Olympics & Kana Muramoto.
Education
Kendall went to Sandburg High School from 2006 to 2010. However, the school did not have a hockey team, so the athlete usually played club hockey.
For her final school year, she joined a prestigious prep school named Berkshire School. Not to mention, it was at this school where Coyne felt the true school spirit and what it was like to represent your school's team.
The gold medalist continued her hockey journey at Northeastern University in Boston. The Olympian graduated from college in 2015 with a Bachelor's degree in communication studies.
Furthermore, the athlete earned her Master of Science in corporate and organizational communications in 2017 with the highest honors. Hence, it is safe to say that Coyne is equally good at academics as at sports.
Kendall Coyne | Age, Height, and Weight
The Olympic gold medalist was born on May 25, 1992, and is 31 years old as of 2023. As an athlete, she takes great care of her health and diet.
Hence, Coyne is in great shape and has a toned physique. Furthermore, she weighs 125 lb (57 kg) and is 5 ft 2 in (157 cm) tall.
Click here to know more about two-time Olympic Gold Medalist Swimmer >> Lilly King Bio | Lifestyle, Olympics & Family <<
Kendall Coyne | Ice Skating Career
Early Career & Team USA Career
The Olympian started her playing career in 2007. During her amateur career, Coyne played in two national championship games with the Mission.
Not to mention, her team won one of the titles. Likewise, the athlete was named Berkshire's New England Prep School Player of the Year.
Furthermore, she was the winner of the Patty Kazmaier Award in college. The award is presented to the country's top female college ice hockey player.
When Coyne was 15 years old, she received a call from Team USA and was asked to join their Under-18 team. Since then, she has played for the team.
At the 2009 IIHF Under 19 championships, Kendall made a game-winning goal in Germany that earned the U.S. a gold medal. Recently, she was named to Team USA's Olympic roster for the Beijing 2022 Olympics.
As of February 2022, the hockey player is in Beijing, China, ready to bring another gold home with her teammates.
Don't forget to check out Olympian Skier Shoma Uno- Net Worth, Girlfriend & Olympics.
Professional Career
The Boston Pride drafted Coyne as a third pick overall in the National Women's Hockey League, now known as, The Premier Hockey Federation. The following year, Coyne signed a contract with the Minnesota Whitecaps.
In 2018, Kendall was part of Team Szabados at the NWHL All-Star Weekend. Furthermore, she became the first woman in 2018 to play in the Chicago Pro Hockey League.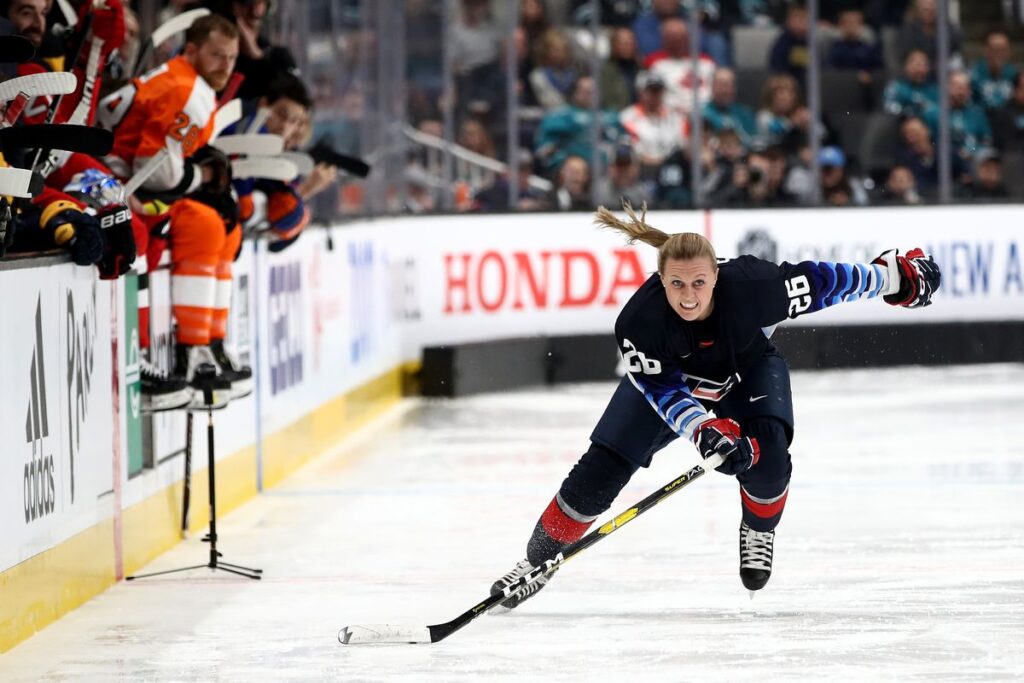 What's more, the following year, she became the first woman to compete in the National Hockey League's All-Stars skills competition challenge after Avalanche's player Nathan MacKinnon could not perform.
Besides that, she currently serves as a player development coach for the Chicago Blackhawks' American Hockey League affiliate, the Rockford IceHogs. Similarly, the athlete has worked as a broadcasting analyst and a color commentator.
She covered the first round of the 2019 Stanley Cup playoffs with N.B.C. Sports and NHL on N.B.C. Sports. Not to mention, the gold medalist showed off her broadcasting skills on Fox Sports as well.
International & Olympic Career
The hockey player has competed in international competitions since 2007. The following year, she won a gold medal at the IIHF U18 World Women's Championships.
Similarly, Coyne won another gold in 2009 and a silver medal in 2010. After that, she won a gold medal at the 2011 IIHF World Women's Championships.
Furthermore, in 2012, the star player won a silver medal. Then, from 2013 to 2019, she won a gold medal consecutively, except for 2014 and 2018.
In 2014, the athlete represented the United States at the Sochi Olympic Winter Games. She won a silver medal at her first-ever Olympic appearance.
In addition, she represented her country again in the 2018 Olympic Winter Games, where she won her first and only Olympic gold medal.
Kendall is at Beijing 2022 Winter Olympics and hopes to bring another Olympic gold medal home. Our best wishes are with her.
Highlights and Awards
Six-time gold medalist at the IIHF World Women's Championships in 2011, 2013, 2015, 2016, 2017, and 2019
One-time gold medalist at the 2018 Pyeongchang Winter Olympics
Past silver medalist at the 2014 Sochi Winter Olympics
Two-time silver medalist at the IIHF World Women's Championships in 2012 and 2021
Two-time gold medalist at the World Under-18 Championships in 2008 and 2009
One-time silver medalist at the World Under-18 Championships in 2010
Winner of the 2016 Patty Kazmaier Memorial Award
Winner of the NCAA Today's Top 10 Award
Kendall Coyne | Marriage, Husband, and Kids
The gold medalist is married to Michael Schofield. Michael is a professional football player who plays in the National Football League.
He serves as an offensive guard for the Los Angeles Chargers. Moreover, the football player is a Super Bowl champion with the Denver Broncos.
Besides Chargers and Broncos, the NFL player has played for the Carolina Panthers and was on the Baltimore Ravens practice squad. Kendall and Michael are from Chicago, and the pair met at a local gym during their college days.
Further, the two lived just ten minutes away from each other and attended the same high school. Although they had known each other since high school, the sparks didn't fly until their paths crossed again at the gym.
After their workout, Michael didn't have a car and asked Coyne for a ride home, to which she agreed. On the way home, the Super Bowl champion asked her if she wanted to grab a bite.
Since Kendall didn't have anything planned for lunch, she said yes, and the rest was history. The two have been inseparable from the moment they started dating.
The two are each other's biggest supporters and have been at one another's pivotal career moments. The hockey star cheered her husband when he won the Super Bowl title in 2016.
Similarly, the NFL star supported his wife when she won the gold at the Pyeongchang 2018 Winter Olympics.
Engagement and Wedding
Furthermore, they had the cutest proposal when Michael asked Coyne to marry him in her favorite ice cream shop in 2017.
Shortly after, the couple disclosed their engagement on social media and were showered with congratulatory comments and tweets. Likewise, they got married in July of 2018 in Chicago.
Both athletes focus on their respective careers and have little time to think about kids. So, they do not have any children yet.
You might be interested in Olympic Gold Medalist Skier Kikkan Randall: Cancer, Olympics, Net Worth & Husband.
Kendall Coyne | Net Worth, Earnings, and Salary
The Olympian earns most of her wealth through her career as a hockey player and player development coach in the National Hockey League.
Her net worth is estimated at $1.5 million.
Besides that, little about her salary details and earning amounts are known. On the other hand, her husband, Michael Schofield, has made over $12.9 million in career earnings.
Further, his salary for the 2021 NFL season with the Chargers was $1,015,274. Similarly, he made $3,750,000 in 2019 and $2,500,000 in 2018.
Thus, it is safe to say that the Schofields lead a comfortable life. Furthermore, Coyne earns well through endorsements and is endorsed by Adidas Hockey, Article Ice arena, Intel, Chipotle-Mexican grill, and CCM Hockey.
Not to mention, the hockey star is the owner of the Chicago Red Stars and recently published a book named As Fast As Her. On top of that, she also runs an annual hockey camp for girls aged 6 to 10 and 11 to 16.
Kendall Coyne | Social Media Presence
The hockey star is active on social media platforms. She has an Instagram account with over 57 thousand followers.
She mostly shares her life as a professional hockey player through her Instagram account. Likewise, Coyne is seen in her hockey attire in most photos.
She can be seen posing for photos alongside her Team USA teammates. The hockey player can also be seen on the NHL rink coaching the Blackhawks.
Furthermore, the athlete shared a few pictures with her dashing husband and adorable Blue dog. She also promotes her endorsers through her handle.
Her social media handles have also shown her broadcasting and coaching abilities. In 2022, the gold medalist was named to Forbes' 30 Under 30 list in the sports category.
Recently, Coyne shared a picture with the Team USA women's hockey team in front of a plane flying to Beijing to compete in the 2022 Winter Olympics.
Besides that, Kendall is on Twitter with over 34 thousand followers. She usually tweets hockey-related events, news, and highlights.
Frequently Asked Questions (FAQs)
Where does Kendall Coyne live?
The gold medalist hockey player lives in Palos Heights, Illinois, with her husband, Michael Schofield, and her dog, Blue.
Has Kendall Coyne founded a foundation?
Yes, she, along with her husband, is the founder of the Schofield Family Foundation. Their foundation is dedicated to supporting and raising awareness in their communities.