Jan Magnussen and Britt Petersen were not married when they had Kevin, but they raised Kevin together.
Kevin Jan Magnussen is a highly skilled Danish Formula One driver currently competing in Formula One for Haas F1 Team.
His talent and determination were evident from the beginning. In 2008, Magnussen entered the Formula Ford Championship and dominated the competition, winning 11 out of 15 races and claiming the championship title.
Magnussen continued to impress as he progressed through the junior ranks of motorsport.
In 2013, he had five victories, eight other podium places, and eight pole positions and also won the Formula Renault 3.5 Series championship.
In his debut race at the 2014 Australian Grand Prix, Magnussen finished an impressive third, becoming the first Danish driver to score a podium finish in Formula One.
Kevin Magnussen father
Kevin was born on October 5, 1992, to Jan Magnussen and Britt Petersen in Roskilde, Denmark. He has half-siblings from his father's side, brother Luca Magnussen and sister Millie Magnussen.
Jan Ellegaard Magnussen is a highly accomplished Danish racing driver. He has left an indelible mark on the motorsport world.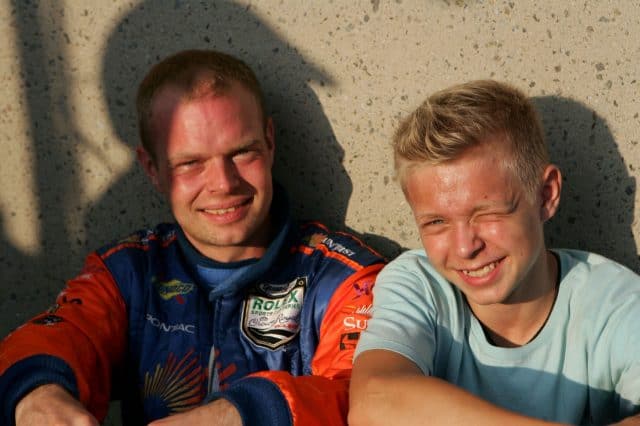 Jan competed in Championship Auto Racing Teams (CART), NASCAR, the FIA Formula One World Championship, and the 24 Hours of Le Mans.
At the end of the 2020 season, Jan Magnussen concluded his factory driver tenure with General Motors, leaving an impressive legacy in sports car racing.
Jan has built a solid fan base and continues to inspire aspiring Danish drivers to pursue their motorsport dreams.
Kevin Magnussen's Parents' Separation
Jan Magnussen and Britt Petersen were not married when Kevin was born. However, they raised him together. Kevin has a strong bond with his parents.
Kevin's father, Jan, married Christina Bergendahl in 2004 and has two kids.
Jan Magnussen's experience and expertise in racing have undoubtedly influenced Kevin's upbringing and passion for the sport.
Likewise, his mother supported him in pursuing his dream of becoming a professional racing driver.
Kevin is also close to his half-siblings, who share a beautiful bond.