Kevin Magnussen is a professional racing driver who competes in the IMSA's 2021 WeatherTech SportsCar Championship. Currently, he is racing for Chip Ganassi Racing.
He is also a former Formula One driver. The racer started his career as an F1 driver with McLaren.
For the 2016 season, he joined hands with Renault. Then, finally, he drove for Haas Formula LLC from 2017 to 2020. The co-owner of NASCAR Cup Series team Gene Haas former the Hass F1 team.
He has been racing since 2008. Kevin was only 16 years old when he started competing in Formula Ford.
The driver's father is a former Formula One driver Jan Ellegaard Magnussen. Hence, it is safe to say that racing runs in his family.
Jan served as a role model for Kevin, who aspired to be a professional race driver just like him.
Before getting into details about the professional racer's life and career, here are some quick facts about him.
Quick Facts:
| | |
| --- | --- |
| Full Name | Kevin Jan Magnussen |
| Birth Date | 5 October 1992 |
| Birth Place | Roskilde, Denmark |
| Nick Name | Kev |
| Religion | Christian |
| Nationality | Danish |
| Ethnicity | White |
| Education | Not Available |
| Horoscope | Libra |
| Father's Name | Jan Magnussen |
| Mother's Name | Britt Peterson |
| Siblings | Two: Luca Magnussen & Millie Magnussen |
| Age | 30 Years Old |
| Height | 5'9″ (174 cm) |
| Weight | 150 lbs (68 kgs) |
| Hair Color | Blonde |
| Eye Color | Light Blue |
| Build | Athletic |
| Profession | Racing Driver |
| Current Team | Chip Ganassi Racing |
| Position | Driver |
| Active Years | 2008 – Present |
| Marital Status | Married |
| Wife | Louise Gjørup |
| Kids | One; Laura Magnussen |
| Net Worth | Over $3 million |
| Social Media | Instagram, Twitter |
| Merch | Formula Race Car |
| Last Update | May, 2023 |
Kevin Magnussen | Early Life, Family, And Education
Kevin Magnussen, the racing driver, was born in Roskilde, Denmark. His parents are Jan Ellegaard Magnussen and Britt Peterson.
The racer's father is a renowned former Formula One driver. Jan started his career with McLaren Racing Limited.
After that, he drove for Stewart Grand Prix. White at Stewart, he earned a reputation for being a talented and skilled driver. However, he failed to live up to his hype at Grand Prix.
Jan also competed in Champ Car, FIA Formula One World Championship, 24 Hours of Le Mans, and NASCARCup Series.
The father is a four-time Le Man's class winner. He is still an active driver and recently drove in the Danish Touring Car Championship, NASCAR Sprint Cup Series, TCR Denmark Touring Car Series, etc.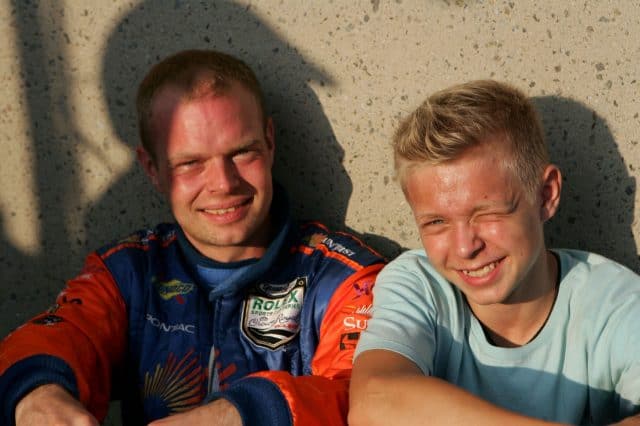 Aside from that, Kev's parents were never married. Nevertheless, they maintained a cordial relationship for their son's proper growth.
The former Haas driver shares a special bond with both of his parents. Growing up, he admired his father and his career a lot.
Likewise, his mother encouraged him to pursue his dreams and is his greatest supporter.
He has two younger half-siblings from his father's side. His brother's name is Luca Magnussen, while his sister is Millie Magnussen.
The racer is quite close to all members of his family. Furthermore, the details regarding his education are unknown.
Nonetheless, many sources claim that he reportedly studied in a local high school in his hometown. Since he started racing as a 16-year-old, he might've not completed his high school education.
Kevin Magnussen | Age, Height, And Weight
Since the Danish racer was born on October 5, 1992, he is 30 years old. Magnussen takes excellent care of his health and diet.
Hence, the driver is reasonably fit. Furthermore, he is 5 feet 9 inches tall and weighs approximately 150 lbs, i.e., 68 kgs.

Likewise, the professional racer has got tattoos on different body's part.
Unfortunately, the body measurement of Kevin is still unknown at the moment.
Kevin Magnussen | Racing Career
The former F1 driver started working on his dreams of becoming a professional racing driver in 2008. Initially, he started karting.
Thereafter, he joined an entry-level racing that is single-seated called Formula Ford.
The Ganassi driver was one of the best racers in there and even won the championship.
Likewise, he also competed in ADAC Formel Masters, Formula Renault 2.0, Northern European Cup, Eurocup, German Formula Three Championship, British Formula 3 Championship, and Formula Renault 3.5 Series.
The former Haas driver was a runner-up in the Northern European Cup and British Formula 3 Championship. Similarly, he has secured the seventh position in Eurocup and third in 2011 Masters of Formula 3.
After that, Kev qualified in the seventh position for Macau Grand Prix in 2011. It was his first and only appearance in the series. Besides that, he won the Formula Renault 3.5 Series title in 2012.
Career In Formula One – McLaren Racing Limited
The Danish driver started his Formula One career with McLaren in 2014. Moreover, he rode with vehicle number 20 to win the Formula Renault 3.5 championship under that number.
Kev had a good start with McLaren Racing Limited. At the 2014 Australian Grand Prix, he qualified at fourth place and stood third in the actual race in his debut race.
Nevertheless, officials later promoted him to the second position.
As a result, Kevin was the first newcomer since 1996 to secure the second position in the Australian Grand Prix.
Likewise, the racer was the second Danish driver after his father to land in the sixth position at the Canadian Grand Prix.
He was also the first person since 2007 to take a podium in his first Grand Prix.
He made it to the seventh position in the 2014 Austrian Grand Prix and Great Britain Grand Prix. Similarly, Magnussen ranked fifth in the Russian Grand Prix.
Fernando Alonso replaced the former F1 driver in his second season with McLaren. Hence, he was the test and reserve driver.
McLaren obstructed the deal, although he wished to compete in the 2015 IndyCar Series for Andretti Autosport. Instead, in the 2015 season, the racing driver only competed in the Australian Grand Prix after Alonso couldn't.
However, the race was a complete bust as he couldn't start the race due to an engine failure. So, after his second season, McLaren let Kevin go.
Career At Renault and String of Unfortunate Events and Accidents
For the 2016 season, Magnussen signed a contract with Renault. Even though there were rumors that he might join Hass Formula LLC, he ended up racing with Renault.
However, his time with Renault wasn't the best time of his professional career. Moreover, Kevin was followed by one bad event while competing with the team after the other.
The racer endured a puncture in the Australian Grand Prix while crashing his car in the Chinese Grand Prix's practice race.
Likewise, the Ganassi driver collided with a teammate in the Spanish Grand Prix, crashed and collided in Monaco Grand Prix, and missed the Canadian Grand Prix after crashing in practice.
Furthermore, he was compelled to start from pit lane in Bahrain Grand Prix and European Grand Prix. Thereafter, Kev underwent a gearbox failure at the British Grand Prix.
Not to mention, he endured a high-speed car crash at the Belgian Grand Prix that resulted in some minor injuries.
Following that, the Danish driver faced a power loss at the Malaysian Grand Prix and suspension damage at the Abu Dhabi Grand Prix.
Learn More About Former Renault Driver, Bruno Senna Bio: Career, F1, Social Media & Net Worth >>
Haas Formula LLC – Rocky Starts, Crashed, and Criticizations
After the end of the 2016 season, Kevin signed with the Haas F1 team, where he joined French-Swiss racing driver Romain Grosjean. As a Haas driver, Kev did not have a smooth ride in his first season.
Due to a puncture, he had to retire from the 2017 Australian Grand Prix and the 2017 Bahrain Grand Prix due to electrical problems.
Likewise, Kev faced a puncture in Spain that landed him in the fourteenth position from ninth.
Nevertheless, he finished at eighth position in China, tenth in Monaco, and seventh in Azerbaijan.
Similarly, Magnussen suffered a hydraulic failure in the Austrian Grand Prix and some engine issues in Singapore Grand Prix.
Not to mention, the Danish racer pushed Nico Hülkenberg off the track that caused damages to Nico's car. Moreover, Hülkenberg had to retire from the race.
Nico confronted Kevin after the competition and called him the "most unsporting driver on the grid." He again forced Stoffel Vandoorne to retire after crashing his car in the Brazillian Grand Prix.
Gradual Improvements and Collisions With Drivers
In the 2018 season, the Ganassi racer made significant improvements. He started at fifth in Australia and finished at fifth in Bahrain. Then, however, he collided with Pierre Gasly in Azerbaijan.
Gasly termed Kev "the most dangerous guy" he has ever competed against and even attacked his defensive driving.
Nonetheless, he secured finishes at sixth position in Spain and France, fifth in Austria, ninth in Britain, seventh in Hungary, and eighth in Belgium.
In the Italian Grand Prix, he had to fight for his spot against Fernando Alonso, whom Kevin hoped would retire soon.
Besides that, some controversy arose in the Japanese Grand Prix when Charles Leclerc called Magnussen "stupid."
Leclerc contacted the Danish driver's car in a failed attempt to overtake him. It compelled Kev to retire as he suffered punctures and damages to his floor.
Furthermore, the following season did not turn out to be fruitful to the racer whose car often suffered during races. He retired in three Grand Prix.
Nevertheless, he finished some races like the 2019 Australian, Spanish, Austrian, Russian, and Singapore Grand Prix.
You Might Be Interested In Former Formula One Driver, Alex Albon: Net Worth, Girlfriend, Nationality & Red Bull >>
Leaving F1 and Joining New Team
The Haas driver, paired with Romain Grosjean, decided to leave Formula One after 2020. He didn't have much luck in his last season either.
Nonetheless, he did make some good improvements from time to time. Furthermore, Magnussen thanked Haas for the experience and posted his departure through his social media accounts.
Shortly after, he announced that he would compete in the 2021 WeatherTech SportsCar Championship for Chip Ganassi Racing.
Kevin Magnussen | Wedding, Wife & Child
Kev is married to his long-time girlfriend Louise Gjørup. She has been his biggest supporter since the start.
Furthermore, the two have traveled and moved places together for Magnussen's career. Likewise, Louise has stood beside her husband through his career highs and lows.
The couple tied the knots on October 10, 2019. Moreover, they recall it as the happiest day of their life.
Besides that, the couple was recently blessed with a beautiful baby girl named Laura Magnussen. She was born seven weeks premature, which shocked both Kevin and Louise.
Nonetheless, she is pretty healthy and strong as of now. The Magnussen-Gjørup pair are head over heels in love with their daughter.
Kevin Magnussen | Net Worth & Salary
The Danish racer has earned most of his wealth through Formula One and other racing events. Many sources claim Kev's net worth to be over $3 million.
Moreover, the former F1 driver earned over $1.5 million while driving for Haas.
Similarly, he earned approximately $500 thousand salaries each with McLaren and Renault.
Magnussen also earns a good amount through endorsement deals and sponsorships. Being a well-known and skilled racer, many companies and brands have endorsed him.
Furthermore, he is the owner of The KM20 Collection, an online shop that sells his merchandise. The former Renault racer sells hoodies, t-shirts, mini helmets, etc.
>> Lance Stroll Bio: Family, Career, Net Worth & Championship Titles <<
Kevin Magnussen | Social Media Presence
Instagram: 537k Followers
Twitter: 609.3k Followers
Common Queries:
What happened to Kevin Magnussen?
Kev has decided to move on from Formula One racing and Hass as of 2020.
Currently, he is racing in International Motor Sports Association's WeatherTech SportsCar Championship.
Who is Kevin Magnussen's father?
Magnussen's father is Jan Ellegaard Magnussen. He is a professional racing driver who has competed in several lower and major series.
Some of them are the FIA Formula One World Championship, Championship Auto Racing Teams, NASCAR, 24 Hours of Le Mans.
What is Kevin Magnussen's net worth?
The Danish racer's net worth is reportedly over $3 million. Magnussen earns a good amount through driving for well-known and reputable teams.
Likewise, his salary for 2021 is expected to be no less than seven figures.
Has Kevin Magnussen retired?
No, the Danish racer has not retired. However, Kev has stirred away from Formula One.
Nevertheless, he had parted ways from Haas in 2020. Currently, he is set to compete in the 2021 WeatherTech SportsCar Championship for Chip Ganassi Racing.
What Happened to Kevin Magnussen?
There was a little heartbreak for Kevin Magnussen in the Daytona as, running in P2, his car picked up a puncture with seven minutes left.