Canadian professional basketball player Khem Xavier Birch also known as Khem Birch, is a center/Power forward of the Toronto Raptors.
Birch rose to prominence after winning the Mountain West Conference Defensive Player of the Year in 2013 and 2014.
Previously, Birch played college basketball for the UNLV Runnin' Rebels and Pittsburgh Panthers. Further, this dedicated basketball player was undrafted in the 2014 NBA draft. However, he never lost hope and continued his dedication to basketball.
While Birch played for UNLV during college, he was a teammate of the number one NBA draft pick Anthony Bennett. Besides, he is one of the richest and most famous basketball players born in Canada.
NBA fans are very familiar with the professional career of Khem Birch. However, most of them have no idea about his personal life. Below, we have dug out every possible information about Birch's personal life.
Before that, let's look at his quick facts, which give us an idea of ​​him.
Quick Facts
| | |
| --- | --- |
| Full Name | Khem Xavier Birch |
| Date of Birth | September 28, 1992 |
| Birth Place | Montreal, Canada |
| Nick Name | N/A |
| Religion | N/A |
| Nationality | Canadian |
| Ethnicity | Mixed ethnicity |
| Zodiac Sign | Libra |
| Age | 30 years |
| Height | 6 feet 9 inches |
| Weight | 235 lbs (107 Kg) |
| Hair Color | Black |
| Eye Color | Black |
| Build | Athletic, Muscular |
| Father's Name | Dervincent Birch |
| Mother's Name | Wendy Sparks |
| Siblings | Three Siblings |
| Siblings' Name | (Dhandre Birch, Kalum Birch, and Mason Birch) |
| Education | High School Graduate |
| Marital Status | Married |
| Kids | One daughter |
| Kid's Name | N/A |
| Profession | Professional Basketball Player |
| NBA Draft | 2014/undrafted |
| Position | Center |
| Active Years | 2014-present |
| Net Worth | $5 million – $6 million |
| Currently Plays For | Toronto Raptors |
| Jersey Number | 24 |
| Social Media | Instagram and Twitter |
| Merch | (Toronto Raptors) Funko Pop |
| Last Update | June, 2023 |
Khem Birch: Early Life, Family & Education
Khem Xavier Birch first took his breath on September 28, 1992. As of now, he has completed 30 years of his birth.
Khem was born in Montreal, Canada, under the birth sign Libra. According to his birth sign, he is an expert communicator.
People with this zodiac sign always know the perfect thing to say in any situation to come off as tactful, diplomatic, and charismatic.
Further, he holds Canadian nationality and belongs to mixed ethnicity. Birch was born to Wendy Sparks (Mother) and Dervincent Birch (Father). Besides, he grew up alongside his three brothers, Dhandre Birch, Kalum Birch, and Mason Birch.
Turning back and putting some flash into his education, Birch attended St.Thomas Aquinas Catholic High School in Russell, Ontario. Later he joined Pittsburgh in 2011 after graduating his high school.
Birch grew up as a fan of his current playing team Toronto Raptors, watching their games on television. Moreover, he and his Father drove five hours to Toronto to watch a live game at the Air Canada Center. It looks like the boy has fulfilled one of his childhood dreams.
Read about The Top 5 Richest NBA Players in the World Right Now!
How tall is Khem Birch? Weight
All the players of the NBA seem very tall for a normal person. However, Canadian basketball player Khem looks even more elevated in the NBA players group.
Birch stands 6 feet 9 inches (205.7 cm) tall and weighs 235 lbs (107 Kg). He has a wingspan of 7 feet 1 inch. Further, he has got black curly hair and black eyes.
Khem is very concerned about his health and focuses on a good diet as a sportsperson. He created a very muscular, athletic body with intense training and exercise.
Besides this, Birch hasn't disclosed his other body measurements, including his chest, hip, and waist. He also hasn't revealed his shoe size.
Keep in touch, and we will keep updating you about the missing information about Khem Birch.
Khem Birch: Career
The 30 years old NBA player grew up watching basketball with his Father and brothers.
He was fascinated by basketball games from a very young age. He started playing basketball while in high school.
College Career
Birch played college basketball at the University of Pittsburgh, with the Pittsburgh in 2011. Later in 2012, he transferred to UNLV college and played with the UNLV Runnin' Rebels Team.
In the 2013-14 season, Birch averaged 10.2 rebounds per game. This was the third-highest in the Mountain West Conference. During his college career, he averaged 8.9 points, 0.8 assists, and 7.8 rebounds per game.
Birch entered the NBA Draft in April of 2014, dropping his final year of college eligibility.
Professional Career
Khem Birch was not drafted in the 2014 NBA draft. After that, he joined the Washington Wizards for the 2014 NBA Summer League. He started his NBA career after signing with his first NBA team, Miami Heat, on September 14, 2014.
However, his journey with Heat couldn't last long as they revoked him on October 25 of the same year.
Further, Birch signed to play in Turkey Super League (BSL) Usal Sportif On June 30, 2015. In his 2015-16 season with Usal, he averaged 10.5 points, 0.5 assists, 9.1 rebounds, and 1.0 blocks per game.
Birch signed to play with the reigning Greek Basket League Champions, Olympiacos, on June 14, 2016, on a two-year deal worth €1.1 million.
In the 2016-17 season with the Olympiacos, he averaged 5.7 points, 0.4 assists, 0.8 blocks, 5.0 rebounds, and 0,6 steals per game.
Later on 10th July 2017, he waived his contract with Olympiacos to sign with the NBA. On July 27 of the same year, Birch signed a two-year contract with the Orlando Magic.
Again, he re-signed a two-year contract with Magic on July 10, 2019. Birch made his career-high with 15 rebounds, 14 points, four steals, and four assists in a 112-105 loss to the Portland Trail Blazers on March 26, 2021.
Further, he was fired from the Magic on April 8.
Now, Birch is playing for his childhood dream team, Toronto Raptors. On April 10, 2021, he signed three years contract worth $20 million with Toronto Raptors.
On April 29, he recently hit his career-high 20 points, getting two triples and adding nine rebounds, two steals, and four assists in a 121-111 loss to Denver Nuggets.
National Career
Being a Canadian citizen, Khem Birch has also helped his country the way he can. He started playing for the junior national team of Canada.
Birch played in the 2010 FIBA Americans Under-18 Championship and won a bronze medal.
Further, Birch is also a member of the Senior Canadian national teams. He played in the 2016 Manila FIBA World Olympic Qualifying Tournament alongside the senior squad.
Get to know about Donte DiVincenzo Bio: NBA, Career, Injuries & Net Worth>>
Who is Khem Birch currently Dating? Spouse & Kids
The 30 years old NBA player Birch is a married man. He has tied the knot with a beautiful and very caring girl.
As Khem is very secretive regarding his matters, he has kept his wife's name under wrap. However, looking at his Instagram, he is sometimes seen uploading pictures of himself with his wife, who looks very beautiful.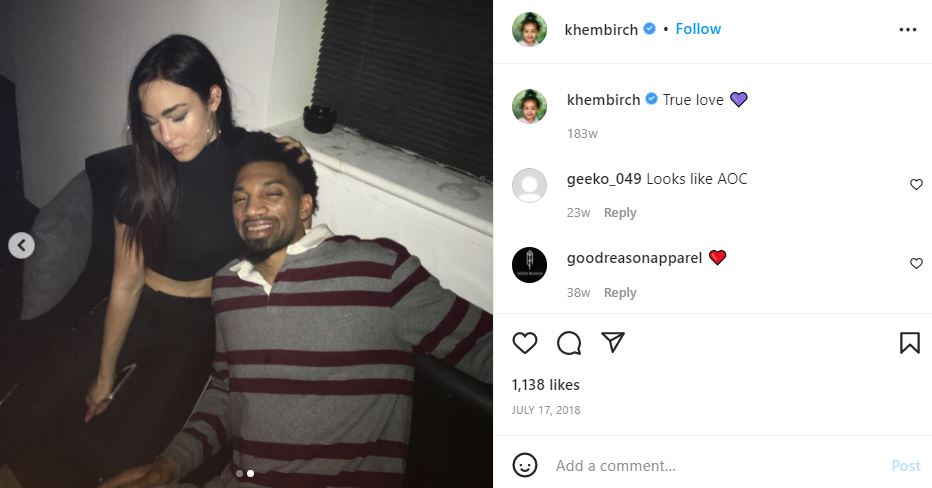 Once, Birch posted a picture of him with his wife with the caption True Love and a blue-colored heart emoji. According to this, we can say that Khem and his wife are very close to each other.
As of now, there are no rumors regarding their separation.
Apart from this, the couple has welcomed a beautiful baby daughter. The proud dad often shares pictures of his daughter on Instagram.
Although he hasn't disclosed the information about his daughter yet, she seems to be over three years old. Khem lives a very private life with his family and is far from the rumors and controversies.
He is living a lavish life with his family in the USA. As per reports, Birch mentioned his wife and daughter tested positive for Covid in September 2021.
Thankfully, they were vaccinated. Otherwise, the situation would get worst. His wife lost the taste and smell, whereas his daughter was asymptomatic.
Khem Birch: Net Worth
Birch is one of the richest basketball players in Canada. Currently, he has an estimated net worth of $5 million to $6 million.
However, his net worth as of 2022 has not yet been disclosed. According to some sources, he was the 41st best-paid center in 2021.
Talking about his salary, he is getting a handsome salary of $6,350,000 from Toronto Raptors annually. His salary history shows he makes 110.85 percent more this year than in 2020/21.
So, let's look at his salary history over the past few seasons.
| | | |
| --- | --- | --- |
| Team | Season | Salary |
| Toronto Raptors | 2020/21 | $425,463 |
| Orlando Magic | 2020/21 | $2,586,036 |
| Orlando Magic | 2019/20 | $3,000,000 |
| Orlando Magic | 2018/19 | $1,378,242 |
| Orlando Magic | 2017/18 | $815,615 |

According to the hoops hype website, his projected salary for the upcoming season is as follows:
| | |
| --- | --- |
| Season | Toronto Raptors |
| 2021/22 | $6,350,000 |
| 2022/23 | $6,350,000 |
| 2023/24 | $6,985,000 |

Birch's primary source of income is his basketball career. However, he earns extra money from endorsements, brands, and Instagram.
Click to follow up on The 20 Richest NBA Players in the World>>
Social Media Presence
Being a sports person, Birch has got a great fan following worldwide. To keep in touch with his fans and update them about his life, Birch is active on social media platforms like Instagram and Twitter.
Currently, he has over 32.3k followers on Instagram and 14.5k followers on Twitter. However, Khem is not active on Facebook.
Taking a look at his social media accounts it is full of his basketball games and updates. However, we can also see some posts about his family and children.
It looks like Birch is perfectly balancing his social and personal life. If you want an update about Khem Birch, you can follow him on his social media accounts.
Frequently Asked Questions(FAQs)
Why did Khem Birch leave the game against Detroit Pistons?
Khem Birch has to leave the game against the Pistons due to his broken nose. According to Blake Murphy, he is off the road trip and headed back to Toronto to have surgery after suffering a fractured nose.
What is the Update on Khem Birch's injury?
According to coach Nick Nurse, the Raptors expect Birch to miss 10 to 14 days following surgery to repair his broken nose. However, everything is fine now, and he is healing.
Who is the agent of Khem Birch?
The agent of NBA player Khem Birch is Austin Brown of Creative Artists Agency. As of now, Brown is looking at all the works of Khem.