Donte DiVincenzo is an American basketball player who plays for Milwaukee Bucks. He has already appeared in three NBA seasons so far.
Donte played his college basketball for the Villanova Wildcats. Meanwhile, he led Wildcats to win two national championships in 2016 and 2018.
Since his NBA debut, DiVincenzo has received wide admiration from his fans for his fantastic scoring abilities.
In addition, he often steals the show with his versatile defending technique while playing in the rear.
He was selected in the 2018 NBA draft and achieved early success three years after his debut by winning the NBA Championship in 2021.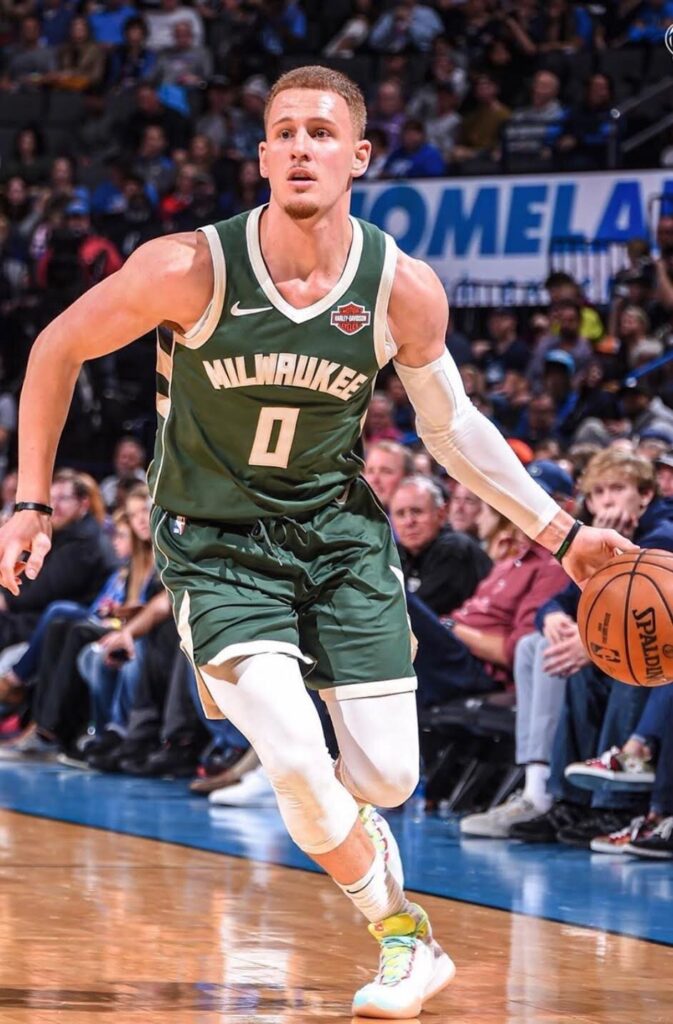 Donte can be extremely watchful while on the court and easily dominate the gameplay. He is a very diligent player, and his shots are the ones to watch out for in every Bucks match with him in the squad.
The young athlete has earned even more fans since he gave a top-notch performance to help his team reach the 2020-2021 NBA playoffs.
But unfortunately, he could not be part of the finals due to injury.
So, you may wonder how such a young player could achieve so much quickly while many experienced ones fail to do it even in their whole sports career.
This article will give you all the answers, including information about his life, career, relationships, and net worth.
But, before moving into detail, here are some quick facts about Donte DiVincenzo.
Quick Facts
Full Name
Donte DiVincenzo
Date of Birth
January 31, 1997
Birth Place
Delaware, Newark, USA
Nick Name
Big Ragu, White Donte
Religion
Christianity
Nationality
American
Ethnicity
American-Italian
Zodiac Sign
Aquarius
Age

26 years old

Height
1.93 m (6 feet 4 inches)
Weight
203 lb (92 kg)
Hair Color
Reddish-brown
Eye Color
Not available
Build
Athletic
Father's Name
John F. DiVincenzo
Mother's Name
Kathie DiVincenzo
Siblings
An older brother
Sibling's name
John A. DiVincenzo
Education

All-Boys Roman Catholic Independent School (Newark, Delaware)
Salesianum School (Wilmington, Delaware)
Villanova University (Villanova, Pennsylvania)

Marital Status
Unmarried
Girlfriend's Name (supposed)
Morgan Calantoni
Zodiac Animal
Ox
Jersey Number
0
Profession
Professional basketball player
NBA Draft
2018 /17th overall pick (Round 1)
Position
Shooting guard/ Point guard
League
NBA (2018-Present)
Active Years
(2018–present)
Net Worth
$2 million
Currently Plays For
Milwaukee Bucks
Career Highlights & Awards

NBA Champion (2021)
NCAA Champion (2016,2018)
Big East All-Freshman Team (2017)
NCAA Final Four Most Outstanding Player (2018)
Big East Sixth Man of The Year (2018)

Social Media
Instagram, Twitter
Merch
Notebook, Collage
Last Update

November, 2023
Early Life, Family & Education
Donte DiVincenzo was born in Newark, Delaware, on January 31, 1997. He is the son of John F. DiVincenzo and Kathie DiVincenzo. Kathie works as a real estate agent.
Young Donte spent his childhood quite decently in the Newark area and enrolled in an All-Boys Roman Catholic Independent school.
However, he started developing an interest in sports when he was still a child.
He participated in various sports events organized in school and often got the best results.
Moreover, his Father, John, was a middle school basketball coach. He helped Donte improve during his early days and encouraged him to make a career in sports.
As a result, he became highly engaged in soccer and basketball.
He was very skillful at playing soccer too. Donte, however, transferred to the Salesianum School during his high school years. Eventually, he chose basketball over soccer while in high school.
Donte has an older brother named John A. DiVincenzo.
Donte DiVincenzo | Career
High School Career
DiVincenzo committed to improving himself as a basketball player throughout high school.
After shifting to Salesianum School, he progressed rapidly and brought the best out of himself.
In his high school career, he averaged 15.8 points, 4.7 rebounds, and 2.9 assists per game in his junior year.
Donte averaged 22.9 points, 9 rebounds, and 4 assists per game as a senior.
Moreover, Donte led his team to two consecutive state championship wins, which earned him even greater fame.
Before moving to college, he was already regarded as one of the most skilled players at school.
Likewise, for his performance, he was named Delaware Sportswriter and Broadcaster's Association's Boys Basketball Player of The Year in 2015.
College Career
Donte attended Villanova University and joined the Wildcats after high school. But unfortunately, he had to endure a foot injury after playing just 9 matches and remained out of court in his first season.
However, he returned to score 19 points, 3 rebounds, and 2 assists in a 70-57 win against St. Johns in January 2017.
He averaged 8.8 points and 3.8 rebounds per game in his redshirt freshman season.
He improved his score against St. Johns by averaging a season-high 25 points in a rematch played in the March of the same year.
Donte got included in the Big East-All Freshman team the same season. Likewise, he was named among the Philadelphia Big Five Rookie of The Year.
Soon after, he scored a career-high 31 points in the final match against Michigan and won the NCAA Championship.
Consequently, he earned a place in the NCAA Final Four Most Outstanding Players list.
He decided to declare for the 2018 NBA draft after his second NCAA tournament win boosted his confidence to a whole new level.
On April 19, he announced he would head to the draft without hiring an agent to ensure his return to Villanova in case he does not get picked.
However, he changed his mind and hired an agent for the draft. As a result, he ended his two years of eligibility at the Wildcats.
<<< Deandre Ayton Bio: Career, NBA & Net Worth >>>
Professional Career
Milwaukee Bucks selected Donte in their 17th overall pick in the 2018 draft. He was among the second of four Villanova players drafted that year.
Unfortunately, he missed most rookie games due to a foot injury.
DiVincenzo ignited the court with his outstanding performance in his second season. In early November, he recorded a career-high 17 points in a win against Minnesota Timberwolves.
That same season, he became the player with the third-highest defensive rating of any player in the league.
DiVincenzo suffered another foot injury in the 2020-2021 season in a match against the Miami Heat.
Consequently, he missed all the rest matches, including the NBA Finals. However, he received his first championship ring with the Bucks in 2021.
After resting for six months, he returned to the court on December 25, 2021. He scored three points and 2 rebounds in a win over the Boston Celtics.
Age, Height & Weight
The athlete is still very young. As of 2023, he is 26 years of age. He celebrates his birthday on January 31 of every year.
Currently, he stands at 1.93 m (6 feet 4 inches) tall and weighs around 203 lb (92 kg).
He has somewhat brown eyes and reddish-brown hair about his body features. The famous sportscaster Gus Johnson even named him "Big Ragu," referring to his hair color.
Moreover, his athletic body has perfectly complimented him on enhancing his looks. He follows a strict diet and goes gym regularly.
Donte DiVincenzo | Relationship & Rumors
Donte DiVincenzo has quite a good fan following. So naturally, his fans want to know about him as much as they can.
Especially people who have followed him closely over the years are curious about his relationship status.
While he has strictly focused on his career, he does not have enough time to care about his love life. Therefore, there are no rumors regarding his affair in the media presently.
However, he was in a relationship with Morgan Calantoni. According to rumors, he met her while playing for the Wildcats, and the duo began dating in 2016.
Morgan Calantoni was born in February 1997 and was a student of Early Childhood Education at Temple University.
When he met her, she was a cheerleader for the Temple University basketball team.
They used to post pictures frequently on their social media accounts. However, they have stopped posting pictures together recently. So, it is pretty unclear whether they are still together.
<<Kevin Martin: Career, Charity, Wife & Basketball>>
Moreover, the player has not revealed any new information about his love life.
Net Worth, Salary & Career Earnings
Donte has an estimated net worth of about $2 million. He has been with the Bucks since his NBA career. He earns mainly from his league games, and the club has paid him reasonably well.
The club offered him $3 million in his first season. Likewise, he received around $2.9 million for his second season.
Donte received a reduced amount of just around $2.4 for his third season as he could not play many matches due to a foot injury.
In addition, he has made a reasonable sum through selling his merch from the NBA store.
Award & Achievements
Donte DiVincenzo has achieved numerous awards and achievements in his short career. We hope he will do even better in the upcoming years.
However, this is the list of some of his achievements to date:
NBA Champion (2021)
NCAA Champion (2016,2018)
Big East All-Freshman Team (2017)
NCAA Final Four Most Outstanding Player (2018)
Big East Sixth Man of The Year (2018)
Donte DiVincenzo | Injuries
Even though everyone knows Donte is a remarkable player and can scale up to even greater heights, frequent injuries have slowed him down.
Donte experienced his first significant injury while just beginning his college career. It was a painful moment for him; he had to miss the entire season.
He suffered an ankle injury in the NBA, which cost him the playoff matches and the NBA Finals in 2021. This injury forced him to get bedridden for about 6 months.
Recently, the athlete rolled his ankle ahead of warmups before the Bucks' league Campaign began. As a result, he is supposed to be out of court for at least 2 to 3 weeks.
Donte DiVincenzo on Social Media
Donte DiVincenzo is relatively active on Instagram and Twitter.
His social media links are:
<All About The NBA Champion, Baron Davis>
Frequently Asked Questions (FAQs)
Is Donte DiVincenzo Italian?
No, Donte DiVincenzo is not Italian. He is an American by birth. However, he has Italian roots as his Father's relatives are from Italy.
Is Donte DiVincenzo playing this season?
It has not been clear whether Donte will play. Recently he had an ankle injury and undergoing surgery. But he plans to play for the Bucks in the 2021-22 season.
Is Donte a good defender?
Yes, his stats show that Donte is a good defender. Since the start of his NBA career, his defensive rating has always been impressive. Donte had a defensive rating of over 100 in 2020-21.