Many people are curious about the son of Lane Kiffin after he posted a tweet of Knox in Oregon's gear. Read till the end to find out.
His son hasn't even made it out of middle school but is already a major 2028 quarterback prospect.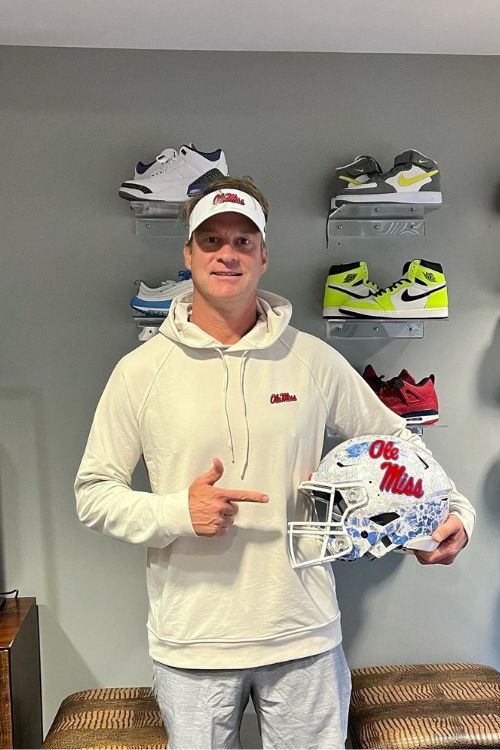 Lane Kiffin is an American football coach with a colorful history with the game. Born on May 9, 1975, he is currently the head coach of the Ole Miss Rebels.
In 1994, he graduated from Bloomington Jefferson High School in Minnesota and committed to play college football at Fresno State University.
He was a backup quarterback for the Bulldogs before foregoing his final year to become a Student Assistant Coach.
Kiffin's father is former NFL defensive coordinator Monte Kiffin. Teammate David Carr claims that Monte Kiffin stopped his son from leaving the team.
This was reportedly due to a lack of playing time, so Lane became a coach instead.
Kiffin earned his bachelor's degree from Fresno State in 1998. The Ole Miss named Lane their 39th head football coach on December 9.
Before this, he worked for many teams in various capacities, including but not limited to coaching positions.
Lane Kiffin Son, Knox Kiffin
Lane Kiffin's son Knox was born in January 2009, and the young Kiffin is currently about 14 years old.
It appears that football is a family tradition in the Knox household, just like Lane followed in his father's footsteps and his son Knox did the same.
Knox is currently a quarterback recruit in the 2028 class with a 3.75 GPA. He is yet to enter high school but is already frequenting college visits.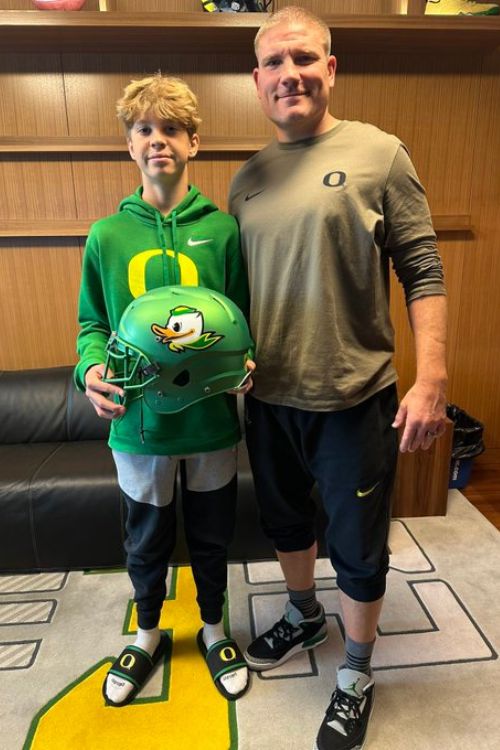 Furthermore, things turned very interesting after Knox visited the University of Oregon yesterday.
His father seemed slightly jealous after Knox posted pictures of himself in Oregon gear.
Firstly, he tweeted a picture of Knox in full gear of Oregon with a facepalm emoji.
Then he made another tweet saying, "Currently losing my 5 ⭐️ QB to @CoachDanLanning & @CoachLup, unfortunately, son, you didn't miss anything yesterday. Good win Ducks #DoesBloodMatter @KnoxKiffinQB".
However, this is not the first time Lane has joked about his son going to a rival team. In June 2023, the coach had something to say after his son geared up in USC Trojans Jersey.
Lane wrote, "Who would have thought???" Kiffin said in his post. "Thanks for taking good care of him and his buddy Hud @LincolnRiley. He said you are his new favorite USC coach ever. My own son trolling me."
While it may sound all fun and games, we have to remember that Lane was kicked out from the Trojans after a devastating season in 2013.
Meet Lane's Father, Monte Kiffin, Who Is Still Helping Him
Lane's father, Monte Kiffin, is a legend of the sport himself when it comes to the coaching aspect.
Monte George Kiffin was born on February 29, 1940. He is a football coach in the United States.
He is a player personnel analyst for his son, Lane, at Ole Miss. Monte is regarded as one of the greatest defensive coordinators in NFL history.
He previously worked as an NFL assistant coach for 26 years, including 13 years as the Tampa Bay Buccaneers' defensive coordinator, with whom he won Super Bowl XXXVII.
During that time, his defensive teams have finished in the top ten in points allowed and yards allowed ten times, an NFL record.
On top of that, he is also one of the best defensive coordinators in modern football. Kiffin's principles are among the most significant in modern collegiate and pro football, as the father of the widely imitated "Tampa 2" defense.