Kristie Mewis is in a relationship with her girlfriend, Sam Kerr, who is an Australian professional soccer player.
The pair have reportedly been dating since 2020. Sam and Kristie announced their relationship on the social media platform Instagram.
On August 9, 2021, Sam first posted a Polaroid photo of herself and Kristie Mewis.
Kristen Anne Mewis was born on February 25, 1991, in Weymouth, Massachusetts.
Mewis is a professional American soccer player who is a midfielder at Gotham FC of the National Women's Soccer League (NWSL) and the US national team.
Additionally, the player was the United States Soccer Federation Young Female Athlete of the Year in 2008 and won the Bronze medal at the 2020 Olympics.
Furthermore, she was also the champion of the CONCACAF Women's Championship in 2022.
Anne attended Whitman-Hanson Regional High School, where she started playing soccer and became an NSCAA All-American three times, All-New England three times, and All-Massachusetts team honoree three times.
Who Is Kristie Mewis Girlfriend?
Kristie Mewis' girlfriend, Sam Kerr, is a professional forward who plays for Chelsea in the FA Women's Super League.
The beautiful couple has been together since 2020. They were first seen having a connection after an Australia vs. the USA match at the Tokyo Olympics in 2021.
The pair revealed their relationship to the public via an Instagram post by Sam on August 9, 2021.
After that, on August 20, 2021, Mewis also uploaded a photo of the duo spending quality time at the pool.
Despite being rivals, the pair share an unbreakable bond.
"Our coaches or teammates don't think that we can separate. I hope people know that when it's training time or play time, it doesn't come into it." Kerr said.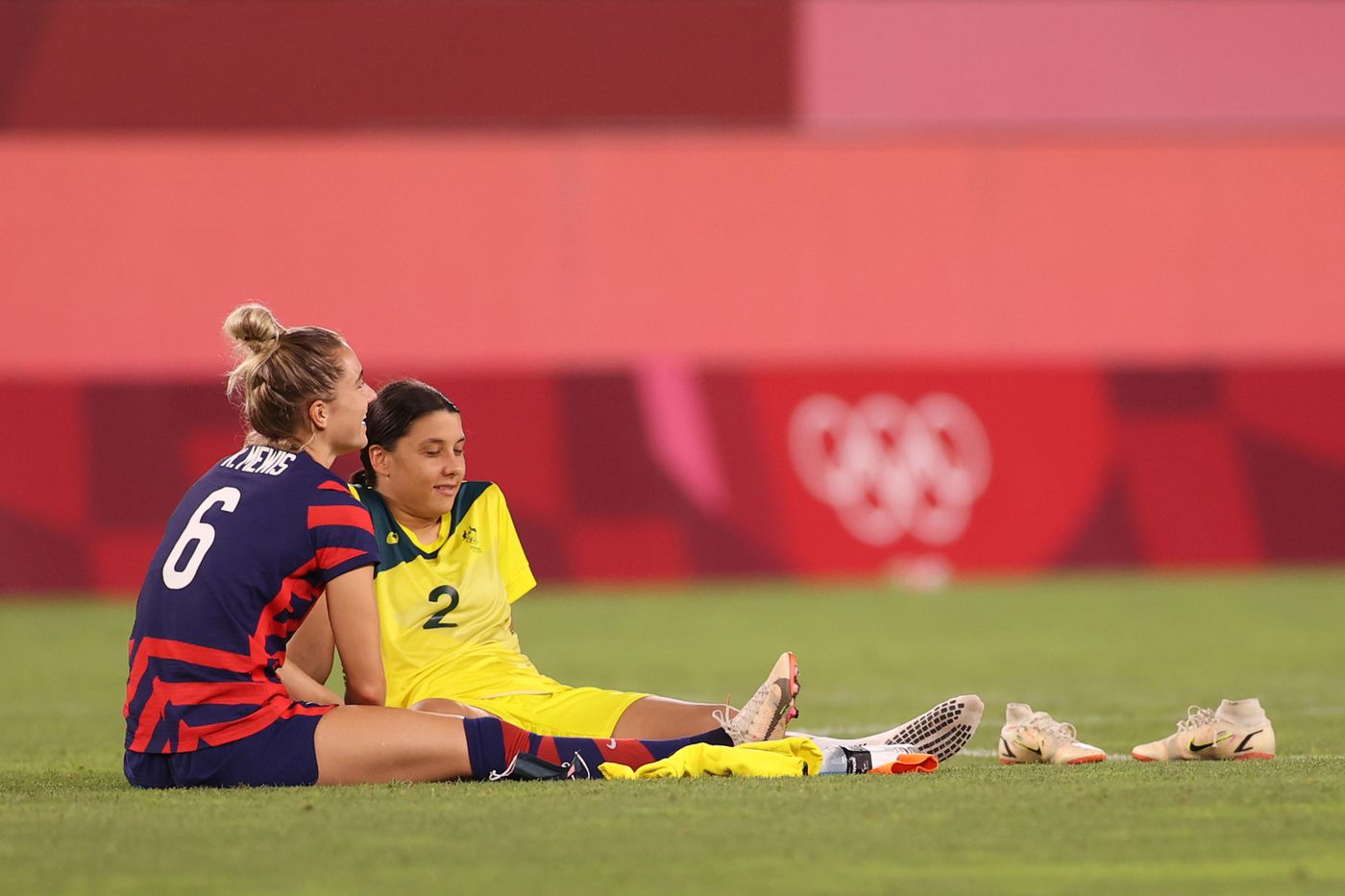 Sam, full name Samantha May Kerr, was born on September 10, 1993, in East Fremantle, Western Australia.
Moreover, the forward has served as a captain for the Australia women's national team since 2019.
The widely recognized best forward is the only female soccer player to earn the Golden Boot in three different leagues and on three different continents.
Furthermore, the first Australian to win PFA Players' Player of the Year was named the FIFA FIFPRO Women's World 11 Player in 2022.
Apart from this, the player also got the honor of being an Australian flag bearer for the coronation of Charles III and Camilla recently.
Kristie's Previous Relationship
Before Sam, Kristie Mewis was in a relationship with Dash teammate Rachel Daly. As the relationship didn't work out between these two, the duo had to part ways.
Rachel Ann Daly is also an English professional soccer player who is currently playing for Aston Villa in the FA Women's Super League and the England national team.
Daly can play in all positions; defense, attack and midfield. So far in her professional soccer career, she has won many individual and collective awards.
With the England squad, she won the 2018 SheBelieves Cup, the 2022 UEFA Women's Euro, and the Women's Finalissima in 2023.
Regarding her individual awards, Rachel earned the WSL Golden Boot twice (2022 and 2023) and an NWSL Challenge Cup Golden Boot (2020).