Kristina Pink, one of the coveted African-American sports reporters, is best known for working with the FOX Sports network as the sideline reporter covering NFL games. The University of Florida graduate Pink has been associated with the network since 2012. She is officially announced and included by Fox TV in the broadcasters' lineup for the 2022 NFL season.
Kristina, a famous lady reporter who covers all the stories about NFL eloquently and professionally from the grounds, has a Telecommunications major.
Her passion and dedication have earned her the spot of one of the best sports reporters in the American news industry.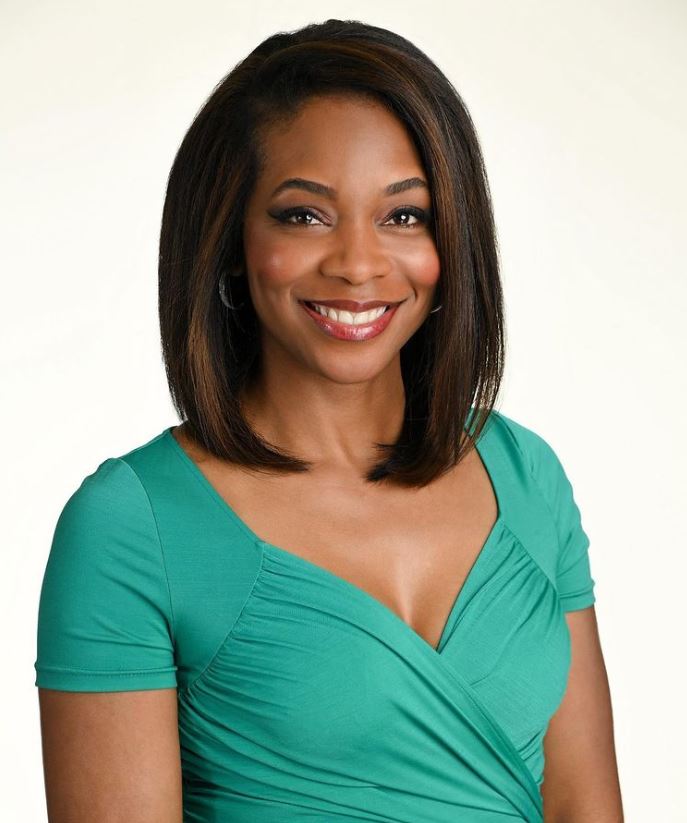 Hence, it would be a crime not to talk about such a passionate and inspiring personality.
Let's unveil this elegant yet talented lady's career, family, marriage, and more. Do you think she is replaceable by any other sideline reporter? Let us know by commenting!
Kristina Pink: Quick Facts
| | |
| --- | --- |
| Full Name | Kristina Pink |
| Birth Date | March 12, 1986 |
| Birth Place | Florida, US |
| Nickname | Kristina Pink |
| Religion | Christian |
| Nationality | American |
| Ethnicity | African-American |
| Education | University of Florida |
| Horoscope | Pisces |
| Father's Name | Donald A Pink |
| Mother's Name | Lorna Joy Pink |
| Siblings | one brother & one sister |
| Age | 37 Years Old |
| Height | 5 feet 8 inches(173 cm) |
| Weight | 57 kgs(130 lbs) |
| Shoe Size | Updating Soon |
| Hair Color | Dark Brown |
| Eye Color | Dark Brown |
| Build | Curvy |
| Marital Status | Single |
| Dating | Not at the moment |
| Profession | Sports Reporter |
| Active years | 2006-present |
| Affiliation | FOX Sports |
| Net Worth | $1-5 million (Approx.) |
| Salary | $65 thousand per annum (Approx.) |
| Famous For | Curvy Physique |
| Social Media | Instagram, Twitter |
| Last Update | May, 2023 |
| NFL Merch | Jersey, Trading Cards |
Who Is Kristina Pink?
Kristina Pink is an American-born reporter who is active as a FOX Sports sideline reporter. As of now, she covers the NFL and has shown great interest in sports since her childhood.
Not to mention, Pink is one of the aspiring sports journalists in America right now. She even covered the Super Bowl XLIV in 2010 and the Pro Bowl in Miami back in 2010.
She is officially all set to cover the NFL Season in 2022 for FOX TV as a sideline reporter.
Early Life and Education
The famous reporter/ newscaster Kristina Pink was born in Florida, the United States of America. Her father, Donald A Pink, and mother, Lorna Joy Pink, raised her.
But through her social media handles, it is revealed that she has a sister and a brother whose name is, of course, a mystery.
Likewise, she is an American-born woman who belongs to the African ethnicity.
As for her education, the young Pink completed her high school education in Pembroke Pines, located in Florida.
Later she went to the University of Florida, which is not a secret. She graduated from the University with a Bachelor's degree in Telecommunications in December 2007.
It was during her university days that Kristina discovered her passion for journalism. That is how she started in the News world.
Age and Body Measurements – How Old Is Kristina Pink?
Currently active as a fox newscaster, Kristina Pink has been in this industry since her college days.
Born in 1986, she is 37 years as of now and celebrates her birthday every year on March 12.
Likewise, Pink was born under the zodiac sign of Pisces, who is generally known for being excellent at communication and talented and intelligent people.
Along with her great personality, she also has a fabulous physique. The Florida native stands at 5 feet 8 inches(173 cm) and weighs around 57 kgs(130 lbs).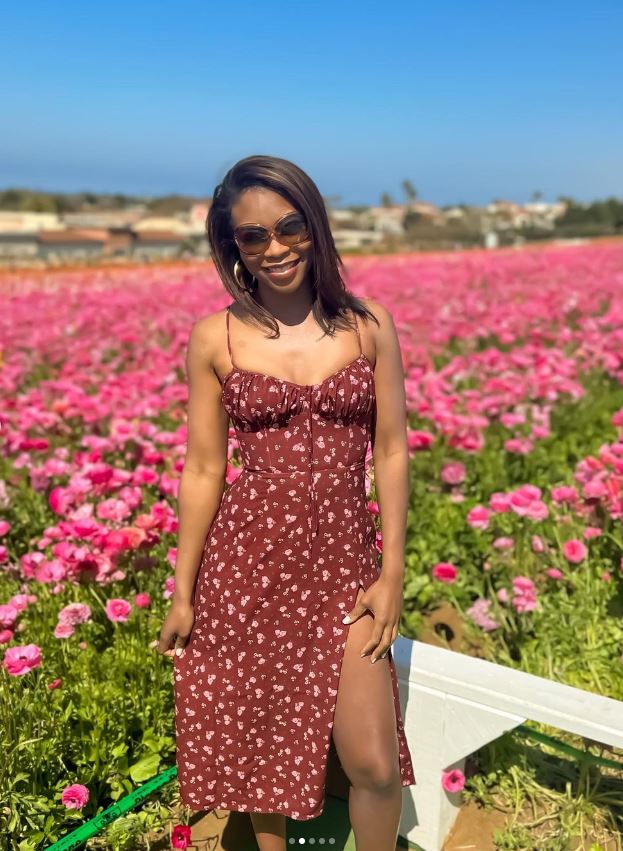 Though the exact measurements of her figure are not known, it is evident she had one curvy physique.
Pink is one of the American news reporters famous for her glamorous body. Not to mention, it alone grabs the attention of many people.
Aside from her enviable figure, Kristina has short dark brown hair and dark brown eyes that add more to her beauty.
With that, the FOX news reporter is always ready and glammed up in front of the camera.
Professional Career – FOX News and Sports
Talking about her career, we had mentioned before that hers started when she entered the University. Pink's interest in journalism was piqued at the University of Florida.
Before becoming a full-fledged network reporter, Pink started serving as a sportscaster for her University's television station, WUFT, followed by WRUF-AM 850.
During her college years, the American-born provided Florida athletics feature stories.
Soon after, she started working as a reporter for WTVJ-TV while completing her bachelor's degree. Pink happily worked for the NBC-affiliated network before moving to FOX Sports.
Likewise, her journalism career paved the way for the ABC affiliate WGNO-TV in New Orleans.
Hence, she officially started her professional career as a sports reporter at WDBD-TV in Jackson, Miss Back, in 2008.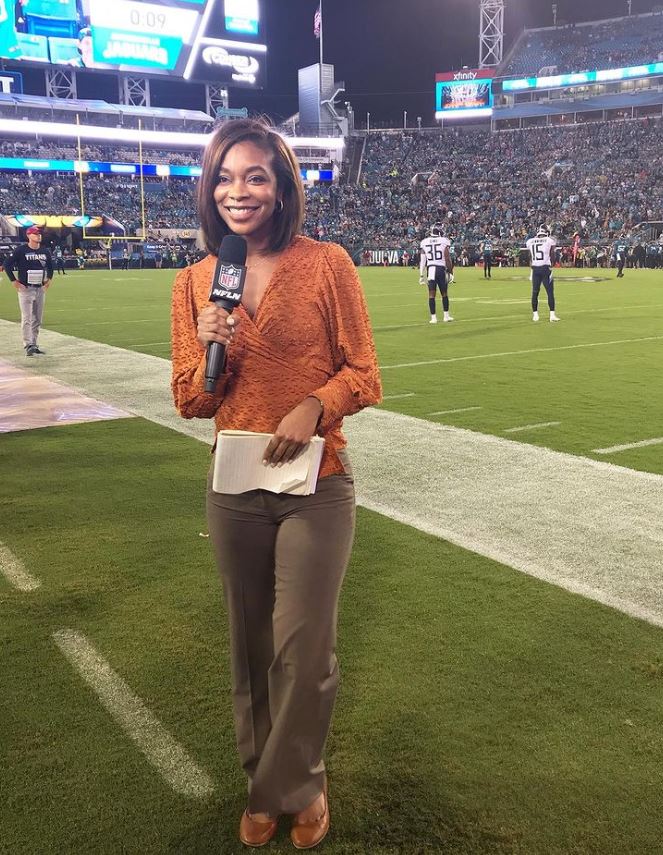 In the following years, Pink, as part of her job, also covered college football for FOX Sports.
Also, the bonafide reporter served as a courtside reporter for the Los Angeles Clippers on Fox Sports regional network, Prime Ticket.
She has been officially confirmed and added to FOX TV's broadcast lineup for the 2022 NFL season.
Read Wife of Roman Reigns, Galina Becker- Age, Parents, WWE, Profession >>
Thursday Night Football & More
Apart from her solo fieldwork, Kristina also covered the NFL coverage of FOX Sports with the play-by-play announcer Joe Buck, analyst Troy Aikman, and reporter Erin Andrews.
Together the four presented the news on the Thursday Night Football coverage of FOX Sports.
During the 2016 NFL season, the famous sports announcer worked primarily with Dick Stockton, announcer of an on-air team of play-by-play, and analyst Chris Spielman.
Pink serves as a courtside reporter for the Los Angeles Clippers on the regional FOX Sports Network, Prime Ticket.
During that time, she interviewed many prominent athletes, including Jared Goff.
For the 2017 playoffs season, Kristina served with play-by-play commentator Kenny Albert and analyst Ronde Barber.
Besides, the 37 years old also serves as a courtside reporter for the Los Angeles Clippers on Prime Ticket.
Moreover, during the playoffs in 2018-2019, Pink served as the AFC reporter for FOX sports. There she covered Wild Card, Divisional, and Championship games.
Cristina once fell on the floor post interview with the NFL players in January 2022. However, she wasn't injured badly.
Her experience and solid knowledge of the sports background showed her words and manners.
Is Kristina Pink Married? Who Is Her Husband?
Being one of the famous sports anchors, it is no wonder that Kristina has many fans who admire her work and beauty. It has led many to peek into her lifestyle and personal life from different perspectives.
However, 37, Kristina is still single and living her life as a talented bachelorette sports anchor.
Yes, the popular media Pink is still unmarried and has not expressed any plans to get married sooner.
Not only that, but Pink is one of those people who has never been spotted on a date or dating someone. At least in public and by media.
It seems Kristina is not only tight-lipped about her family but also about her personal life.
Similarly, she controls what goes out and what does not in the media. But this has not stopped some people from making rumors and linking her to some dating scandals.
However, Pink knows better than to give the spotlight to those malicious rumors. If anything, Kristina is always on the media for her curves and sleek outfits.
It seems the talented Kristina is still focused on her career and busy thriving in it rather than thinking about when to marry.
What Is Kristina Pink Annual Salary?- Net Worth and Income
Kristina Pink, the sports anchor for FOX News, has been active as a journalist for a long time.
Before FOX, she worked in other networks such as NBC and ABC, which helped her build expertise in the sports background and forefront.
Because of this, Kristina is one of the famous FOX Sports anchors. With that being said, it is believed the glamorous anchor has garnered fame and wealth along the way.
Although her actual net worth is unknown, Pink has an estimated net worth of around $1 million-$5 million from her decade-long journalist career.
Also, it is mentioned that a FOX reporter makes about $65 thousand on average per year.
Hence, coming from years and years of a solid background, it is no brainer that hers is more than that.
Not to mention, Kristina is often seen flexing fashionable items and attending fashion events worldwide.
[Read another popular ESPN Broadcaster, Joe Tessitore, below!]
Joe Tessitore Age, Height, Boxing, Wife, Son, ESPN, Net Worth, Instagram >>
Online Presence
Kristina is famous for her work with FOX sports and is equally renowned on social media. If she's good at anything other than reporting, then it is rocking the outfits.
Aside from her work ventures, her timeline is filled with her daily stuff, maintaining aesthetic value.
Here's a glimpse of her Instagram, where she keeps posting about her job and life.
No wonder Pink has tons of followers and admirers on her social media.
Instagram– 54.7k Followers
Twitter– 21.3k Followers
Kristina's Popularity Curve
Kristina's popularity has been considerably rising since the beginning of her career. It is also because more and more NFL fans are discovering her over time.
FAQs
Why is the sideline reporter position extremely important to the broadcast?
"We're literally the eyes and ears for the broadcast. Since not all cameras can capture every moment happening on the field, it is good to have some extra set of eyes.
Even though only a little information gets aired, we(sideline reporters) are constantly providing every detail that not many have access to. "
What are the challenges of being a sideline reporter?
"Well, being a sideline reporter does not allow you to be on the sideline. *laughs* Not to mention, we are constantly yelling at the coaches and on the field.
Aside from providing information and capturing moments of people's favorite teams is what's challenging. "
(The above Q&A was extracted from 'The New YorkHER Podcast: Ep. 4 with Kristina Pink')
What is Kristina pinks real name?
Kristina Pink's real name is Kristina Pink, and she is a Florida native. She has been associated with Fox since 2012.
Where does Kristina Pink live?
Christina Pink currently lives in Los Angeles. She is originally from Florida and studied at the University of Florida.
Is Kristina Pink okay?
Kristina Pink is alright. She fell on the floor post-interview with the NFL players in January 2022. However, she wasn't injured badly.