Erin Andrews is an American journalist, actress, and television personality who rose to prominence after she hosted the ABC show "Dancing with the Stars," which aired in 2014. In her career, Erin was associated with ESPN, Fox Sports, and ABC networks. Currently, she is a sideline reporter for Fox NFL.
For a young American woman to succeed in the male-dominated field of sports journalism takes a lot of confidence, hard work, skill, and enthusiasm. Erin had what it takes to excel in this field.
Erin Jill Andrews has been working in this field since 2000 and has covered major sporting events, including the Super Bowl and World Series.
She has also founded her own sports clothing Company, "WEAR by Erin Andrews."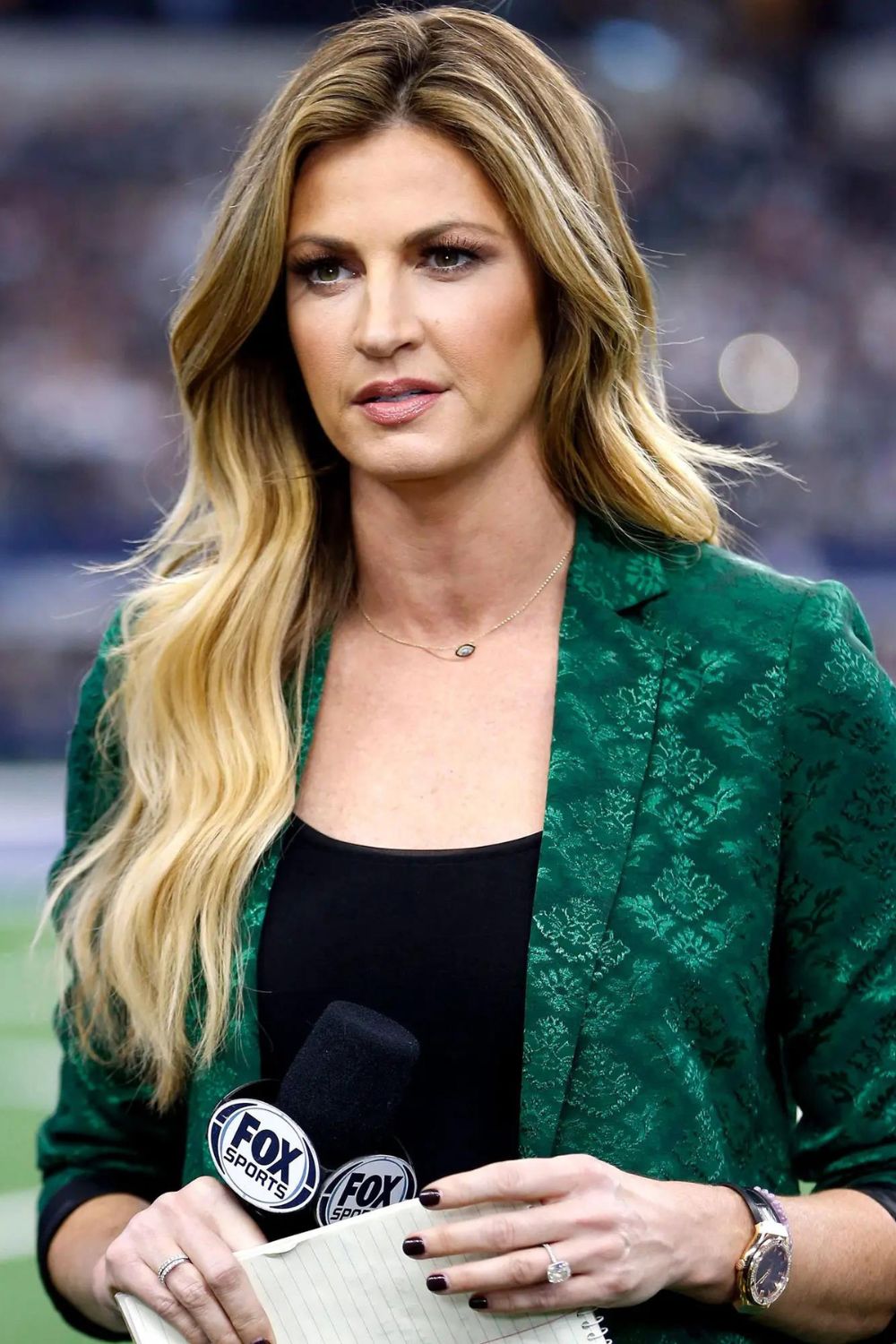 Thanks to her appearance everywhere, Erin has become the eye candy of many and an inspiration to aspiring female reporters.
On a side note, Andrews has also been deemed the "America's Sexiest Sportscaster."
Also, she was included in FOX Sports' no.1 NFL broadcasting team for 2022.
This article will unfold everything from her early work to dating and her troubled past with the stalker. But first, let's look at the quick facts.
Quick Facts
| | |
| --- | --- |
| Full Name | Erin Jill Andrews |
| Birth Date | May 4, 1978 |
| Birth Place | Lewiston, Maine, U.S. |
| Known as | Anho, Miss Jill |
| Religion | Christianity |
| Nationality | American |
| Ethnicity | White |
| Education | University of Florida |
| Horoscope | Taurus |
| Father's Name | Steven Andrews |
| Mother's Name | Paula Andrews |
| Siblings | Kendra Andrews |
| Age | 44 Years Old |
| Height | 5'10″/1.78 m/178 cm |
| Weight | 55 kg/121 lbs. |
| Build | Curvy |
| Body Measurements | 36-23-33 inches |
| Hair Color | Blonde |
| Eye color | Gray |
| Profession | Journalist, SportsCaster, TV Personality |
| Active Years | 2000-present |
| Marital Status | Married |
| Spouse | Jarret Stoll |
| Children | None |
| Net Worth | $30 million |
| Social Media | Instagram, Twitter |
| Merch | Photo, Book |
| Last Update | April, 2023 |
Early Life, Family, & Education
The famous American TV personality, Erin Andrews, was born Erin Jill Andrews in Lewiston, Maine.
When she was five, her family moved to various places before settling in Valrico, Florida.
Likewise, Erin is the daughter of Steven Andrews, a TV Journalist, and Paula Andrews, a teacher.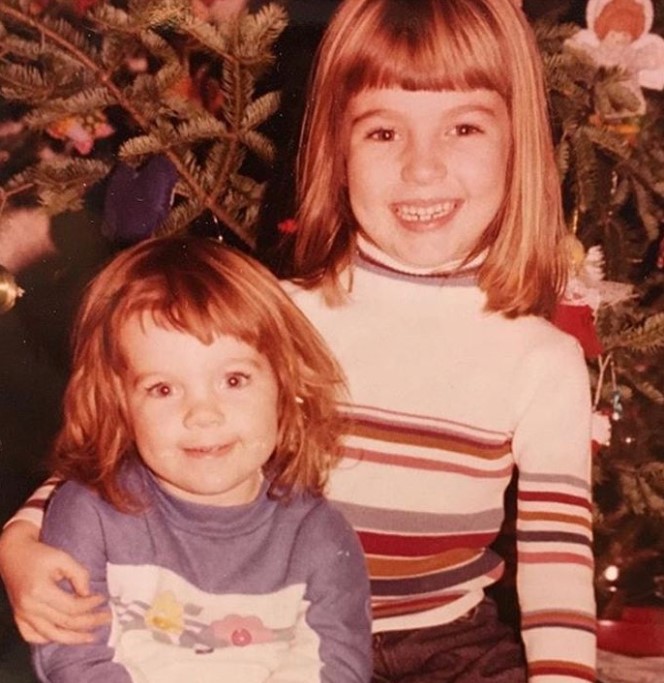 Aside from her parents, Erin has a younger sister named Kendra Andrews, a professional dancer, and Actress.
Having a Father who is a Journalist and a six-time Emmy Award winner, Andrews grew up watching sports and NBA games.
A Fan of the Boston Celtics, she describes herself as a tomboy as a youth.
Because of it, she found it easier to talk with boys about sports than with girls.
As for her education, young Andrews went to Bloomingdale High School in Valrico, Florida.
As a child, she was a member of the dance team, student government, and the National Honor Society.
Later, Erin enrolled at the University of Florida. She graduated with a Bachelor of Arts degree in Telecommunication in 2000.
During her University days, Andrews was a member of the Zeta Tau Alpha sorority, the Florida Gators Dazzlers dance team, from 1997 to 2000.
Age, Height, & Body Measurements
Erin Andrews, aka Miss Jill, is a famous American sportscaster and TV personality.
She has been in this industry for two decades now, which is a real surprise, considering Andrews is just 44.
Yes, folks, this gorgeous Journalist was born on May 4, 1978, which means she is already in her 40s.
Also, her star sign is Taurus, known for being stubborn yet passionate and hard-working.
But, putting that aside, Erin is still vibrant and youthful, as in her younger days.
Also, the 5'10" (1.78 m) tall Andrews follows a strict diet and workout regime to keep herself fit.
According to sources, the American Journalist visits the Los Angeles barre studio, Physique 57, to maintain her sexy figure.
For those curious, she weighs 55 kg and has a curvy figure measuring 36-23-33 inches.
If that was not enough, Andrews knows how to look sharp and appealing in front of the camera. Also, her blonde curls and grey eyes add more to her beauty.
Marriage, Husband, Children, & Personal Life
Apart from being stellar at what she does, Erin Andrews has also maintained her personal life.
Many might not know, but this well-known TV personality is a married woman.
In fact, she is married to her husband, Jarret Stoll, a hockey player by profession.
The two lovebirds started dating back in late 2012, and after four years of being together, they finally tied the knot on June 24, 2017.
Likewise, the two had their dream wedding in an intimate sunset ceremony in Montana.
Despite being together for a long time, Erin and Jarret don't have any children. But they do have a golden retriever named Howard.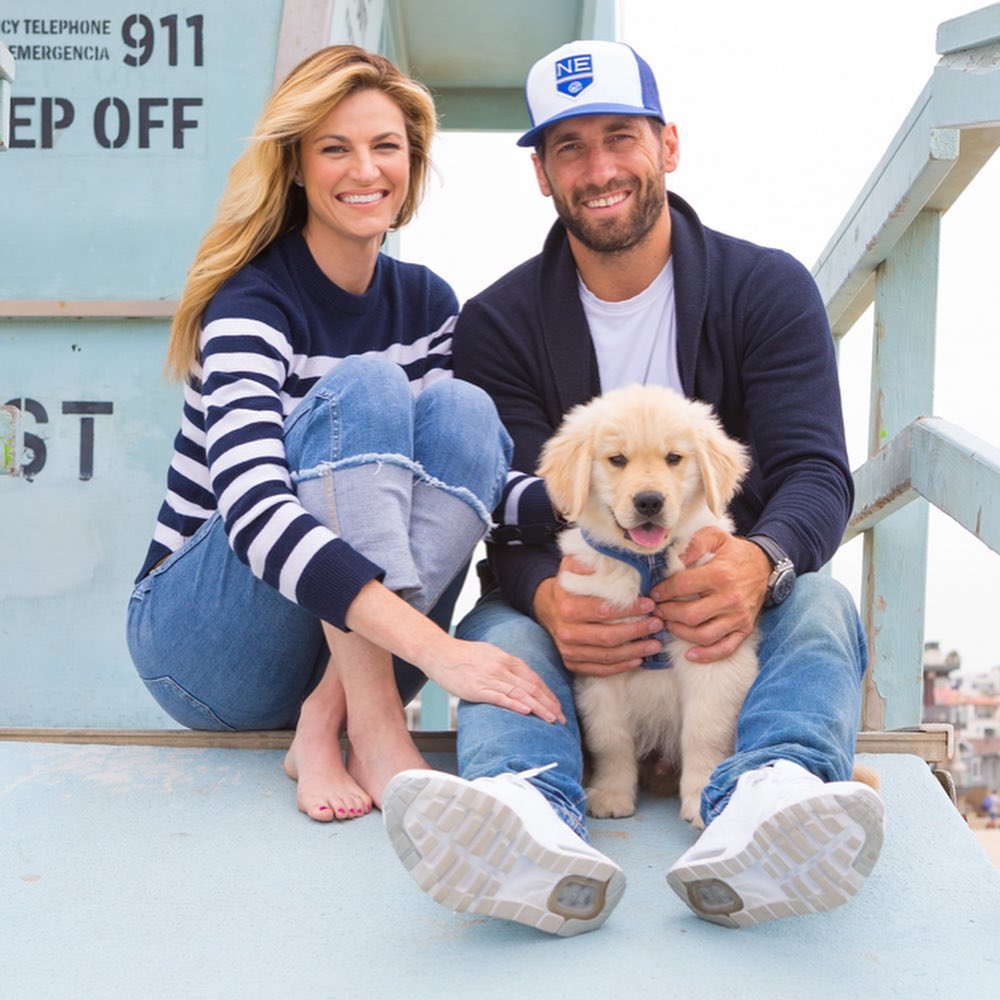 Even though Erin is not linked to rumors now, she used to be in the past. Before marrying her husband, Erin was in a relationship with Chace Crawford in 2012.
The American Actor, also seven years younger than Andrews, parted shortly after.
Besides Chace, Erin also dated Josh Hopkins, Aaron Rodgers, and David Wright. However, most of the personalities she dated were either athletes or actors by profession.
Erin Andrews Fight With Cancer
Just before she tied the knot with Jarret, Erin was diagnosed with cervical Cancer.
She only announced the news in January 2017 while receiving treatment for it.
After two surgeries, Andrews was pronounced cancer-free.
Likewise, according to Erin, her health condition helped to strengthen her relationship with Jarret even more.
At that time, they still hadn't talked about marriage or children but even underwent surgery.
Hence, the two are now continuing with a fertility plan of in-vitro fertilization (IVF).
Even though it took her a long time, Erin finally came out with the news and, right after, informed the public about her experience.
Andrews then partnered with a women's health diagnostics Company, Hologic.
Then, she started a Campaign called 'We Can Change This STAT,' encouraging women to go to the doctor for their annual exams.
The 2008 Stalking Incident
Around 2008, Erin became a severe stalker victim when Michael David Barrett, then 46, filmed Andrews through her hotel room's peepholes.
At that, she was staying at the Radisson Airport Hotel located in Milwaukee, Wisconsin.
Shortly after, the video found its way online, where Andrews was utterly naked.
Naturally, being a TV personality, the video went viral online and was picked by much local news.
After the investigation, the FBI arrested Barrett on October 2, 2009, for possessing tapes.
Likewise, on March 15, 2010, Barrett was found guilty and sentenced to two and a half years in prison with three years of probation.
He was also fined $5,000 and $7,366 in restitution by the court. After completing his time, Barrett got out of prison on July 3, 2012.
Following this, Andrews sued the hotel for negligence and invasion of privacy.
With much effort, Andrews was granted $55 million by the jury. They found Barrett, the hotel management Company, and its owner responsible for the crime.
Net worth, Salary, & Income
Erin Andrews, who has worked for networks like ESPN and hosted many shows and games, has an impressive net worth of $30 million.
Andrew, who is also famous for hosting "Dancing with the Stars," earns a reported $2 million as her yearly salary.
Aside from her salary with the Fox network, Andrews also makes a significant amount from brand endorsements.
Throughout her career, Erin has partnered with brands and charitable projects.
In 2010, Andrews teamed up with Kraft Foods in their Huddle to Fight Hunger Campaign.
In 2011, Erin helped promote Reebok's ZigTech brand. Also, Erin became the new face of the cosmetics Company CoverGirl.
in 2016, Erin became the brand ambassador for Orangetheory Fitness. Andrews then teamed up with the Fanatics in October 2019 to make a clothing line.
In May 2022, She was signed to a 3-year deal by FOX as an NFL sideline reporter. Fox unveiled their NFL broadcasting team for the 22/23 season. The team included Erin Andrews, Kevin Burkhardt, Tom Rinaldi, and Greg Olsen.
Andrews has covered 3 Super Bowls and 10 NFC Championship games in her 11 seasons with FOX. The 2022 season will be her 12th season with FOX Sports.
Freelancer & ESPN
As a Journalist, Erin started right after her graduation in 2000 when she was appointed as a freelancer by Fox Sports Florida.
Following that, she worked as a Tampa Bay Lightning reporter for the Sunshine Network.
Two years later, Erin served as the Turner South Network's studio host and reporter.
She covered the Atlanta Braves, Atlanta Thrashers, and Atlanta Hawks.
Likewise, Andrews' hard work paid off when ESPN offered her a spot as an ESPN National Hockey Night reporter.
From April 2004, the young reporter covered College World Series, Little League World Series, and even Great Outdoor Game.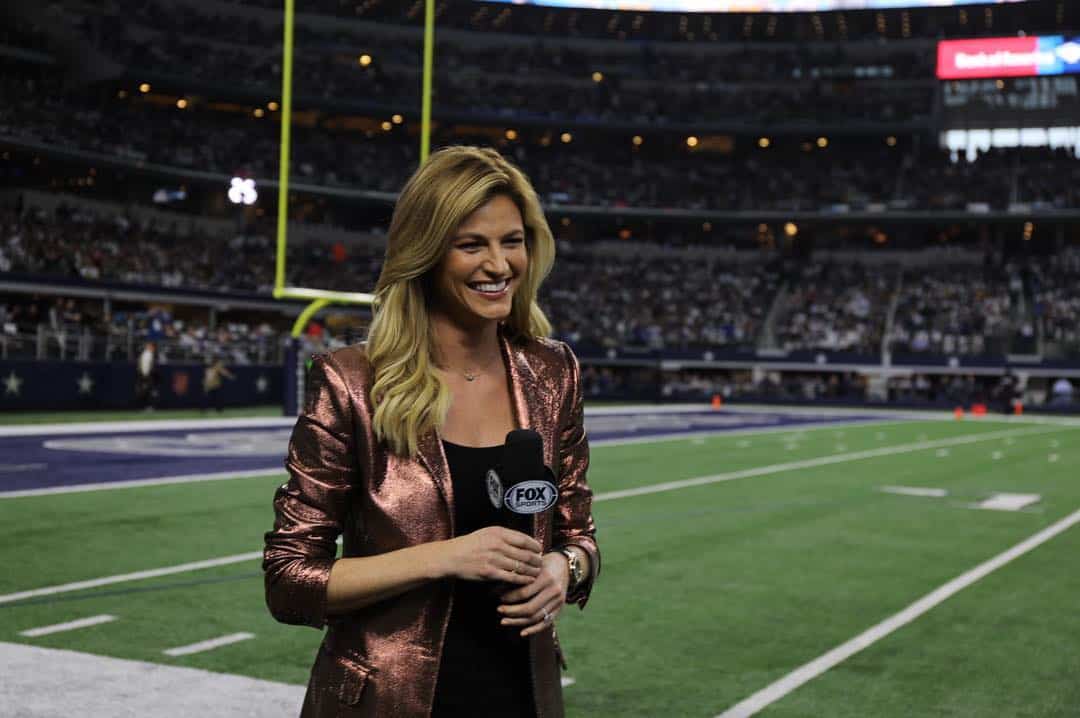 Following her contribution to the network, in 2005, her job extended to covering ESPN College Football Thursday Primetime and Major League Baseball.
From 2008 to 2010, Erin reported ESPN's and ABC's live coverage of the Scripps National Spelling Bee.
Aside from covering news as a reporter, this vibrant and radiant lady has also appeared in several talk shows like The Oprah Winfrey Show, Jimmy Kimmel Live!, and The Tonight Show with Jay Leno.
Moreover, Andrews also participated in season 10 of ABC's Dancing with the Stars alongside Maksim Chmerkovskiy.
Ultimately, they managed to get the third spot among the 11 couples.
Erin Andrews In Dancing With The Stars And CMT Music Award
On June 29, 2012, Erin announced her departure from ESPN after serving eight years.
Erin then headed to Fox Sports as the first host of the Fox College FOOTBALL studio shows alongside Eddie George and Joey Harrington on the analyst's panel.
Likewise, as the contributor of Fox NFL Sunday, Erin reported some major sporting events like the MLB All-Star Game, the World Series, the NFL Playoffs, and the Daytona 500.
She then became the host of Fox College Football Kickoff and Fox College Saturday, August 17, 2013, after the launch of Fox Sports 1.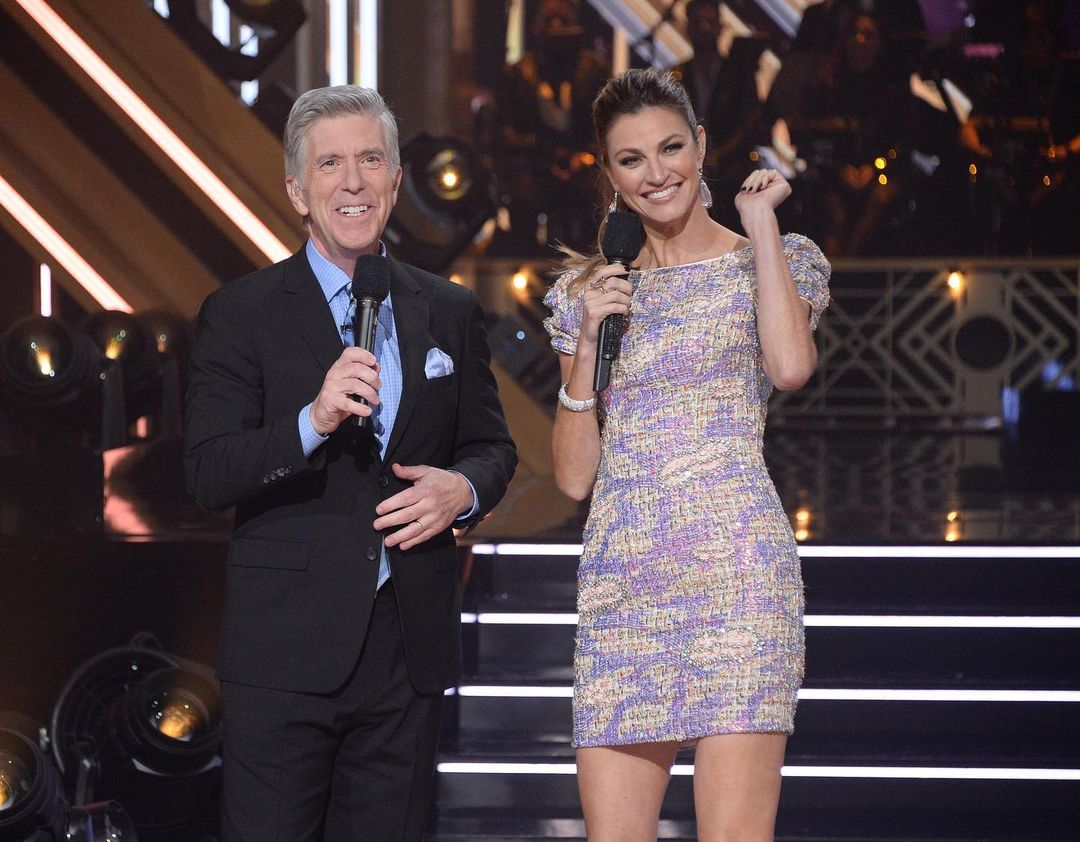 The show is a direct competitor to ESPN College Gameday, which previews the weekend's biggest college football games.
Besides, Andrews also contributed to the daily studio show Fox Football Daily.
After four years of appearing in Dancing with the Stars, Andrews returned to the show.
Only this time, she would not be dancing but hosting the show's 18th season in March 2014.
Erin replaces Brooke Burke-Charvet as the co-host of the show.
Following the performance, Andrews returned Pam Oliver as the sideline reporter on Fox's lead NFL broadcasting crew.
Moreover, Erin co-hosted the CMT Music Awards with J.J. Watt and Brittany Snow from 2015 to 2016.
The American TV personality also appeared as a guest backstage interviewer on WWE Smackdown.
Popularity
As a sideline of the NFL, Erin is not a new face in the sports industry. The stunning FOX Sports sideliner keeps surfacing over the internet.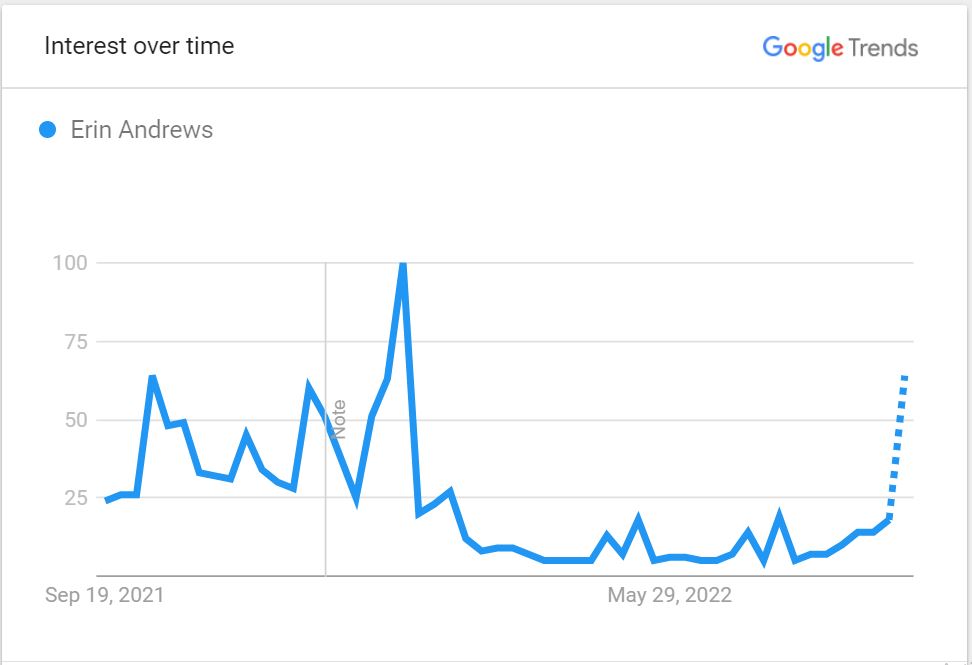 She is popular among people in the U.S. and worldwide. The above graph illustrates the google search results in the last 12 months.
Frequently Asked Questions (FAQS)
Which Company does Erin Andrews have partnered with?
In 2019, Erin partnered with Fanatics to design her sportswear clothing line for women.
She has also worked with multiple companies to promote various causes, from women in sports to fighting hunger across America.
Not to mention, Erin has also partnered with Kraft Foods for their "Huddle to Fight Hunger" Campaign.
Does Erin Andrews have her clothing line?
In 2020 Erin Andrews launched her own NFL clothing line for women called WEAR by Erin Andrews.
The clothing line was inspired by Erin's closet outfits she wears daily.
As a result, it contains items that women could easily incorporate on gamedays and into their weekly wardrobe.
How did Erin Andrews react to Aaron Rodgers's surprise engagement?
Like the rest of the world, Erin was stunned to hear about Aaron Rodgers' surprise engagement.
She shared her reaction to the news saying,
"He kept that undercover, wow. There was kind of rumors, I think, that they were dating, but yeah, I had no idea, and then he unveiled it at his MVP speech, so, surprised everybody, really kept that quiet."
Does Erin Andrews still work for Fox?
Erin left ESPN to work at Fox Sports, where she'll host a 30-minute football pre-game show and other duties.
Did Erin Andrews Date Aaron Rodgers?
According to Us Weekly, Erin and Aaron dated on and off between 2010 and 2014. They were often together when Aaron won his first quarterback and only Super Bowl in 2010.
Where does Erin Andrews currently live?
Erin previously lived in Atlanta, Georgia, but currently resides in Los Angeles, California.
Is Erin Andrews sick?
Erin Andrews was sick when she got diagnosed with cervical Cancer in 2016 and underwent two surgeries.
Does Erin Andrews have a child?
Erin does not have any children but has an adorable dog named Howard.
How did Erin Andrews get famous?
Erin Andrew got famous after being part of the renowned show Dancing with the Stars in 2010, where she was placed third with her partner, Maksim Chmerkovskiy.