Kyle Schwarber, an MLB star, has a brother, Jamin, and three sisters. The Schwarber siblings grew up in Middletown, Ohio.
The American baseball outfielder currently plays for Philadelphia Phillies after signing a four-year $79 million contract in March 2022.
He made his MLB debut with the Chicago Cubs in 2015; earlier, Kyle, the 2014 MLB draft pick, played in the minor league affiliates before his promotion to the major league.
With the Chicago Cubs, he won the 2016 World Series defeating the Cleveland Indians' side featuring Roberto Pérez, Trevor Bauer, Carlos Santana & others.
Besides the Cubs & his current team the Phillies, he has played for MLB teams: Washington Nationals and Boston Red Sox.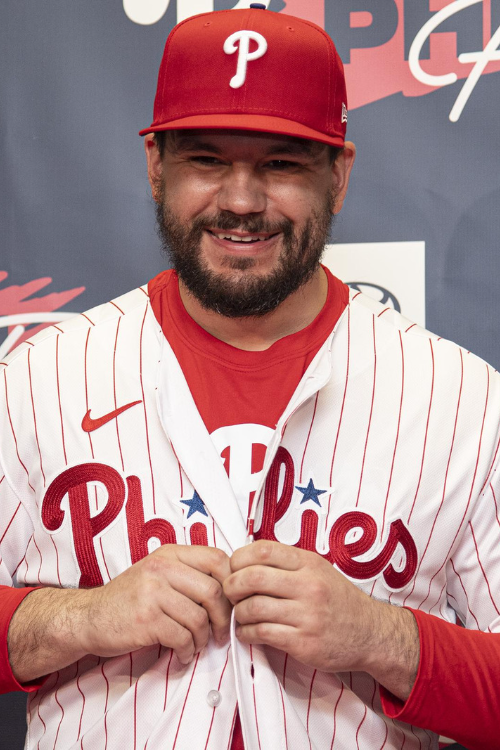 The Ohio-raised showcased immense interest & potential in baseball from his high school days through his college days at Indiana University Bloomington.
Even now, Schwarber never fails to amaze fans with his praiseworthy games.
In the 2022 season, he hit the most home runs with the Phillies, won the Silver Slugger Award, and significantly impacted the series.
On December 6, 2022, the United States national baseball team announced that Schwarber would play in the 2023 World Baseball Classic.
In the finale of the 2023 World Baseball Classic, Schwarber hit two home runs & his fellow teammate Trea Turner hit five home runs leading his home country to the trophy.
Kyle Schwarber Brother
Kyle Schwarber has a brother, Jamin Schwarber. The personal details of Jamin are not available online as he seems to be a private person.
He has three sisters, Alicia, Kelly, and Lindsey.
Among his sisters, Lindsey serves in the police department. She became a police officer in Middletown in 2017 after serving on a police reserve for three years. Lindsey worked in the Army National Guard for six years.
Parents & Family Background
Kyle Schwarber was born on March 5, 1993, in Middletown, Ohio, to Greg and Donna Schwarber.
Both his parents worked in the police department. His father, Greg, is a retired Police chief who joined the department in 1980 & retired after 32 years in 2011.
As for his mother Donna, she is a former Police dispatcher. After leaving the job as a dispatcher, his mother became a nurse.
Kyle's dad always supported and motivated him to follow his passion at an early age.
The father-son duo would play in their backyard- his father would even drive him to practice & to the gym.
No denying, the MLB star considers his father his hero.
While his parents were not into sports directly, Kyle was not away from the baseball lineage though.
His uncle Thomas Schwarber is a former baseball player. Thomas played in the Detroit Tigers minor league system for three seasons from 1991 to 1993. He also played college baseball at Ohio State.
Father Of A Kid With Wife Paige: More On Relationship
The baseball player married Paige Hartman in 2019. Paige is a beautician and teaches about hair and skin care on her social media handle.
Kyle and Paige attended Middletown High School in Ohio. They were high school sweethearts and started dating in 2010.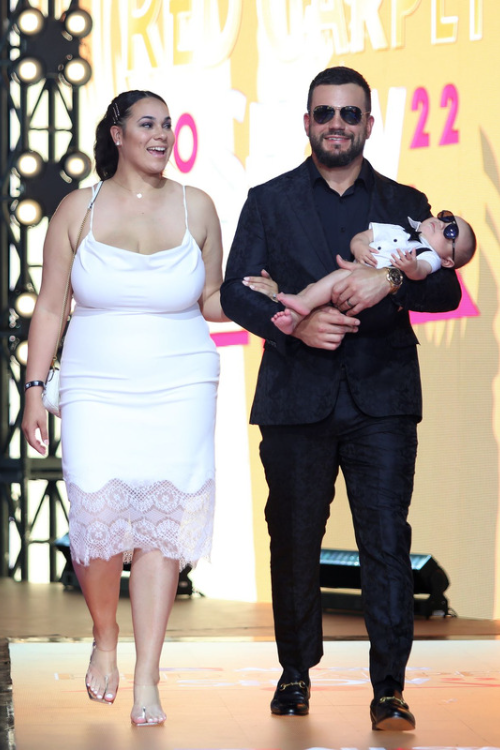 On Christmas Eve, 2018, Kyle proposed to Paige and took the relationship to the next level. And a year later, the couple got married in December 2019.
After three years of marriage, they welcomed their son, Kade, on March 2022.
Kyle and Paige are active in charity work. They are the founders of the Schwarber Foundation and the Neighborhood Heroes.