Trea Turner is a professional baseball player who plays as a shortstop in Major League Baseball (MLB). On December 8, 2022, he signed an 11-year contract worth $300 million with the Philadelphia Phillies.
Besides his MLB career, he also played baseball for the North Carolina State University and Park Vista Community High School.
The San Diego Padres selected Turner in the first round of the 2014 Major League Baseball Draft.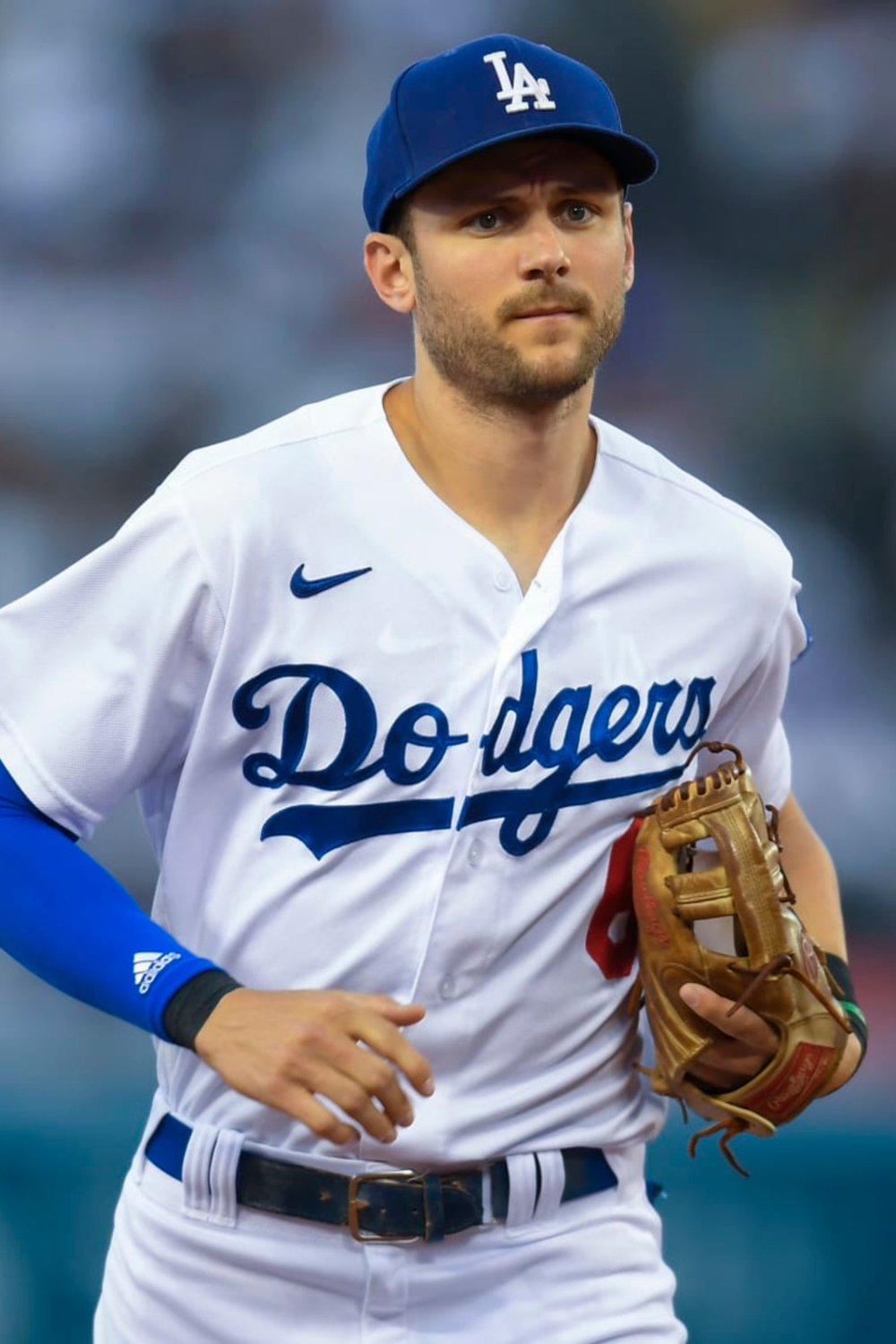 Later, San Diego Traded him to the Washington Nationals. And he made his MLB debut with the Nationals in August 2015.
Turner is famous for his speed in Major League Baseball. But, if we are talking about his personal life, you'll be glad to know he married his sweetheart Kristen Harabedian, a gymnast.
Not to mention, the athlete is quite well-known for having the smoothest slides. He is also called the king of smooth slides.
Along with his professional career, many other interesting facts like his personal life, girlfriend, contracts, earnings, and net worth will also be included.
Trea Turner | Quick Facts
Full Name
Trea Vance Turner
Date of Birth
June 30, 1993,
Age
30 Years Old
Birth Place
Boynton Beach, Florida, the United States of America
NickName
Triple T
Religion
Unknown
Nationality
American
Ethnicity
White
Education
Park Vista Community School
North Carolina State University
Horoscope
Cancer
Father's Name
Mark Turner
Mother's Name
Dona Turner
Siblings
Sister; Teal
Height
6'0″/1.85 m/185 cm
Weight
84 kg/185 lb.
Hair Color
Black
Eye Color
Brown
Body Measurement
Unknown
Build
Athletic
Married Status
Married man
Wife
Kristen Harabedian
Children
Beckham Dash Turner
Profession
Baseball player (shortstop)
Net Worth
$4 million
Salary
$27,272,727
Jersey Number
#7 (Philadelphia Phillies)
Active Since
2015
Social Media
Instagram, Twitter
Merch
Autographed Game Model Bat, Baseball Card, Navy Jersey, Rookie Card
Last Update
November, 2023
Trea Turner | Early Life And Family
Trea Turner, also known as Triple T (nickname), was born on June 30, 1993. He comes from the sunny beaches of Florida, United States. By nationality, he is American and of white ethnicity.
Likewise, he follows Christianity. As for his zodiac sign, it is Cancer.
Turner was born to his parents, Donna Turner (mother) and Mark Turner (mother). Aside from his parents, Trea has an older sister named Teal.
Trea Turner | Amateur & College Career
Turner went to Park Vista Community High School, Florida, and played for the school baseball team. Besides baseball, he also excels in the game of track & field.
Despite, being a good player, he was barely recruited by any colleges and only had NC State and Florida Atlantic University scholarships.
He went to NC State and played college baseball for the NC State Wolfpack baseball team.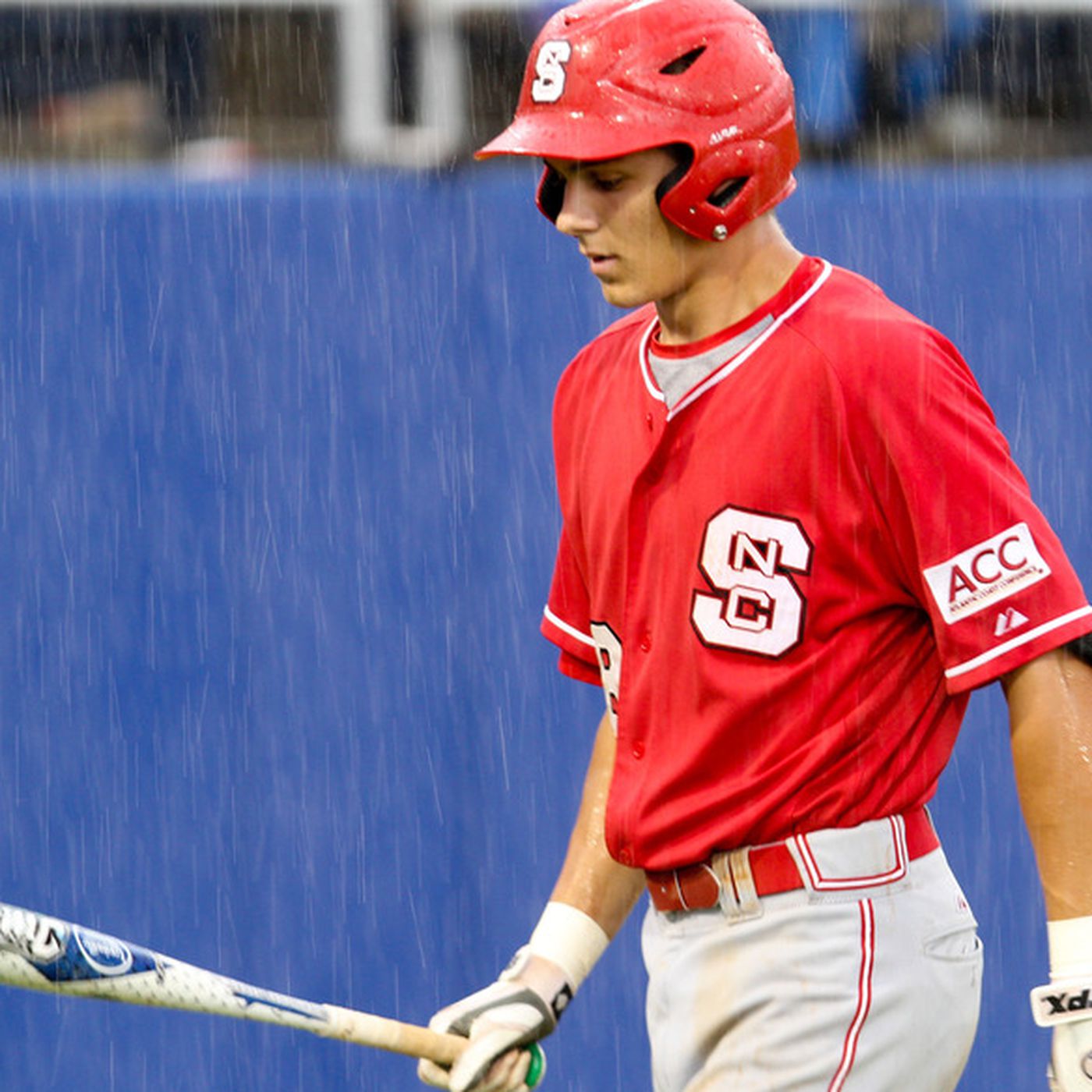 As a freshman, Turner played as a third baseman and later at the shortstop position. That same year, he had a .336 batting average, a .432 base percentage, and 57 stolen bases.
He was named to the All-Tournament Team for his performance in the 2012 ACC Tournament.
Indeed, Turner played outstandingly well in his college years. Above all, his game improved more in 2013/14. In the 2013/14 season, he had a .378 batting average with seven home runs, 41 runs, and 27 stolen bases.
He bagged the honors of All-Acc first team and All-Aerian National Collegiate Baseball Writers Association and Baseball America for his remarkable performance.
Trea was also among the finalists of the Brooks Wallace Award. He played with the United States National Collegiate Basketball team the same year.
As a junior in 2014, he recorded a .321 batting average with eight home runs and 26 stolen bases. That year, he managed to win the Brooks Wallace Award.
Trea Turner | Career Succession
After his collegiate career, young Trea was signed by the San Diego Padres, with the 13th overall selection in the first round. There he received a $2.9 million signing bonus.
Similarly, Turner's professional debut came against the Fort Wayne TinCaps, just three days after signing the contract.
Playing With Washington Nationals
On December 19, 2014, The San Diego Padres traded him to the Washington Nationals where he improved his skills and became a prominent player for the Nationals.
The Year 2015 And Major League Debut
After the spring training from Nationals, he was sent to play for San Antonio Missions of the Class AA Texas League.
Trea hit .322 with five home runs and 35 RBIs with 11 stolen bases for San Antonio playing with the team.
He was sent to the Nationals and later played for Harrisburg Senators the same month. Upon playing several games with Harrisburg, he went to play for the Syracuse Chiefs of the Class AAA International League.
Undoubtedly, he played remarkably well for his teams. However, his dreams came true when he was all set to play in the Major Leagues. He made his debut on August 21, 2015.
Rising Career Of Trea Turner 2016 – 2017
To improve his game more, Turner trained with the Nationals as a shortstop and also with Danny Espinosa and Stephen Drew. Finally, on June 3, 2016, Turner was all set to play the three-game against the Cincinnati Reds.
He played outstandingly well for his team. Furthermore, Trea also earned an opportunity to play along with several prominent players on his team.
In 2016, he also won the Major League Baseball Rookie of the Month Award in the National League and came second in the National League Rookie of the Year Award.
In the year 2017, he played in the position of shortstop. On June 18, 2017, he had a good game against the New York Jets and stole four bases.
Day by day, his game improved even more. Later, while playing with Chicago Cubs, he tied the record of four steals in three innings.
Just two days after, he was caught injured as he was hit on the right wrist by Pedro Strop. It was the second time he was injured and sent to the 10-day disabled list.
After returning from the disabled list, he played against the Miami Marlins on August 28.
Prominent MLB Player (2018-2020)
In 2018, he bagged an opportunity to play with a giant club Miami Marlins. While playing with the Marlins, he had his first grand slam and recorded a nine-run comeback.
On July 8, he was enlisted among the five candidates in the 2018 All-Star Final Vote.
The Year 2019 & Injury
Turner also underwent several injuries throughout his career. He suffered a broken right index finger while playing against the Philadelphia Phillies; he did not put his steps on the field till May 17.
After returning to the game, Turner had a good performance with the Colorado Rockies. In the 2019 season, he hit .298/.353/.497 with 19 home runs in 122 games.
In an interview, it was revealed that he underwent surgery on his right index finger on November 16.
Sadly, the majority of baseball games and tournaments were canceled due to the COVID-19 flow in 2020.
Despite getting fewer chances due to the pandemic, he performed well in the 2020 season. He batted .335/.394/.588 with 12 home runs in a total of 59 games. Furthermore, he also had 78 hits and four triples.
2021 – Present
On June 30, 2021, tying with John Reilly, Bob Meusel, Babe Herman, and Adrian Baltre, Turner hit for the cycle a third time.
The shortstop was traded to the Los Angeles Dodgers with Max Scherzer in exchange for Josiah Gray, Keilert Ruiz, Gerardo Carrillo, and Donovan Casey on July 30, 2021.
Soon after, Turner hit his 100th career home run and finished the 2021 season with a .328 batting average and 195 base hits. He also recorded the fastest sprint speed of all Major League players, at 30.7 feet/second.
Trea signed a one-year contract worth $21 million with the Dodgers to avoid salary arbitration and was also named the starting shortstop for the 2022 All-Star Game.
He announced that he will be representing the United States in the 2023 World Baseball Classic on August 31, 2022.
On December 8, 2022, the former Dodgers shortstop signed an 11-year deal worth $300 million guaranteed with the Philadelphia Phillies.
Trea Turner | Career Stats
As per sportrac stats, his Wins Above Replacement is 27.12, and his At-Bats are 3,424. Similarly, he has had 1,032 hits while making 124 Home Runs.
His batting average amounts to .301, and he has scored 586 runs.
Trea Turner | Height And Weight
The adorable baseball player has a height of 6 feet (1.85 meters). His weight is 84 kg (185 pounds) and the color of his hair is black, whereas his eye color is brown.
Unlike some other famous baseball players, he has not inked tattoos on his body. Besides that, he is in good shape as he follows a daily workout routine and a strict balanced diet.
Another fact for you, he wears jersey no.7 for the Philadelphia Phillies.
Trea Turner | Personal Life, Marriage, Wife, And Kids
Turner married his girlfriend, Kristen Harabedian, after being in a relationship for several years.
The duo met at North Carolina State, where his wife worked as a gymnast. After spending time with each other, they decided to name their relationship and shared their vows in November 2018.
The couple celebrated their marriage in a small ceremony at St. Joseph's Catholic Church in Washington, D.C., along with some close friends and relatives.
The couple is happy with their conjugal life, and in August, the couple announced they were expecting a baby through their social media posts.
Kristen gave birth to a beautiful baby boy in February 12, 2021, and named him Beckham Dash Turner.
Trea Turner | Controversy
Once Turner caught into the controversy after his offensive tweets from his college days, particularly anti-gay and mentally disabled slurs, were made public in August 2018.
Later, Trea apologized for the tweet in a tearful press conference where he clearly stated that it was an unacceptable act and that 'being a teenager' was not an excuse.
Trea Turner | Salary, Net Worth, And Endorsements
Trea Turner is a professional baseball player who currently serves as the shortstop for the Philadelphia Phillies of MLB. Through his foot speed, quickness, throwing, and fielding capabilities, he won the heart of his fans and followers.
Without a doubt, he is impeccable in his game, which blessed him with a name, fame, and a huge fortune.
Talking about his latest salary stats, he agreed on an 11-year/$300,000,000 contract with the Phillies in December 8, 2022. He will get an annual salary of $27,272,727 in the 2023 season.
Throughout his career, he has garnered around $45 million by playing for different teams.
As per the claims by different online portals, he has an estimated net worth of $4 million. Besides that, he earns quite well through endorsements.
Popular and well-known companies like Adidas and Marucci have sponsored him.
Trea Turner | Social Media Presence
The professional baseball shortstop is available on social media for his fans and admirers.
One can easily follow him on Instagram and Twitter, where he frequently posts pictures of his game and family.
He also loves to share about his parents, family, friendship, and travel.
Besides Instagram, he is also popular on Twitter.
Instagram: 391k followers
View this post on Instagram
Twitter: 98k followers
Trea Turner | Popularity
Trea's popularity is continuously rising as his brilliant game sense and supersonic sprint has impressed thousands of fan. His recent 11-year deal with the Phillies resulted in an exponential hike in his Google search.
The given image illustrates the popularity of the Philadelphia Phillies' shortstop in the United States over one year.
Trea Turner | FAQs
Is Trea Turner a free agent?
No, he is currently playing for the Philadelphia Phillies.
What glove does Trea Turner wear?
The athlete wears an 11.5″ Rawlings PRONP5 glove.
What is Trea Turner's top speed?
The athlete recorded a top speed of 22.7 mph in 2016.
Is Trea Turner inducted into the Baseball Hall of fame?
No, the former Dodgers shortstop has not been inducted into the baseball hall of fame.
(Make sure to comment and reach us if there is any information missing.)