The American discus thrower Laulauga Tausaga is not married and does not have a husband. However, she is in a romantic relationship with her childhood friend Joshua Partida.
Tausaga's lover, Partida is a former collegiate football player at Utah State University (also known as Dixie State University).
Laulauga has not disclosed any information regarding her marriage and romantic relationship on any of her social media handles.
However, the athlete has been seen openly commenting on Joshua's romantic Instagram pictures.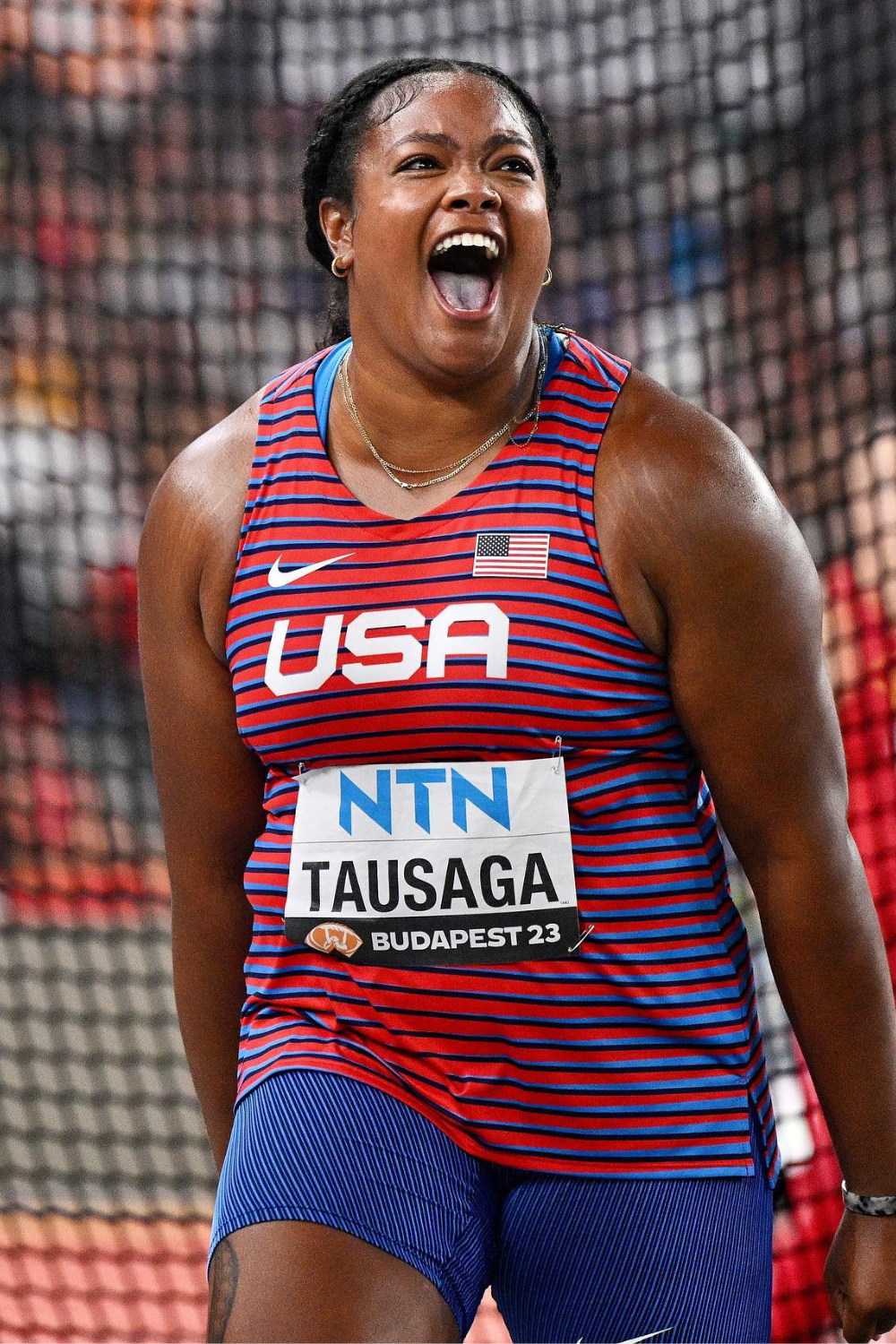 Laulauga Tausaga-Collins recently won the gold medal at the 2023 World Athletics Champions. Previously, she had won the gold at the 2022 NACAC Championships.
The athlete is the 2019 NCAA Discus Champion and 8-time NCAA Division 1 All-Amrican at the University of Iowa.
Moreover, she is also the 6-time Big Ten Conference champion and 12-time All-Big Ten Conference scorer.
Additionally, Tausaga made it into the women's discus final at the 2019 World Championships. Before that, she had already won the discus at the 2017 Pan American U20 Athletics Championships.
Who Is Joshua Partida?
The boyfriend of Laulauga Tausaga, Joshua, is originally from San Diego, California, and is very close to his mother, Priscilla Blancarte.
Joshua Partida played for the DSC Mens Varsity Football team at Utah State University (2018-2019).
Tausaga's boyfriend started playing football attending Madison High School in 2014, where he played for the MHS Boys' Varsity Football team in San Diego until 2015.
Apart from earning three football letters in high school, Joshua also participated in wrestling and track and field.
Later, he attended Southwest College at Chula Vista and played two years for the Jaguars as a freshman and sophomore.
There, he helped the team to bowl victory as a sophomore and also earned All-State honors along with NFF Scholar-Athlete honors.
Recently, the footballer completed his major in criminal justice.
All About Their Relationship
Joshua Partida is often confused to be the husband of Laulauga Tausaga. However, she has not gotten a ring on her wedding finger to show for their marriage.
The former collegiate football star is quite outspoken about his relationship with his girlfriend, Laulauga.
Joshua was once spotted in a picture with Laulauga and her friends, which she posted on her Instagram during the farewell at the University of Lowa in 2021.
He was also seen with Tausaga at her brother's place alongside her newborn nephew.
Joshua's Instagram is filled with his girlfriend's pictures. He often wishes her on special occasions such as birthdays and anniversaries.
"Before the night ends just wanted to say happy birthday 🥳 to this crackhead. Hope you have a great day surrounded by those who love you and god blesses you with many more years ❤️. Love you!!" Partida took on Instagram to wish on her 22nd birthday in 2020.
To which Tausaga replied with a lovely comment:
"Can't describe how much I love you. Literally my rock, and I appreciate every step you have take with me even when I've been a complete crybaby about everything. To the moon and back Moto!😍😘#AlwaysAndForever."
Since the beginning of their relationship in May 2016, the couple has been extremely supportive of one another.