Logan Paul and his now-fiancee, Nina Agdal, announced their engagement on July 9, 2023.
The two started dating in May 2022 but went official only in December.
Paul and Agdal met each other at an event in N.Y.C., where she had a gut feeling that she should talk to him.
Agdal asked her friend to call Logan upstairs for a drink and instantly felt like she had known him for ages.
Logan Alexander Paul is an American professional wrestler, social media personality, actor, and boxer.
Born to Pamela Stepnick and Gregory Paul on April 1, 1995, the Westlake High School alumnus was a football and wrestling varsity team member.
He rose to prominence with his sketches on Vine and later with a prank YouTube video.
However, Paul got a lot of backlash after his insensitive comment in one of his Japan vlogs, and a few other controversies affected his fame.
Nonetheless, Logan is doing pretty well in his career; with his WWE career, Impulsive podcast, and Prime.
Logan Paul Fiancee Nina Agdal
Nina Agdal is originally from Denmark and migrated to America when she was 18.
She is a famous model with an impressive portfolio, having featured in six Sports Illustrated Swimsuit Issues.
Her first appearance in SI in 2012 earned her Rookie of the Year honors.
Moreover, she has also been featured in Victoria's Secret campaigns and walked in New York Fashion Week.
Besides, she advocates body positivity and is into fitness and nutrition.
Additionally, Agdal runs her own fitness brand, "The Agdal Method," which launched in May 2020.
She started The Agdal Method because she was athletic her whole life and values physical and mental wellness.
Nina Agdal Leaked By Dillon Danis
Logan Paul and Dillon Danis are scheduled to face each other in a boxing match on October 14, 2023.
However, with still a few months left before the big fight, the feud between the two fighters is on a different level.
These two have been feuding for years, and Danis is becoming more antagonistic toward his opponent.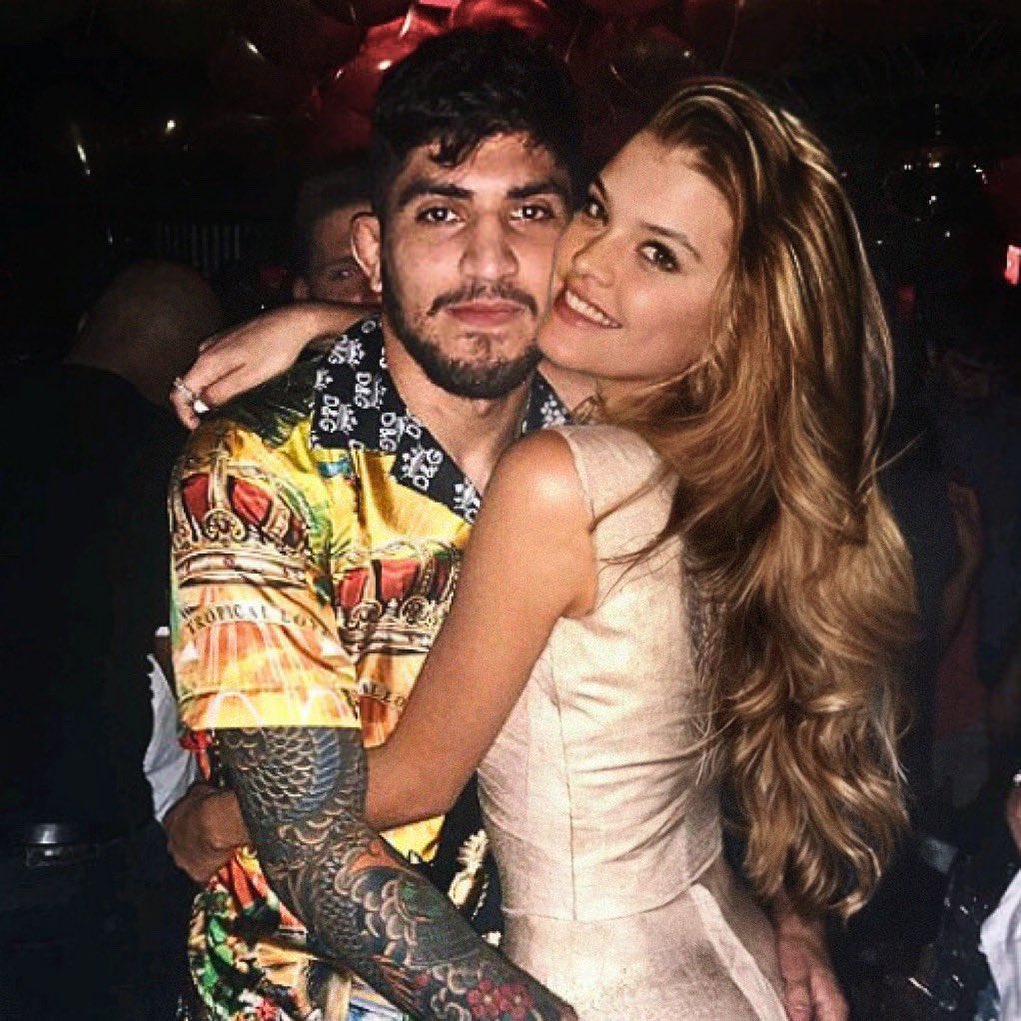 Danis has dragged Paul's fiancee into the picture, with the MMA fighter spamming photos of Nina all over his X handle.
These pictures show the model with her former boyfriend and her being without clothing in suggestive poses and scenarios.
Wait! Danis' acts do not stop here. He recently posted a video of Agdal's interview talking about her 'gag reflexes,' with the caption "interesting" on his 'X' account.
He followed it up with another tweet: "Let's get checked! Logan as your best man I advise you to take a kit from her and get checked brother."
Fed up with Dillon's behavior, Paul himself reportedly took legal action against Danis for posting the photo and other images of his fiancée.
As per the reports, Paul has sent a cease and desist letter, demanding Danis to stop harassing Agdal and delete the posts.