WWE has been a world-class wrestling championship for more than two decades, and it seems to be the final destination of professional wrestlers from all over the world.
If a person can make it in the WWE, you bet he has reached the top of his profession. However, there are also cases where WWE has lost the ball to superstars over the years.
However, in the end, the best of the best wrestlers of all time have worked in the WWE. There is only a handful of top talent who can be named as the best wrestlers to date.
Are you one of those who regularly watch wrestling matches and enjoy a good fight with intense anticipation of who would eventually take the glory of winning?
If yes, you must be aware of the thrill and excitement that the game provides to its audience.
So, who are the top ten wrestlers of all time? Curious?
Below is the list of the top ten wrestlers of all time. However, do watch out for your favorite ones; you may find them here!
The Top Ten Wrestlers of All Time
10. Mick Foley
Mick Foley fought for various wrestling companies, but he is best known for his exploits in the WWE.
The retired wrestler who has proven himself in acting is best known for his 'Wreck' movements which he started using towards his excellent wrestling career.
Foley, a WWE Hall of Famer, made headlines in 1999 at Wrestle Mania and won three WWE World titles. However, his love of metals he unsparingly used in the rings earned him a reputation for brutality.
Mick Foley's performances were as brutal as his wrestling skills and his massive verbal attacks.
Likewise, it was complemented by his finisher Mandible Claw who was undoubtedly was trivial to his eight-time tag team championship.
9. "Rowdy" Roddy Piper
Late Roddy Piper was undoubtedly the strongest wrestler in the ring. He is well known for his entrance bagpipe and kilt music; Roddy Piper was a hot topic among fans.
In addition, the Canadian wrestler with Scottish roots was one of the leading stars of WrestleMania and Starrcade. And he has won 38 titles throughout his wrestling career.
Although he did not wrestle for the WWE alone, Piper collected much more fame with the WWE. His mastery of the sleeper move has earned him several awards at WWE.
Some might consider him the greatest villain wrestler. But Roddy Piper, no doubt, was one of the best stars to ever fight in the WWE.
Read about the Top 20 Richest Bodybuilders in the World!
8. Macho Man" Randy Savage
"Oooh yeah," WWE fans noticed Randy Savage with his 'Oooh yeah' call; he was not only known for this alone. But also for his signature entry song, "Pomp and Circumstance," was well-recognized in WWE.
The Wrestler, who many people call egomaniac and narcissistic, was actually a top wrestler.
Furthermore, in his 32 years of a wrestling career, his finishing aerial acrobatics move was effective as it earned him several championships, such as his two-time World Heavyweight Championship.
7. John Cena
John Cena is just fantastic! Loved by kids and girls, the superstar entry wrestling music is just like the man himself.
His words 'you can't see me' have won him a lot of fans. John Cena's show is one of the most spectacular in the game.
In practice, Cena is compared to a few in the WWE. He has appeared in the WWE Champions 16 times.
Similarly, his win list also includes tag team belts and the United States Championship.
In addition, his finishing moves, such as Attitude Adjustment, Stepover Toehold Facelock, better known as STF, Tapout finisher, and the brutal Five-Knuckle Shuffle, that many will call the rebranded form of the People Elbow.
But that is not with the Elbow, but with the fist, limiting the most brutal ending moves in the WWE.
5 Nike Deadlift Shoes To Hit Gym>>
6. The Undertaker
The dark and scary, Undertaker is said to be connected with the underworld. But the wrestling thespian of wrestling is just a well-known actor who has mastered the art that has stuck and made him different from others.
However, what he lacks in savage utterances, and the moves he makes up in the ring. Also, Undertaker's Tombstone Piledriver was one of his finishing moves that few in the WWE ever survived.
His chokeslam, also effective, has been one of the few steps ever taken. Not to mention, he holds as many WWE belts as most of the top stars.
The famous wrestler has appeared in WWE Champion four times, the WWE Heavyweight champion three times, and the WWE World Tag Team champion.
Therefore this no doubt solidifies his position as one of the top ten wrestlers of all time.
For 40 years, Ric Flair has been ranked high in the world championships, which is not limited to WWE. His exploits in many wrestling companies earned him the reputation he currently adorns.
"The Nature Boy" like Flair was known for his days of wrestling. He intensified his methods of making rings vibrate to the tunes of "Also Sprach Zarathustra, Op. 30."
His timing was so perfect that Flair was right then making his way into the rings when the crescendo hits. That indeed is an epic entry.
However, his showmanship was unmatched. His insane remarks, derogatory remarks, and insane acts, such as cuffing himself on rings while challenging an opponent, made him a favorite.
His completion of Flair's Figure-Four Leg Lock move was so effective that he won several victories throughout the various wrestling promotions.
In addition, the Hall of Famer has also won the WWE Championship twice. And is one of the few WWE players to have emerged as a three-time champion.
4. Hulk Hogan
From his looks to his wrestling moves, Hulk Hogan is simply the best wrestler. In addition, the legendary wrestler is well known for his mustache, which is a fan favorite.
Hogan is one of the stars who has made entry music as important as modern wrestling.
A way to drive fans crazy, Hogan used a little music to get into the rings, like Real American and Eye of the Tiger.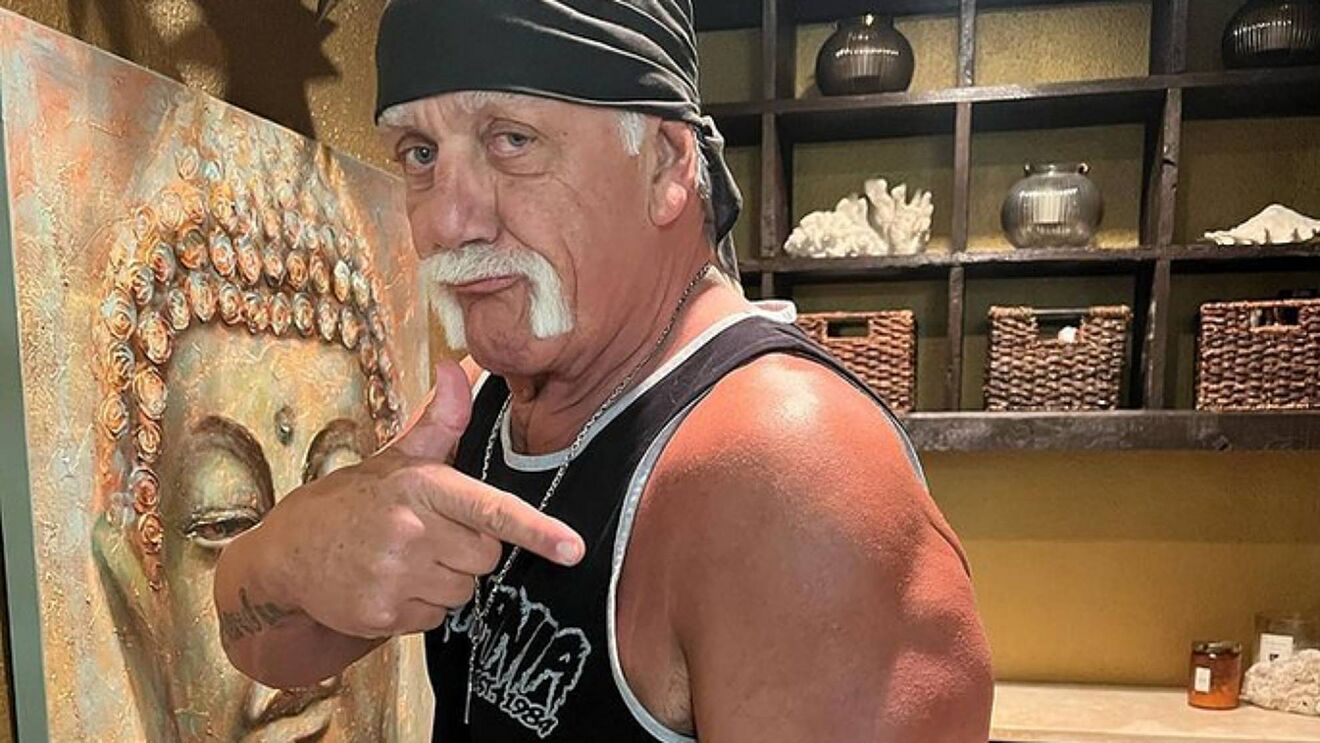 His rambles on the mic are embedded in his interest to see the action in the ring. His remarkable Atomic Leg Drop made fans scream.
For an amazing star-like Hulk Hogan, winning the belts was top of his list. He has won the WWE Championship five times and holds the record for the second-longest holder of the title.
Because of his incomparable performance, Hogan was admitted to the WWE Hall of Fame.
You may be curious about The Top 10 Best Boxers of All Time >>
3. Dwayne "The Rock" Johnson
A third-generation wrestler, Dwayne Johnson is one of the best and greatest wrestlers. With a man who had a failed football career, he showed that he was destined to wrestle.
His entrance music that mixed electric guitar, drum songs, and pop music were very popular with WWE fans, who would jump as the speaker blazed the tunes. His showmanship is very high.
No star in WWE competes against The Rock for his complete shocking attack. A star like Johnson fears of no one, not even fans, who were in a position to get his cruel rambles.
For someone who has made SmackDown an established English word, his mobility should be very high, and it is.
Furthermore, his Rock Bottom and People's Elbow moves have left opponents in tears. The star has won eight WWE Championships and other titles.
2. Shawn Michaels
Wherever he goes, "Heartbreak Kid" leaves a mark. Of the many wrestling promotions he has fought, Michaels has had a great time.
His powerful entry-level music was visible, classic, mixed with his good looks.
In addition, his rambles come with layers of humor and insults. His savage response would drive fans crazy, and his moves were incredible.
Michaels has mastered the art of using his heels to bring a special step to the end of Sweet Chin music. He also highlighted the high pay-per-view events, most notably Wrestle Mania.
His masterpiece in Wrestle Mania earned him the nickname Mr. Wrestle Mania.
In addition, he has won the WWE championship four times and emerged as the first grand slam champion in the WWE and the fourth Triple Crown Champion.
Also, Michaels is a two-time Hall of Famer.
1. "Stone Cold" Steve Austin
Under many names, the most famous is the Stone Cold moniker Steve Austin, who has ruled the WWE.
Fans may disagree that he is WWE's greatest wrestler. But instead of focusing on his wrestling skills, Austin evenly distributed his skills in various aspects of the sport to make him the greatest wrestler.
His entry music was so popular that it became a theme song for the WWE, even long after he departed from the rings. His showmanship was like a badass man himself.
One of his most memorable lines fans love is the phrase "Austin 3:16 says I just whooped your ass," which sent laughter among the fans.
Austin is also a man after the cries of "What" fans lived on for more than 20 years.
Pundits hail the Stone Cold Stunner's top finishing move as the greatest finishing move in the WWE. The Texas Rattlesnake has also left the opponents in a semi-conscious state.
Following a career-changing neck injury, Austin's action has dramatically reduced it to brawls and showmanship. But to no avail, the star is still bagged 19 championships.
He has won the WWE World Heavyweight Championship six times, the Tag team championship four times, and is the fifth wrestler to emerge as a Triple Crown Champion.
Also, read about the Top 30 Richest Wrestlers In The World >>>
Summary
Altogether, we have summed up our list of top ten Wrestlers of all time as per their popularity rate.
However, every wrestler is popular for their unique moves and separate characteristics, and everyone has their own ideal players that they admire.
Hence, below we present you with the summarized list of the top ten Wrestlers of all time.
"Stone Cold" Steve Austin
Dwayne "The Rock" Johnson
Hulk Hogan
Ric Flair
Macho Man" Randy Savage
"Rowdy" Roddy Piper
Mick Foley