Lorenzo Musetti's parents, Francesco and Sabrina Musetti, raised their only child in Carrara, Italy. Francesco and Sabrina instilled a love for tennis in Lorenzo from a young age.
The 21-year-old recently faced a loss at the German Open in the quarter-finals. The Italian player was handed defeat by the Serbian player Laslo Djere.
Djere faced Alexander Zverev in the finals but lost in straight sets handing the German his 20th ATP title. Despite not winning a single tennis tournament in 2023, Lorenzo has managed to break into the top 20 world rankings.
In the past, Lorenzo has defeated both world No.1 Carlos Alcaraz and world No.2 Novak Djokovic. The youngster is ranked 18th and is above Alexander Zverev.
Lorenzo Musetti Parents, Francesco, And Sabrina Musetti
Lorenzo Musetti's parents, Francesco and Sabrina Musetti, are their son's biggest supporters.
The Italian tennis player is his parent's only child and grew up in a household with a love for sports and music. In an interview, Lorenzo said his father would make him listen to 80s and 90s rock music in their car.
Francesco Musetti supported his son's dream of becoming a tennis player through his marble business. His mother, Sabrina Musetti, worked as a secretary at a local company. On her Facebook handle, Sabrina has written she completed her education at ITCG S. C. G. D. Zaccagna.
On his Facebook handle, Francesco has documented his son's tennis career since his early days in 2009. Francesco and Sabrina would take their son to every local tennis tournament, and Lorenzo made sure he would take home the trophies.
Even now, Francesco is seen sharing news about his son's tennis career time and again, and his son's tennis court success.
Earlier this year, Lorenzo shared a video of him enjoying quality family time with his parents and girlfriend, Veronica Confalonieri.
Last year, the tennis player shared a picture of him with his dad and mom in London, introducing his parents to his Instagram followers.
Lorenzo Musetti Tennis Career
The Italian tennis player Lorenzo Musetti turned professional in 2019 and has won two ATP titles.
Coming through the ranks, Lorenzo was world No.1 as a junior as he reached the final of the 2018 US Open boys' singles and won the Australian Open boys' title.
Known for his stylish and effective, single-handed backhand, Lorenzo grew up as a fan of Roger Federer. The Italian is known as a natural clay courter which is seen in his long backswings on both the forehand and backhand side.
Musetti is known for his net play and loves to hit pace-killing drop shots. In 2020, the youngster made his ATP tour debut after receiving a wildcard entry.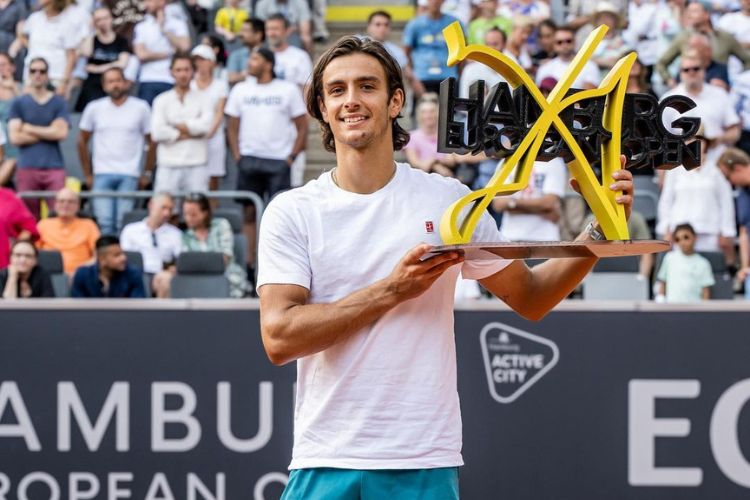 Lorenzo made his Masters 1000 the same year and later defeated Stan Wawrinka in straight sets at the Italian Open.
In 2021, Lorenzo broke into the top 100 and became the third youngest player in the ATP Tour 500 Mexican Open to make it to the finals. In 2022, Musetti earned his first two ATP titles at the 2022 Hamburg European Open and the Tennis Napoli Cup.
Lorenzo is also one of the players who has defeated this year's Wimbledon finalists, Carlos Alcaraz and Novak Djokovic. The 21-year-old defeated Novak Djokovic at the Monte Carlo Masters earlier this year.
In 2023, Lorenzo is yet to win any title. The closest he came was in the Barcelona Open, where he lost against Stefanos Tsitsipas in the semi-final. In the Swedish Open, he once again failed to go beyond the semi-finals and faced defeat at the hands of Casper Rudd.