Australian soccer player Mackenzie Arnold partner Kirsty Smith is also a soccer player, and the couple is playing together in Westham United.
Kristy Smith is always there supporting Arnold, even in the game. Arnold is a goalkeeper, and Smith plays the role of a defender standing there to fend off attackers from her partner.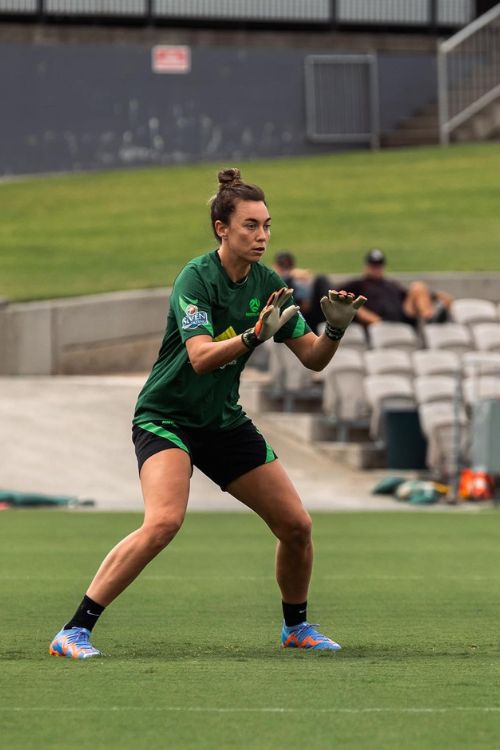 Mackenzie Elizabeth Arnold is an Australian professional soccer goalkeeper for Women's Super League side West Ham United and the Australian national team.
Arnold was born on the Gold Coast on February 25, 1994. She attended Palm Beach Currumbin State High School and played junior soccer for Burleigh Heads and Robina City.
Mackenzie has spent over a decade with the Matildas and is now playing her third FIFA Women's World Cup.
She made her W-League debut as a teenager for Perth Glory. She has also played for various other clubs, including her hometown team Brisbane Roar.
Mackenzie was also named W-League Goalkeeper of the Year three times: in 2012-13, 2014, and 2017-18.
She made her debut for Australia in 2012, breaking the domination of the then Matilda's goalkeepers Lydia Williams and Melissa Barbieri.
Interestingly, Mackenzie has also made a brief debut for West Ham in midfield! Mackenzie's club form has only recently begun to transfer to the international scene.
Mackenzie Arnold Partner Is Kirsty Smith
Arnold is currently dating fellow soccer player Kristy Smith who also happens to be her teammate in the Women's team of Westham United.
Kirsty Anele Smith (born 6 January 1994) is a Scottish soccer player who plays as a defender for West Ham United.
She is also in the English Women's Super League and for the Scotland national team.
The couple has not gone public regarding the details of their dating history or how they met.
However, the fact that they both play on the same soccer team must have some significance in their dating life.
Arnold was the first to join the club in July 2020, and two years later, Kristy also joined the club in July 2022.
Smith earned a degree in Accountancy and Finance from Heriot-Watt University in 2017. On top of being a soccer player, Kristy also loves art.
She spends her leisure sketching and painting, and turns out she is surprisingly good at it.
The couple loves traveling, and they were recently spotted spending a romantic vacation around the Greek islands.
Before joining Westham, Kristy was affiliated with Manchester United, where she had a very fruitful career.
Mackenzie Arnold Serious Health Issue
It was around COVID when Arnold realized that she had a serious problem with her body. She found out that her hearing capacity was not as good as she had expected.
When everyone started wearing masks, Arnold found that she could not understand what people were saying.
She realized that she had been lip-reading what people were saying, and now that the lips were hidden, she couldn't understand them.
Arnold felt a certain uneasiness to reach out for help. She finally took her first steps two years later and visited a specialist.
The specialist explained that it was a serious issue, and Arnold had almost completely lost her capacity to hear high frequencies.
Hearing consonants like 's' and 't' was also becoming difficult hence leaving her with just one option: hearing aids.
Arnold has now started using them and claims that it makes a 'significant difference.'
Her friends say that it finally feels good to have a conversation for a change where they do not have to repeat themselves.