After 16 March's win over match with Borussia Monchengladbach in Budapest, Manchester City enters Champions League Quarter-Finals despite Boss Pep Guardiola wanting to tread cautiously
16 March's game changed Man City's direction in the race for the Champions League's title.
They are playing in the quarter-finals and against Borussia Dortmund.
Kevin De Bruyne and Ilkay Gundogan scored winning goals in the match with Gladbach last Tuesday, which secured the Citizen's placement.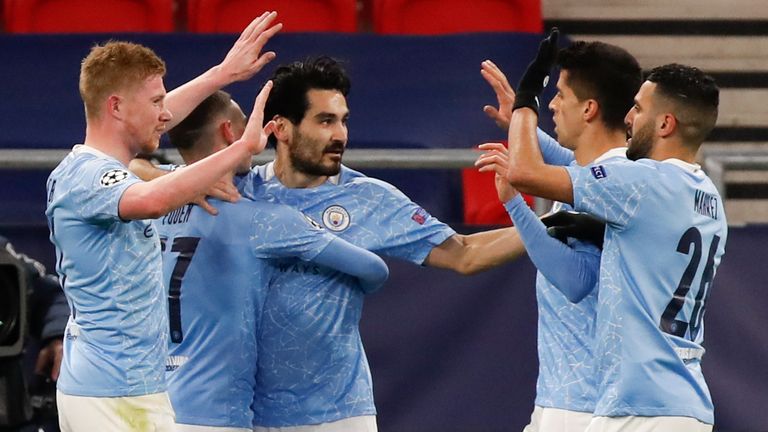 They were defeated in the 2015 – 2016 semi-finals when they played against Real Madrid. Manuel Pellegrini was their manager at the time.
It is Pep Guardiola's coaching and managerial expertise that will govern and direct how the games will play out.
Guardiola is guarded, though, and thinks with such top-notch teams as contenders; one can not be too presumptuous.
He spoke to BBC Sport. "The first year I arrived here, I was told we had to win the Champions League."
"I'm not thinking about the semi-finals. I'm thinking the first good game and the second game [in the quarter-finals]. This is all I'm concerned about."
Is Man City Up to the Challenge?
It looks like a mammoth of a season for Man City.
They are quarter-finalists for the Champions League, just 14 points away to be the Premier League champions in the FA Cup quarter-finals, and have a match in April with Tottenham for the 2021 EFL Cup Final.
Tomorrow, Premier League matches are to follow, and City is bent on earning their points.
Incidentally, Man United has a role in defining how the Premier League winners can be announced.
If United's points are dropped, then things will move ahead faster: the Premier League title will be awarded in April to Man City and semi-finals for the Champions League fixed for the latter period of April and midweek of May.
A respite, too, for the Citizens: they can let go of the three matches slated for May and claim victory as the Premier League Champions.
Even if United does not drop points, Man City can be crowned earlier if they continue to perform and win their upcoming matches in the following weeks. 8 May is the stipulated date.
This will also allow Guardiola to rotate his squad at ease.
He told BBC Sport: "It shows you're the most consistent team throughout, in the toughest league in the world.
Over the last five, six, seven years, it used to be the top two in the Premier League fighting; now you're talking about the top six who have a lot of quality. To win the Premier League over a season was the high priority."
Champions League: Another Feather in the Cap?
In all the competitions, City has retained 26 clean sheets this season. Guardiola has managed his squad efficiently. He has rotated his players, and key players have taken rest in-between.
In the eight Champions League games, only one goal has been conceded.
Owen Hargreaves, former City midfielder, opined that for City, the defense is critical. "The base wasn't as solid as the attack; now the defense is almost stronger. They keep clean sheets, and they'll always score one or two. This feels like their best chance," was his feedback to BT Sport.
Paul Dickov, the ex-City striker, expanded further: "Keeping a healthy squad will be important. If they keep that squad fresh going into the latter stages, they've got a great chance.
"Going into the quarter-finals with clubs that have the history, who know how to win it, it could make it difficult for them, but if City keeps going the way they're going, there's no reason why they can't win it."
He told BBC Radio 5 Live: "The Champions League is the big one… Since the owners first came in 10-11 years ago, they've made no secret it's the Champions League they wanted."
According to Pat Nevin on 5 live, "I honestly believe Pep Guardiola knows Manchester City have every chance of winning the three domestic trophies – it's the Champions League that's the big one."
Guardiola feels it's unfinished business. He got two chances for the Champions League title with Barcelona; however, he lost to Bayern Munich and asserts that City will be looked upon as a team by their titles.
"Everybody is fit, but everything can change in one day. If we deserve it, we will go through, and if we don't, we will be out," is his philosophy.
Is the Quadruple a Possibility?
Guardiola may seem skeptical of talks of a quadruple this season, but he does have the background to vouch for.
The 50-year-old Spanish shaped Bayern Munich into a powerful establishment in their home country. He made Barcelona into a world-class football team feared by opponents.
He became a reckoning force as someone who changed the play of football in Europe. And unforgettable is his time at Barca.
Still, he knows victories and losses are two sides of a coin.
Tomorrow's match with Everton in the FA Cup quarter-finals will be an indication.
He shared with
BBC Sport
: "We are close, but still we have games to play. Sometimes when you win earlier, it's not good for other competitions."
"When you have to fight to win one title, you have to fight to win the other ones. It's important not to think too far and focus on the next one."