Manny Pacquiao's sister, Isira Pacquiao-Paglinawa's house was raided for her connection with illegal gambling in early 2010.
Emmanuel Dapidran Pacquiao Sr., also known as "PacMan," is regarded as one of the greatest professional boxers.
Emmanuel (b. December 17, 1978) was a former professional boxer and a Filipino politician who served as a Senator of the Philippines from 2016 to 2022.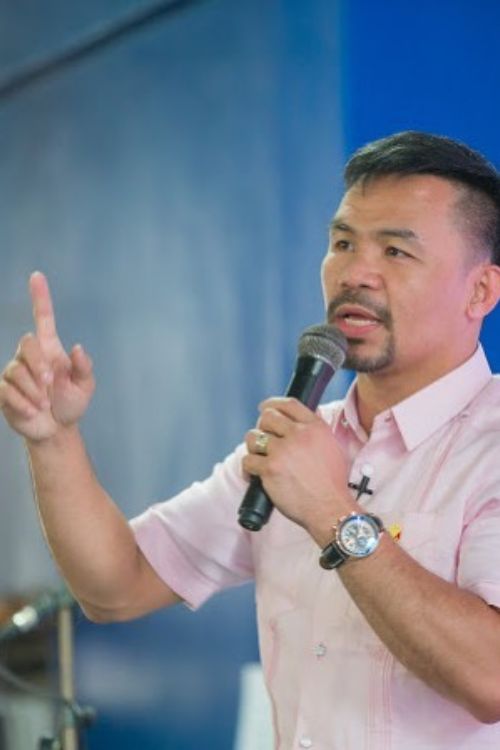 PacMan was the first boxer to win four of the eight weight world titles in "glamour divisions."
He is also the only boxer in history to hold an eight-division world title and to have won twelve major world titles.
Equally important, the former professional boxer is the only one to hold world championships across four decades (1990s, 2000s, 2010s, and 2020s).
At 40, in July 2019, Emmanuel became the oldest welterweight champion in history and was acknowledged as a champion who won four times at welterweight.
Manny Pacquiao Sister And Family
Manny Pacquiao and his five other siblings were born to Rosalio Pacquiao and Dionesia Dapidran Pacquiao.
But when Manny was only 6, his parents got separated after his father was involved in an extra-marital affair.
Being raised by a single mother, it was hard for them even to fill their stomachs, which made Pac-Man realize the value of money.
Liza Silverstre-Onding, his sister, was born to his mother and her previous husband. There isn't much information about her, as she stays out of the limelight.
Manny's biological sister, Isidira Pacquiao-Paglinawan's house was raided on suspicion of being an outlet for the illegal numbers game "Last 2."
Her father, Rosalio, was having a small party at the adjacent house, and he was surprised to see several policemen in his daughter's house.
Besides his two sisters, he has three brothers; Alberto "Bobby" Pacquiao, Domingo Silvestre (Stepbrother), and Rogelio "Roel" Pacquiao.
Like his brother Manny Pacquiao, Rogelio Pacquiao stepped into politics a long time ago. Additionally, he had been a former counselor in General Santos City.
Manny Pacquiao's Relationship
The former professional boxer is married to Jinkee Jamora. They tied the knot on May 10, 1999.
When Jinkee used to sell similar beauty products, they met each other and felt an instant connection.
Jinkee Jamora Pacquiao was born one year later than PacMan, on January 12, 1979. Jinkee also has a twin sister named Janet Jamora.
She is a Filipina socialite, media personality, film producer, and former politician. In 2013, Manny's wife was elected as the candidate of the United Nationalist Alliance in the May 2013 election.
Jinkee served as a vice governor of Sarangani, Mindanao, Philippines, from 2013 to 2016.
Being active and multi-talented, Jinkee produced several movies and documentaries based on his husband's life.
The pair have five children; three sons and two daughters. Their eldest child, a son, Emmanuel Jr Pacquiao, was born on February 6, 2001. His nickname is Jimuel and he is popular on his social media platforms.
Manny's second child, Michael Stephen Pacquiao (born on 13 December 2001), is an established rapper and singer.
Later, the Pacquiao family was blessed with two daughters, Divine Grace (2006) and Queen Elizabeth (December 2008), followed by their youngest child, their third son, Israel Pacquiao (April 27, 2015).
All of Manny's kids attended private schooling in General Santos City.