On the 7th of November, 2021, English footballer Marcus Rashford MBE received his honorary doctorate from the University of Manchester. The special occasion took place at Manchester United's home, Old Trafford.
At 24, he became the youngest person ever to receive an honorary doctorate from the University of Manchester.
United's legends Sir Alex Ferguson and Bobby Carlton had also received the award for their admirable deeds.
On the 7th of October, Marcus Rashford received the award for his untiring support to uplift the less fortunate children's conditions.
Marcus had been making sure that no child had to go to sleep on a hungry stomach.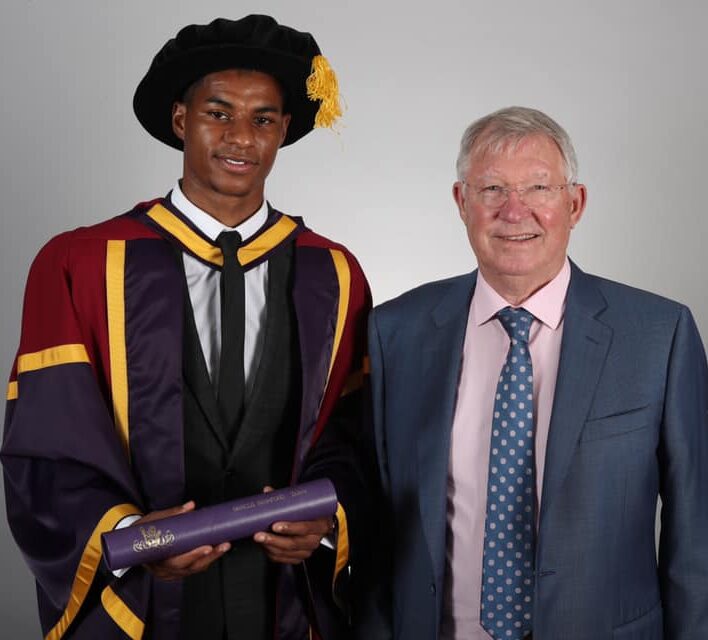 The Red Devils' player formed a child food poverty task force to maintain his campaign for the novel cause. The group has teamed up with the biggest supermarkets and food brands in the UK to ensure a better and deeper reach.
Moreover, he also became the youngest person to top the Sunday Times Giving List after successfully raising 20 million pounds for his campaign.
Marcus Rashford received the honorary title from Prince Williams.
Rashford was responsible for a high-profile campaign last year that forced UK's Prime Minister Boris Johnson to make a U-turn. Basically, he campaigned for the needy children who were deprived of food in the summer holidays.
Not everyone can afford to pay for food at school or to eat outside in the holidays. With that in mind, Marcus led a campaign to persuade the government into providing free meals for needy kids throughout the holidays.
Marcus Rashford received the honorary title from the hands of Prince Williams. He had a little bit of a chat with Prince Williams too. When asked about it, he commented,
"We were speaking about football, actually. Just speaking about the Euros and what it was like after. How good it was to see everyone come together and support the team."
He further added, "Other than football, we were speaking about the campaign, how pleased he is that I started it and what's next."
What next?
Being the young football star of Manchester United was not enough for the English lad, apparently. He has used his position, popularity, and monetary possessions to make the lives of the poor better.
Rashford has proven time and again that he is a crucial player for the team. He has not left a stone unturned; moreover, he has done a lot of philanthropic activities off the pitch.
We can expect this to continue as he has stated that he will be continuing this act of kindness even after retirement.
Growing up, he and his four older siblings were dependent on only one parent, a single mother. Despite being in a challenging situation, his mother somehow managed to raise her five children, ensuring they were well-fed, warm, and educated.