Motor racing fans are eager to find out if Jorge Martin is in a romantic relationship with Maria Monfort Matutes or if they have already tied the knot and become husband and wife.
The Martinator Jorge Martin Almoguera is a Spanish Grand Prix motorcycle racer who has moved up the racing world with the Pramac Racing.
The 25 year old moved to the premier class with the team in 2021 and won the 2021 Styrian Motorcycle Grand Prix.
Additionally, Jorge also secured three pole positions in his first seven entries, four total in his first-ever and rookie campaign.
Martin, like many racers, also made a name for himself after winning the Moto3 World Championship with Gresini Racing.
In addition, he also won the 2014 Red Bull MotoGP Rookies Cup champion.
The Martinator debuted in 2015 in the Grand Prix in the Moto3 World Championship.
Maria Monfort Matatues: Wife Or Girlfriend Of Jorge Martin?
According to the sources, the racer is an unmarried man; however, he does seem to be in a relationship with his girlfriend.
Martin is dating gorgeous Maria Monfort Matutes, a social media influencer. She is often seen attending the MotoGP races to support her boyfriend.
Jorge publicly revealed their relationship on June 29, 2022, after sharing a post featuring her via Instagram.
However, not much is known about Maria on the internet. Looking at her social media, Monfort has over 52K thousand followers on her Instagram.
Likewise, she loves to travel and has been all over the world.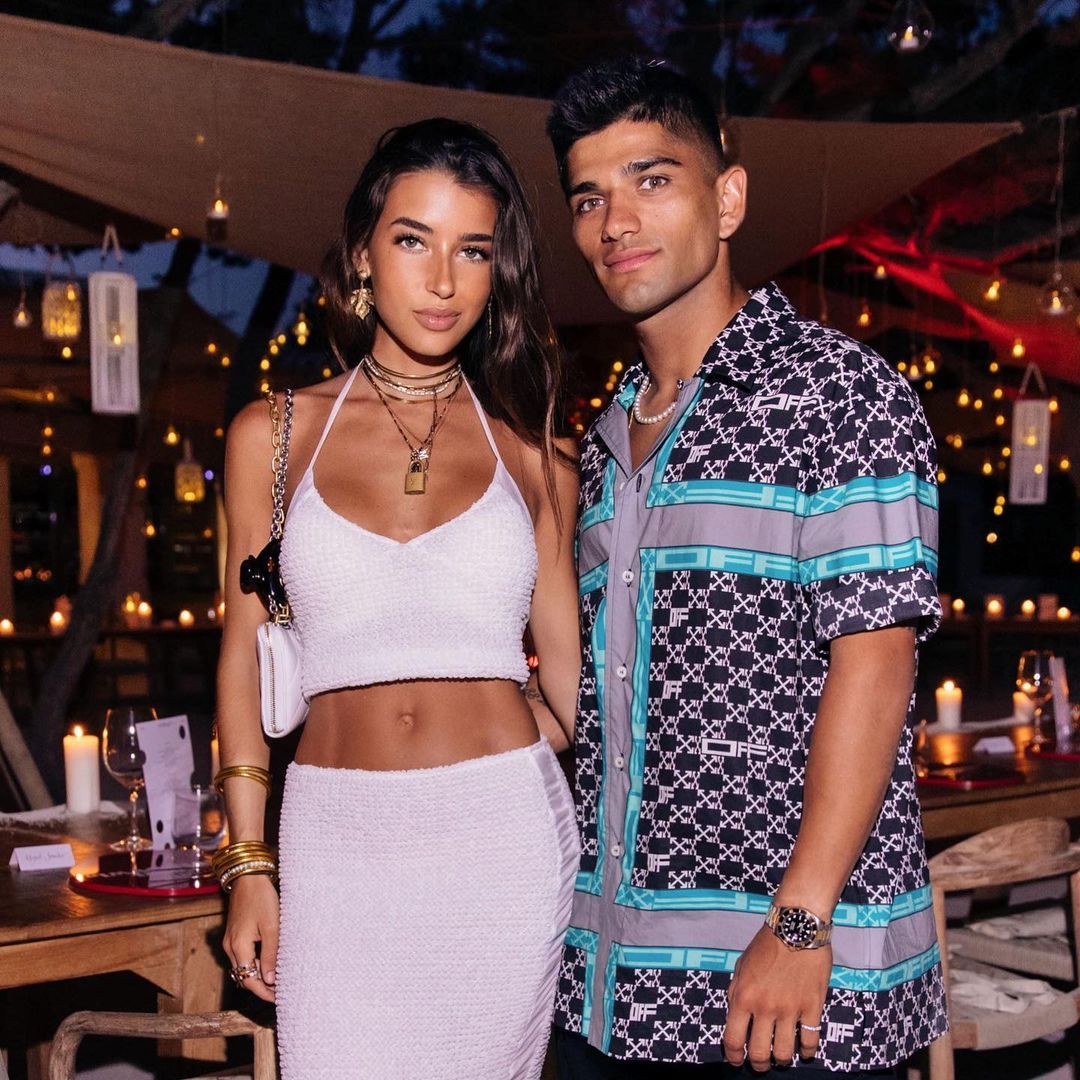 They are seen spending vacation and holiday time together and often share each other on their respective social media accounts.
Although Matutes and Martin are seeing each other and have been seeing for a while, the couple has not shared their plans for the future.
Net Worth
The Spanish racer has made an excellent living throughout his career, not only in fame but also in wealth.
The 25 year old earns around $350k annually from Pramac Racing. Moreover, this leads to him earning around $18K per race, excluding bonus payments.
Jorge Martin is expected to have a net worth of around one million dollars. Although he earns mainly through his racing career, he also earns additionally from endorsements.
He has multiple brand endorsements and has worked with some big companies. The racer has worked with companies such as Redbull and is also a Red Bull Athlete.
Similarly, the millionaire has also worked with helmet manufacturer companies like Shark and, currently, the Alpinestars.
The Martinator has also been endorsed by companies such as the Alpinestars, Canyon, Motoblouz, Breathe Right, Ride100percent, and Kyrrexchange.
Not only has he been able to amass a significant amount of money throughout his career, but he also gives back to the community.
Martin has collaborated with multiple charities, especially with the Charity Stars. Their website auctioned his race-used signed items, and the raised fund are all used for various charities.