Marion Jones husband, Obadele Thompson, and the former world champion are a power sports couple.
While Marion Jones gained fame as an Olympic track and field star, Obadele Thompson carved his own path as a sprinter.
Let's unearth the fascinating story of their married life and their journey through parenthood.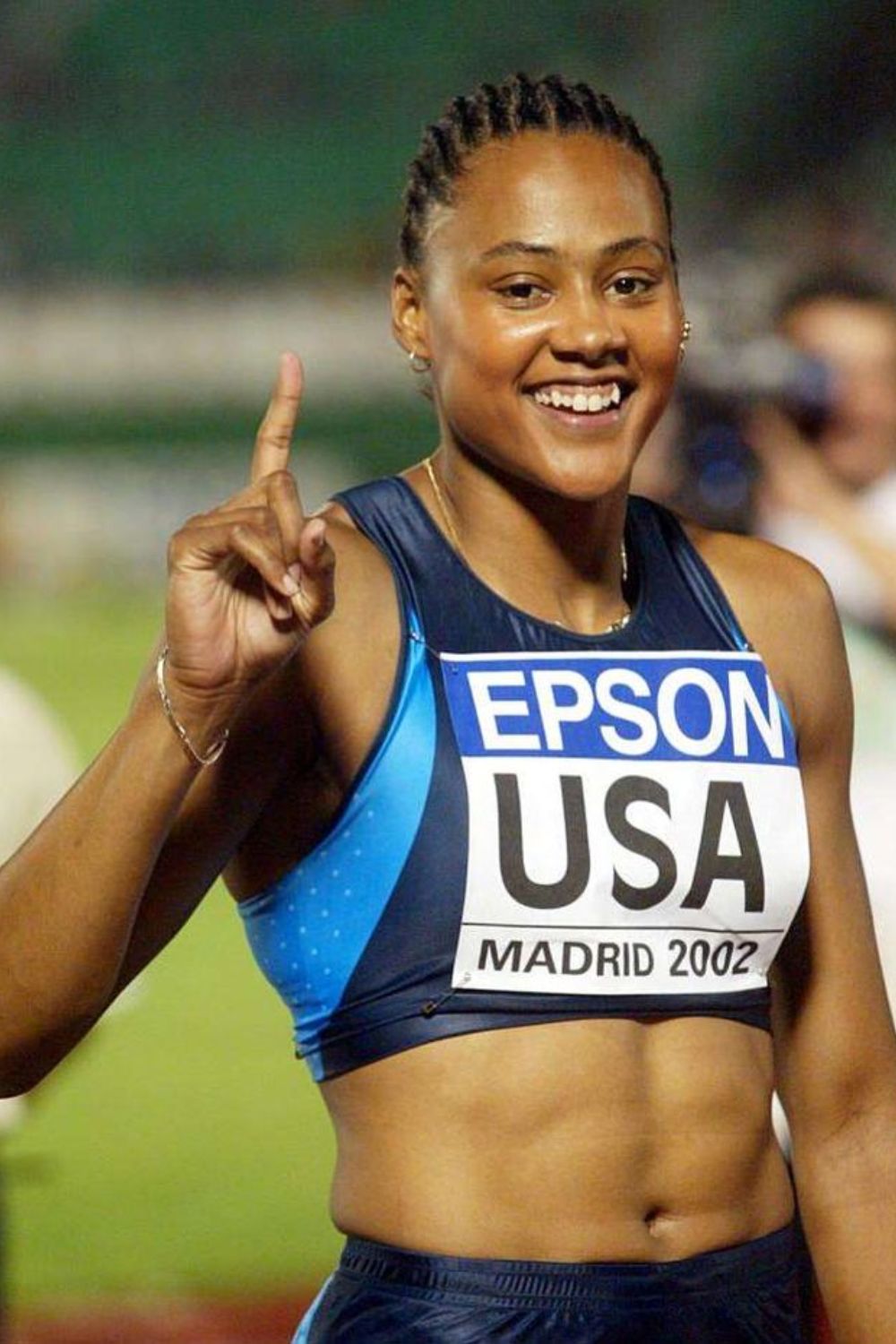 Marion Jones is a former American track and field athlete and a former professional basketball player. Notably, she won three gold medals at the 2000 Olympic Games.
Likewise, Jones played professional basketball in the WNBA as a point guard for Tulsa Shock between 2010 and 2011.
Born October 12, 1975, in Los Angeles, California, Jones was a prominent track and field athlete at an early age.
She won a silver medal in the 4X100 meters at the 1992 World Junior Championships in South Korea.
The University of North Carolina graduate's sprinting and long jumping dominance earned her numerous accolades.
She bagged multiple golds in World Championships, the Olympics, and the Goodwill Games.
Sadly, using performance-enhancing drugs led to all her Olympic medals being stripped.
Marion Jones Husband: Obadele Thompson
Marion Jones and Obadele Thompson's journey was marked by personal achievements and milestones on and off the track.
The athlete's husband was no stranger to success either. Thompson is a Barbados-born former sprinter, lawyer, author, and speaker.
He became the first athlete from Barbados to win an Olympic medal, securing bronze in the 100m sprint at the Sydney Olympics.
The three-time Olympian has held the indoor 55 meters world record of 5.99 seconds since 1997.
These accomplishments solidified his legacy as a sprinter and brought pride to his nation.
Likewise, he also had an outstanding collegiate career at the University of Texas-El Paso (UTEP) winning four individual NCAA sprint titles.
In 2007, he was even inducted into the UTEP Track and Field Hall of Fame.
Moreover, the Barbadian has amassed six gold medals in the Central American and Caribbean Championships over the years.
Thompson practices international arbitration and litigation, having received his Juris Doctor (J.D.) from the University of Texas School of Law.
Marriage and Parenthood
Marion Jones and Obadele Thompson's love story reached a new chapter when they tied the knot in February 2007.
The Olympic sprinters were reportedly married in a small ceremony in rural North Carolina.
Their wedding was a celebration of their shared journey and an affirmation of their commitment to one another.
In June 2007, the couple welcomed their first child, a son named Ahmir. Similarly, the pair were blessed with a daughter Eva-Marie on June 28, 2009.
Parenthood brought new dimensions to their lives, requiring them to balance their responsibilities as athletes, partners, and now, parents.
Despite their careers and family demands, Marion and Obadele created a nurturing environment for their kids.
The Power of Resilience
Marion Jones' life took a drastic turn as she faced the consequences of her involvement in the doping scandal.
Jones was suspected of taking performance-enhancing drugs throughout much of her career.
She was sentenced to six months in prison in January 2008 for lying to federal investigators about her steroid use and her involvement in a check-fraud scheme.
Her fall from grace was a challenging period for her and her family. Nevertheless, she has moved on from her days of controversy.
Throughout this trying time, Obadele Thompson stood by her side, exemplifying the strength of their relationship.
Jones also credits her husband for facilitating her transition from sports to business. A fitness trainer with Camp Gladiator, she also runs a business in Austin, Texas.