The professional baseball player Mark Canha has been head over heels for his wife, Marci Canha since he met her. It's nearly a decade since he is happily married to his accomplished architect wife.

Mark and Marci, both baseball fans, first crossed paths in 2002 when they were just eighth graders.
From the moment they met, it was love at first sight for the young couple. Their love for each other grew stronger over the next two decades.
Mark David Canha is an American professional baseball player who plays outfielder and first baseman for the Milwaukee Brewers in Major League Baseball (MLB).
He has also had stints with the Oakland Athletics and New York Mets in his MLB career.
Mark debuted in the major leagues in 2015 with the Oakland Athletics in the 2015 season as a versatile performer.
He has since become a key player for the Athletics and has had a successful career in the major leagues.
Throughout his career, Canha has committed to improving his abilities, making him a valuable asset to any team he plays for.
His passion for baseball and his love for the game are evident in his performance on the field.
Mark Canha Wife
Mark Canha's wife, Marci Canha, is an accomplished architect who works as a Junior architect at Sutro Architects.
Marci's journey in architecture is impressive after graduating from the University of Notre Dame in 2012 with an architecture degree.
Moreover, for two years, she gained valuable experience working as an intern architect at Michael G. Imber, an architecture company based in Texas.
Her dedication and passion for design led her to her current position as a junior architect at Sutro Architects, where she has worked for the past eight years.
With her creative expertise and innovative approach to design, Marci has contributed to the architectural landscape of San Jose, making her mark in the industry.
Marci And Mark's relationship Timeline
The love story of Mark Canha and Marci Canha is a beautiful example of lasting love.
They have been together since eighth grade, and their connection has grown stronger.
In 2017, Mark shared a heartwarming Instagram post celebrating their 15 years with a special dinner at the French restaurant Petit Crenn.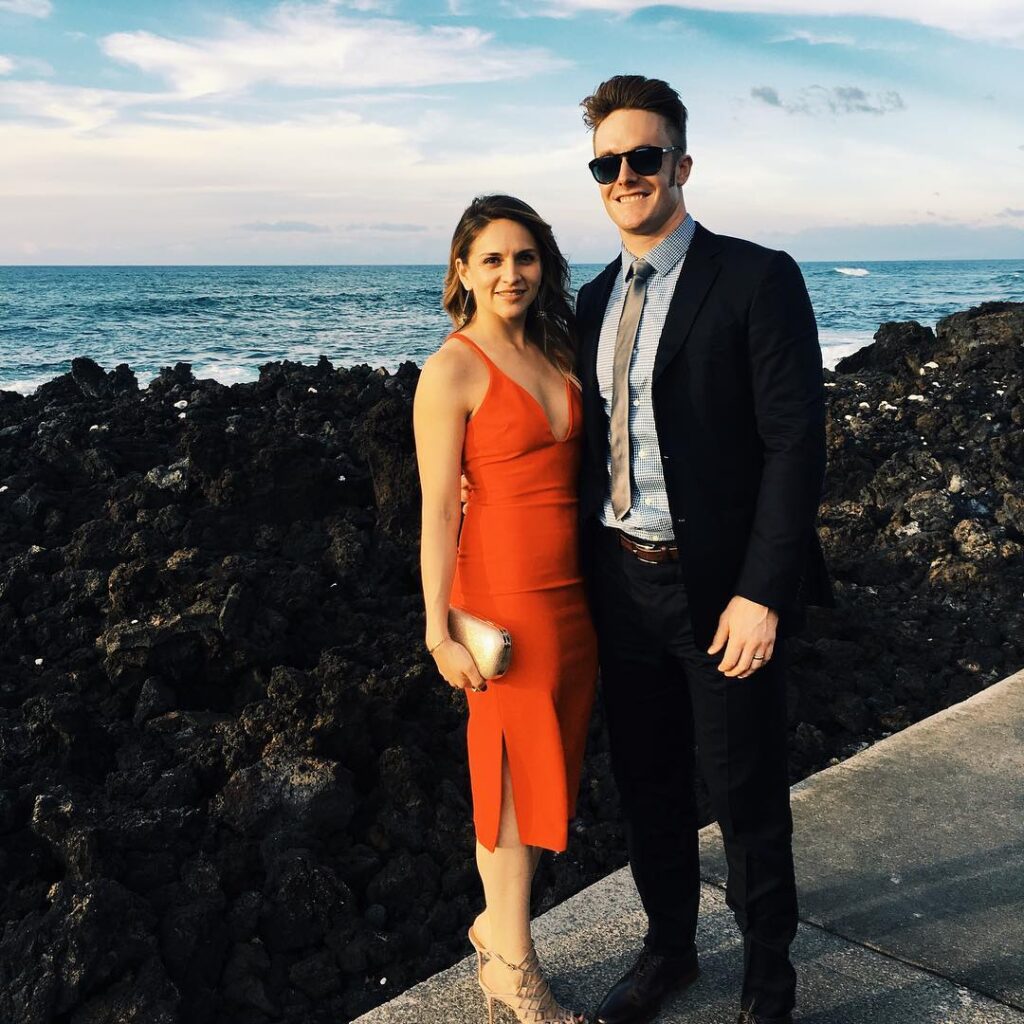 Their first date on December 7, 2002, marked the beginning of a beautiful relationship that has stood the test of time.
Despite life's challenges, they have always been there for each other, making their love story truly inspiring.
Married Life And Kids
Mark and Marci's love story, which began in eighth grade, blossomed into a beautiful marriage in January 2014.
Surrounded by their loved ones, they exchanged vows after eleven years of dating. As a married couple, they became proud parents of two lovely daughters.
Their first daughter, Cami, was born in 2018 and has since become an adorable presence in their lives. Mark often shares sweet moments with her on his Instagram account.
In 2020, during the MLB hiatus, Mark and Marci welcomed their second daughter into their family, bringing even more joy and fulfillment.