Mark DeRosa, or should we say "the Pulse," is a former professional baseball player in the pitch from 1998 to 2013.
During his fifteen years of a long career, Mark has played for teams like Atlanta Braves, Chicago Cubs, and the Toronto Blue Jays.
Since his retirement in 2013, Mark has been serving as a sportscaster for the MLB Network. No matter what, Mark is bound to succeed in all of his endeavors.
Hence, we thought it would be well to know more about this successful player who served in almost all the positions there is in baseball.
From his family to his career to his current profession, everything will be revealed right here.
Mark DeRosa: Quick Facts
| | |
| --- | --- |
| Full Name | Mark Thomas DeRosa |
| Birth Date | February 26, 1975 |
| Birth Place | Passaic, New Jersey, US |
| Known as | The Pulse |
| Religion | Unknown |
| Nationality | American |
| Ethnicity | Italian American |
| Education | Wharton School of the University of Pennsylvania |
| Horoscope | Pisces |
| Father's Name | Unknown |
| Mother's Name | Unknown |
| Siblings | Older Brother |
| Age | 48 Years Old |
| Height | 6 feet 1 inch(185 cm) |
| Weight | 97 kgs |
| Build | Athletic |
| Eye color | Dark Brown |
| Profession | Former Professional MLB Player, Sportscaster |
| Active years | 1998-2013 |
| Position | Utility Player |
| Team | Toronto Blue Jays |
| Marital Status | Married |
| Wife | Heidi Miller |
| Children | 2 |
| Net Worth | $20 million |
| Salary | $75,000 |
| Social Media | Twitter, Instagram |
| Merch | Autographed Photos, Trading Cards |
| Last Update | March, 2023 |
Who is Mark DeRosa?- Family and College
The former professional baseball player, Mark DeRosa was born in Passaic, New Jersey, in the United States of America.
His full name is Mark Thomas DeRosa. As much as we want, Mark has not spilled much when it comes to his parents and siblings.
Likewise, Mark grew up in Carlstadt, New Jersey, also the place where he attended Bergen Catholic High School. There he earned all-state honors in baseball and football.
After that, he went to the Wharton School of the University of Pennsylvania and started as a quarterback from 1993 to 1995 and played varsity baseball from 1994 to 1996.
Not to mention, DeRosa even played collegiate summer baseball in the Cape Cod Baseball League for the Bourne Braves. Finally, he graduated in the year 1997.
As for his nationality, he is American, while his ethnicity is Italian-American, meaning DeRosa is of Italian descent.
How tall is Mark DeRosa?- Age and Body Measurements
Italian descent Mark DeRosa is a former baseball player who pretty much played in every position except center field, pitcher, and catcher.
But what makes him impressive is his ability and physical prowess to serve all those roles. This robust athlete stands at 6 feet 1 inch(185 cm) and weighs around 97 kg (215 lbs).
Likewise, it was his years of training as a player that helped him accomplish and push himself forward on the pitch. As of now, DeRosa is 45 years old.
This New Jersey native was born on February 26, 1975, under the sun sign of Pisces.
Professional MLB Career
In the 1996 Major League Baseball draft, Mark was picked by the Atlanta Braves in the seventh round and 212th overall.
Following that, he finally made his MLB debut on September 2, 1998, as a shortstop.
Until 2001, the young DeRosa passed as a backup utility player, where he played for both infield and outfield.
By 2002, he spent more time on the pitch and started as a third baseman in the early 2004 season.
However, his performance was criticized, and even Mark admitted to his poor performance. A month later, he was demoted to back up again and spent most of his season there.
By the 2005 season, Mark was signed with the Texas Rangers, but his injuries delayed his starting opportunity.
He only got to start in May 2006 and hit well over .300 for the first half of the season.
Determined to not the same mistake, Mark played exceptionally well and, by the end of the season, topped his career-high in RBI with 74, breaking his previous record of 31.
Similarly, on November 14, 2006, Mark signed a three-year contract with the Chicago Cubs, which was worth $13 million.
DeRosa appeared in 149 games for the Cubs, where he spent most of his time on second base. That season he batted .293 with ten home runs and 74 RBIs.
But in February 2008, Mark was rushed to the hospital after complaining of breathing problems and having a rapid heartbeat.
He successfully had a heart procedure at Northwestern Memorial Hospital to correct his irregular heartbeat. This earned him the nickname "the Pulse."
Despite all the trouble, Mark finished the season with career highs in home runs with 21 and RBIs with 87. He also helped the Cubs to the best record in the National League.
Mark Derosa – Cleveland Indians to Toronto Blue Jays
At the end of 2008, the Cubs traded Mark to the Cleveland Indians for minor league pitchers Jeff Stevens, Chris Archer, and John Gaub.
There Mark spent most of his time playing 3rd base while also covering first base and outfield.
During the Cubs game at Wrigley Field on June 19, he received a standing ovation from the Cubs fans.
On June 27, 2009, Mark was traded to the Cardinals for relief pitchers Chris Perez and Jess Todd.
But Mark spent some time on the disabled list following his wrist injury and tendon sheath surgery on October 26.
After filing for free agency in later 2009, DeRosa found the San Francisco Giants and signed a 2-year contract worth $12 million.
Unlike his other season, he started with a slump, batting only .194 with only four extra-base hits and 10 RBIs.
Likewise, his wrist surgery failure resulted in season-ending in 2010. Reportedly, DeRosa started the 2011 season healthy and ready.
Sadly, his recently repaired injury suffered another injury, and some even though his career was over for sure now.
Following his series of injuries, Mark left the Cardinals and then signed a one-year deal with the Washington Nationals. Until April 2012, he was hitting .081, with 2 RBI in 13 games.
However, Mark limited his playing time and instead acted as a mentor to his Nationals teammates; most of them were younger than him.
On January 22, 2013, DeRosa signed a one-year deal with the Toronto Blue Jays worth $775,000.
Moreover, that year, in a game against the Houston Astros, Mark hit his 100th career home run, a solo shot leading off the second inning.
During the season, DeRosa was used mostly as a pinch-hitter while also starring at third base, second base, first base, and designated hitter.
Also, in all 88 games, DeRosa hit .235/.326/.407 with 7 HR and 36 RBI, including hitting .286/.448/.476 with 1 HR, 8 RBI, and 7 BB as a pinch-hitter.
Though he was expected to continue playing for the Blues, on November 12, 2013, Mark announced his retirement from the sport.
After retirement, Mark has been working as a studio analyst with the MLB Network.
He has replaced Harold Reynolds in MLB The Show 18 as the broadcast announcer.
Who is Mark DeRosa married to?- Wife and Children
Despite his several injuries and breaks, Mark was able to make a successful career out of baseball. Not only that, but DeRosa is successful when it comes to his personal life as well.
As we know, the famous baseball player is married to his lovely wife, Heidi DeRosa, who used to be his girlfriend.
The two lovebirds tied the knot sometime in 2003 after dating for a long time. For those who don't know, Mark's wife, Heidi, is a former professional model.
However, the details regarding their wedding ceremony and other detail are missing from the public. Other than that, the couple is also blessed with two beautiful children; a son and a daughter.
Since his retirement, DeRosa spends a lot of time with his family. The small family currently resides in Atlanta, Georgia. Mark and Heidi are living a controversy-free life and are happy with it.
How much is Mark DeRosa's net worth? – Income and Salary
Mark, who is 45 years at the moment, spent fifteen years of his life playing professional baseball.
During his tenure, Mark was one of the highest-paid players on his team. As of 2023, DeRosa has an estimated net worth of $20 million.
However, his salary and other incomes are not revealed. At the moment, DeRosa is working as a sportscaster for MLB Network, and we are sure the money is less compared to his professional player life.
But some rough estimation shows Mark might be receiving $75,000 yearly from the network.
Other than this, DeRosa is seen taking a luxurious vacation with his family and living in a luxury home. Hence, money does not seem to be lacking for a former MLB player at all.
Mark Derosa – Autograph
Here's a picture of Mark Derosa's autograph:
Mark Derosa – Rookie Card
Here's a picture of Mark Derosa's rookie card: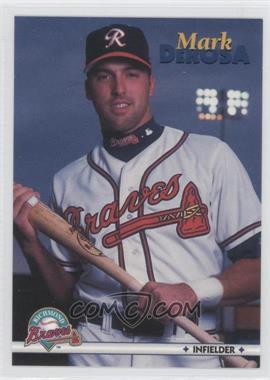 Mark DeRosa – Social Media Presence
Twitter– 38k Followers
Instagram– 7.3k Followers
Here's a video of Mark DeRosa and Josh Donaldson hanging out together:
Common Queries about Mark DeRosa
Is Mark DeRosa in the Hall of Fame?
Mark DeRosa is in the Penn's Baseball Hall of Fame. He is not in the Baseball Hall of Fame yet.
Where did Mark DeRosa go to college?
Mark DeRosa went to the University of Pennsylvania.