Mark Selby is perhaps one of the most well-known snooker players globally. He has four World Championship titles to his credit.
Selby is one of the most dedicated players in the game.
The snooker champion has won a total of 20 ranking titles. These accolades put him in the ninth position in the ranking of all-time tournament champions.
In this article, you will get more information regarding the player. So, let's dig deeper into Mark Shelby's early life, height, weight, career, and other information.
Also, here are some quick facts about Selby before we head any further into the details.
Quick Facts
Name
Mark Selby
Birthname
Mark Selby
Nickname
"Mark the Shark,"
"The Jester from Leicester"
Birth Date
June 19, 1983
Birthplace
Leicester, England
Age
39 Years Old
Zodiac sign
Gemini
Chinese Zodiac
Pig
Nationality
British
Sexual Orientation
Straight
Body Type
Athletic
Hair Color
Brown (Hazel)
Eye Color
Blue
Skin
Fair
Height
6 ft (1.83 m)
Weight
170 lb. (77 kg)
Religion
Christianity
Profession
Snooker Player
Debut Age
16
Professional Years
1999 – present
Current ranking
1st (as of November 8, 2021)
Highest break
147
No. of Highest Break
3
Century breaks
699
World Championship Wins
2014, 2016, 2017 and 2021
Tournament wins
20 (Ranking), 7 (Minor Ranking), 8 (non-Ranking)
Parents
David Selby (Father)
Shirley Selby (Mother)
Siblings
One (Brother)
Relationship Status
Married
Wife
Vikki Layton
Children
Sofia Maria Selby (from Vikki Layton)
Social Media
Twitter, Instagram, Facebook
Gender
Male
Hobbies
Music, Golf and supports Leicester Football Club
Net Worth
$ 12 Million
Last Update
March, 2023
Mark Selby | Early Life and Background
On June 19, 1983, Mark Selby was born in Leicester, England. He was grown and raised in the same city in England's East Midlands region.
Mark was born to David Selby and Shirley Selby in a family of four. He has one younger brother.
Mark had a comparatively tough childhood. In an interview, Selby revealed that his father didn't have any money and lived on a council estate.
Then, he had to witness his parents' divorce. Consequently, his mother's left him and the family home. Since then, he hasn't seen or spoken to her.
Furthermore, to add woes, his father died when he was just 16 years old due to cancer. At one point, Mark and his brother were evicted from their municipal flat and left without any money.
Hence, it is clear that his childhood was tough. But, it's the pressure that makes a diamond, and it was similar in this case too.
Mark started sharing an apartment with Alan Perkins. Alan was a family friend and snooker teacher. He pushed Mark to focus on snooker, telling him that his father would have wanted him to do so.
This point in history made Mark Shelby pick up snooker again. The rest is history here forth.
Mark Selby | Age, Height and Personality
Mark Selby is a professional snooker player with the physique to match his athleticism on the table. His body is fit and athletic, and his hands are remarkably flexible and robust.
Mark is currently 39 years of age. However, Selby still looks fresh and fit enough to compete in the snooker scene.
Moreover, the athlete weighs around 170 lb. (77 kg) and stands at an astonishing height of 6 ft. 0 in (1.83 m).
It's evident from his photos that he's kept himself up to the professional league's standards. His actual physique proportions, however, remain unclear.
Furthermore, Mark has a down-to-earth personality. Maybe it owes to the fact that he might have easily given up between the cracks. But he has persevered and maintained his point of view.
Additionally, Mark has supported Leicester City F.C. since he was a toddler. Amazingly, he won his second world title two years later, only 13 minutes after the squad won their first Premier League title.
Mark Selby | Career
Setting Foot and Improving
Mark began competing as an amateur two months after Perkins persuaded him to. Mark enjoyed playing snooker and realized he was getting better every tournament.
Consequently, he joined the professional tour at the age of 16 in 1999. He had already won the England under-15 championship in 1998.
Similarly, in April 2003, at the age of 19, he reached his first ranking final at the Scottish Open. But, he couldn't finish it off with a win as he fell short to David Gray.
Likewise, he was falling short at qualifying for the World Snooker Championships. In 2002 and 2003, he advanced to the last round of qualification for the World Snooker Championships. Yet, he failed to qualify for the knockout stages both times.
Mark advanced to the 2007 World Championship final, where Higgins beat him. One of the notable moments of his run would be defeating Stephen Lee 10–7 in the opening round.
As a result, he was deemed the best-improved player on tour, among others, by John Higgins.
Finding Grounds
2008 marked the beginning of something important to him. Mark won his first major tournament, the Masters at Wembley, on January 20, 2008. He beat Stephen Hendry, Stephen Maguire, and Ken Doherty on a 6–5 scoreline.
Similarly, he won the Welsh Open final on February 17, 2008, after defeating Ronnie O'Sullivan 9–8 from a 5–8 deficit. This win was his first-ever world-ranking title.
Mark wanted to continue this form to 2009. Eventually, he reached the final of the Masters, finishing second to O'Sullivan. Also, he got knocked out of the quarter-finals of the 2009 World Championship, losing 12–13 to Higgins.
You might also like to read about Kyren Wilson; The Warrior, Proud Father & Snooker.
Likewise, he won his second Masters championship on January 17, 2010. It was a rematch of the earlier year's final, which he lost to O'Sullivan.
Additionally, he came within a whisker of reaching his second World Championship final the same year. But, he crashed out of the semi-finals losing 14–17 against Graeme Dott.
Falling Short but learning
Mark overcame local favorite Ding Junhui at the 2011 China Open but was upset 8–10 by Judd Trump. Likewise, Mark withdrew from the China Open second round due to a neck issue.
Despite this setback, he still ended the season as the world's number one. On November 2, 2012, Mark lost his world number one position to Trump.
However, he recovered the top-ranking position only five weeks later by winning the UK Championship. This win was his third ranking championship and the most significant of his career to that point.
But, people remember the year for a different reason. In a victory over Mark King at the China Open, Mark became only the fourth player in history to drop the final black on a 147 attempt.
Mark ended the season by defeating Matthew Selt in the first round of the World Championship. Yet, he crashed out of the competition after falling 10–13 against Hawkins in the second round.
He kept falling short, whether it was injuries or choking at game moments. Nonetheless, he always looked at competition setbacks from a learning perspective.
The Fruit of Labor
2013 was highlighted, with Mark reaching the semi-final at the Crucible since 2010. He faced Robertson in a rematch of the UK Championship final five months earlier.
However, Mark won this time, reaching his second World Championship final. In the final, he faced reigning champion Ronnie O'Sullivan. Ronnie had won all five of his previous world finals and held the world title for the preceding two years.
Mark won six consecutive frames to take the lead, eventually winning 18–14. Also, this win was his maiden global title.
He dedicated the victory to his father as he reclaimed the number one spot in the world. Likewise, he became the eighth player to capture snooker's Triple Crown of World, UK, and Masters titles.
The hardest part of being at the top is to stay at the top. So, the following year of 2014 was all about defending his reign as champion.
No first-time world champion had ever successfully defended their crown the following year. Likewise, Mark's tenure as World Champion ended in the second round, when Anthony McGill defeated him.
Domination
Mark Selby entered a turbulent phase in his career as he withdrew from PTC Finals and China Open. He stated the reason to be personal.
In April, he returned to the World Championships 2016 as he reached the finals. In the final, he built a 6–0 lead over Ding Junhui and went on to win the match 18–14 to earn his second world title.
Mark won the World Championship, putting him at the top of the world rankings again. But, what followed next year would be forever historic.
Mark Shelby advanced to his third global final in four years. The stage was arranged for a rematch of 2007 final against John Higgins.
Shelby went on to win his third World Championship with a scoreline of 18–15. Likewise, he became the fourth player to retain the title at the Crucible.
This win was his fifth-ranking title in one season after winning the UK Championship and China Open.
An Engaging Career
Mark Selby, who had been world number one since February 2015, was dethroned by O'Sullivan on March 24, 2019. Nonetheless, he went on to win the China Open and China Championship in the 2018/2019 season. This win was his 15th ranking title.
However, Mark crashed out of the World Championship, losing 10–13 to Gary Wilson in the second round. Consequently, he finished the season ranking at number six.
With most of the events stopped due to the pandemic, Mark participated in the 2020 Championship League. But, he couldn't make a significant impact as he crashed out early.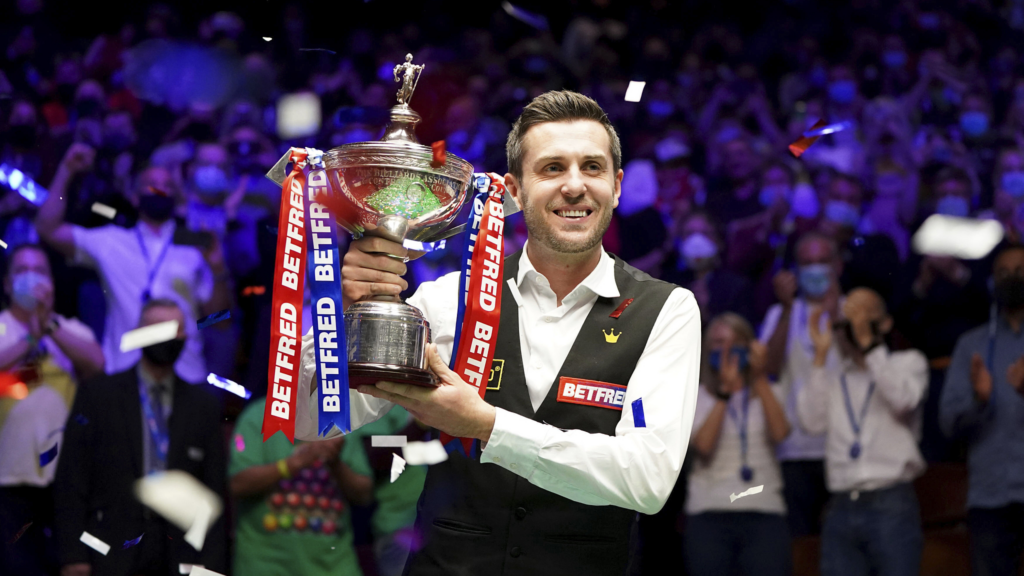 Likewise, Mark fell short of the World's Championship final as Ronnie O' Sullivan was eliminated in the semifinal.
Nonetheless, Mark started the 2020/201 season with a bang. He won his 18th ranking championship at the 2020 European Masters in September.
Eventually, Mark won his fourth world title defeating Shaun Murphy in the World Championship final. At the Crucible, he became only five players to win the title four times or more.
Mark Selby | Relationship with Mother
At one point, Mark Selby was on the verge of quitting life. His mother had left him after the divorce, and his father had just passed away.
Throughout, he persevered as he went on to dominate the professional snooker scene. Hence most of his fans are curious about his relationship with his mother is now, as he is a successful snooker player.
In an interview with Eurosports, Mark revealed that it had been a long time since he had seen his mother. Therefore, he has not been in any contact with his mother.
Nonetheless, she still lives in Leicester, and his brother often contacts her. Moreover, Mark himself hasn't cut all the ties too.
Mark said he still sends notes and other items in the same interview, but there is no hope of reconciliation. He doesn't feel like he owes her much to go back to her.
Furthermore, he believes the only way for it to be reignited is for her to come to me and speak to Mark himself.
Learn more about the Aussie snooker star, Neil Robertson!
Is Mark Selby Married? | Know About His Marital Status
As per notable sources like Webarchive and WstTv, Mark has been married to Vikki Layton since 2011. Also, they have one daughter, Sofia, who was born in 2014.
After getting to know Vikki on the professional circuit, Mark initially asked her out on a date in 2006. Initially, they were simply friends when Mark invited her out for a drink and dinner.
Eventually, everything seemed right between them as Vikki moved from Ipswich to Leicester. Moreover, she understood Mark on a deeper professional level since she was a former Irish international pool player.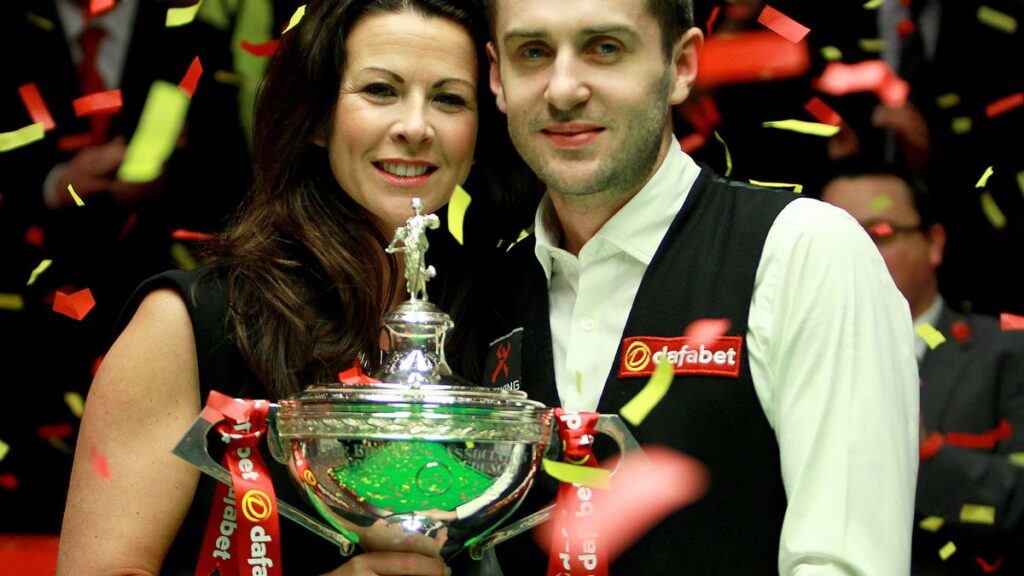 Consequently, they got engaged in August 2010 after Mark proposed on a gondola in Venice. And, they were married in Cancún, Mexico, in May 2011.
Currently, Vikki often attends his major matches and has nurtured a family with Mark. Mark gave a heartfelt homage to his wife and father-in-law Terry in an interview.
Mark Selby | Net Worth & Earnings
Selby accounts for much of his net worth as a professional snooker player. He has competed in several tournaments since his professional debut at a young age.
According to sources, he has won more than $6.8 million in tournament prizes alone. On the other hand, this amount provides a general approximation of his wins across several tournaments.
Since he is one of the best snooker players in the game, he has multiple brand endorsements to his name. He is often seen endorsing products from Century Cues.
His website, markselby.org.uk, has a wide array of merchandise for his fans to buy. As per Sporting Free, he is the tenth richest all-time snooker player globally. Hence, Selby's net worth is estimated to be around $12 million.
Mark Selby | Social Media
Mark Selby finished the 2020/21 season at a high, clinching his fourth world championship. As a snooker icon, the athlete understands the value of social media and is active on a few social media.
He is active mainly on his Twitter handle. As of Nov 2021, he has over 148k followers. You can find and reach him on Twitter through the username @markjesterselby.
His Twitter bio highlights his significant achievements as a professional snooker player. Also, you can see him highlight his "Jester from Leicester" nickname, proud of his roots.
Similarly, Selby also has an Instagram account under the username @markselby_7. But, we are not sure if this is his official handle as Instagram has not verified it.
As a fan, one can find glimpses of personal life and endorsements in this profile. Regardless, we can only hope he keeps his social media accounts updated.
You might also like to read about Is Stephen Hendry the Greatest Snooker Ever? Bio & Ranking
Queries on Social Media
What does Mark Selby love to do when he is not playing or practicing?
He likes to listen to a lot of music and recently tried playing golf as a part-time hobby.
How is his friendship with Neil Robertson?
The two are good buddies. After coming over from Australia, Robertson used to live in Leicester, and they became really fast friends.