Ding Junhui is considered the most successful Asian snooker player ever by many. He is very popular in his home country China and has been the leader of snooker in China.
As an outsider, he has managed to impress the native players and the spectators in the UK. Ding is considered the best Asian player to play in the ranking leagues.
Junhui has won matches against the likes of Ronnie O'Sullivan, who is considered the greatest snooker player of all time, Peter Ebdon, Stephen Hendry, and many more.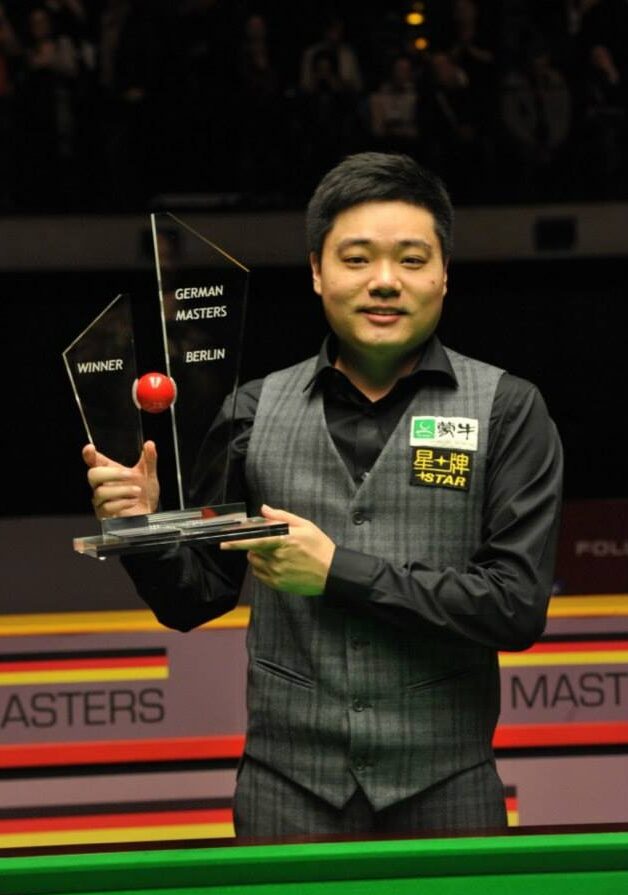 The player has achieved a lot in his career and is still keeping it up. But how was his childhood? How did he get into snooker? You don't hear a young kid getting into snooker all by himself, do you?
Stick with us until the end of the article as we answer all these questions and more, starting with some quick facts.
Ding Junhui | Quick Facts
| | |
| --- | --- |
| Full Name | Ding Junhui (丁俊晖) |
| Birth Date | 1st April 1987 |
| Birth Place | Yixing, Jiangsu, China |
| Current Residence | England |
| Nick Name | The Star of the East, Pot Noodle |
| Religion | Buddhist |
| Nationality | Chinese |
| Famous for being | Snooker Player |
| Ethnicity | Asian |
| Education | Shanghai Jiao Tong University |
| Horoscope | Aries |
| Father's Name | Chen Xijuan |
| Mother's Name | Ding Wenjun |
| Siblings | N/A |
| Age | 36 years old |
| Height | 5 feet 7 inches (176 cm) |
| Weight | N/A |
| Hair Color | Black |
| Eye Color | Brown |
| Build | Plus size |
| Hobbies | Playing snooker, listening to music, reading, etc. |
| Favorite Destination | N/A |
| Profession | Pro Snooker Player |
| Marital Status | Married to Apple Zhang |
| Kids | A daughter |
| Net Worth | $10,000,000 |
| Merch | Ding Junhui (Book), Snooker Cue Stick |
| Last Updated | November, 2023 |
Ding Junhui | Early Days and Early Career
Ding Junhui (丁俊晖) was born on the 1st of April, 1987, in Yixing, Wuxi, China. He was the only son (as far as we know) of his father, Chen Xijuan, and his mother, Ding Wenjun.
Junhui was introduced to the snooker world when he was only eight years old by his father, who was a snooker enthusiast. His father used to take Ding along with him to the local pool hall, where he used to practice and play with a professional.
One day, when his father got busy with other stuff, Ding grabbed the chance at playing against the professional; when his father returned, Ding had already won the game.
That is the moment when his parents realized that their child was a snooker prodigy. After that moment, his parents supported him fully on his journey to becoming a snooker player.
When Ding was nine years old, his father took him to Shanghai's Chinese national snooker team. They were not financially firm, so his father persuaded his mother to sell their grocery and home business.
Following Ding's snooker career, the family moved to Dongguan in Guangdong, where Ding put his formal education on hold to focus on snooker. He was 11 at the time and used to practice 8 hours a day.
All that effort finally paid off when it was time for him to enter the big leagues. By the time he was 15, Ding was winning regional and national competitions, establishing himself as one of the best players in China.
You might be curious to read about the top 10 most followed NFL athletes in the world >>
Ding Junhui | Wife and Kids
Ding Junhui keeps a lot to himself outside his pro snooker career. He is a very secretive person. But recently, he attended an event in China along with his wife and daughter.
Everyone was affected by his daughter's adorable looks. Everyone said how cute she is and how good Ding and his wife, Apple Zhang, looked together.
The couple's first child/daughter was born on the 8th of August, 2018. Ding has to be away from his family for the majority of his time, attending matches.
He has said many times that he missed his little daughter and his wife.
Apple and Ding got married in 2014. Other than that, he has shared no info about his family.
Ding Junhui | Career
In 2002, when he was just 15, he played in the Asian Under-21 Championship and the Asian Championship; he won both of them. Moreover, he also won the IBSF World Under-21 Championship the same year, making him the youngest snooker player to ever win the tournament at age 15.
A year later, in 2003, he began his professional snooker journey. But it wasn't until 2005 that he achieved his very first professional snooker title.
Moreover, in 2005, Ding Junhui won the China Open along with the UK Championship. Winning one of the triple crowns (UK Championship) at 18 is not a feat most people brag about.
Ding was just a year shy of being the youngest player to win the UK Championship; Ronnie O'Sullivan, aged 17, held the record.
Furthermore, he won the Northern Ireland Trophy in 2006, which totaled his title counts to three, making him the second player to win three ranking titles before hitting 20. The only other player to achieve this feat is John Higgins.
Junhui joined Shanghai Jiao Tong University the same year to major in Business Administration and Management.
Ding Junhui had an absolute blast in 2006, after winning the Northern Ireland Trophy, but his winning time ended when he faced Ronnie O'Sullivan in 2007.
It was the 2007 Masters finals where Ding faced Ronnie The Magician. It was a bitter loss for Ding as Ronnie broke his confidence with a 10-3 score.
You might want to quickly look at the top 10 bodybuilders of all time >>
After the 2007 Masters Loss
But that didn't discourage the star of the east; he continued playing and has snatched a total of 14 major titles in his whole career. The latest ranking title he won was the 2019 UK Championship against Stephen Maguire with a 10-6.
Back in 2016, Ding reached the finals of the World Championship, the only Asian player ever to do so, facing off against Mark Selby. He lost the title to Mark with a 14-18 score.
Furthermore, Ding is also praised for this break; he has a total of 6 highest possible breaks (147) and has over 400-century breaks to his name.
From December 2014 to February 2015, he was ranked the top snooker player, the no.1 in the world. He is also the only Asian ever to reach the no.1 ranking.
Ding Junhui in the 2007/2008/2009 season
Junhui won the Chinese National Championship in Yixing, his hometown, in 2007. He was able to beat Cao Xinlong with a one-point lead, 5-4.
In 2007 Masters, Ding made his first maximum break (147) playing against Anthony Hamilton. It was also the first maximum break made in the competition since 1984.
The 147 point break also made him the youngest player ever to make a televised maximum break. Following his appearance in the Master's finals that year, he was the second-youngest player.
Though he made won the first two frames, it was downhill from there onwards. Ronnie dominated the match and defeated Ding.
The match was a best of 19 frames, but Ding conceded the match in the 12th round with an 8-3 score, thinking that the match was best of 17.
He left the table in tears during the 12th round, thinking he had lost, but he had a chance as it was 19 frames match, not 17 as he mistook for. That was a mistake that cost him a Master's title.
Following his loss in the Master, he was beaten in the first round of his next two ranking tournaments. The Chinese-born lost in the first round of the Malta Cup against Stephen Maguire.
Similarly, he lost to Jamie Cope in the first round of the Welsh Open.
After all those losses, he started his 2008/09 season with a bang, winning the Jiangsu Classic against Mark Selby with a 6-5 score.
Ding Junhui | Net Worth
Ding Junhui has won almost $5 million, including all the major tournaments he has won. Our experts estimate his total net worth to be somewhere around $10 million.
Aside from his significant tournament earnings, he also earns quite a few bucks from minor leagues, and let's not forget he is the leader of the Chinese snooker. Though he focused all his life on snooker, he is not a dumb person.
He has made some intelligent choices and invested his earning to secure a better future for his family.
Ding Junhui's three consecutive major title wins.
In September of 2013, Ding faced a fellow Chinese snooker player in the final of the Shangai Masters; it was the first time in the league's history that both the finalist were Chinese.
Ding faced Xiao Guodong in the finals; Ding went ham on the match, making a century break and seven breaks worth over 50 points each. He won the finals with a 10-6 score, bagging in his 7th ranking title.
In the same year, he played the Indian Open, facing Aditya Mehta in the finals. Needless to say, he won that match too. No one had won back-to-back ranking titles as Ding did in the 2013 season since Ronnie O'Sullivan in 2003.
Ding was on a hype; he was on a prowl searching for opponents to defeat. Following the Indian open, he participated in the 2013 International Championship.
He reached the finals of the tournament, facing, yet again, a fellow Chinese snooker player. This was the second time he met a Chinese player in a ranking title final, Marco Fu.
Ding showed no mercy for his fellow Chineseman as he went on to make five-century breaks. The two had an intense match, though Ding had a slight edge over his opponent, Fu somehow managed to take the match to the last two frames.
Ding won the match with a 10-9 score and became the first player to win three consecutive ranking titles since Stephin Hendry, who won five successive titles in 1990.
After his three consecutive significant titles win, he was promoted to the 3rd rank for the first time in his pro snooker career.
You might want to read about the top 15 male Tennis players of all time >>
World Championship Finalist in 2016 and losses before it
2015 and 2016 season
Before entering the world Championship tournament, Ding faced a series of losses. He lost the quarterfinals round of Shangai Masters to Kyren Wilson.
Similarly, he was knocked out in the second round of the 2015 International Championship losing to Adam Duffy, an amateur player.
Obviously, he was furious about it and criticized the playing conditions at the York Barbican.
Moreover, he lost the 2015 UK Championship in the first round, losing to (once again) Adam Duffy, the amateur snooker. Imagine a completed amateur winning over the top 9th ranked players in the world.
The same thing happened again. Ding was thrown off the competition in the first round in the German Master, but the opponent was not Adam; it was Stuart Bingham.
In 2016, he lost the BetVictor Welsh Open quarterfinals to Neil Robertson. During the match, he made his 6th professional maximum break and made a 120 but could not get over the domination of Neil.
Furthermore, in the 2016 Ladbrokes World Grand Prix, he reached the semifinals, defeating the likes of Peter Ebdon, Ben Woollaston, and Thepchaiya Un-Nooh, only to lose against Shaun Murphy.
In the 2016 Ladbrokes Players Tour Championship quarter-final to Barry Hawkins with a 4-2 score. Moreover, he didn't qualify for the 2016 China Open, losing to Lee Walker (5-1).
World Championship Finalist
He had won no titles for two seasons and had to qualify for the World Championship. Ding did so by winning three consecutive matches, losing only seven frames in the process.
He also made 400th century break during the three consecutive wins.
Ding defeated Martin Gould (10-8) in the first round, Judd Trump in the second (13-10), Mark Williams in the quarterfinals (13-3), and Alan McManus in the semi-finals (17-11).
During the semi-finals match against Alan, he made the seven-century breaks, the most in the history of the World Championship, but he shares the record with Stephen Hendry and Judd Trump.
Ding lost the finals to Mark Selby (14-18), leaving some records behind, and became the first Asian player to reach the World Championship finals.
Moreover, during the entire 2016 World Championship, Ding made 15-century breaks, which is one shy of the absolute best record by Stephen Hendry.
Ding Junhui Trivia
Junhui practices at the World Snooker Academy in Sheffield.
Ding is the first player outside of the British Isle to win the UK Championship. He is the most successful Chinese snooker and the second teenager to win three titles; the first is John Higgins.
He is good friends with Wenbo Liang, and they both practice at the same place, the World Snooker Academy in Sheffield.
A cartoon series named Dragon Ball No.1 has been made following the story of Ding from a shy little boy to now a confident pro snooker champion. The series was 26 episodes long and was broadcast on TV in China in 2010.
He has been inducted into the World Taiwan Federation of Fame Hall of Fame.
Social Media Links
He does not have much following internationally, but his followers on Chinese social media apps are tremendous compared to his Instagram following.
On his Instagram, he mostly posts photos of his adorable daughter and his daily life.
Instagram: 20.4k followers
FAQs
What is Ding Junhui's nickname?
Apart from being nicknamed The Star of the East and Pot Noodle. He is also addressed as Enter The Dragon. People also know him as the most successful Asian snooker.
Is Ronnie O'Sullivan rich?
Of course, Ronnie is rich; he has been the World Champion six times. He has earned more than $15 million from prize money alone. His total estimated net worth is around $14 million.
How many Chinese snooker players are there?
Seventeen professional Chinese players are playing in the ranking tournaments and 12 other Asians from different parts of Asia.