Besides being a proficient cricketer, Mark Wood is a responsible husband & a doting father. As Wood and his wife, Sarah Wood, were to welcome their second child in 2023, he took a leave of absence from the 2023 IPL.
The right-handed fast bowler and his spouse Sarah have been married for 4 years. The two are parents to a son & a daughter.
While Sarah prefers to limit her personal life, her marital bond & parenthood with the English cricketer won't stop media & fan attention.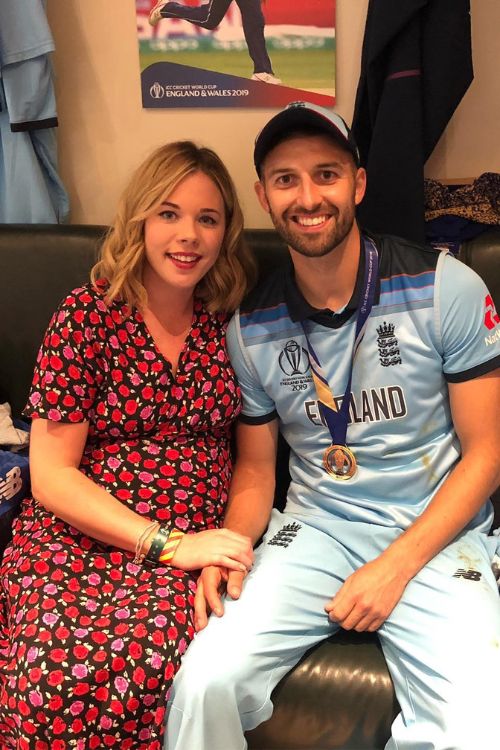 Considered one of the fastest bowlers in the world, Mark Wood plays internationally for England in all formats.
In domestic cricket, the Northumberland native represents Durham, while he has played IPL teams: Chennai Super Kings (in 2018) and Lucknow Super Giants (in 2023).
As a part of the England men's cricket team, he won the 2019 Cricket World Cup and 2022 T20 World Cup along with Jos Butler, Jonny Bairstow, Ben Stokes, and Chris Woakes, among others.
As of July 6, 2023, Mark Wood, who wears shirt no. 33 in the T-20 & ODIs, records 90 wickets from 29 matches (in Test), 71 wickets from 51 matches (in ODI) & 45 wickets from 28 matches (in T20).
Mark Wood Wife, Sarah Wood: Relationship & Wedding
The English cricketer Mark Wood and his wife Sarah Wood live in England and are parents to two kids.
The two are yet to open up about how & when they began dating. But it is undeniable that the chemistry between them is a result of a long way through the relationship journey.
It was in September 2016 when Wood first shared a picture with his wife (then his girlfriend), Sarah, on Instagram.
The couple married on December 29, 2018, in Ellingham Hall, a luxury wedding venue in Northumberland.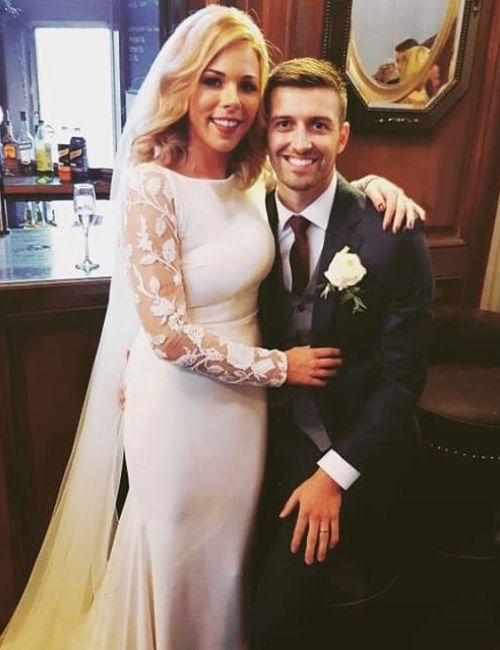 Often on his social media posts, Mark Wood features his wife Sarah, who reportedly is a teacher by profession. Her birthday falls on August 2.
She went by the name Sarah Lonsdale before taking her husband's surname "Wood." She is active on Instagram with the handle @ladysarahwood.
The duo celebrated their 4th wedding anniversary on December 29, 2022.
Father Of Two Kids With Wife Sarah
After a year of marriage, the English cricket and his better half Sarah embraced parenthood for the first time. They welcomed their son Harry Wood on October 18, 2019, who is 3 now.
Ever since then, Mark's son Harry is a frequent mention on his Instagram- either it is his birthday or the Mother's Day tribute to his wife.
In May 2023, Mark and Sarah welcomed their second child, daughter Lily.
He took to Instagram to announce the birth of his baby girl & wrote, "Over a week of loving you, Lily," on June 2, 2023.
Wood, who was playing for the Lucknow Super Giants in the 2023 IPL, missed the final stages of the IPL as he flew home to attend his daughter's birth.
Mark Wood Parents: Father Derek Wood
Wood (b. January 11, 1990) is a native of Ashington, Northumberland, England, where he would attend his father's alma mater Ashington High School.
Mark's father, Derek Wood, is an OBE awardee who has been working at the Department for Work and Pensions (DWP) for more than one & a half decade.
Derek joined the DWP in 2005 as a service center senior manager until his promotion to cross-government service transformation lead (2008 to 2009).
Then, from 2010 to 2016, he was the group manager for Scotland and North East England area.
Currently, he assumes the position of Head of Business Delivery & Assurance in that organization.
In August 2021, Mark and his father, Derek, were a feature of the Sky Sports content series with Prostate Cancer UK. The father-son duo talked about family & health as they raised awareness about prostate cancer.
Unlike his dad, Mark's mother (name not disclosed) is away from the limelight, but the cricketer often mentions her on his social media posts.
There is no denying she is equally his great supporter & fan as the cricketer's father.