"Hard work can take you places." This statement has been true for Marta Kostyuk, who gained her name and fame at such an early age. As a Ukrainian tennis player, Marta was quick to rise in popularity as a competitor in the World Tennis Association(WTA).
Moreover, her debut at the Australian Open back in 2018 collected many spectators.
Not to mention, it is impressive how aggressive her play is, considering her age and experience at the international level.
Besides, her explosive serves and unpredictable style have always kept the spectators glued to their seats.
No wonder Marta is one of the richest Tennis players in the whole of Ukraine. So, what was her driving force to pursue tennis? And how vital was her parents' role in this?
Below we have listed a few facts about Marta's life before diving deep into her career, childhood, net worth, and many other topics.
Quick Facts
| | |
| --- | --- |
| Full Name | Marta Olehivna Kostyuk |
| Date Of Birth | 28 June 2002 |
| Place Of Birth | Kyiv, Ukraine |
| Nick/Pet Name | Marta Kostyuk |
| Religion | Unknown |
| Nationality | Ukrainian |
| Ethnic Belonging | Caucasian |
| Father's Name | Oleh Kostyuk |
| Mother's Name | Talina Beiko |
| Number Of Siblings | 1 |
| Education | Unknown |
| Zodiac Sign | Cancer |
| Age | 20 years old |
| Height | 5'9″/171 cm |
| Weight | 60 kg/132 lb |
| Eye color | Blue |
| Hair color | Brown |
| Shoe Size | Unavailable |
| Body Measurement | Unknown |
| Figure | Athletic |
| Marital Status | Married |
| Boyfriend | Unavailable |
| Children | Unavailable |
| Occupation | Tennis Player |
| Net worth | $100k – $1M (Approx.) |
| Salary | Unknown |
| Active Since | 2015 |
| Pets | Unknown |
| Current works | French Open |
| Social Handle | Facebook, Instagram, Twitter |
| Tennis Merch | Shoes for women, Balls |
| Last Update | March, 2023 |
Marta Kostyuk | Age, Height, and Measurements
Kostyuk was born on 28 June 2002, which makes her 20 years old as of 2023. Standing at 1.75 m (5'9″), she weighs around 60 kg.
Marta's BMI is perfectly distributed for her height to weight ratio; it's not surprising as she has to go through rigorous training every day.
Thanks to that, Kostyuk has a toned and well-maintained body and, on top of that, gorgeous blue eyes with a hundred-dollar smile.
It is quite rare to see a brunette beauty with blue eyes, and she has that in her.
Her fans love her physique, but they love her skills even more. Kostyuk has what makes her a valuable player in the tennis world with extra worldly beauty.
As for her zodiac sign, she is a Cancer. And they are known for their determined and strong-willed nature.
Marta Kostyuk | Parents and Early Life
Kostyuk was born to a proud father, Oleh Kostyuk, and a loving professional tennis player, mom Talina Beiko. One of the many reasons Marta chooses her career as a tennis player is her mother.
Not only that, but her father, Oleh, is the technical director of the Antey Cup. Antey is a junior tennis tournament that is held every year in the Kyiv city of Ukraine.
Talking about the mother, Talina was one of the best of her time. She reached a career-high ranking of 391 and won a $10,000 title in her home city of Kyiv.
All these led to little Marta practicing this sport; her own mom was her Antey Tennis Club coach.
Kostyuk's growing interest in the game also developed because she wanted to spend more time with her mom. Talina would always get busy working as the coach in the club.
Likewise, her mom's side of the family adored young Marta. Her maternal uncle Taras coached her as well. Taras was a well-known player for USSR and Ukraine in the late 1980s and early 1990s.
Marta had a blessed childhood as all her relatives and parents supported and rooted for her. And still do.
Read about – Pam Shriver Bio: Tennis, Hall of Fame & Net Worth >>
Marta Kostyuk | Tennis Career
Kostyuk started professionally devoting herself to tennis in the December of 2015. She won the '14 and under' competition at the Orange Bowl in the United States of America.
Just after a month, she won the 2016 Petits As held in Tarbes, France; not only singles but doubles too.
If you think that was impressive, then think again. Because after that, Marta kept growing exponentially in terms of a professional player.
Wins and Highlights
Likewise, the following year she won the Australian Open Girls Singles championship, and it was a huge deal for her. That same year Marta triumphed at the ITF tournament in Dunakeszi without even dropping a set!
Talking about this trailblazing player, she became the youngest Ukrainian to win a professional singles title in history because of that very performance.
Kostyuk didn't stop that year for anything. In September, she gained a girls' doubles title at the US Open alongside Olga Danilovic.
Moreover, in 2017, Kostyuk made a career-high junior ranking of world no. 2 after her win at the Chengdu, China.
You might want to read about – Ken Rosewall: Tennis, Wife & Net Worth >>
Grand Slam Entry
After the year 2017, she made her primary draw tour-level debut at the Australian Open. For this tournament, Marta received a wildcard entry after proving her qualification.
The achievement she made in 2018 was that Marta was the first player born in 2002 to play in a Grand Slam main draw.
Likewise, the Ukrainian player defeated good and talented players like Arina Rodionova, Daniela Seguel, and Barbora Krejčíková during the matches.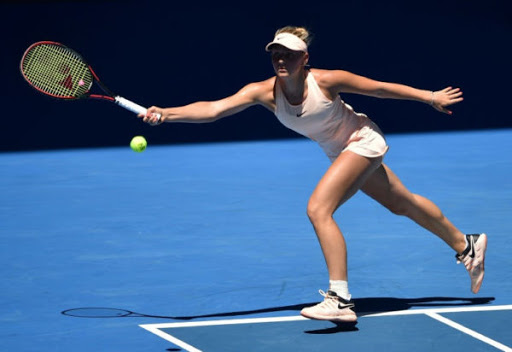 Marta then went on and defeated Peng Shuai in the first round, followed by another victory over Oliia Rogowska.
However, her winning streak was stopped by Elina Svitolina in the third round.
Nonetheless, Kostyuk earned Burnie International and $60k prize money in Australia. By doing so, young Marta qualified for the Zhuhai Open.
Unfortunately, Marta did not withstand her level of achievement for the rest of the year.
Find more on her stats and ranking on Tennis Explorer.com.
Career during Covid
Before the Pandemic took a big turn, this Ukrainian player won the $60k in ITF Cairo. Marta also earned the Cairo doubles contest alongside the talented player Kamilla Rakhimova.
After the COVID-19 pandemic, she competed as a finalist at the Palermo Open. Kostyuk succeeded in making it to the second round and qualifying for the Prague Open.
Moreover, Marta claimed victory over the former top-10 player Daria Kasatkina in straight sets in the opening round at the US Open.
She also beat former semifinalist Anastasija Sevastova. But sadly, Kostyuk couldn't stand a chance against the world-class player, Naomi Osaka.
Furthermore, she made it to the first round of the Australian Open 2021 but couldn't excel further. Nevertheless, Kostyuk managed to perform better at the Australian Open 2022 and stuck till the third round.
Marta Kostyuk | Net Worth and Earnings
Kostyuk is still emerging as one of the greatest tennis players of all time. As of now, her primary source of income is tennis.
Her secondary income would be from advertising and product endorsement. However, Marta is not promoting any brand for now.
Nonetheless, Marta's estimated net worth is about $ 100k – $1M.
Besides that, her earnings as a professional tennis player amount to US$ 1,534,751. Marta has yet to publicly announce or make her financial aspects visible to the public.
Read about – Venus Williams Bio: Early Life, Career, Net Worth, Tennis & Boyfriends >>
Marta Kostyuk | Personal Life and Relationships
Kostyuk has many relatives in professional sports, starting with her own parents and maternal uncle.
Marta has an elder sister whose name is Mariya Kostyuk. Mariya is a collegiate tennis player at Chicago state university. Also, both of her cousins are professional football players in their country.
Coming from a family that values sports so much unknowingly puts some pressure on Marta as well. But whenever she shows up in the court, she seems relaxed.
As for relationships, Marta is currently single and is not looking for anyone special. She is busy building a grand career in tennis and works hard every day to achieve her dream.
Not to mention, young Marta believes in rest and takes it very seriously.
Social Media Presence
The Ukrainian player seems to be quite active on most social media platforms. Marta runs her own Facebook, Twitter, and Instagram accounts.
Likewise, Marta is mostly active on Instagram, where she has a massive number of followers, a whopping 108k to be exact.
Judging from her posts, it seems Marta loves to go on vacation and travel around. At the same time, Marta uses Twitter to see updates and opinions and share opinions regarding public issues and games.
Kostyuk is equally active on Facebook, and she keeps posting her pictures and videos.
Instagram – 110k Followers
Twitter – 16.4k Followers
Facebook – 10.8k Followers
Also, check – Guido Pella's Bio: Tennis, Ranking, Girlfriend & Net Worth >>
Marta Kostyuk | FAQs
Is Kostyuk addicted to smoking?
No, Marta doesn't smoke, but she does drink some beer and wine once in a while.
Especially if she meets her friends and family over eat-outs, she often drinks beers while on lunch with her mates.
Is Kostyuk vegan?
Marta loves fruits and vegetables, but she also loves pizza with four different kinds of cheese. So, this proves that the player is definitely not vegan.
(Based on research from her different social media)