An American professional stock car racing driver, Martin Truex Jr., was born on June 29, 1980, to his parents, Martin Truex Sr. & Linda Truex, in Trenton, New Jersey.
He grew up alongside his younger brother, Ryan Truex, in the Mayetta section of Stafford Township, New Jersey.
Truex Jr. hails from a family deeply entrenched in NASCAR, with several members either currently involved in the sport or enjoying a well-deserved retirement.
His younger brother, Ryan, is a part-time contender in the NASCAR Xfinity Series for JGR and boasts consecutive championships in what is now recognized as the ARCA Menards Series East.
Martin Sr., his father, was a full-time participant in the East Series during the 1990s, while his uncle Barney made intermittent appearances in the Whelen Modified Tour in the 1980s.
Furthermore, Truex Jr.'s cousins, Curtis Truex Jr. and Tyler Truex, have carved their own paths as drivers in the realm of late-model racing.
Martin Truex Jr. Parents
As mentioned earlier, Martin Truex Jr. was born to his parents, Martin Truex Sr., and his estranged wife, Linda Truex.
In 2019, Linda filed for divorce from Truex Sr.
However, throughout their time together as parents, they remained committed to supporting and nurturing Truex Jr. in his pursuits, always striving to help him excel in his endeavors.
By the time little Martin was born in the summer of 1980, Martin Truex Sr. had already established himself as a prominent figure in two significant New Jersey communities: the world of fishing and the world of racing.
Together with his brother Barney, Martin Sr. had acquired expertise in the clam business, learning the ropes from their father and gradually transforming Sea Watch International into a seafood industry powerhouse.
Out on the water, Martin Sr. earned the moniker "Clam King of New Jersey."
On the racing track, he was recognized as a formidable competitor, a fearless warrior dominating the northeastern short tracks.
His moment of glory came with a nationally televised victory at Loudon, New Hampshire, in July 1994.
Meanwhile, Linda Truex, Martin Sr.'s wife, was busy shuttling their son around the Garden State's bullrings, where young Martin enthusiastically began his kart racing career.
"When Martin Sr. first started racing, I thought, 'Well, this is a nice hobby,'" Linda reflects.

"It seemed almost inevitable that Martin Jr. would follow in his father's footsteps and become a racer too. Even though I had my concerns, especially during his first race, where I feared he might get hurt."
Father Martin Truex Sr. Is A Former Racer
Martin Truex Sr., born on March 24, 1958, is a former American driver known for participating in the Busch North Series.
He is notably recognized as the father of Martin Truex Jr., the 2017 NASCAR Cup Series champion, and Ryan Truex, who competes in the NASCAR Xfinity Series.
Truex Sr. retired from racing to support and nurture Martin Jr.'s burgeoning path in the sport.
Beyond racing, he owns Sea Watch International, a commercial fishing company.
During his racing career, Truex Sr. competed in 15 races in the Busch Series spanning from 1989 to 1998, achieving his best finish in 1994 with a 12th-place result at Nazareth Speedway.
Brother Ryan Truex
Ryan Matthew Truex, born on March 18, 1992, is a professional American stock car racing driver who currently competes part-time in the NASCAR Xfinity Series, driving the No. 19 Toyota.
A native of Mayetta, New Jersey, Truex made his East Series debut in 2008 at Stafford Motor Speedway, racing in the No. 8 car for Dale Earnhardt, Inc.
In 2009, at just 17 years old and while attending Southern Regional High School, Truex achieved a remarkable feat by winning the NASCAR Camping World East Series Championship.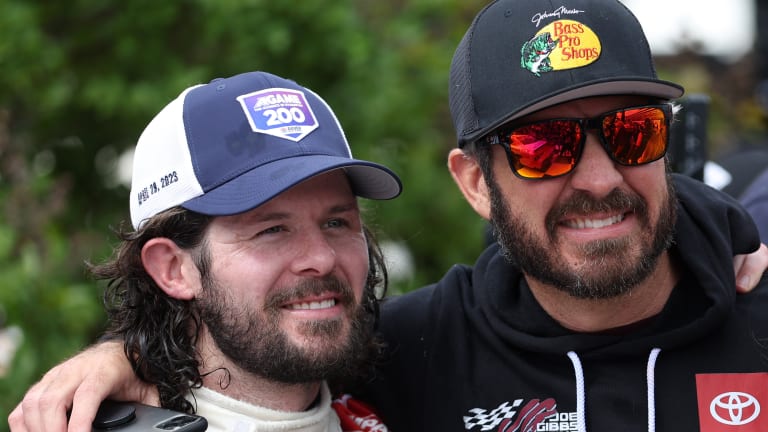 During the 11-race season, he secured eight Top 5 finishes and earned victories at Watkins Glen, Thompson, and Lime Rock Park.
In 2010, he continued his success by winning his second consecutive Camping World East Series title, driving a Toyota owned by Michael Waltrip.