McKinnley Jackson is an American football player who currently plays college football for the Texas A&M Aggies. The young talented athlete from Mississippi has been playing in the defensive line position for the team since 2020.
Jackson started playing football early, and like the saying, morning shows the day; he has had an outstanding career since he was a middle schooler.
All three popular sports media outlets, ESPN, Rivals, and Scout, had rated him a four-scout recruit upon high school graduation.
McKinnley is now in his junior year and has already won several awards and honors for his stellar performances.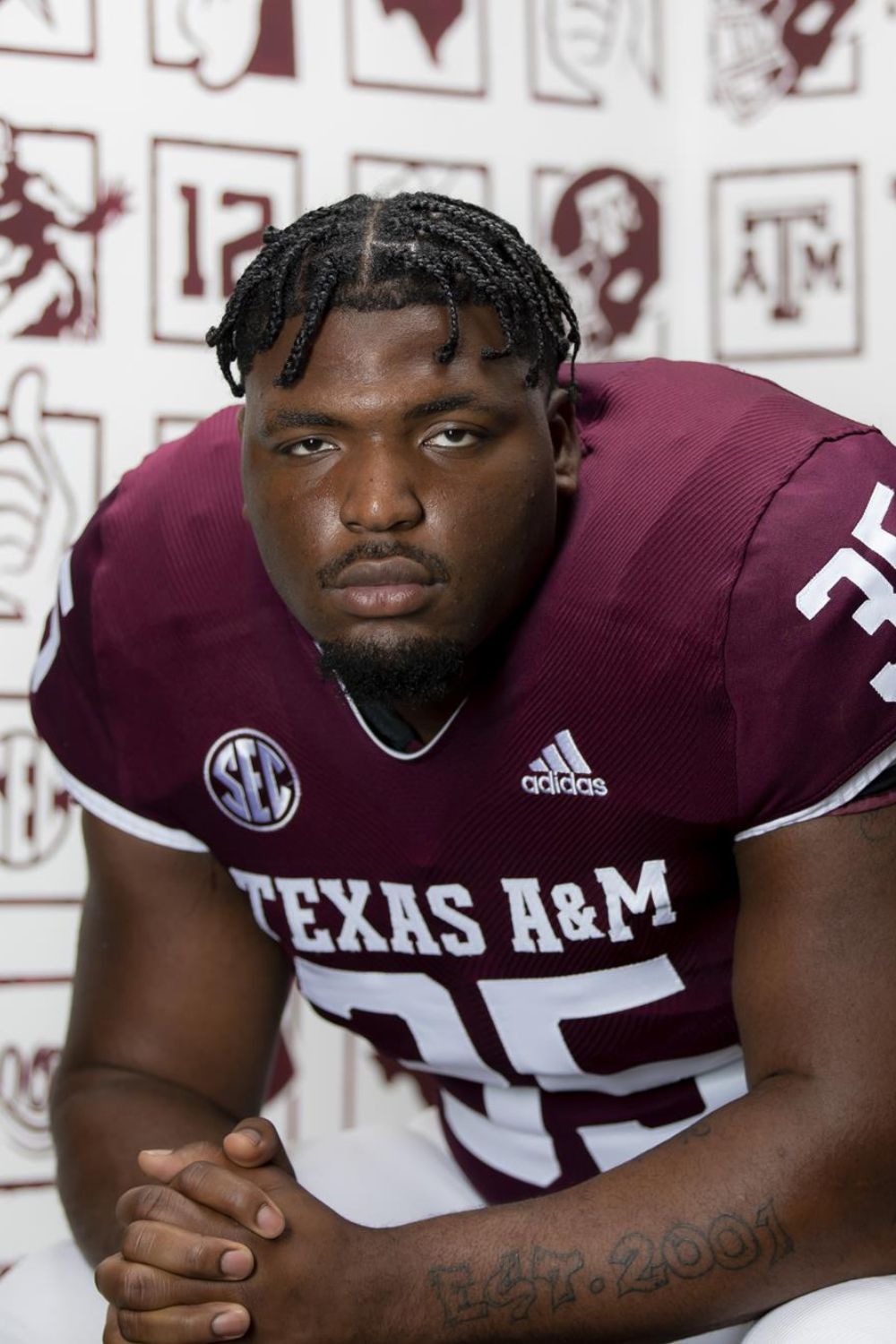 Jackson has a good reputation for being a capable defensive tackle from his two seasons for Texas and has a high chance of getting booked by an NFL team if he goes for the draft.
However, one can never be sure regarding the form and future of a football player. We hope young Jackson continues delivering for his team and soon makes it to his ultimate destination.
In the article below, let's discuss this fantastic player's early life, parents, budding career, and much more. But first, let us have a brief look at some quick facts.
McKinnley Jackson | Quick Facts
Full Name
McKinnley Jackson
Birth Date
Not available
Birth Place
Lucedale, Mississippi, United States
Nick Name
Mac
Religion
Christianity
Nationality
American
Ethnicity
Black American
Education
George County School District (Lucedale, Mississippi)

Texas A&M University (College Station, Texas)

Zodiac sign
Not Available
Father's Name
Damarcus Jackson
Mother's Name
Beverly McDowell
Siblings
One (Davion Barnes)
Height
1.88 m/6 feet 2 inches/188 cm
Weight
325 lbs./147 kg
Hair Color
Black
Eye Color
Black
Sexual Orientation
Straight
Marital Status
Single
Girlfriend's Name
Not Available
Position
Defensive tackle
Profession
College Football Player/Student
Net Worth
Not Available
Currently Plays for
Texas A&M Aggies
Active Since
2020-Present
Social Media
Twitter, Instagram
Last Update

March 2023
McKinnley Jackson | Early Life & Family
McKinnley Jackson was born in Lucedale, Mississippi, United States, to his parents, Damarkus Jackson, and Beverly McDowell.
Jackson's childhood was essentially different from many other kids who grew up around him, as his parents were hardly like any other parents. His father, Damarcus, was jailed when his mother was seven months pregnant with him.
Since then, he has been imprisoned several times, mainly for drug-related charges.
Jackson's parents fell in love with each other while they were very young and had children sooner than expected. So, they did not have a stable source of earnings to provide for their children. As a result, they got involved in illegal activities.
Even his mother, Beverly, has been behind bars for illegal drug business at least twice.
McKinnley knows his parents' path is terrible and does not want to follow them. He wants them to abandon their old ways and be like regular parents. He thinks that they had to become such people because the circumstances forced them.
However, he respects them and is grateful that they never denied him anything and always provided what he wanted. Apart from that dark part of his family, everyone, including his parents, sincerely cares for him.
He mainly lived with his grandmother and uncle while his parents were not around. His uncle, Justin, and his father were great athletes back in their high school days, and they taught him to play football and basketball while he was a kid.
Although he later decided to choose football, the basketball star Kobe Bryant is his favorite athlete, and he admits that he has learned a great deal from him.
Education
Mac Jackson attended the George County High School in his hometown and learned football and basketball skills there, apart from receiving academic education. However, he says that he was not very serious about his studies.
He often left home for school and bunked to roam around cities and played football with other children.
He now regrets lying to his guardians and not being so attentive to his teachers in school back in those days. Mac eventually graduated from high school in 2020 and enrolled in Texas A&M University that same year.
Now, he is in his third year of his college, and so far, everything is going great for him.
Age & External Features
There is no reliable information about Mac's birthdate on the Internet, so we cannot tell his exact age. However, knowing the college year he is in currently, Mac might have been born in the early 2000s and is probably in his early twenties.
Regarding his physical appearance, he is a massive guy with enormous stature. As a result, Mac's physique has helped him greatly to enhance his dominant gameplay.
Although heavy, he moves on gracefully and has a great pace and movement while on the field.
Regarding his exact physical measurements, he weighs around 325 lbs. Similarly, he stands about 1.88 meters (6 feet 2 inches) tall.
Adam Thielen is an American football wide receiver with several NFL records, including being the first player to have eight straight game wins of 100-plus receiving yards. He has been continuously playing for the Minnesota Vikings since 2013. Read his bio here!
McKinnley Jackson | Career
McKinnley Jackson is currently in college and has not begun his professional career. He has just reached his college junior year and has confirmed that he will continue playing football for the Texas A&M Aggies.
Beginning his football career very early, he received his first scholarship offer from the University of Louisiana-Lafayette in eighth grade. He was just twelve at that time.
Mac continued playing good games despite his traumatic childhood and improved his games vastly under the guidance of his school head coach Matt Caldwell.
He won many awards for his performances, including Mississippi Mr. Football 6A.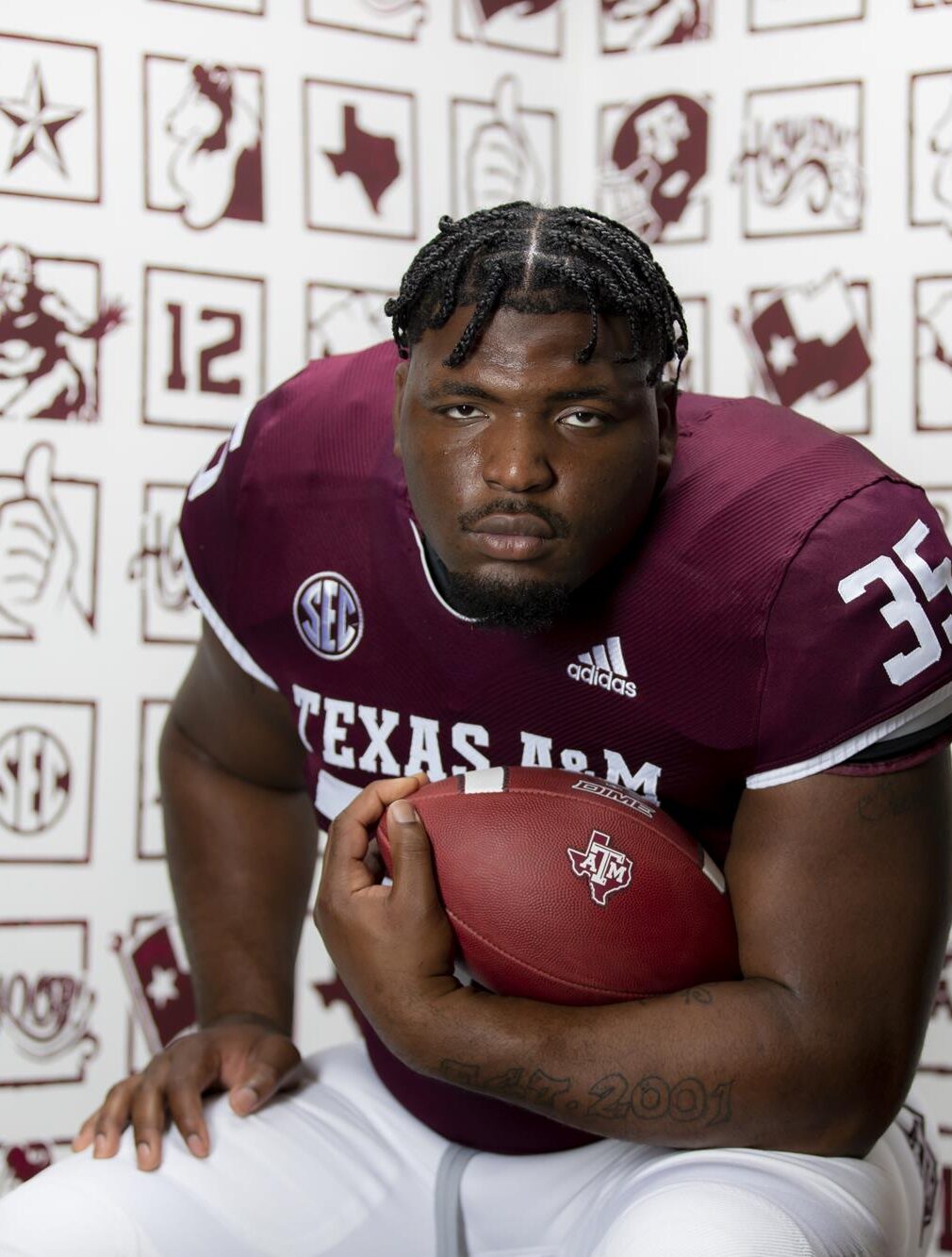 Jackson was named Mississippi state's No.1 player at the end of his high school career and consequently received scholarship offers from nearly a dozen universities.
He eventually decided to go with the Aggies, proving it the right decision.
Mac appeared in all ten matches in both of his college seasons and has remarkable stats. He had 13 total tackles in his first season.
Similarly, he improved his performance further in the next season and had seven assisted tackles and the same number of solo tackles.
He received some honors for his performance in the first two seasons and has emerged as one of the top prospects for the NFL draft. However, he is not so satisfied and yearns for more success ahead.
Let's hope his junior college season gets even better.
Career Achievements & Accolades
Some of his career achievements and accolades include:
Mississippi/ Alabama All-Star Game MVP
SEC All-Freshman Team (2020)
Defensive Toughness Award (2021)
Preseason Media All-SEC Third team (2022)
Preseason Coaches All-SEC Second Team (2022)
McKinnley Jackson | Does He Have a Girlfriend?
McKinnley Jackson seems like a great guy to hang around with; he always smiles and has a great sense of humor. One can easily confirm it by seeing him being himself on the ground and checking out his personal Facebook posts, which are mostly hilarious.
The young athlete is great on the playfield and has made a large fanbase because of his consistent performance. So, it won't be surprising if any of his female fans want to date him.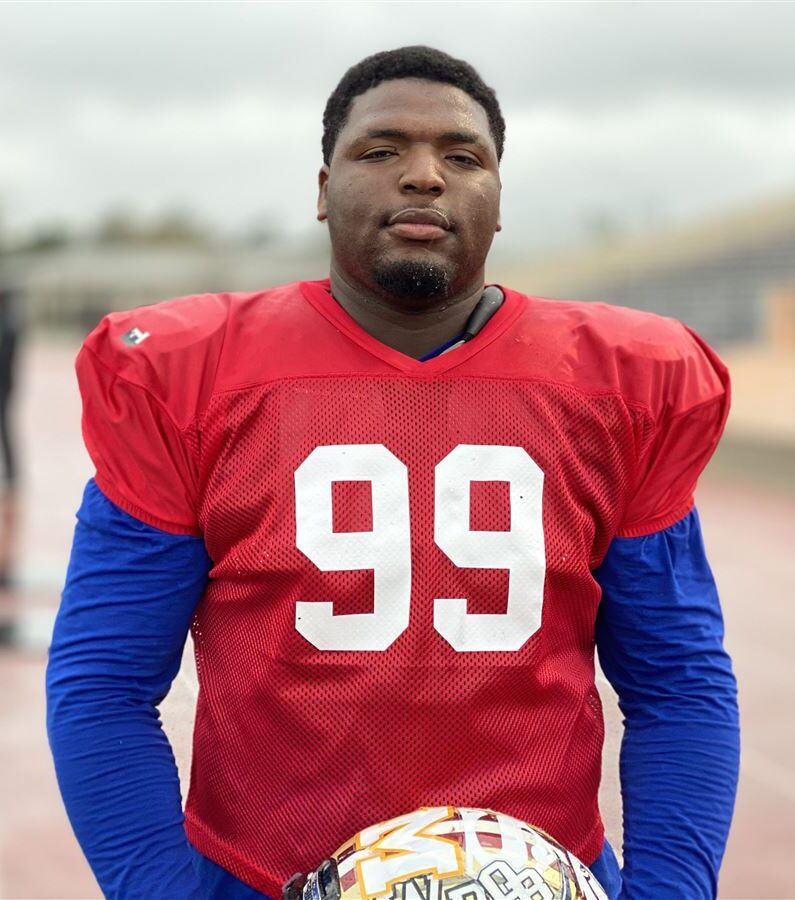 Furthermore, Mac makes relationship jokes every now and then on his social media handle but has never revealed if he has a girlfriend. So, maybe he is still single and is not dating anyone.
Calvin Johnson, a former Detroit Lions player, holds the NFL record for most 100-yard games in a season. After appearing in nine seasons for the Lions, he retired from his NFL career in 2015. Learn more about him here>>>
Drug Charges
Everything was going well for Mac in Texas until the Texas A&M University Police arrested him on April 7, 2021. The circumstances of his arrest then remained unknown, but he was held guilty of two drug-related charges.
He was arrested again later in August, around three months after that incident, and released after remaining in police custody for more than a week.
The Aggies immediately took action and suspended him from involving in football-related activities following his arrest.
Various media reported that he was notably arrested for possessing some grams of the uncontrolled substance, a second-degree felony. It could have him booked for two to twenty years in prison and cost him $10k in fines.
Similarly, he had faced another charge for possessing less than two grams of marijuana. However, the court ordered him to pay $22k, after which he was released and reinstated to his team.
Social Media Presence
If you want to know McKinnley Jackson more closely, you can follow him on his social media handles.
Mac has a verified Instagram with the username @macfresco99 with nearly 5k followers.
Although he occasionally posts there, Mac's posts have good fan engagement whenever he comes up with something new.
View this post on Instagram
Likewise, he has a Twitter with the username @macfrmGSF_, but he only has around 13 followers.
Besides that, Mac is active mainly on Facebook, but that is only for his close friends and relatives. He is yet to open a page wholly dedicated to his fans.
Frequently Asked Questions
What number does McKinnley Jackson wear?
McKinnley Jackson wears jersey number 35 for the Texas A&M Aggies.
Does McKinnley Jackson have a sibling?
Yes, McKinnley Jackson has a sibling named Davion Barnes. Although it is unclear how she has a different last name, Jackson and Davion grew up together since he was a toddler.
He thinks his sister has played a significant role in shaping him; she, too, loves and cares for him deeply.
You may also like to read about Chazz Surratt, a newly recruited American football linebacker for the New York Jets of the National Football league (NFL)!