Akira Schmid, the Swiss NHL player, is thriving in his NHL career but is his dating life as eventful as his NHL game?
The NHL player is in a relationship with Brooke Hubert, his best friend, and future wife, as he referred to her in his Instagram posts.
Brooke Hubert is also a budding hockey player who plays for the Women's Ice Hockey team at Utica University Athletics.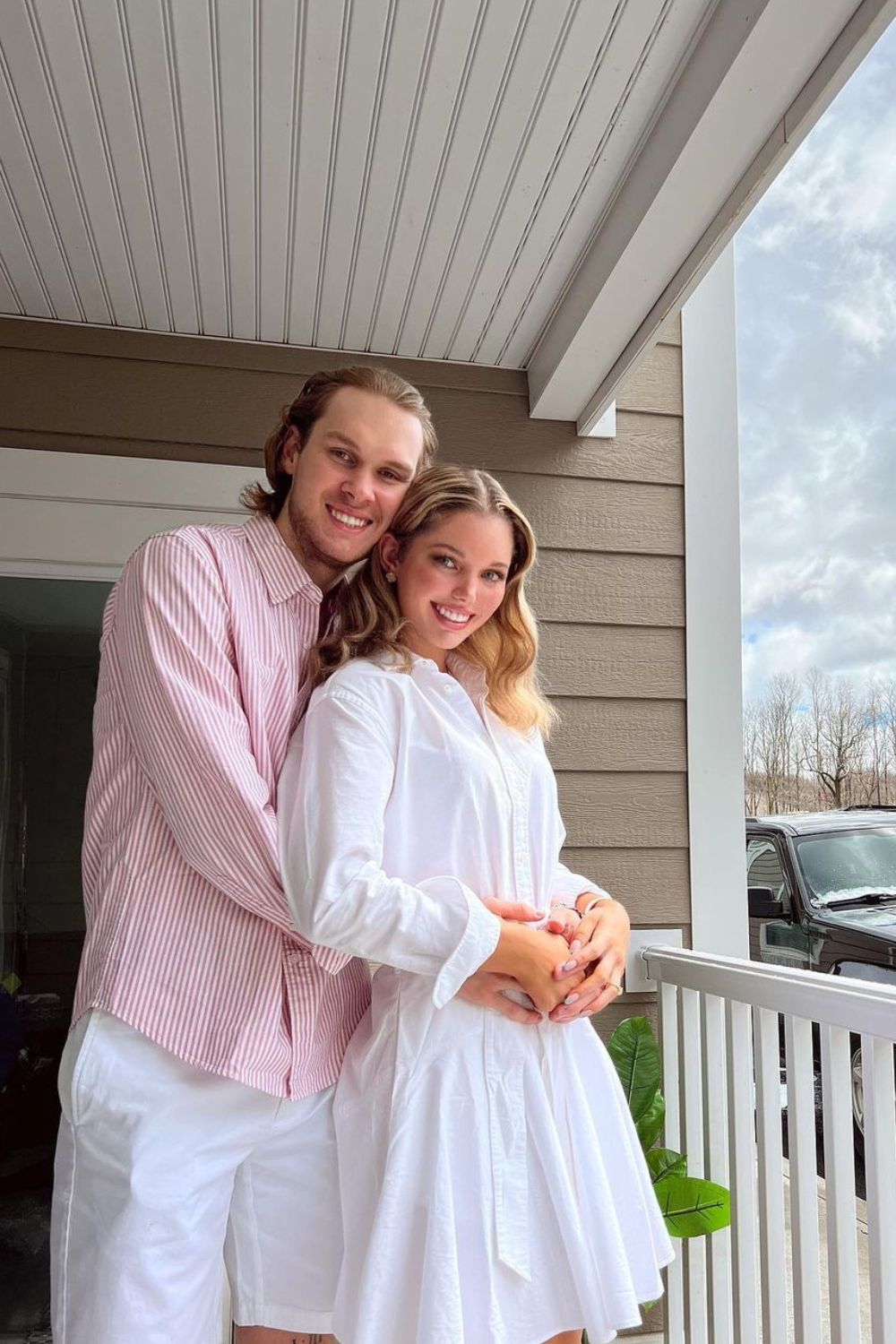 Brooke is majoring in nursing and owns an adorable pet, a poodle named Stella, with her boyfriend, Akira.
Akira is passionate about his game and was in the 2018 NHL Entry Draft, selected in the fifth round, 136th overall by the Devils.
In his growing NHL career, in Nov 2022, Akira got his first NHL win with the Devils in a 4–3 overtime win against the Ottawa Senators.
Rookie Akira made 31 saves for New Jersey's first-round Eastern Conference playoff series with the Devils' 4-0 victory over one of the most valuable, New York Rangers in Game 7 on May 1, 2023, as reported by Reuters.
Akira & His Future Wife
Brooke and Akira started dating in 2021, as we can see the couple celebrating their 1 year anniversary on their Instagram handle.
Brooke was born on November 17, 2001, which makes her 21 years old.
She is a hockey player like her boyfriend, Akira, and graduated from Oceanside High School in 2020.
During her first year of high school, Brooke appeared in 20 games scoring three goals and collecting 4 assists.
Although, as per the sources, she did not appear in her sophomore year, and for 2022-2023 is playing for Utica University Athletics as a junior.
Apart from hockey, Brooke has also been interested in golf and was a party of Utica College Women's Golf team.
Brooke is unavailable on social media, mostly seen on her NHL boyfriend's Instagram handle.
The couple does not hesitate to illustrate their love for each other whenever they get a chance, and they equally support one another career-wise.
Parents Of Akira
Akira is in rising popularity in hockey, but his personal information is unavailable for now.
But we can say the parent's nationality is Swiss, and they probably live in Switzerland.
However, his future in-law's information is available, and he considers them his second family and is very close to them.
Akira is part of the Hubert family's Instagram handle and often gets posted about his game.
Brooke Hubert Family, Future In-Laws Of Akira
The Brooke Huberts family members are Sherry (mother), Summer (sister), Christian (father), Ulla (grandmother), and a brother (Christian).
His love for "The Office" show and the "Dragon BallZ" anime is evident through his Instagram handle named Krilin Schmid.
Brooke's brother, Christian, is also stepping into the footsteps of his sister and played in the Islanders High School All-Star game.
Brooke's parents were married on Oct. 21, 2022, and celebrated their 21 anniversary in 2022.
Through the Hubert Five Family Instagram handle, the Hubert family gives updates about each member.
The Hubert family watches all the Brooke's and Akira's hockey games and supports their career intrinsically.
The family celebrates most festive days together, including Halloween, Thanksgiving, and Christmas.