In every sport, a player's skill cannot alone win the match. They will need proper guidance and coaching. Hence for that purpose, today, we look at Junto Nakatani trainer Rudy Hernandez.
Junto Nakatani is a Japanese professional boxer who was born on January 2, 1998. He was born in the Inabe city of Mie Prefecture in Japan.
The boxer has held two world championships, including the WBO junior-bantamweight belt since April 2023 and the WBO flyweight title from 2020 to 2022.
Nakatani fights in a southpaw stance which has helped him put opponents off balance and deal vicious blows to them time and again.
Taking about his early life, the boxer was initially intrigued by karate before discovering boxing.
He said that he began karate training at a young age, but his small frame made it impossible for him to compete with other big lads.
Boxing had captivated his attention at this time. He began training as a boxer and later competed in various tournaments, including the national championship for under-15s.
The boxer is very disciplined and humble when it comes to his training regimen and his fights. He is widely respected in the sport because of all these values that he holds.
Junto Nakatani Trainer Rudy Hernandez
Rudy Hernandez is currently the coach or trainer for Nakatani. He is well-known for his coaching abilities as well as his experiences.
When Junto first met Hernandez, he said that he felt very honored by reflecting on his Japanese traditions.
He even went a step further to say that he wanted to be a world champion and requested Hernandez to train him. They have stayed inseparable ever then.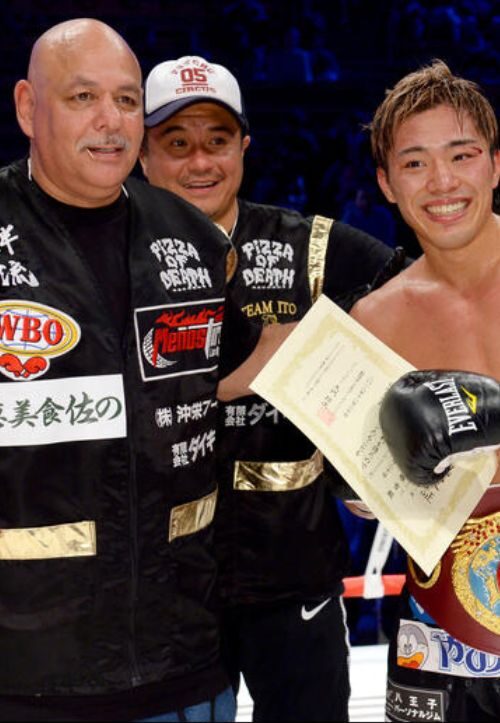 According to Rudy, Junto is incredibly gifted and easy to work with. Nothing is more important to him than boxing.
Hernandez thinks that Junto has lived his life with the goal of being a world champion, and he has everything it takes to win titles in many categories.
Like the fighter, Hernandez is a very humble coach and is always living up to the reputation of good sportsmanship.
His brother, the late Genaro "Chicanito" Hernandez, was a noted 130-pound titlist.
The coach has also worked as a staff trainer for Teiken Promotions and has traveled to Japan several times.
We might assume that there would be a communication gap between the pair as Nakatani doesn't speak much English, and Hernandez doesn't speak Japanese.
But the coach claims that boxing is an international language, and he doesn't use many words but rather just actions which the boxer picks up very quickly.
Junto Nakatani Boxing Career
At such a young age, the 25 year old is already showing promise to establish himself as the greatest boxer of all time.
If we think about it, the boxer is only eight years into his professional boxing career. Yet, he has fought 25 times with 25 wins and no losses.
As of May 2023, Nakatani's boxing record stands at 25-0, out of which nineteen are purely KO wins.
The boxer holds two weight category world titles. He has won two world titles, both of which were vacant.
It is seen that thirteen of his nineteen KO victories came in the first four rounds, four in the middle rounds, and two in the last two.
The guy is a beast, as he has already had five first-round knockout victories.
His last bout was on May 20, 2023, against Andrew Moloney, which Nakatani won via knockout in the twelfth round.