Michael Johnson, the four-time Olympic gold medalist, is happily married to his wife, Armine Shamiryan. They currently reside in Marin County, California.
Before Armine, Michael married reporter Kerry Doyen in 1998; they even share a kid. However, their wedding eventually came to an end.
Michael Johnson is a legendary athlete who has achieved remarkable feats in track and field.
With four Olympic gold medals to his name, he is widely considered one of the greatest athletes in history.
His exceptional sprinting abilities and potential to perform consistently under pressure have earned him the nickname 'The Man With the Golden Shoes' and the title of 'the world's fastest man.'
Johnson holds world records in the 400m and 200m events. Not stopping there, he also left his mark on the Olympic stage, winning eight gold medals at the World Championships.
Following his retirement from competitive sprinting, Johnson has transitioned into coaching and training young Olympic athletes.
The four-time Olympic gold medalist has made a mark as a performance coach and shares his expertise with the next generation.
Additionally, he contributes as a commentator for the BBC during athletics coverage and is skilled as a sports columnist.
Michael Johnson Wife
Michael Johnson is currently married to his second wife, Armine Shamiryan.
Before being recognized as the wife of the Olympic Gold medalist, Armine had her own identity as a professional chef.
Although Armine hasn't revealed much about her culinary background, there are rumours that she might have shifted her focus to different pursuits.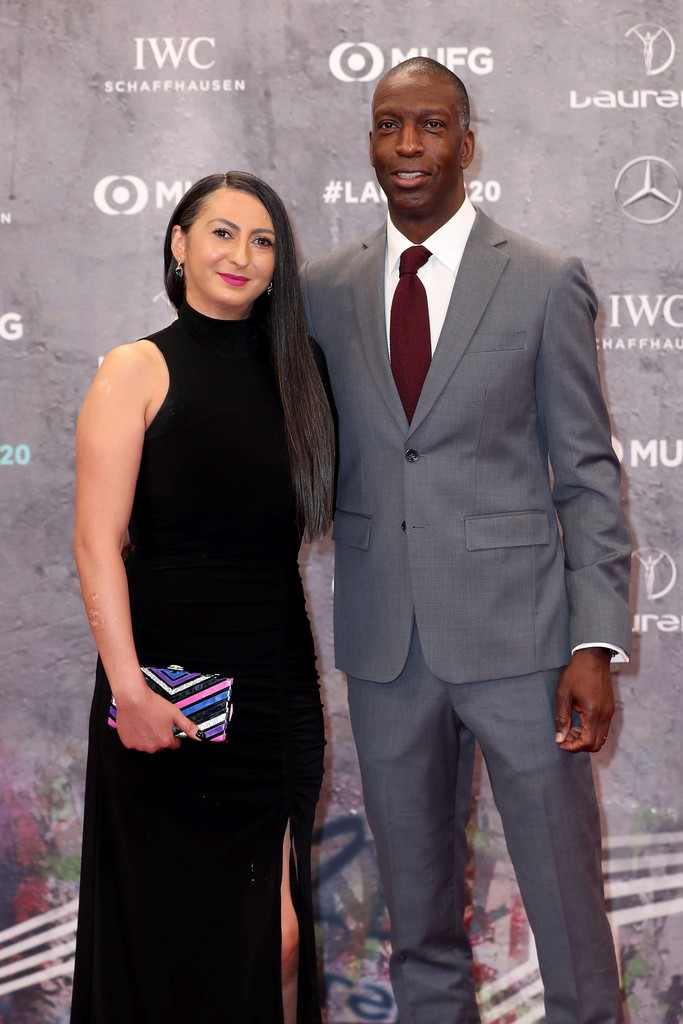 This information cannot be confirmed as she maintains a private profile and hasn't shared much information with the media.
Shamiryan's Instagram account is also private, keeping her personal life away from the public eye.
Even though she likes to keep things private, Armine occasionally appears on her husband's Instagram.
The couple is often spotted travelling and spending some quality time with each other.
Additionally, they are proud parents to a dog named Angelo, whom they cherish, adore, and love no less than their own kid.
Michael Shares A Son With Ex-Wife
Michael Johnson and Armine Shamiryan do not have any biological children together despite being married for over a decade.
However, they are parents to Michael's son, Sebastian, from his previous marriage.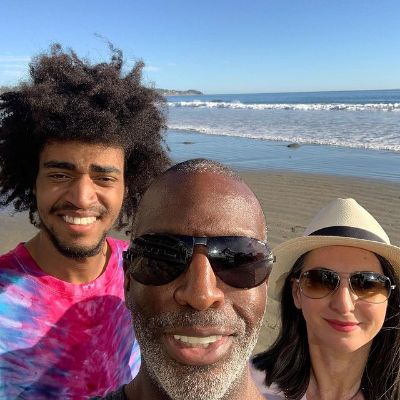 Before marrying Armine, Michael Johnson was married to a reporter Kerry Doyen. They tied the knot in 1998 and welcomed their only child, Sebastian, in 2000.
After their marriage ended, Michael and Armine embraced their role as parents to Sebastian.
While Michael and Armine haven't had a child together, it's not publicly known whether they intend to have children in the future.
Son Sebastian Is A Musician
Sebastian, Michael Johnson's son, has a strong passion for music and has chosen to follow his own path in the world of music, distinguishing himself from his father's athletic career.
Sebastian frequently shares his musical talents on his Instagram account, where he shows himself playing various musical instruments.
He's often seen performing at bars and producing different types of music.
His dedication to music is clear in his online presence, including his website "A Voice I Want to Share," which further highlights his passion for music.
It's clear that Sebastian's love for music runs deep, and he is actively pursuing his musical interests by sharing his performances and creations with his audience on social media.